Teen Summer Workshop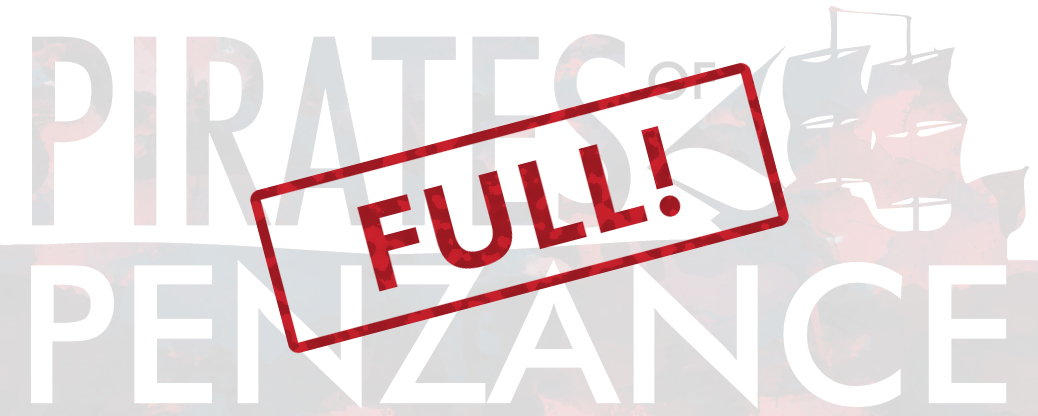 2016 Teen Workshop is now full – waitlist spaces available
Pirates of Penzance Teen Workshop
July 25 – August 13, 2016
Directed by Isaac Lamb
Musical Direction by Mont Chris Hubbard
This intensive 3-week training workshop is designed for students who are serious about pursuing musical theater performance. Participants will get real-world experience by rehearsing and mounting a full production of  The Pirates of Penzance!
Set sail with one of Gilbert and Sullivan's most popular comic operas. This hilarious, hopeful farce follows young Frederic, an orphan who has mistakenly been apprenticed to an ineffectual but raucous band of pirates. He disavows the pirates' way of life and falls for the beautiful Mabel. Frederic's melodious tones win over the heart of Major General Stanley's songbird daughter, Mabel, but when the Pirate King discovers General Stanley has lied about being an orphan to keep the pirates from stealing all of his belongings and carrying off his bevy of beautiful daughters, an "ingenious paradox" may prevent the budding romance and lead to the death of "The very model of a modern Major-General."
Workshop Hours (including performances):
July 25  – August 11 (Monday – Friday, 10 a.m. – 4 p.m.)
Friday & Saturday August 12 – 13 : Noon – 8:00 p.m.
Public Performances:

Wednesday, August 10, 2:00 p.m. matinee
Thursday, August 11, 2:00 p.m. matinee
Friday, August 12, 2:00 p.m. matinee and 6:00 p.m. evening
Saturday, August 13, 2:00 p.m. matinee
Workshop and performances will be held at Broadway Rose's New Stage at 12850 SW Grant Avenue, Tigard.
Open to students entering grades 7 – 12, or have just graduated from high school.
Space is limited.
Tuition: $550.00
Click to download registration form.   2016 Teen Workshop is full
Scholarships
Full and partial need-based scholarships are available for Broadway Rose's educational programs. To apply for a scholarship, please download, complete, and submit the scholarship application. Click here to download the scholarship application now. 2016 Teen Workshop is full
For questions about workshops or scholarships, please contact Michael Berrie at Michael@broadwayrose.org or 971.250.3722
Past teen workshop productions:
2009 – Grease
2010 – Big River
2011 – Fiddler on the Roof
2012 – The Music Man
2013 – Once on This Island
2014 – Children of Eden
2015 – The Wizard of Oz