The 2014 Season Announcement was held Sunday, August 4th, 2013.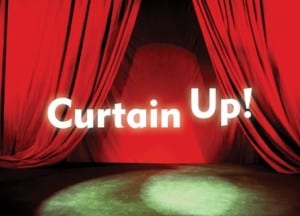 Be the first to know what's lighting up our stage next season at the Curtain Up season announcement party! The event features previews from each future production performed by your favorite Broadway Rose stars.
Curtain Up! is held in early August and is invitation-only. Invitations are extended to donors of $50 or more in the past 12 months, in appreciation of their generosity. If you haven't made a donation in the past year, ensure your spot on the list by making a gift here. Time and location information is included in the invitation.
This year's Curtain Up! 2014 season announcement will be held on August 4th, 2013.
Performers for the 2014 season announcement:
Amy Jo Halliday (Grizabella in Cats, Anna in The King and I)
Sarah Catherine Wheatley (Patsy in Always…Patsy Cline, Jellylorum in Cats)
Norman Wilson (Skimbleshanks in Cats, Aldolpho in The Drowsy Chaperone)
Megan Carver (Penny in Hairspray, G.I. Holiday Jukebox)
Matt Brown (Dirty Rotten Scoundrels, Ripper)
Robert Head (Mungojerrie in Cats, Joseph…Dreamcoat)
Ecaterina Lynn (Bombalurina in Cats)
Sean Powell (The Drowsy Chaperone, Joseph…Dreamcoat)
Jeremy Sloan (My Fair Lady, The Drowsy Chaperone)
---
To ensure you're included in this one-of-a-kind evening, you can
make a donation online here
. For questions about your donation history, please call Brenda at 503.906.2377.