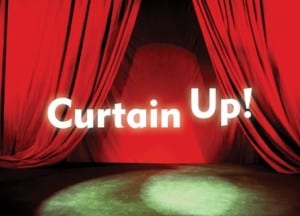 Be the first to know what's lighting up our stage next season at the Curtain Up season announcement party! The event features previews from each future production performed by your favorite Broadway Rose stars.
Curtain Up! is held in August and is invitation-only. Invitations are extended to donors of $50 or more in the past 12 months, in appreciation of their generosity. If you haven't made a donation in the past year, ensure your spot on the list by making a gift here. Time and location information is included in the invitation.
This year's Curtain Up! 2013 season announcement will be held on August 5th, 2012.
Confirmed performers for the 2013 season announcement:
Susannah Mars (Eva Peron in Evita)
Leah Yorkston (Maria in The Sound of Music, the narrator in Joseph and the Amazing Technicolor Dreamcoat)
Sara Catherine Wheatley (Velma in Hairspray, Patsy in Always…Patsy Cline)
Isaac Lamb (Capt. von Trapp in The Sound of Music, Chester Talbott in Ripper)
Joe Theissen (King Mongkut in The King and I, Andre in Dirty Rotten Scoundrels)
Meredith Weber Gordon (Fantine in Les Misérables, Cole)
Additional performers to be announced, check back soon for continuing updates!
---
To ensure you're included in this one-of-a-kind evening, you can
make a donation online here
. For questions about your donation history, please call Alaina at 503.906.2376.