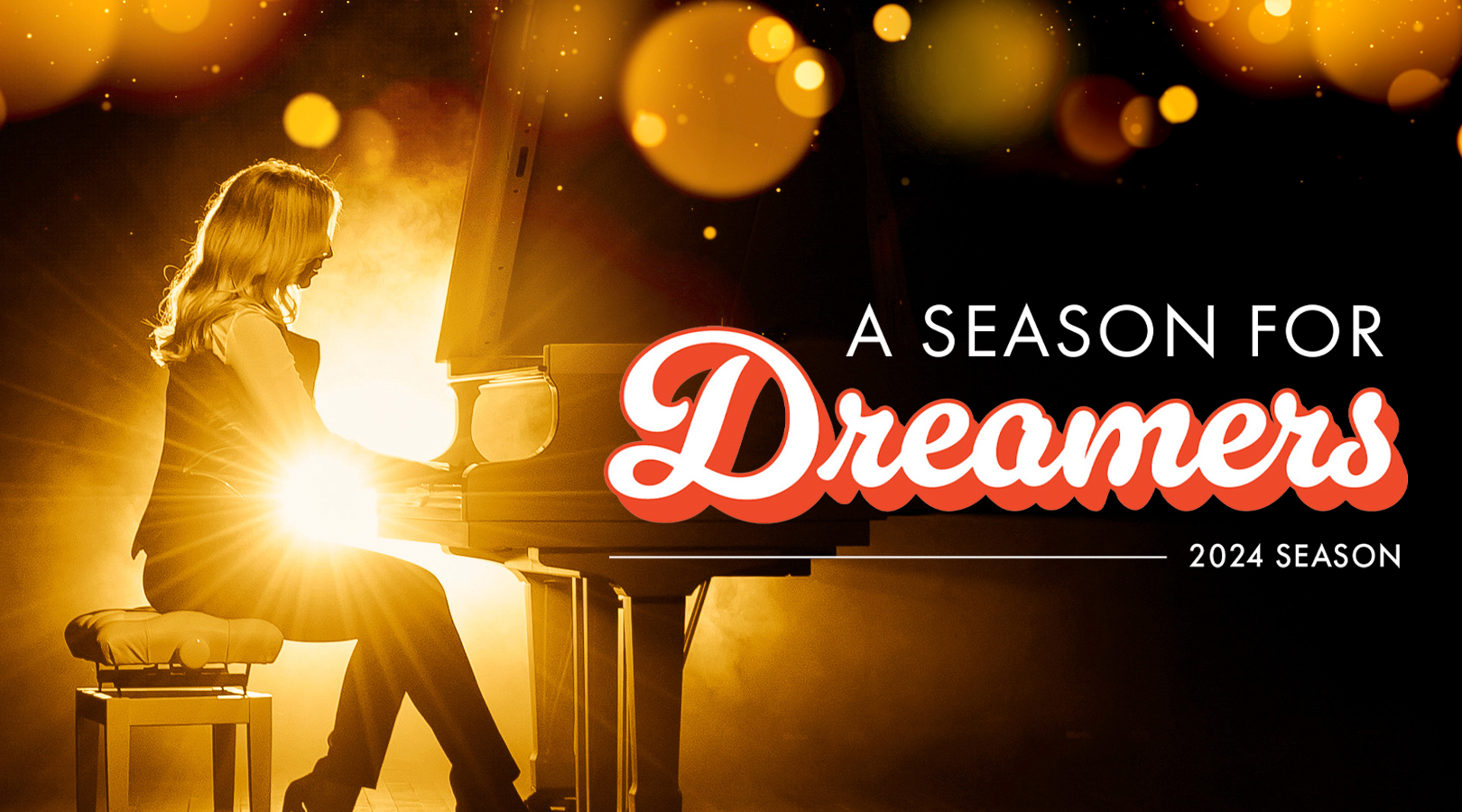 Join us for our 2024 season!
Musicals celebrate dreams and dreamers. Through song and dance, costumes and characters, we can glean inspiration from the joys and sorrows, hopes and fears of stories shared. In selecting our season for the coming year, our goal, as always, is to feature a variety of musicals that enrich and entertain artists and audiences alike. We hope you'll enjoy the zany antics of three Broadway hopefuls, a return to the days of yesteryear with nostalgic hits from the Golden Oldies, a touching tale of a young girl seeking redemption, the extraordinary saga of groundbreaking music legend Carole King, an endearing true story of friendship featuring country music great Patsy Cline, and a heartwarming holiday romance.
We invite all of you dreamers to join us for the incomparable magic of live musical theatre as we present our 33rd season.
– Sharon Maroney and Dan Murphy, Founders
2024 Season Subscriptions are now on sale!
Single tickets on sale December 15
THE DOUBLE-THREAT TRIO
Enjoy the screwball hijinks of three Broadway hopefuls as they pool their talents to pursue their dreams in this madcap musical comedy.
Learn more.
January 25 – February 18, 2024
At the Broadway Rose New Stage
Directed by Dan Murphy
SH-BOOM! LIFE COULD BE A DREAM
Meet Denny and the Dreamers, a fledgling doowop singing group hoping to realize their dreams of making it to the big time!
Learn more.
April 4 – 28, 2024
At the Broadway Rose New Stage
Directed by Dan Murphy
THE SPITFIRE GRILL
Percy, a spirited parolee, follows her dreams to the small town of Gilead, hoping to create a new life for herself in this touching and inspirational tale of perseverance, grace, and friendship.
Learn more.
May 30 – June 23, 2024
At the Broadway Rose New Stage
Directed by Abe Reybold
BEAUTIFUL
The Carole King Musical
The inspiring true story of legendary musician Carole King and her journey from teenage songwriter to the Rock & Roll Hall of Fame.
Learn more.

July 18 – August 18, 2024
At the Deb Fennell Auditorium
Directed by Lyn Cramer
ALWAYS…PATSY CLINE
The heartfelt revue tells the true story of the country music legend's unlikely friendship with a fan, Louise Seger, cemented by years of letter writing.
Learn more.

September 19 – October 13, 2024
At the Broadway Rose New Stage
Directed by Chan Harris
FIVE GOLDEN RINGS
Cozy up for this humorous and heartwarming musical holiday special, an affectionate parody of America's favorite greeting card channel. 
Learn more.

November 27 – December 22, 2024
At the Broadway Rose New Stage
Directed by Annie Kaiser