25 Things You (Maybe) Didn't Know About Broadway Rose
It's our Silver Anniversary, celebrating twenty-five seasons of bringing unparalleled musical theatre experiences to you—our donors and friends. In honor of twenty-five seasons of growth, joy, surprises, and fun, here are twenty-five things you never knew you wanted to know about Broadway Rose Theatre Company…
1. During our first season, 3,947 people attended our shows. That's 92 people per performance. Last year, 41,352 people attended our mainstage shows with an average of 274 per performance.
2. Our first fundraising gala in 2001 was held on a Portland Spirit vessel and raised $4,955. Our Silver Soirée, held in March 2016, raised a record $93,000.
3. General Manager Dan Murphy has a reputation for giving the best curtain speeches around. Did you know he's given over 2,500 of them in the last 25 seasons?
4. A piano (in the wings!) provided music for our first production of Oklahoma! in 1993. In 2015, Oklahoma! had a full pit orchestra with 10 musicians. This summer's West Side Story will have 16 musicians and a conductor!
5. Artistic Director Sharon Maroney loves the acoustics in our ladies' lounge and we can often hear show tunes coming through the walls.
6. During our first years at the Deb Fennell Auditorium, the high school student interns had the only key. We spent a lot of time waiting to get into the building when they overslept!
7. Dan still launders the costumes every night after the show (which explains why his office is often littered with ladies' lingerie.)
8. Last year, 256 active volunteers donated 5,330 hours of their time to Broadway Rose—valued at $122,952.
9. Before the New Stage was completed, staff worked in a Platt Electric branch. Patron Services operated from a card table in the hall, marketing from a closet, and with a single, dial-up line for phone/Internet, Sharon could often be heard yelling from her office, "Can I get online now?"
10. We now have 17 full and part-time staff working in offices in the New Stage building.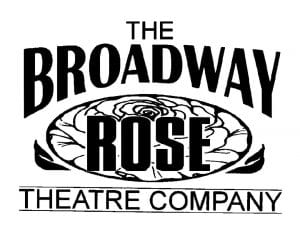 11. Our first website was developed in 2001. We have since had site visitors from all 50 states, 160 countries and 8,488 cities!
12. 33% of all tickets sales in 2015 were purchased through the Internet.
13. Over 5,000 theatre fans like our page on Facebook!
14. Sharon thought our previous logo looked like a Broadway cabbage rather than a rose.
15. We first started tracking yearly subscribers in 1999 when we had 236. Today we have 2,683 subscribers!
16. Our annual budget has grown from $70,000 in 1992 to over $2 million in 2016.
17. Broadway Rose Theatre shifted to year-round programming with the completion of the New Stage in 2008. With that shift, our average daily spending rate jumped from $2,800 per day to $4,800 per day causing us to rely more and more on our donors for support.
18. Before we started assigning seats in 2003, we often had 100 people purchasing tickets at the door the night of the performance.
19. Marketing Director Alan Anderson has had to fill in for more than one out-of-town actor for publicity photos. Did you recognize him as Baloo from The Jungle Book in 2007?
20. In 1995, Sharon became the very first Broadway Rose full-time employee. Dan was a volunteer for seven years until he became a full-time employee in 1999.
21. Our New Stage electric bill reaches $807 per month—even though Dan makes the staff sit in the dark and wear sweaters!
22. In the first years, Dan would sit in a garage and sell tickets that he hand stamped and filed for each show. Now we use a state-of-the-art software system, Tessitura, to handle all of our box office and donor information needs.
23. Our largest cast to-date was in 2010 with 55 cast members in The King and I.
24. The first time we commissioned a show was in 2002 with G.I. Holiday Jukebox.
25. Last year, individual donations to Broadway Rose ranged from $1 to $50,000.
Our 25th Anniversary Season has been one to remember and we want to THANK YOU for all that you've done to make it all happen. We are looking forward to the next twenty-five years with your help. See you soon!
Your support helps create luminous musical theatre at Broadway Rose –


make a tax-deductible donation today!