The Evolution of Mann (2022). Photo by Fletcher Wold.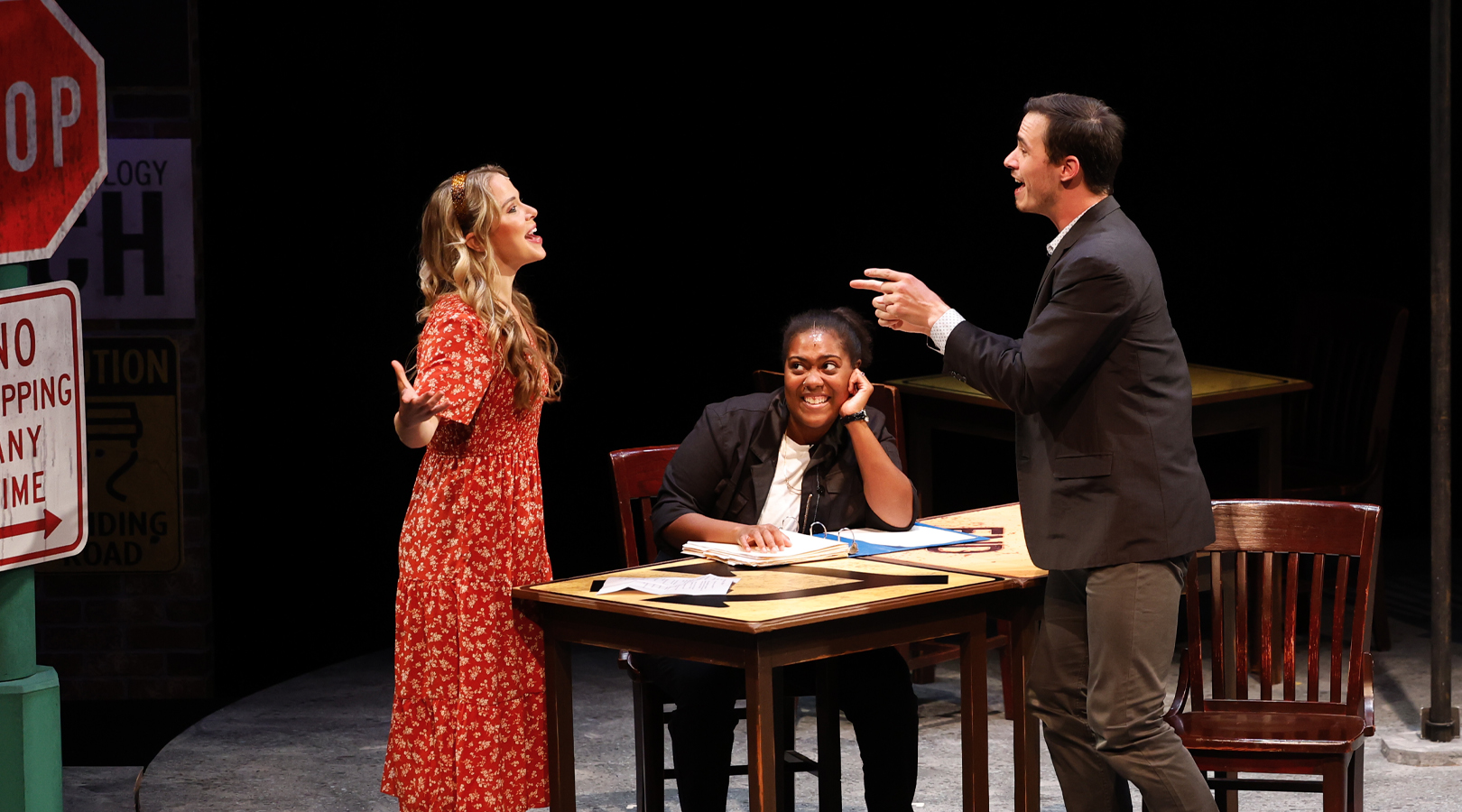 The Evolution of Mann (2022). Photo by Fletcher Wold.
Join the Broadway Rose team!
Broadway Rose has a collaborative and inclusive atmosphere. Staff members are creative and enjoy working with each other as well as having contact with local and national actors, directors, and artistic personnel. We strive to cultivate and promote an approachable and friendly atmosphere among our staff, donors, and patrons.
Broadway Rose Theatre Company's mission is to create unparalleled musical theatre experiences that invigorate audiences and enrich our communities. We have been producing professional musical theater in Tigard, OR since 1992. We're the largest non-profit professional musical theater company in the Portland metro area. Our season includes six mainstage musicals and three youth musicals. Our youth outreach includes drama camps and classes, free school performances, a student technical internship program and subsidized tickets.
Broadway Rose Theatre Company is committed to its work in improving equity, diversity, and inclusion efforts, and fostering an environment where all people are welcome. We are committed to building a team that represents a variety of backgrounds, perspectives, and skills and look forward to welcoming applications from a diverse pool of applicants. Broadway Rose provides equal employment opportunities to all employees and applicants for employment and prohibits discrimination and harassment of any type without regard to race, color, religion, age, sex, national origin, disability, genetics, protected veteran status, sexual orientation or gender identity.
Teaching Artist Open Call For Resumes
Teaching Artist
Broadway Rose Theatre Company is holding an open call for resumes from teaching artists who may be interested in applying for various upcoming educational programs.
Reports to: Community Engagement Manager, Managing Director, Artistic Director
Pay: $16 – $30/hour depending on program, position, and experience
Overview: Broadway Rose seeks resumes from performing arts educators and camp counselors, piano accompanists, voice instructors, dance instructors, and directors for assorted camps and classes. NOTE: This is a resume call only. We do not currently have opportunities available for teaching artists. We will hold submitted resumes on file and reach out to all qualified applicants as positions become available to share specific information about dates, hours, pay, class description, and how to set up an interview if you are interested in applying.
Duties and Responsibilities for all Programs:
Create a welcoming, inclusive atmosphere for all students.

Develop curriculum with Community Engagement Manager, co-counselor, and/or class/camp production team depending on program needs.

Submit lesson plan to Community Engagement Manager prior to the start of camp.

Communicate administrative needs to Community Engagement Manager ahead of camp.

Attend any necessary preparatory meetings ahead of the beginning of class or camp.

Adhere to all safety guidelines and procedures.
Necessary Skills and Qualifications:
Experience working with young people in camp, classroom, theatre school, after-school, or rehearsal settings.

Experience in performance fields such as acting, musical theatre, improvisation, choreography, and/or directing.

Some positions require the ability to accompany on piano.

Ability to develop engaging lesson plans and activities for various programs.

Ability to develop a short final showcase of class content for applicable programs. Typically includes 2 to 3 songs with simple staging and/or choreography.

Strong communication skills with colleagues and students.

Must provide proof of vaccination against COVID-19 prior to starting work and adhere to all COVID-19 safety guidelines.

Background check required.
To apply please send a resume and a short statement of interest to Community Engagement Manager Amaya Santamaría at amaya@broadwayrose.org.