Grab your surf board and boogie down to Broadway Rose's beach party, where you'll join your favorite local performers for a night of hot tunes, delicious bites, and unique auction items – all benefiting luminous musical theater at Broadway Rose.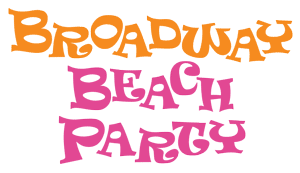 Join us at 6:30 p.m. on
Friday, April 4, 2014
at the Broadway Rose New Stage
12850 SW Grant Avenue, Tigard
At Broadway Rose's 14th annual spring fundraiser, you'll enjoy:
Musical performances from:
The Bikinis
Laurie Campbell-Leslie,
Lisamarie Harrison,
Sharon Maroney,
and Emily Sahler
The Bylines
featuring Marianna Thielen
and Reece Marshburn
Sophie Keller
star of 2013's teen workshop production of Once On This Island
Tommy Stefanek

Joe Theissen
Norman Wilson

A festive heavy hors d'oeuvres menu showcasing the fresh, decadent flavors of the ocean. Here's a sample:
Filo tartlets with Dungeness crab, ginger, and lime
Cucumber cups with grilled tenderloin, marinated in cilantro, chilies & lime
Paella risotto cakes with chorizo and roasted peppers with sherried lemon bay shrimp
And a silent and live auction of unique and enticing items and experiences, such as:
Neon Lights Are Bright on Broadway
Explore the Great White Way with two tickets to Pippin (winner of the 2013 Tony Award for Best Musical Revival), a two-night stay with breakfast at Distrikt Hotel – located just steps away from Times Square – and a gift certificate for dinner at Thalia's.
The Music Man Producer's Package
Find out what it feels like to be a Broadway producer – or at least a Broadway Rose producer! You'll enjoy special program recognition, an opportunity to meet the cast on June 3, a dinner party with director Peggy Taphorn hosted by Chuck Carpenter on June 14, the chance to observe a rehearsal on June 18, a reserved table at the Opening Night Party and a ticket to the show on June 27, a backstage tour, and more!
Brunch at Eola Hills Wine Cellars
Discover why Eola Hills Wine Cellars' Sunday Brunch has been widely acclaimed as the "Best in the Northwest!" You and three friends will enjoy an intimate culinary experience in the charming ambience of a working winery.
Life Is a Cabaret
Broadway Rose's co-founder and producing artistic director, Sharon Maroney, will present an intimate and exclusive cabaret performance entitled "Sharon and Friends" on Monday, November 10, 2014. Sharon and special guests will sing an eclectic mix of favorite musical theater and popular songs, including some lesser-known cabaret material.
Stay tuned for additional updates as the date approaches!

---
See photos from Broadway Rose's 2013 gala, held Friday, March 15th at the Broadway Rose New Stage:
[nggallery id=21]