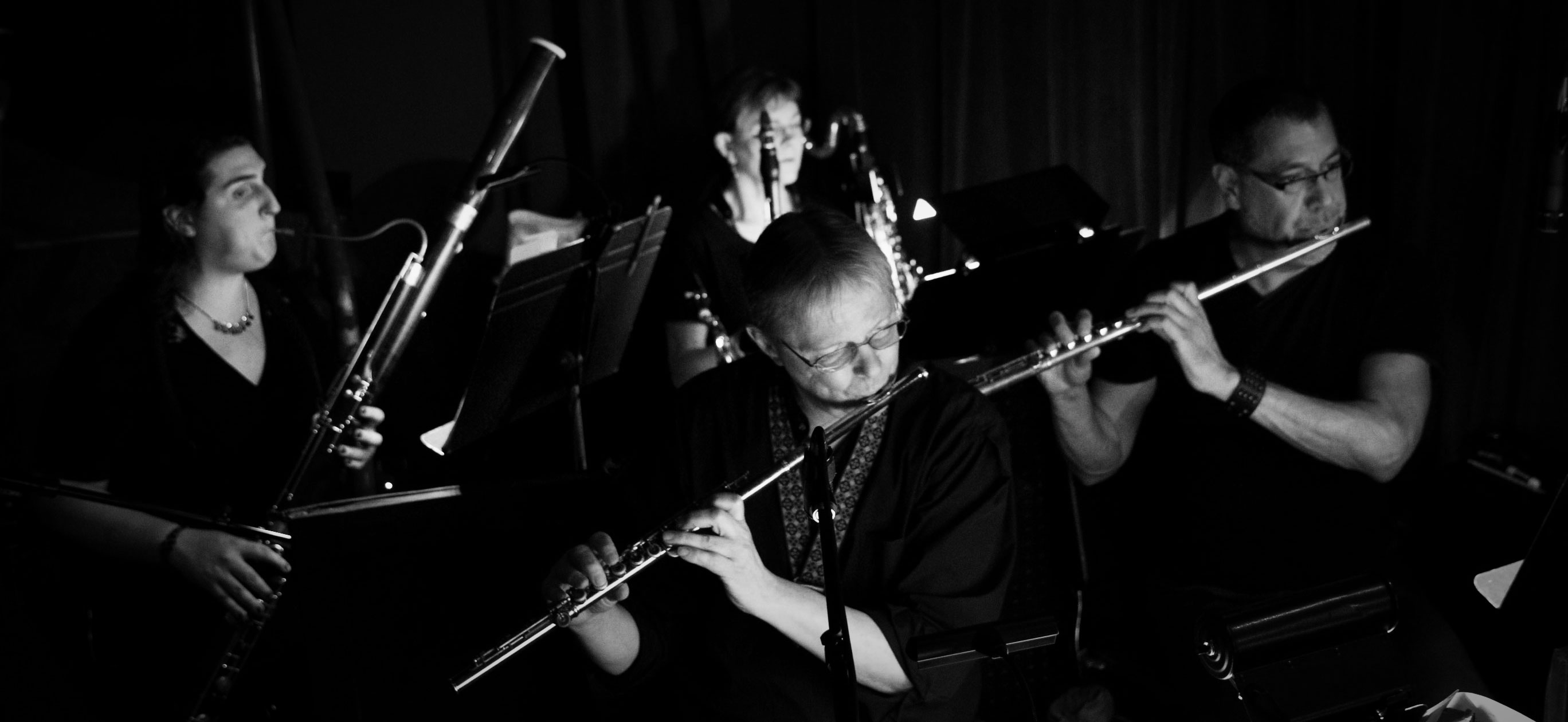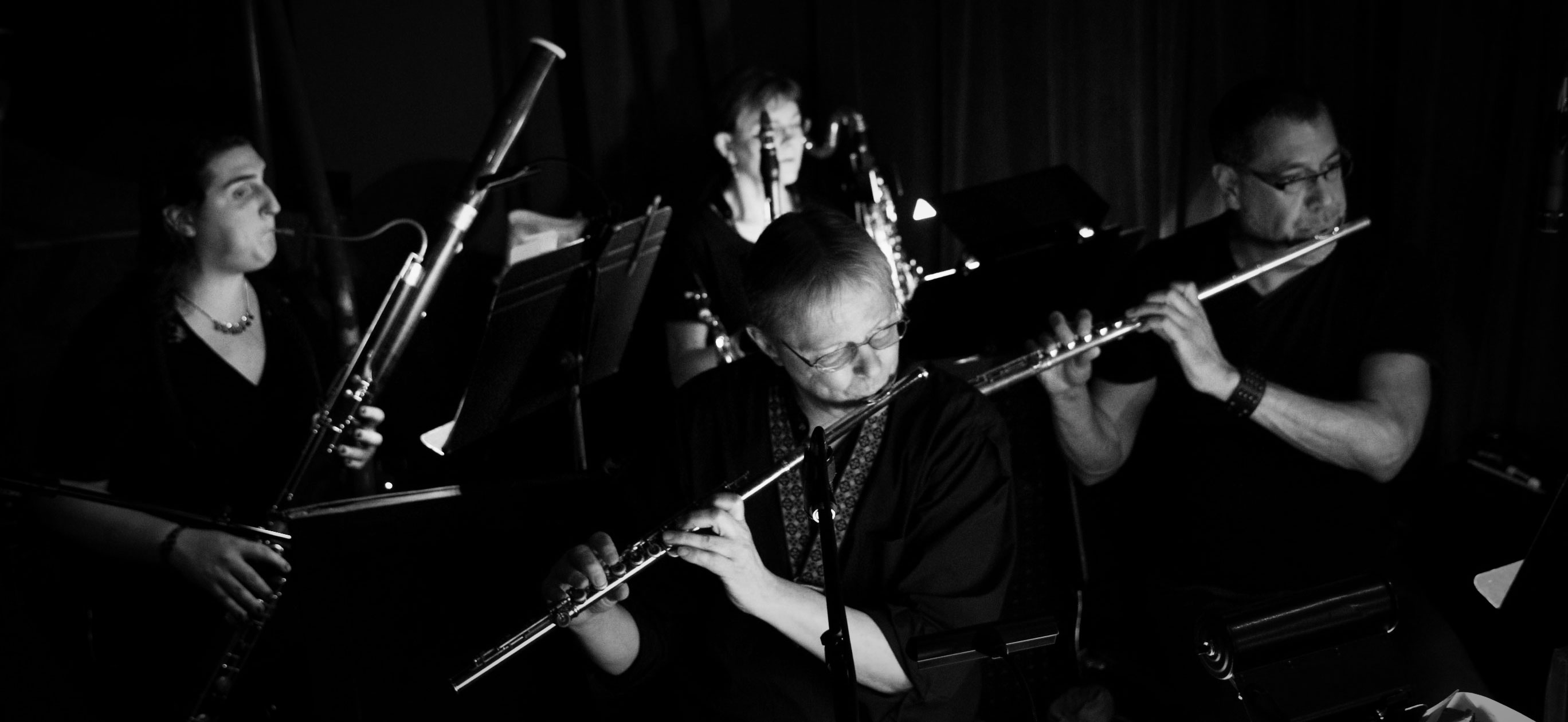 Meet the Artists of the "West Side Story" Orchestra
Rarely seen but always heard, a pit orchestra serves as the melodious conscience to a production, carrying the tone of each scene beyond the script. Hidden away like the treasure that they are, these artists infuse a musical with life while fading into the shadows. Unlike the performers on stage, their success is often measured by their level of inconspicuousness and, as a result, they often do not receive the recognition they deserve. Read on as we bring the talented artists who make "…Bernstein's tunes sparkle and soar" out of the darkness and into the spotlight.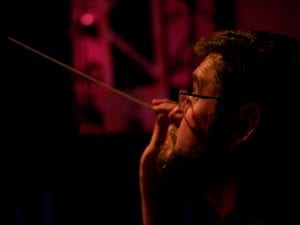 Alan Lytle — Music Director and Conductor
Alan returns for his thirteenth season with Broadway Rose. Previous music direction credits for Broadway Rose include Thoroughly Modern Millie, The Music Man, Lucky Stiff, My Fair Lady, The Sound of Music, Ripper (PAMTA), The King and I, Evita, Celebrate Home (Drammy), Nite Club Confidential, Plaid Tidings (Drammy), and No Way to Treat a Lady (Drammy). Other local music direction credits with Lakewood Theatre Company, Pixie Dust Productions, and JANE theatre company include Man of La Mancha (PAMTA), Anything Goes, La Cage Aux Folles, Legally Blonde, City of Angels, Wizard of Oz (Drammy), Beauty and the Beast, Company (PAMTA), Into The Woods (Drammy), Ragtime, Hello Dolly! (Drammy), and Ernest In Love (Drammy).
Jeffrey Childs — Associate Music Director, Piano
Originally from Chico, CA, Jeffrey has been the staff accompanist at CSU, Chico, as well as the cofounder of Theatre, ETC, a musical theatre program for children. He has also helped develop shows with the Broadway Junior program at Music Theatre International. Previous Broadway Rose credits include Church Basement Ladies, The 25th Annual Putnam County Spelling Bee, A Taffeta Christmas, Oklahoma!, Grease, The World Goes 'Round (PAMTA, Drammy), Plaid Tidings, I Love You, You're Perfect, Now Change; and The Andrews Brothers. Other credits include: Music Director – A Year With Frog & Toad (Oregon Children's Theatre), Violet (STAGED!), Assistant Music Director –Dreamgirls and Sweeney Todd (Portland Center Stage). Jeffrey also teaches classes and camps at Oregon Children's Theatre and Stagecoach, Valley Catholic High School, and Robert Gray Middle School.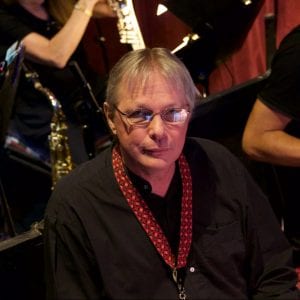 Marc Grafe — Flute, Piccolo, Bb Clarinet, Alto Sax
Multi-instrumentalist Marc Grafe is a Portland native. He has performed as a flutist/piccoloist with, among others, the Newport Symphony, Bravo! Vancouver, Portland Columbia Symphony, Little Ballet Theater and the Northwest Wind Symphony, recorded with Oregon Catholic Press, and has taught at Warner Pacific and Reed College. As a sound designer/performer he has toured with the Robert Ashley Ensemble, American Music/Theatre Group and the Cage Songbooks. His work as a sound engineer can be found on Lyrichord, Nonesuch, CRI and Sacred Harp Publishing. Adding saxophones and clarinets to the mix he has appeared with the legendary Latin funk band Felicidades, the Soundstage Rhythm Orchestra and gone into the pit for many shows; from Bye, Bye Birdie through Legally Blonde to this top notch Broadway Rose production of West Side Story. Marc's favorite musical moment in this show is the flying piccolo line in "America!"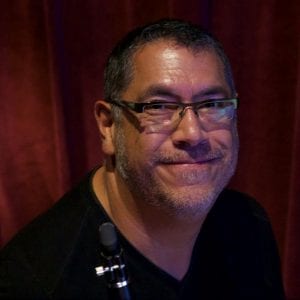 Sean Kelleher — Flute, Piccolo, Bb Clarinet, Alto Sax
Sean writes, "Of the many shows I've performed in over the years this is The One I've been waiting for, I'm thrilled to be participating in West Side Story! Having loved the music and songs for as long as I can remember, it feels like a dream come true to be juggling piccolo, flute, Eb, Bb clarinets and Alto Sax! Several of the numbers have me switching through 4 of the 5 in one number! I feel especially honored to be presenting this with such an amazingly talented cast of actors and singers, not to mention my fellow musicians in the pit under the direction of a man I have huge respect and admiration for, Alan Lytle. Thank you, Alan!"
"I dedicate my performances to my Mother, who sang 'Somewhere' to me as a child. I found my place indeed."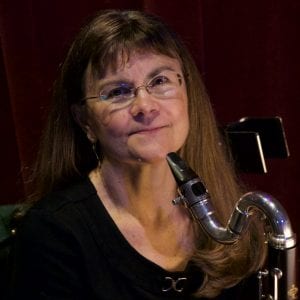 Alicia Charlton — Bb Clarinet, Bass Clarinet, Tenor Sax
Alicia Charlton is an active freelance musician. She is principal clarinet in Portland Columbia Symphony, holds positions with Newport Symphony and Portland Chamber Orchestra and is a regular sub with the Portland Opera Orchestra. She also enjoys performing in musical theatre shows at every opportunity. Alicia is delighted to be back in the pit for her fifth production with Broadway Rose Theatre Co. "This orchestration for West Side Story is fabulous with some of the most amazing writing for bass clarinet ever!"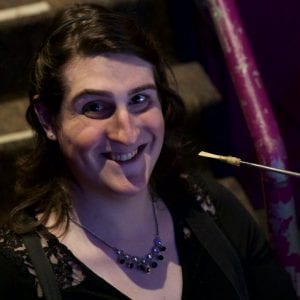 Danielle Goldman — Bassoon
"As someone who is Jewish, when I was asked to play West Side Story, one of the most significant pieces of recent Jewish cultural history, I knew I couldn't turn down the opportunity. While very much a product of the '50s, with all the insensitive baggage that comes with it (racism, misogyny, transphobia you name it – it has it all!), it's depressing how relevant and modern the issues it tackles remain, and its core message that senseless hate makes monsters of all of us continues to be extremely important. The Jewish men who wrote the words, lyrics, and music of the musical were also all gay, and this peculiar intersection between queer and Latinx culture seems particularly powerful in the wake of the shootings on Latinx night at Pulse nightclub in Orlando only a few weeks ago. Every time we play "Somewhere" and defiantly declare that, some day, some how, there's a place and time for us, my heart goes out to my brothers and sisters and siblings who died in that attack. Some day, some time, there'll be a place for us, too."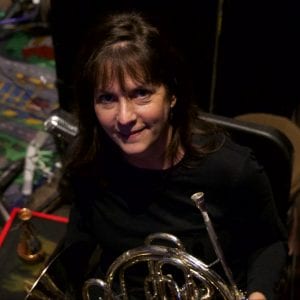 Wendy Peebles — French Horn

Born and raised in the mid-western State of Wisconsin, Wendy graduated from the University of Wisconsin with a Bachelor of Music and a Bachelor of Science before moving to the Pacific Northwest in 1990. She has made this her home ever since.
As a professional musician, she plays the French Horn, is a member of the Vancouver Symphony Orchestra and the Con Gracia Wind Quintet, and loves doing shows–West Side Story being a favorite!
An avid gardener, Wendy is a member of the WSU Master Gardener Program. Wendy lives in Vancouver with her husband Doug who is also a professional musician, a superb mechanic and old car fanatic. Look for them around town in their original 1971 Camaro!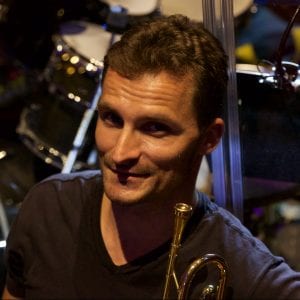 Levis Dragulin — Trumpet
Levis began performing on trumpet when he was 11 years old. In 2006, he was awarded a Bachelor of Science in Music from Portland State University. After that, he decided to work on Royal Caribbean cruise lines as a theater band musician, performing lead trumpet. He traveled the world for four years to places such as Australia, New Zealand, Alaska, Mexico, the Caribbean and the Mediterranean. In the last six years, Levis has been involved in around 30 musical productions in the Portland area, including Little Shop of Horrors, Hairspray, Annie Get Your Gun, Bye Bye Birdie, South Pacific, La Cage aux Folles, Cats, My Fair Lady, Beauty and the Beast, Show Boat, The Music Man, Dreamgirls, Thoroughly Modern Millie, Oklahoma! Anything Goes, Ain't Misbehavin', Chicago and Man of La Mancha.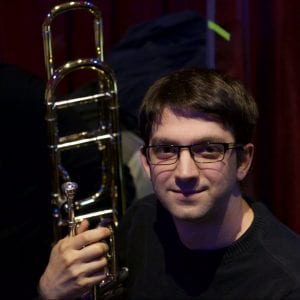 Logan Thane Brown — Trumpet 2
Logan Thane Brown has been a freelance trumpeter in the Portland area since moving from Wisconsin in 2010. Mr. Brown is a regular section player with the Portland Columbia Symphony Orchestra, the Vancouver WA Symphony Orchestra, and the principal trumpet of the Eugene Concert Orchestra. Brown has been an active player in musical theatre pit orchestras around Portland for the past five years: this is his debut performance with Broadway Rose Theatre Company.
Logan writes, "This is the first time I have had the opportunity to play West Side Story and it is as exciting and enjoyable as I could have hoped for. It is also an incredible honor and joy to be working with such a wonderful and talented cast, crew, and orchestra."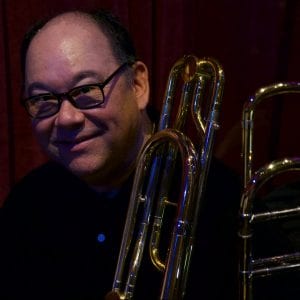 Bryant Byers — Trombone & Bass Trombone
Originally from New York City, Bryant Byers has deep family roots in Broadway. After a 20+ year career as a professional musician in Hollywood, CA working on projects for recordings, TV, and movies, he is glad to now be living in Portland and going back to the work he most enjoys; playing for musical theater.
"It has been my great fortune to have had the privilege and joy of playing in the orchestra pit with the fine musicians of Broadway Rose Theatre Company for the past four seasons. This Bernstein score for West Side Story is among the most challenging musicals for any company to attempt. I'm glad to have the opportunity to revisit it here, again, with The Broadway Rose Theatre Company."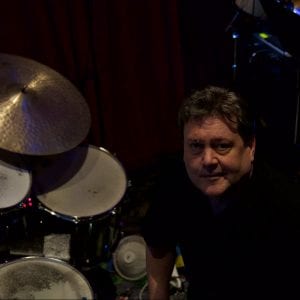 Gary Irvine — Drums
Gary received a B.A. In Music from San Diego State University. While there, he was introduced to the instruments of Harry Partch and spent the next 18 years as a member of the Harry Partch Ensemble.  He played concert percussion with the San Diego Symphonia, Star Light Opera and the La Jolla Chamber Orchestra. He spent time in Los Angeles and played on various national commercials and TV shows. After moving to Portland Gary could be seen playing with the band 3 Leg Torso. He has played musicals with Pixie Dust Productions, Broadway Rose Theatre Company and Lakewood Theatre Company.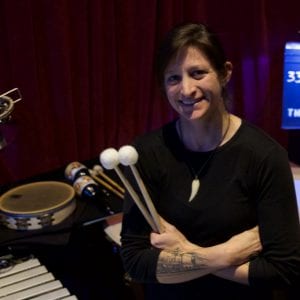 Alexandra Geffel  — Percussion

Alexandra is a native to Portland, OR, having initially studied with many local teachers and drummers. She has a B.A. in Music from Biola University (La Mirada, CA), where she studied with Cliff Hulling and played in various ensembles. Alexandra plays drum set, classical percussion, marimba, cajon and various Latin and African percussion instruments; specializing in classical, rock, jazz, and musical theater. She performs regularly with the bands The Cabin Project and Skull Diver as well as working as a freelance percussionist throughout Portland. Learn more at her website: zannydrums.weebly.com
Alexandra wrote, "I'm so honored to be a part of Broadway Rose's production of West Side Story. Bernstein has always been an exciting challenge for me as a percussionist and being able to be a part of his magical journey through this heart-wrenching musical is truly inspiring. This score was originally written for five percussionists, so I try to imagine all of them behind me saying, "you got this." I love adding to the drama of what is happening on stage and believe live musical theater is a beautiful expression of so many art forms."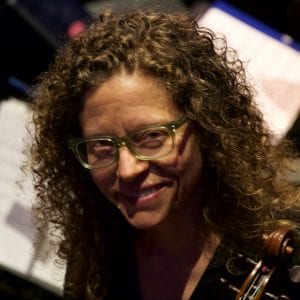 Mary Rowell — Violin
Mary is a freelance violinist/violist in the Portland Metro area.  She has regularly played in various regional theaters including Portland Center Stage and Broadway Rose, and Musical Theater Company back in the '90s. She enjoys all styles of music from Baroque to Jazz and Modern. Mary is concertmaster of the Bach Cantata Choir here in Portland, has played with the Portland Baroque Orchestra, and loves to perform chamber music. Mary is part of a violin duo, "MT duo" and recently toured in Alaska with Ashley Peck, cello, who is also in the West Side Story orchestra.
Her first show at Broadway Rose was Ripper and she has enjoyed many since then. Thoroughly Modern Millie was one of her favorites. When not playing or teaching, Mary enjoys gardening, astronomy, beekeeping and lives in the Southeast with her Piano Technician husband, cats, chickens and bees.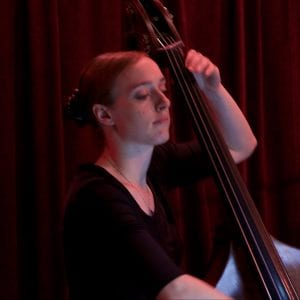 Amy Roesler — Bass, Violin II
Amy Roesler is thrilled to be playing bass for West Side Story, one of her bucket list parts. Since moving back to Portland, Amy has also performed in the pit for shows at MetroArts, Stumptown Stages and Lakewood Center for the Arts. She has also played for cabarets and variety shows, as well as local orchestras, with genres ranging from classical, jazz, rock, and bluegrass. Amy is especially grateful for the many people in the theater community who have helped her find her footing in Portland.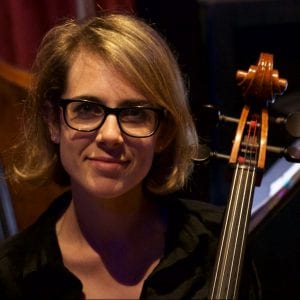 Ashley Peck — Cello
Ashley Peck is a cellist and cello teacher in Portland. She is a member of the Vancouver Symphony Orchestra and the Portland Columbia Symphony Orchestra and the cellist of ArcadiaPDX String Quartet. As a recitalist she has performed in Unalaska, Alaska with fellow West Side Story orchestra member, Mary Rowell. Ashley also teaches cello in Lake Oswego public schools, at the Two Rivers Farm School, and at her private studio in NW Portland. She is adjunct faculty at Portland State University where she teaches string techniques for music education students.
Ashley has played in the pit for many musicals, including Sound of Music, Les Misérables, Die Fledermaus for Mock's Crest and Jesuit High School Productions. She has also played Julien in Sarah Ruhl's "Melancholy Play" at Pacific University. West Side Story has been one of Ashley's favorite musicals and movies since her youth and she is looking forward to performing it with Broadway Rose this summer.

Not pictured — Charlie Gregson, Synthesizer
(Bio not currently available)