Sharon Maroney – Producing Artistic Director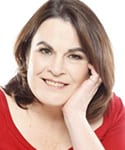 Raised in Wauwatosa, Wisconsin, Ms. Maroney graduated from Marquette University with a B.A. in Theater Arts in 1980 and spent ten years studying and performing in New York City. She is a member of Actors Equity Association and AFTRA.
Along with her husband, Dan Murphy, Ms. Maroney founded Broadway Rose in 1992. Since that time she has produced over 88 productions and has directed many shows for Broadway Rose including Oklahoma!, Fiddler on the Roof, Bye, Bye Birdie, Phantom, The Will Rogers Follies, A Christmas Survival Guide, and The Gifts of the Magi. She has also directed for Prather Productions and Millbrook Playhouse. Ms. Maroney has written several children's shows for Broadway Rose and co-wrote the 2005 Broadway Rose holiday show, Broadway Goes Christmas. She continues to perform on stage at Broadway Rose and other local Portland area theaters.
Ms. Maroney has studied nonprofit management at Technical Assistance for Community Services since 1996. She is involved with the Westside Cultural Alliance and currently serves on the board of the National Alliance of Musical Theatres (NAMT).
sharon@broadwayrose.org
503.906.2390
Brenda MacRoberts – Executive Director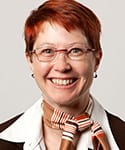 Raised in Paso Robles, California, Mrs. MacRoberts started acting in high school. She received her B.A. in Theater Arts from California State University, Fresno, and M.B.A. in Arts Administration from Golden Gate University in San Francisco, California. Brenda joined Broadway Rose Theatre Company in 2010 and brings with her 15 years of nonprofit experience and passion for sustaining live musical theater through exposing young people to the art form.
She oversees all business operations and fundraising for the organization and works closely with the board of directors and artistic director to establish and implement strategic goals for keeping high quality musical theater alive and well in the Portland metro area.
brenda@broadwayrose.org
503.906.2377
Dan Murphy — Founding General Manager
Dan Murphy is the founding general manager of Broadway Rose Theatre Company. Together with his wife, Producing Artistic Director Sharon Maroney, Dan has been producing live theater since 1992. He is an award-winning director, choreographer, and actor, having occasionally hit the boards in roles such as Edna Turnblad in Hairspray, Man in Chair in The Drowsy Chaperone and most recently as Alfred P. Doolittle in My Fair Lady.
Not only is he known for his musical theater work throughout the greater Portland area, but it has taken him to Birmingham, AL; Sanford, NC; Fort Collins, CO; Lancaster, PA; and the riverboats along the Mississippi, to name a few. He is deeply involved in his community, serving on the Tigard Chamber of Commerce board of directors cumulatively for over 8 years within his 22 years of membership, serving as board president three different times.  He is a Rotarian at the Tigard Noon Club since 2002, and very active with the Tigard/Tualatin School District, including working with the Tualatin High School students to produce their annual musical for the past 12 years. He is a proud member of Actors Equity as well as SAG-AFTRA, the professional actors unions.
dan@broadwayrose.org
503.906.2375
Alan Anderson – Marketing Director
alan@broadwayrose.org
503.906.2380
Emily Dew – Communications Manager
emily@broadwayrose.org
503.906.2379
Beth Levy – Development Manager
bethlevy@broadwayrose.org
503.906.2376
Quimby Lombardozzi – Grants Manager
quimby@broadwayrose.org
Beth Moore Jones – Patron Services Manager
beth@broadwayrose.org
503.620.5262
Jess Morgan – Assistant Patron Services Manager
jess@broadwayrose.org
503.906.2378
Vera Rojas – Group Sales Representative
vera@broadwayrose.org
503.620.5262
Bliss Talbott – Lead House Manager
housemanager@broadwayrose.org
Jeff Duncan – Production Manager
jeff@broadwayrose.org
Phil McBeth – Technical Director
phil@broadwayrose.org
Nancy Christy – Costume Shop Manager
nancy@broadwayrose.org
Tyler Beadle – Facilities Manager
beadle@broadwayrose.org