Santa Sing-Along at Broadway Rose
Santa is touching down at Broadway Rose to celebrate the merriest season with a lively sing-along, storytelling, and a special gift for each child!
Hosted by the Broadway Rose Theatre Guild, this festive event is a jolly opportunity to spend time with a good little boy or girl in your life. Together you'll enjoy singing favorite holiday carols, led by Broadway Rose performers with live accompaniment, and a special story reading by old St. Nick himself! After the sing-along, children will have the chance to meet Santa and give him their holiday wishlists (PDF.)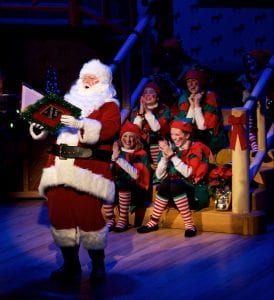 Saturday, November 28, 2020 from 10:00 a.m. to 11:30 a.m.
Children's tickets: $10
Adult tickets: $12
Kids under two sitting on adults' laps are free.
Broadway Rose New Stage
12850 SW Grant Avenue in Tigard.
Accessibility needs: Please call us at 503.620.5262 if we may assist you with ordering accessible seating or other needs.
Proceeds benefit Broadway Rose's theatrical and education programs.