A Chorus Line (2010). Photo by Craig Mitchelldyer.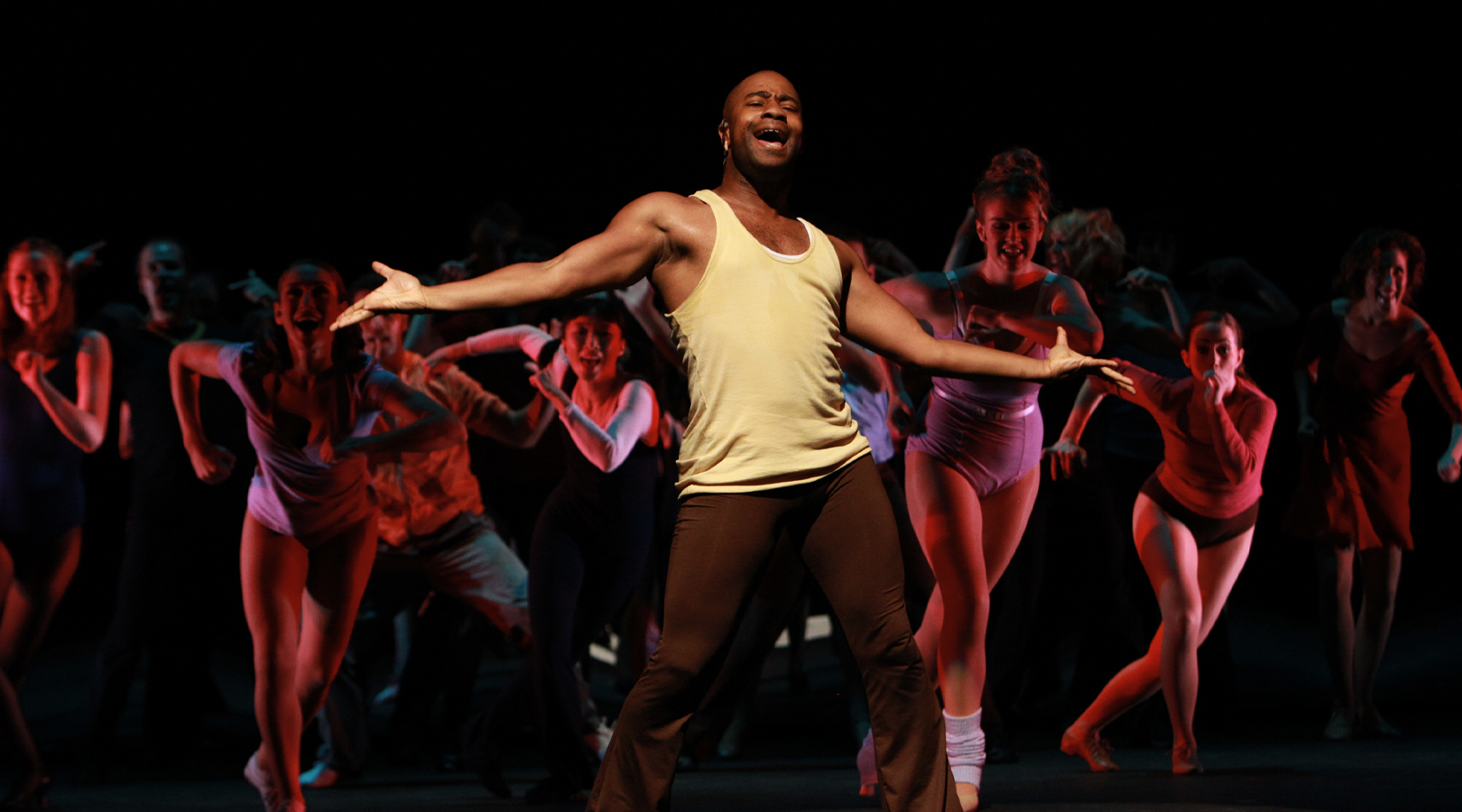 A Chorus Line (2010). Photo by Craig Mitchelldyer.
Current Opportunities
Broadway Rose seeks diverse casts and strongly encourages actors who are members of underrepresented communities to submit applications. Broadway Rose Theatre Company believes that diversity brings a vital richness and depth to the stories it presents on its stages and that theatre should not just entertain, but expose audiences to new experiences and expand their worldview. The theatre is committed to its work in improving its equity, diversity, and inclusion efforts and fostering an environment where all people are welcome.  
Auditions for our 2024 season will be announced later this year.
Audition Instructions
• Auditions are held at the Broadway Rose New Stage, 12850 SW Grant Ave., Tigard, OR. 
• 18 years old or older only, please.
• Please prepare 32 bars. (Bring an alternate song in case you are asked to sing something else.)
• Bring sheet music in your own key (music will not be transposed). An accompanist will be provided.
• Be prepared to sing a second song if requested. No taped or a cappella music.
• Bring a current non-returnable photo and resume.
• Bring your calendar to list your conflicts.
• Arrive at least 10 minutes earlier than your audition time to complete an audition form.
• All artists should dress in a way they feel is appropriate for the character or show for which they are auditioning.
For those auditioning for female roles, we recommend wearing a skirt or dress and heels or flats.
Scripts are available for perusal by arrangement. Email Dan Murphy at dan@broadwayrose.org.
Click a title below to see the show description and character breakdown.
Joseph and the Amazing Technicolor Dreamcoat
Directed by Dan Murphy
Music Direction by Darcy White
Music Rehearsals: May 30, 31 and June 1
Staging Rehearsals: June 6 – 28
Preview Performance: June 29
Opening: June 30
Closing: July 23
This colorful retelling of the story of Joseph, his coat of many colors, and his amazing ability to interpret dreams is a blockbuster of biblical proportions! From the legendary musical theatre duo of Andrew Lloyd Webber and Tim Rice (Evita, Jesus Christ Superstar), this musical parable features an exuberantly catchy score including such hits as "Go Go Go Joseph," "Close Every Door," and "Any Dream Will Do." Don't miss this family friendly, high-energy production that's delighted audiences for generations!

Character breakdown
Narrator – Soprano belt
Joseph – Tenor
Brothers – Mix of tenor through bass range
• Rueben
• Simeon
• Levi
• Naphtali
• Issachar
• Asher
• Dan
• Zebulon
• Gad
• Judah
• Benjamin
Select brothers will double as Pharaoh, Potiphar, Butler, Baker, and Soloists
Jacob – Father (This role has already been cast.)
Ensemble (4)
• 2 Soprano, 2 Alto
Ensemble will play wives, Mrs. Potiphar, and various other roles
Rodgers + Hammerstein's Cinderella
Directed and choreographed by Lyn Cramer
Music Direction by Alan Lytle
Music Rehearsals: July 5, 6, 7
Staging Rehearsals: July 8 – Aug. 2
Preview Performance: Aug. 3
Opening: Aug. 4
Closing: Aug. 20
Whimsical, lavish, and romantic, Rodgers + Hammerstein's Cinderella is the 2013 Broadway adaptation of the classic 1957 musical. The score features beloved songs from the original, such as "In My Own Little Corner," "Impossible/It's Possible," and "Ten Minutes Ago," sprinkled with additional works from the Rodgers & Hammerstein canon, while new characters and libretto help usher the story into the 21st century. Filled with breathtaking special effects, sparkling costumes, and gorgeous music, this modern fairy tale will sweep you off your feet and let you believe in the power of possibilities.

Character Breakdown 
Ella (Cinderella) (20s, soprano, any ethnicity) Kind-hearted beauty with an infectious generosity of spirit. Though she has been flying under the radar, she comes fully into herself as an articulate dynamic woman with a great deal to say. Traditional musical theatre soprano. 
Topher (20s–early 30s, baritone, any ethnicity) The prince of the kingdom leads with heroic bravado but is deeply naïve and not always quick on the draw. In search of his purpose. His kind-hearted nature spills into an endearing goofiness at times. Light comedic touch essential. Soaring, rich musical theatre baritone to G. 
Madame (Late 40s–50s, mezzo-soprano, any ethnicity) Ella's selfish stepmother. A vain and tyrannical climber. Deeply concerned with status and image and entirely dismissive of her stepdaughter. Comic timing essential. Traditional musical theatre character voice. 
Gabrielle (20s–30s, mezzo-soprano, any ethnicity) Ella's stepsister and daughter of Madame. Begins aligned with her materialistic mother and sister but her kindness and thoughtful nature emerge as she is affected by Ella and love interest Jean Michel. Perhaps a bit quirky and cut from a different mold than the social climbers around her. Comic timing is essential. Strong and expressive traditional musical theatre voice. 
Charlotte (Late 20s–30s, mezzo-soprano, any ethnicity) Ella's stepsister and daughter of Madame. Deeply self-involved, attention seeker. Loud, brash and delights in being cocky. Lacks self-awareness and often the last one in on the joke. Excellent comic timing required. Traditional musical theatre character belt to F. 
Marie (40s–60s, soprano, any ethnicity) First presents as an eccentric outcast beggar woman but is revealed as Ella's fairy godmother in disguise. Warm with a spark of wackiness she lifts the magic in the show and highlights what is possible! Soaring traditional musical theatre soprano to G. 
Jean Michel (20s–30s, baritone, any ethnicity) An enthusiastic revolutionary determined to make a difference. Energized and on his way to becoming a leader. Great comic timing. Traditional musical theatre voice. 
Sebastian (40s–60s, tenor, any ethnicity) Topher's Lord Chancellor. He actively shields the Prince from what is occurring in his kingdom and revels in maintaining his own power. Disregarding villagers in need he is primarily concerned with preserving the wealth and the reach of his power. Fantastic comic timing essential. Traditional musical theatre character voice. 
Lord Pinkelton (30s–50s, Tenor, Any Ethnicity) Sebastian's second-in-command and the herald for all balls and events. Announces royal balls, banquets and even the weather. Excellent comic timing is essential. Traditional musical theatre tenor. 
Ensemble
Knights, Peasants, Serfs, Townspeople, Ladies and Gentlemen of the Court, Giant, Griffin, Servants, etc. 
Ain't Misbehavin'
Directed and choreographed by Eugene Barry-Hill
Music Direction by William Knowles
Music Rehearsals: August 23, 24, 25
Staging Rehearsals: August 29 – September 20
Preview Performance: September 21
Opening: September 22
Closing: October 15
The incomparable Thomas "Fats" Waller rose to international fame during the Golden Age of the Cotton Club and that jumpin' new beat, swing music. Winner of the 1978 Tony Award® for Best Musical, Ain't Misbehavin' evokes the delightful humor and infectious energy of this American legend as a versatile cast struts, strums, and sings the songs that he made famous in a career that ranged from uptown clubs to downtown, Tin Pan Alley to Hollywood, and concert stages in the U.S., Canada, and Europe.
Featuring over 30 Waller favorites including "Honeysuckle Rose," "Black And Blue," "The Joint Is Jumpin'," and "I Can't Give You Anything But Love."
Character Breakdown 
André
An unrepentant party hound. A flirt and a bit of a womanizer. 
Age: 25–45 
Vocal range top: E6
Vocal range bottom: G2 
Armelia
A voluptuous and confident woman. Very strong-willed and not afraid to share her thoughts. 
Age: 25–45 
Vocal range top: C6
Vocal range bottom: G3  
Charlaine
A sweet, young lady. Very innocent. 
Age: 18–25
Vocal range top: G5 
Vocal range bottom: G3 
Ken
Jovial, cheerful, and loud. Larger than life. 
Age: 25–45 
Vocal range top: C6
Vocal range bottom: D3 
Nell
Confident and charming. A knowledgeable woman of the world. 
Age: 30–45 
Vocal range top: F5
Vocal range bottom: F3
Home for the Holidays
Directed by Dan Murphy
Music Direction by TBD
Music Rehearsals: October 24, 25, 26
Staging Rehearsals: October 31 – November 21
Preview Performance: Nov. 22
Opening: Nov. 24
Closing: Dec. 23 
Passengers bussing home to Chicago for the holidays find themselves stuck in Iowa when a blizzard shuts down the highway. Forced to spend Christmas Eve at a deserted bus depot, they make the best of a bleak situation and get into the Yuletide spirit with stories and songs while they wait out the storm together. Packed with contemporary and classic holiday tunes, this lighthearted revue is the perfect festive pick-me-up for weary travelers, Christmas revelers, or anyone seeking a hefty dose of holiday cheer. 
Character Breakdown 
Henry – 60s, Station manager of bus depot in Davenport, Iowa. (baritone) 
Peggy – 60s, Recently widowed, She is heading to Chicago to spend the holidays with her daughter and family. (mezzo) 
George – Early 40s, Recently divorced. George is on his way to spend Christmas with his siblings as his children are spending the holidays with his ex-wife's family. (baritenor) 
Matthew – Mid 20s, Program manager for a nonprofit. He is bringing his girlfriend (Rebecca) home to meet his family for the first time. (tenor) 
Rebecca – Mid 20s, Environmental lawyer. Rebecca is traveling to Chicago to meet her boyfriend's family for the first time. (soprano) 
Geri – Late 40s, Bus driver. Geri is single and ready to mingle. (alto) 
Pinocchio
Directed by Annie Kaiser
Music Direction by TBD
Rehearsals: July 3 – 18, generally 10:00 a.m. – 2:00 p.m.
Performances: Wednesday, July 19 – Saturday, July 22, 11:00 a.m. and 1:00 p.m.
This 50-minute show includes original music, humor, and fun, introducing children to the magic of theatre. This classic tale is a heartwarming story of a puppet who becomes a real boy! Campers perform as the ensemble in this children's theatre production.
Character Breakdown 
Pinocchio
Geppetto
Cricket
Blue Fairy
Cat
Fox
Stromboli
Candlewick