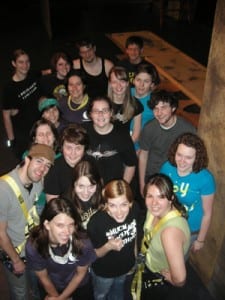 Broadway Rose Theatre Company has been providing  the Technical Internship Program for students since the organization's inception in 1992. The Technical Internship Program fosters relationships between professionals and local students to train and mentor young adults interested in learning all aspects of technical theater. These paid interns work in a variety of technical positions including spotlight operator, light board operator, running crew, dresser, and assistant stage manager.
Students gain practical, hands-on experience within a professional company which leaves them better prepared for collegiate theater programs and professional theater work. For those who decide on a professional career in theater, their internship with Broadway Rose provides an excellent springboard for professional networking. Artists who work with the interns assist them in cultivating important relationships with other professionals in the performing arts.
Interviews take place each spring for the summer season.
Learn about 2016 internship opportunities here (PDF).
To apply for a technical internship with Broadway Rose Theatre Company, please complete and submit an application form (see below). All intern positions are paid a stipend. Transportation and housing are the responsibility of the applicant. Please email your application along with any required materials listed below to: interns@broadwayrose.org
2016 Summer Internship applications are due March 21, 2016.
Click here to apply for a 2016 Summer Internship