August 14 – 17 and 28 – 31, 2019
On the outskirts of the kingdom, a young woman with big dreams is stuck caring for her selfish stepsisters. Meanwhile, a prince is being pushed to choose a bride and is scrambling to find someone who truly likes him and not just his crown!
Will Ella make it to the Royal Ball? Will the prince find his true love? Will the fairy godmother ever remember where she put that spell? Complete with audience interaction, this 50-minute musical will leave even the littlest audiences believing that dreams really can come true!
Music and Lyrics by STAN GILL
Directed by DAN MURPHY
Performances held at the Broadway Rose New Stage, 12850 SW Grant Avenue, Tigard, OR

Show Sponsor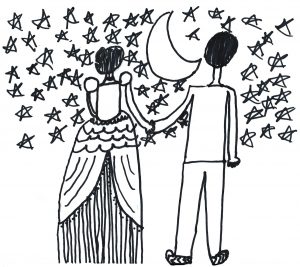 Drawing by Citlali M., 2nd Grade
Templeton Elementary School
Broadway Rose hosts an annual contest for children at a local elementary school in conjunction with the Tigard-Tualatin School District Art Literacy program. Students create artwork inspired by the stories of the company's children's productions and a winning illustration is chosen to appear on the cover of the show program.
Megan Tudor as Cinderella
Ben Usher as The Prince
Gabrielle Mbenza-Ngoma as Repulsia
Sophie Ekdhal as Obnoxia
Jesse Groat as Troubador
Paige A. Hanna as Fairy Godmother
Show Dates
Wednesday, August 14, 11:00 AM—Limited Availability
Wednesday, August 14, 1:00 PM—Limited Availability
Thursday, August 15, 11:00 AM—Limited Availability
Thursday, August 15, 1:00 PM—SOLD OUT
Friday, August 16, 11:00 AM—Limited Availability
Friday, August 16, 1:00 PM—SOLD OUT
Saturday, August 17, 11:00 AM—SOLD OUT
Wednesday, August 28, 11:00 AM
Wednesday, August 28, 1:00 PM
Thursday, August 29, 11:00 AM
Friday, August 30, 11:00 AM
Friday, August 30, 1:00 PM
Saturday, August 31, 11:00 AM—Limited Availability