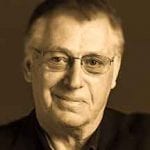 "Finding light in a world full of darkness" is one of the central aims of Fly By Night, and creating the light is that of the lighting designer. Together with the other members of the creative and technical teams, this key position is responsible for telling the story through the use of light – and also, as in the case of this production, its absence. Staffer Emily Dew and theatre professional Gene Dent—whose credits include lighting and scenic designs for Oregon Ballet Theatre, Oregon Children's Theatre, Portland Opera, Broadway Rose, and more—got together for a quick Q&A illuminating the role of the lighting designer:
---
HOW DID YOU GET INTO LIGHTING DESIGN?
I studied design at Portland State. I was working as an assistant designer with Seattle Opera and the department created lighting for the productions. I was assigned the lighting designer position for the Rigelletto tour, which proved successful. I began lighting for the main season. When I left Seattle Opera and returned to Portland in 1974 I was asked to light Der Freischütz for Portland Opera. I became the resident designer for the company and served in that position until 1983.
WHAT'S YOUR FIRST STEP IN DESIGNING A SHOW?
The design always comes from the story and the music. It's often tempered by what's possible in terms of time and resources.
WHAT IS THE ROLE OF LIGHTING IN THEATRE?At the very basic level, it lets the audience "see" the story, by enhancing the mood, amplifying the emotional content and directing our attention to important elements.
YOU'VE LIT DANCE AND THEATRE PERFORMANCES. HOW DO THE TWO FORMS DIFFER?
Dance is much more abstract. Often to the point of being arbitrary. We leave the world of asking "is it day or night?" and enter the world of "is it green or red?".
DOES FLY BY NIGHT PRESENT ANY UNIQUE CHALLENGES OR OPPORTUNITIES FOR LIGHTING?
Many.Most importantly, there are many locations indicated with almost instant transitions from one to the next.The lights need to help the audience keep up with "where we are."
FAVORITE BROADWAY ROSE SHOW YOU DESIGNED?
Always…Patsy Cline.
YOU ALSO DESIGN PARADE FLOATS.
It's also theatre. We're trying to tell a story, even though the creations are made of steel, on wheels, and covered with flowers.
WHEN WILL WE GET TO SEE A BROADWAY ROSE PARADE FLOAT?
Soon I hope! We have designed floats with the idea of promoting Broadway Rose shows and presented them to various sponsors. None have been selected.
HOW HAVE RECENT INNOVATIONS IN LIGHTING TECHNOLOGY CHANGED THEATRE DESIGN?
More and better tools let us create new and interesting effects.
MOST CHALLENGING PROJECT AT BROADWAY ROSE OR ELSEWHERE?
Ripper.
MOST FUN?
Ripper.
WHEN DO YOU CONSIDER YOURSELF DONE WITH A PROJECT? DESCRIBE THE MOMENT THAT YOU FEEL TRULY FINISHED.
All of them get done. Not all of them get finished. There's always a limited amount of time between when you start and when the curtain opens. Usually we're finished by preview. Sometimes it's not until the notes and corrections are given after opening.
DREAM SHOW TO DESIGN FOR: This one.
---
Gene Dent's recent projects at Broadway Rose include lighting design for A Funny Thing Happened on the Way to the Forum and scenic design for A Taffeta Christmas.