At Home with Broadway Rose
Stay connected with us through music and stories! Enjoy this collection of recent online performances and interviews and follow us on social media for announcements of new ones!
---
Hosted by Managing Director Dan Murphy, Midday Cabaret is a livestream series featuring interviews and performances with artists from current productions and throughout Broadway Rose's production history.
Our Midday Cabaret: CAST EDITION with James Sharinghousen and Sarah Aldrich from You're a Good Man, Charlie Brown, took place live on set on June 13, 2022!
June 13, 2022: James Sharinghousen and Sarah Aldrich from You're a Good Man, Charlie Brown.
October 6, 2021: Colin Stephen Kane and Benjamin Tissell from Loch Lomond.
Feb. 11, 2021: Alec Cameron Lugo and Andrew Wade from The Story of My Life.                                                        
August 19, 2020: Broadway performer Sheryl McCallum, who sang the very first note of our inaugural show Joseph and the Amazing Technicolor Dreamcoat.
July 29, 2020: Antonía Darlene, who appeared in Nunsense and Beehive and designed wigs for Ain't Misbehavin'.
July 8, 2020: Diva Folk singer and songwriter Tara Velarde, last seen here in Once as Ex-Girlfriend.                           
June 17, 2020: Director, choreographer, performer, and artistic director of NC's Temple Theatre, Peggy Taphorn.
May 27, 2020: Sara Catherine (Always…Patsy Cline, Cats, Hairspray, and more) and Eric Holder.
May 6: Benjamin Tissell, who appeared in Ordinary Days, Fly By Night, and A Very Merry PDX-mas.
April 20, 2022: Clara-Liis Hillier & Matthew H. Curl from Don't Hug Me.       
July 14, 2021: Molly Duddlesten and Alec Cameron Lugo from Analog & Vinyl.
September 2, 2020: Joe Theissen and Malia Tippets from Fly By Night, Guys and Dolls, and Up and Away.                   
August 12, 2020: Ethan Crystal, who first performed in our teen summer workshops before appearing on our mainstage in A Funny Thing…Forum!             
July 22, 2020: Audrey Voon, who previously appeared in The 25th Annual Putnam County Spelling Bee, The King and I, and Ripper. 
July 1, 2020: Claire Avakian, who starred in Thoroughly Modern Millie (and would have starred in Crazy for You).      
June 10, 2020: Veteran performer Amy Jo Halliday, last seen here in The Addams Family.                                                                                        
May 20, 2020: Once star and singer/songwriter Morgan Hollingsworth.                                  
February 2, 2022: Emily Cadiz and Jessica Brandes from Honky Tonk Laundry.
April 28, 2021: Kailey Rhodes and Jeff Rosick from The Last Five Years.                                                     
August 26, 2020: Charles Cook, cast in Ain't Misbehavin' and Crazy For You (both canceled). Instead his debut was on Midday Cabaret!     
August 5, 2020: Performer and choreographer Maria Tucker discusses choreographing a big musical and dances at the New Stage.                                                                     
July 15, 2020: Andrew Maldarelli, who last performed in Once and is joined by his family for this appearance!             
June 24, 2020: Portland based band The Bylines (Reece Marshburn and Marianna Thielen).                                             
June 3, 2020: Actress/singer Michele Foor and music director Frank Spitznagel, who appeared in our inaugural season.
May 13, 2020: Murder for Two star and Liberace tribute artist David Saffert.
---
Cast Reunions
While our onstage productions were on hiatus in 2020, we celebrated some of our favorite past shows with new musical performances recorded by the original Broadway Rose casts. Warmest thanks to the artists for generously donating their time and talent.
Cast members from 2019's sold-out production of Once collaborated on a socially-distanced reprise performance of the song "Falling Slowly."
Colin Stephen Kane and Malia Tippets reprise "Good News" from 2020's Up and Away.                                       
The cast of 2019's A Grand Night For Singing reunited for a virtual performance of "Impossible/I Have Dreamed."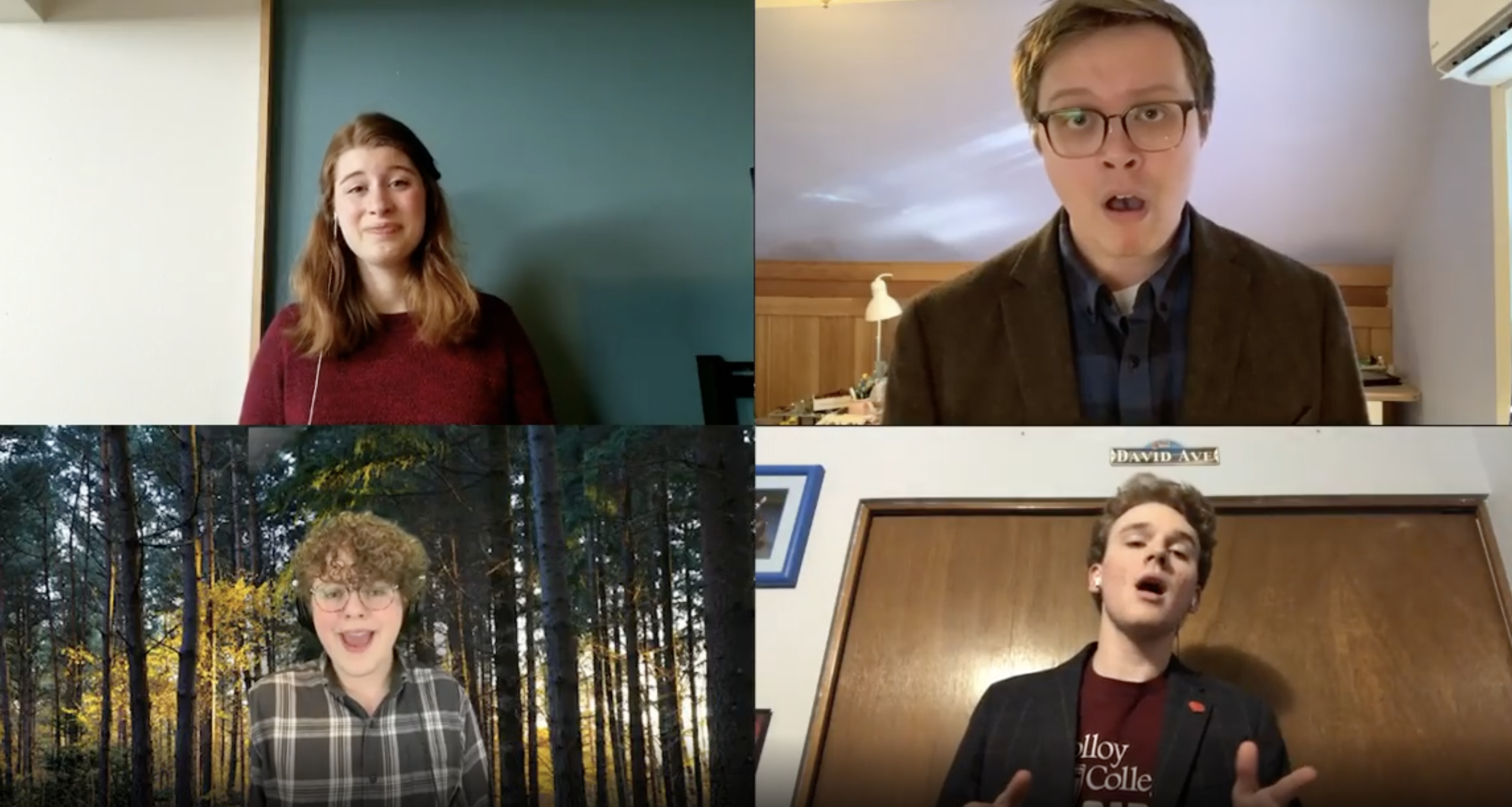 Amy Jo Halliday revisited this uplifting song for this video with a little help from some Broadway Rose friends.                          
In this video, "The Bikinis" co-stars reunited for a virtual reprise of "The Shoop Shoop Song (It's In His Kiss)" made popular by American soul singer Betty Everett in 1963.
Although Ain't Misbehavin' was forced to cancel two weeks before opening, the cast and musical director reunited to perform of the show's titular song.