Audition From Hell (2023). Photo by Craig Mitchelldyer.
Audition From Hell (2023). Photo by Craig Mitchelldyer.
April 20 – May 14, 2023
Audition From Hell
Four seasoned actresses at the top of their game, but slim on prospects, find themselves competing for two parts in a new musical. The audition goes sideways when the director quits, the producer loses her nerve, and tempers flare as past betrayals are revealed. With original music, this humorous and often heartfelt glimpse behind the curtain shares the highs and lows of the compelling yet brutal nature of show business.
Written and Directed by Sharon Maroney
Run time is approximately 1 hour and 30 minutes with no intermission.
Performances held at the Broadway Rose New Stage
12850 SW Grant Avenue, Tigard, OR
Cast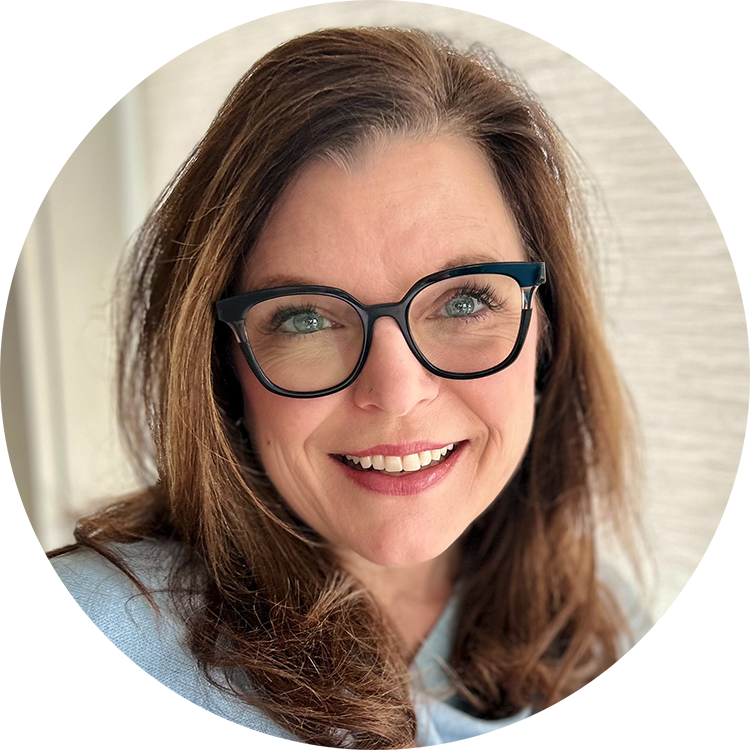 Laurie Campbell-Leslie as Samantha
Laurie was last seen on the Broadway Rose stage as Annie in The Bikinis. She's tickled to be back and working with her Bikini sisters! She recently played Frauline Schneider in Stumptown Stage's Cabaret and prior to that was seen in Beacock Music's Grand Night for Singing. Laurie's theatrical experiences range from opera to musical comedy, Shakespeare to Sondheim, children's theatre to cabaret, costume making to directing, and commercials to film. Favorite leading lady credits include Hello Dolly! (Dolly), Gypsy (Mama Rose), Sweeney Todd: The Demon Barber of Fleet Street (Mrs. Lovett), Forbidden Broadway, Click Clack Moo: Cows That Type (Cow 1), A Little Night Music (Desiree), The Sound of Music (Maria), and The Music Man (Marian). Laurie lives in Vancouver with her husband and loves her new role of Lolly-Pop (grandma) to Remi.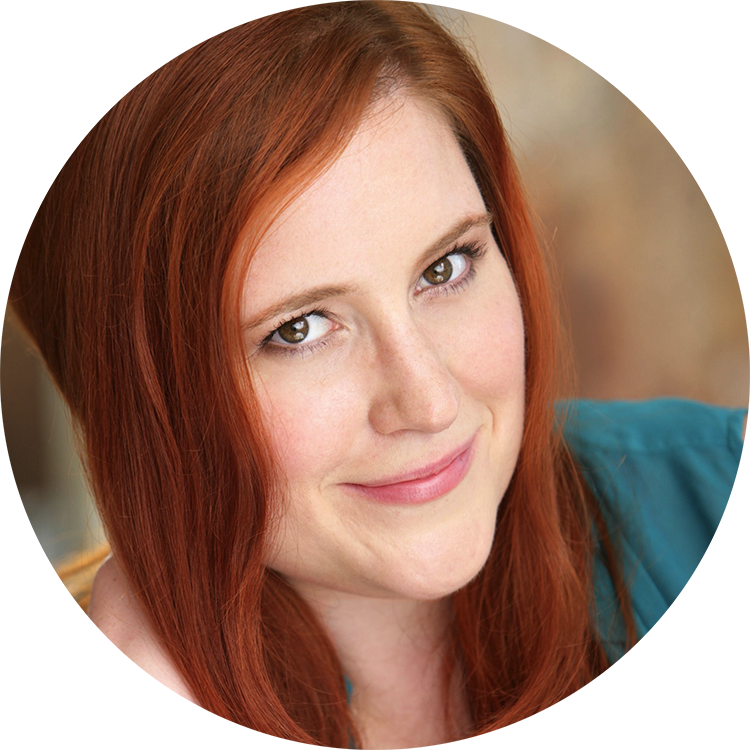 Courtney Freed as Linda
Courtney Freed is a Portland-based singer, songwriter, actor, and educator. She has been called a "whirlwind of excitement" as well as "effervescent" and "breathtaking." She has performed in many prestigious venues in New York City, Chicago, and Los Angeles, as well as Portland. No stranger to the local musical theatre scene, her favorite recent roles were Florence in Chess at Lakewood Theater Company and Trina (Drammy nomination) in Falsettos at Live on Stage. She has also tread the boards of Portland Center Stage, Broadway Rose Theatre Company, Profile Theatre, triangle productions!, and more! She is a proud member of the vocal teaching staff at Resound NW and enjoys an active career as a jazz vocalist in town. Check out her latest album Big Crazy Love and more at www.courtneyfreedmusic.com.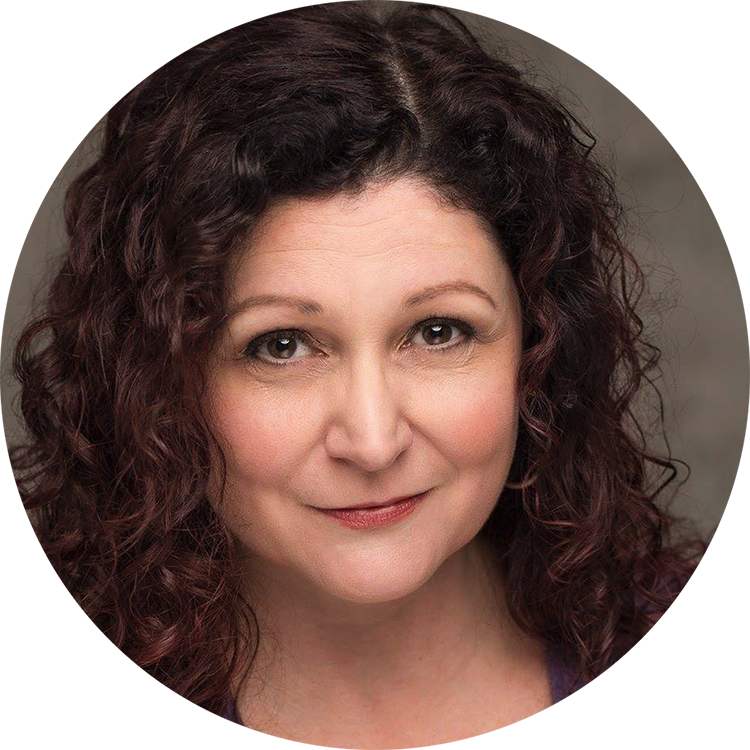 Lisamarie Harrison as Jennifer
Lisamarie Harrison has worked on the Portland stage for 40 years. Favorite roles include Florence/Sandra in The One-Act Play That Goes Wrong, Leslie in High Dive, Mrs. Johnston in Blood Brothers, Tanya in Mamma Mia!, Morticia Addams in The Addams Family, Mama Maddalena in Nine, Ms. Fleming in Heathers The Musical, Miss Flannery in Thoroughly Modern Millie, Mother in The Sexual Neuroses of our Parents, Violet in 9 to 5  (Drammy nomination), Jody in The Bikinis (Drammy nomination, PAMTA award), Betty in The Great American Trailer Park Musical, Rhetta in Pump Boys & Dinettes, Sue Ellen in Honky Tonk Angels (PAMTA award), LaVerne Andrews in Sisters of Swing, Sister Hubert in Nunsense, Mazeppa in Gypsy, Gabrielle in The Dinner Party, Kate in The Wild Party, Woman 1 in Putting It Together, Mae in Reefer Madness, and Rizzo in Grease. Film & TV: Strictly for the Birds (Feature Film); Life After First Failure (CW Seed); Leverage (TNT); Future Perfect (Fantini Cinema), Mock Trials, Front Seat Chronicles, and Oregon Lottery.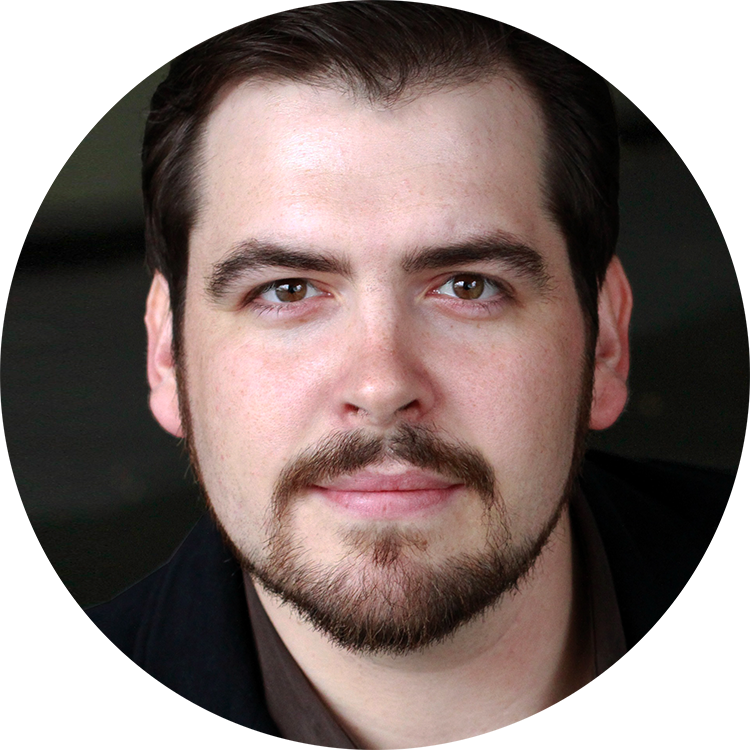 Isaac Lamb as Ben
Isaac Lamb is an actor, director, and educator who was last seen onstage at Broadway Rose as Uncle Fester in The Addams Family. Isaac has also performed locally with Third Rail Repertory Theatre, Portland Center Stage, Artists Repertory Theatre, Portland Playhouse, CoHo Productions, Portland Experimental Theatre Ensemble, Northwest Children's Theater, and many others. He's appeared onscreen in HBO's hit show The Rehearsal, as well as American Vandal, Portlandia, The Birch, and Lean on Pete. Isaac is a proud member of AEA, SAG/AFTRA, and SDC.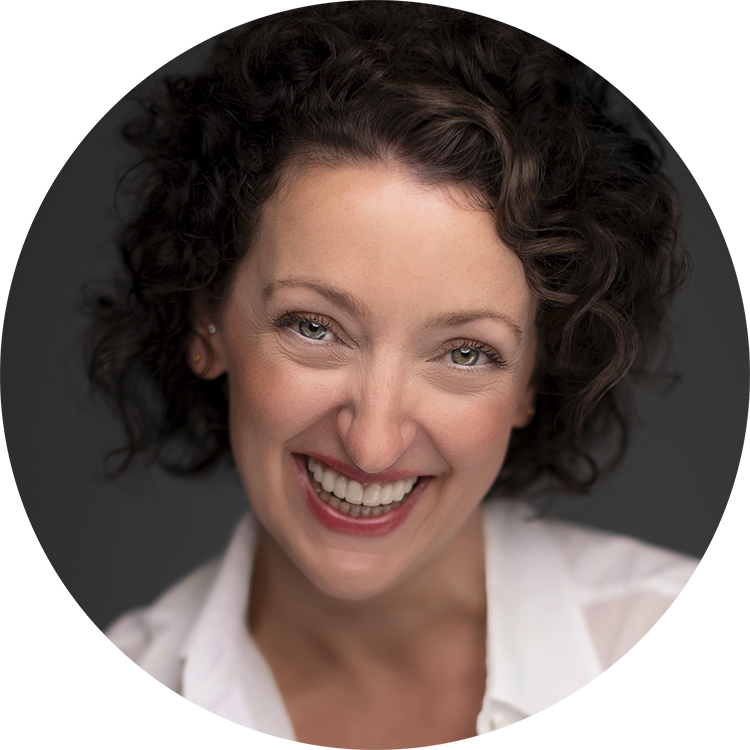 Laura McCulloch as Anika
Laura McCulloch (she/her) is an Australian actor, singer and multi-hyphenate based in New York City. She is thrilled to be returning to the Broadway Rose after having previously appeared as Rosie in Mamma Mia!, Sister Mary Amnesia in Nunsense, and Bea O'Leary in Your Holiday Hit Parade. A self-proclaimed "Theatre Geek" she has worked extensively on stage in various productions including Cats, RENT, The Music Man, Phantom, A Class Act, A Tale of Two Cities, World War Wonderful, and her self-devised cabaret BOOP! She has also appeared in national commercials for Yoplaitâ, Jetstar, and Kmart, as well as films The Black Sheep, Wee Witch, Covid Support Group, and Ladylike.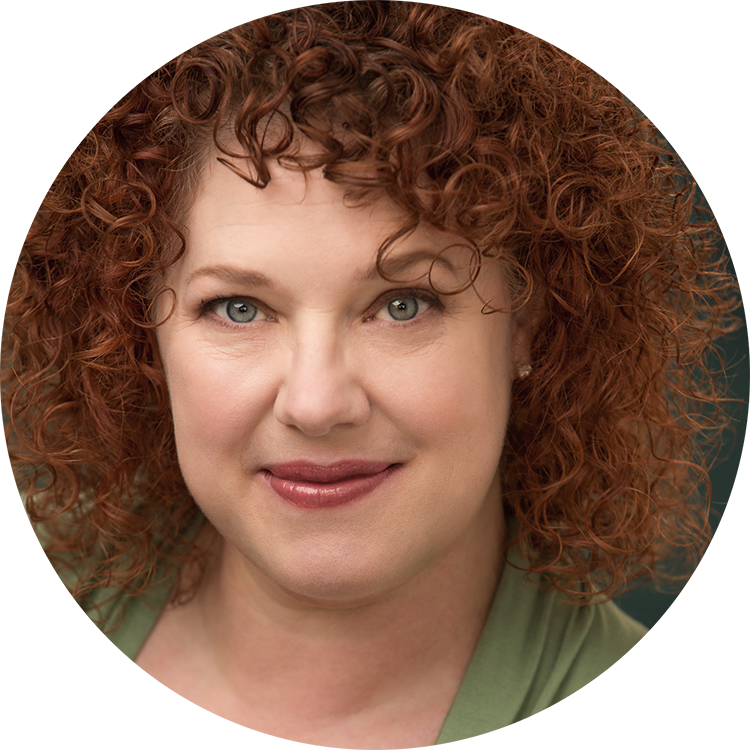 Emily Sahler as Mary Jo
Emily Sahler is honored to be a part of this world debut production and the workshops leading up to it. Previous Broadway Rose roles include Mrs. Cratchit/Mrs. Fezziwig (A Christmas Carol, the Musical), Miss Adelaide (Guys & Dolls), Jenny (Company), Domina (A Funny Thing Happened on the Way to the Forum), Mrs. Meers (Thoroughly Modern Millie, Drammy nomination), Doatsy May (The Best Little Whorehouse in Texas), Mrs. Tottendale (The Drowsy Chaperone), and Barbara (The Bikinis). Other favorites: Connie (Jack Goes Boating), Sister Lidwina (Gracie and the Atom), and Bette (The Marriage of Bette and Boo) at Artists Repertory Theatre; Rose (Gypsy), Jack's Mother (Into the Woods), and Doreen (Tartuffe) at Lakewood Theatre Company, among others. Television credits: Trinkets, The Librarians, Grimm, Portlandia, and Leverage.
Show Dates
Thursday, April 20, 7:30 p.m. – Preview performance – Limited seating
Friday, April 21, 7:30 p.m. – Opening night
Saturday, April 22, 7:30 p.m. – Limited seating
Sunday, April 23, 2:00 p.m. – SOLD OUT
Thursday, April 27, 7:30 p.m. – Limited seating
Friday, April 28, 7:30 p.m.
Saturday, April 29, 2:00 p.m. – Post-show talkback – Limited seating
Saturday, April 29, 7:30 p.m.
Sunday, April 30, 2:00 p.m. – SOLD OUT
Thursday, May 4, 7:30 p.m.
Friday, May 5, 7:30 p.m.
Saturday, May 6, 2:00 p.m.
Saturday, May 6, 7:30 p.m.
Sunday, May 7, 2:00 p.m. – Limited seating
Thursday, May 11, 7:30 p.m.
Friday, May 12, 7:30 p.m. – Audio Descriptions available
Saturday, May 13, 2:00 p.m. – Audio Descriptions available – Limited seating
Saturday, May 13, 7:30 p.m.
Sunday, May 14, 2:00 p.m. – Limited seating
Creative Team
Written and Directed by
Sharon Maroney
Music Direction by
Barney Stein
Choreography by
Dan Murphy
Orchestrations by
Jonathan Quesenberry
Additional arrangements by
Jeffrey Childs, Gary Adler, Elisa Money & Holly Richards
Scenic Design by 
Kyra Sanford
Costume Design by
Kimbery Hergert
Lighting Design by
Kristeen Willis
Sound Design by
Brian Karl Moen
Prop Design by
Liz Carlson
Stage Manager
Jessica Junor
Musicians
Barney Stein  Piano/Conductor
Will Amend  Bass
Jeff Langston  Bass
Justin Radford  Drums
News, Reviews, & Buzz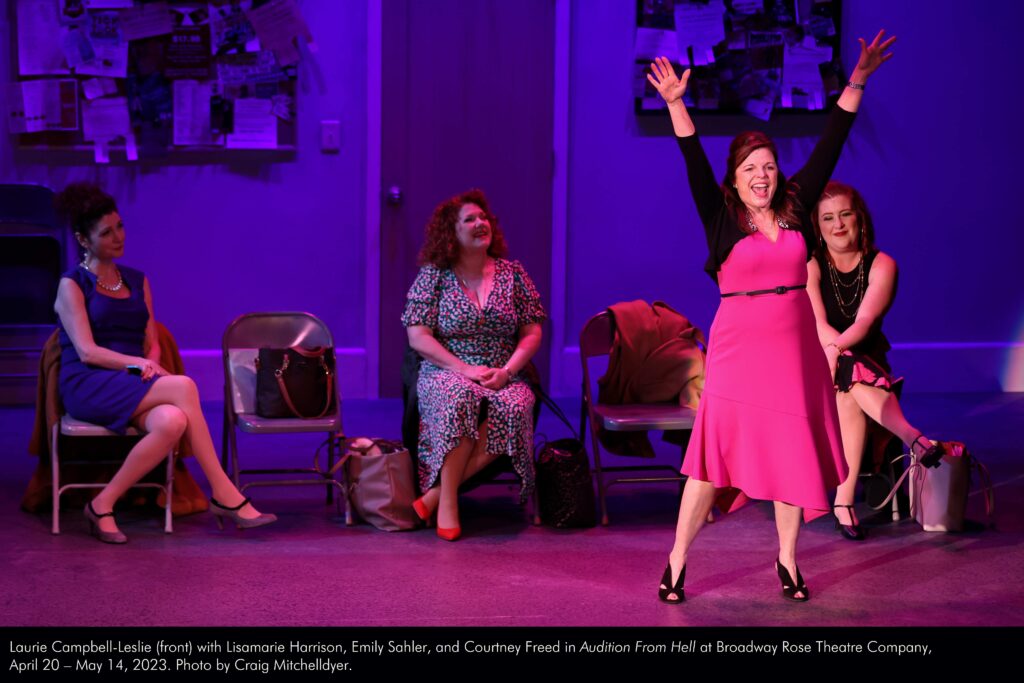 'Audition from Hell' spotlights a quartet of triple threats at Broadway Rose
by Lee Williams
The Oregonian/OregonLive, May 2, 2023
Quick, name a musical with a female lead over 40… Read more.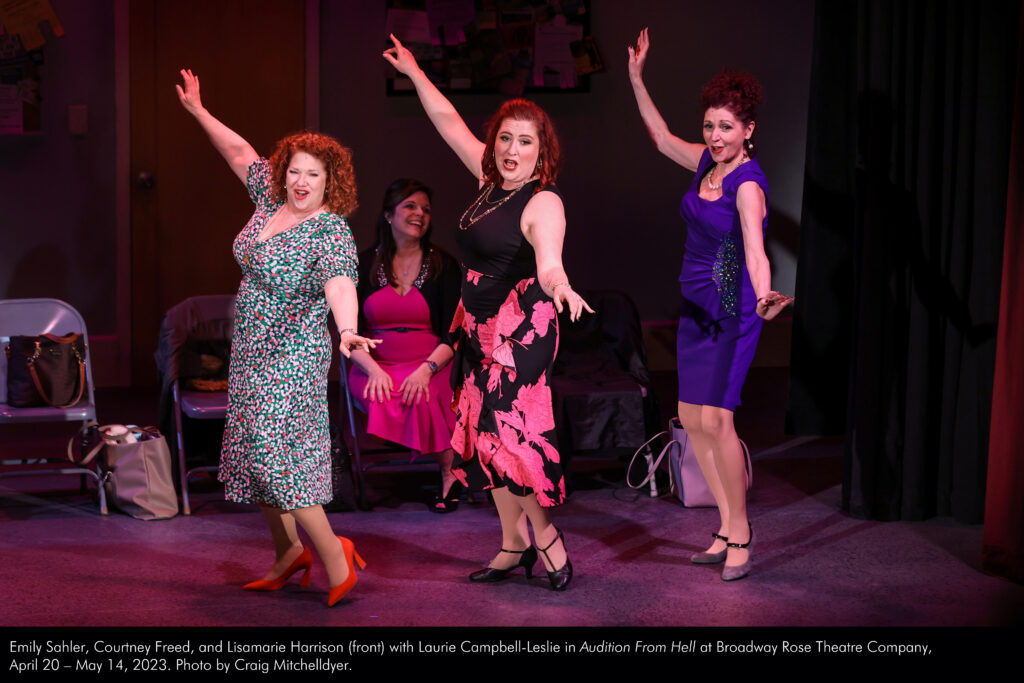 Broadway Rose's "Audition From Hell" Puts Its Female Cast Front and Center
by Linda Ferguson
Willamette Week, May 2, 2023
The original musical was written by the company's producing artistic director, Sharon Maroney…. Read more.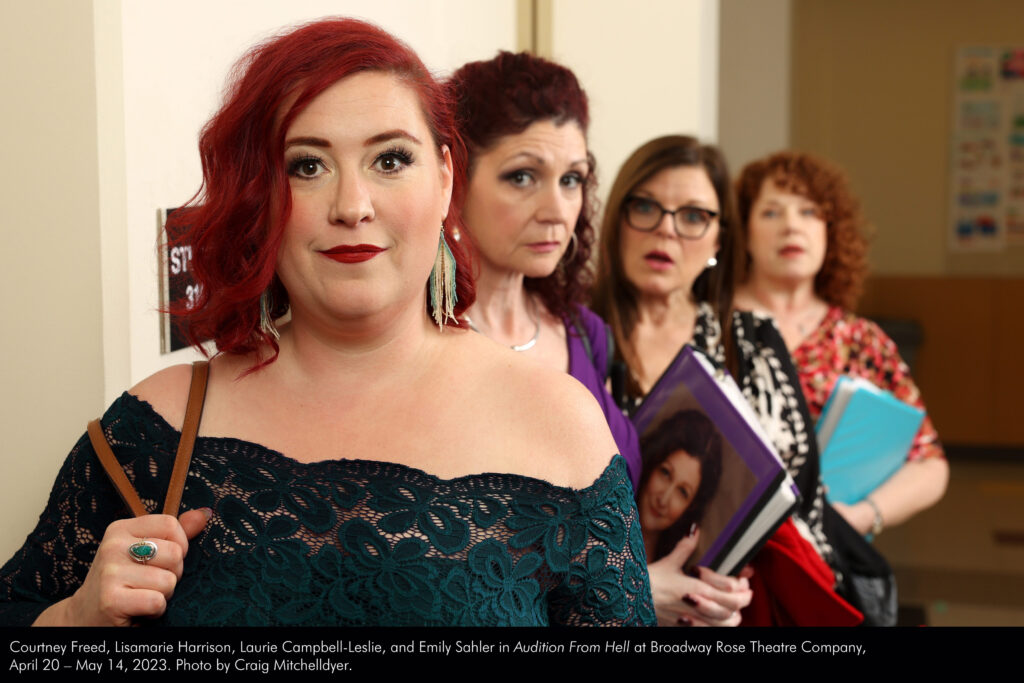 Hell is auditioning at a certain age
by Darleen Ortega
Oregon ArtsWatch, April 25, 2023
Sharon Maroney's new musical "Audition From Hell" at Broadway Rose takes a breezy but pointed trip into the perils and pitfalls of backstage life… Read more.
Meet the Artist - Elaine Akamian, Scenic Artist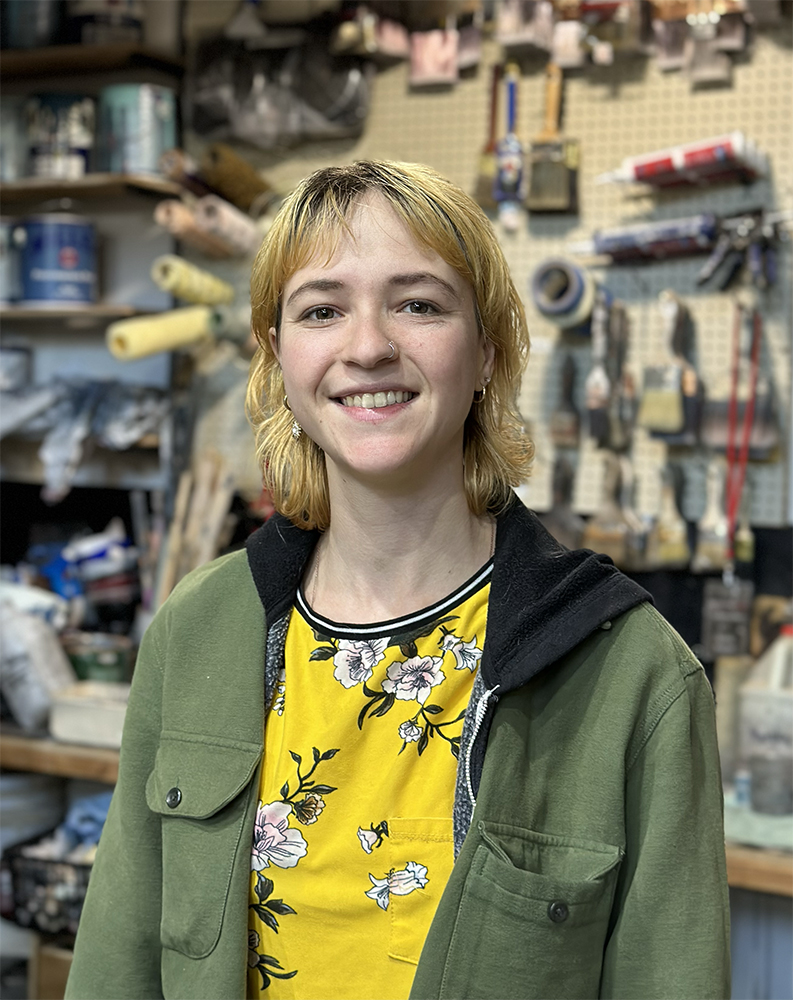 Elaine Akamian, scenic artist for Audition From Hell, is a young professional with an eclectic theatre background and a yearning for creative communication. Staffer Dani Wright sat down recently with Elaine to ask them about their experience in theatre.
How did you start out in theatre?
While attending Tigard High School, I participated in their robust theatre program, then started interning with Broadway Rose during my sophomore year. I had the time of my life during my internship with Broadway Rose! My experiences throughout my high school theatre program and the Broadway Rose internship gave me a solid foundation for my career. I learned how to work as a part of a team and communicate, and I was able to explore a lot of different things. I was also able to learn from others and made connections that led to future work.
What are some of the recent projects that you've worked on?
I'm passionate about the creative thinking and planning that goes into producing creative media, and I've been working as a freelance production coordinator and graphic designer. I was also the scenic artist for Broadway Rose's recent production of Snapshots. Working on Snapshots was the first time in a while that I worked on a job, especially a theatre job, where I was only responsible for one task. I had also worked with Larry Larsen before, the scenic designer for Snapshots, so it was cool to work with him again.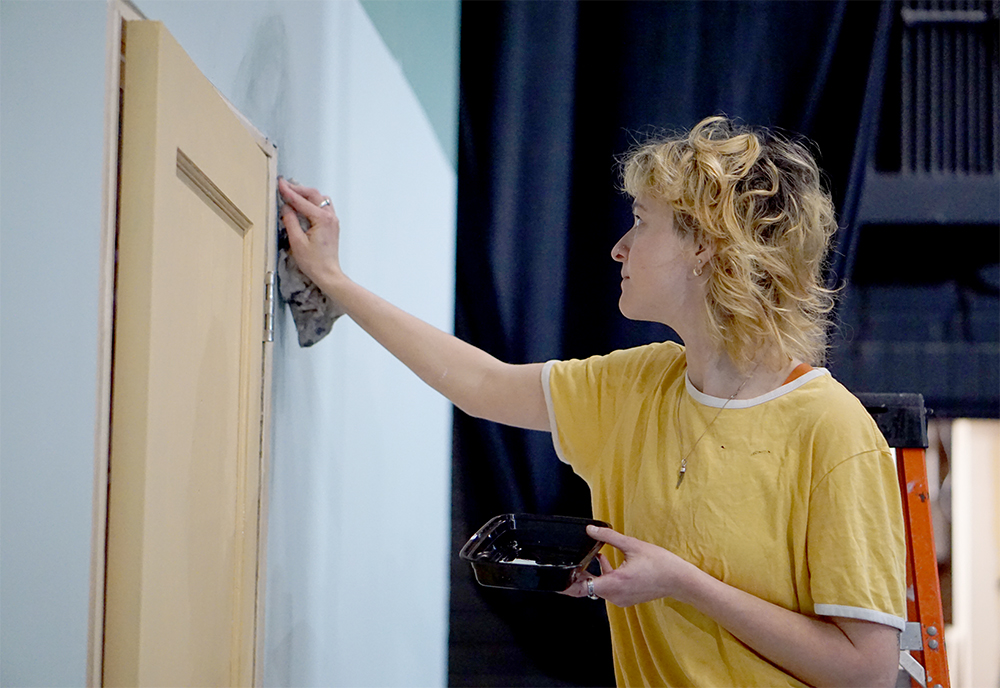 How does the scenic artist contribute to the creation of a set?
When the set designs come in from the scenic designer, the artistic team looks at the designs together and decides which direction to go. I will then create samples for paint colors, patterns, and textures and share them with the team for review and approval. When the carpenters have built enough of the set that I'm not obstructing them while they're still putting up walls, I'll start working on painting the set. There's like a delicate dance going on, having that all come together with the right timing.
Do you have advice for other artists starting out?
Don't be afraid to ask people if they need help, get to know what they do, and why. Just showing interest is what's gotten me work in theatre. Create as much as you can and share it with people, and get as much feedback and practice as possible.
Audition Dos and Don'ts
Auditions can feel like living nightmares, so beginning on March 8, we're sharing our top 5 dos and don'ts for auditions, with a new piece of audition advice added every week.

1. Read the audition notice
Are any roles pre-cast? Are you available for all rehearsals and performance dates? Is apparel suggested? Is accompaniment provided? If accompaniment is provided, do not expect to sing a cappella.
Be prepared, be punctual, and bring everything you are asked to bring in the audition notice, including your calendar with conflicts listed.
At Broadway Rose auditions, participants must sing with the accompanist provided so that the audition panel can gauge whether you are able to hold your pitch and stay in sync with the accompaniment.
2. Be familiar with the show
Do your research. Are you appropriate for the show? Know what characters are being cast, and what role you're most likely going to be looked at for. But keep your options open as well – you never know what the audition panel is actually looking for in a character.
3. Pick the right song
Pick a song that showcases your vocal skills and range and is appropriate for both the production and the character for which you are auditioning. Your primary and backup songs should offer a contrast, and you should try to pick songs that aren't overdone. If you do sing a song that is really popular, just remember that you're competing against the best of the best.
4. Know your music
Most Broadway Rose auditions require 32 bars of two songs, a primary and a backup.
If you are used to rehearsing with the soundtrack, make sure that you've actually practiced with your sheet music ­– you don't want to be thrown when the pianist starts playing something different. Mark the start and end point on your music, highlight any tempo or key changes for the benefit of the pianist, and be prepared to indicate tempo and share any special instructions.
5. Know that the audition panel is on your side
Don't self-sabotage. The people behind the table want you to succeed. They want you to be amazing so that they'll have the best options for their show.

1. Don't fluff your resume
The theatre community is small. Just be honest. It only takes a quick reference check to reveal if your resume is less than accurate.
Your resume should be one page and easily scannable. Include your contact information and stats at the top ­­– height, eye color, and hair color. List your theatre experience below, featuring production, role, and theatre company, and don't forget to include any special skills at the bottom.
2. Don't bring the wrong key
Don't expect the accompanist to transpose your song into a different key.
At Broadway Rose general auditions, our pianists may be sight reading over 100 songs a day ­­– their job is tough enough! Bring sheet music in the right key and range.
3. Don't bring loose leaf sheet music
Don't bring in loose leaf sheet music that can easily slide off the piano or become disarranged. Bring both song selections in a binder. 
4. Don't apologize
You are not wasting the audition panel's time. Don't apologize for being there and don't worry if you make a mistake. Everybody messes up; just keep going. Correct it and come out stronger.
5. Don't forget to thank the accompanist
How you interact with the accompanist is important. They are your partner in this endeavor. After you enter the room, introduce yourself to the pianist, walk them through your piece, indicate tempo, and don't forget to thank them afterward.
Most importantly…
Have fun. We know it's stressful, but have a good time. You're getting an opportunity to get up in front of people and sing. Enjoy it!