Beehive • A hair-raising musical revue
Apr. 13 – May 14, 2017
A fun, frothy flashback to the fabulous females of 1960s pop music, Beehive features non-stop hits from early decade bubble gum classics to the explosive late '60s soul sound. Paying tribute to performers such as Lesley Gore, The Shirelles, Brenda Lee, Tina Turner, The Supremes, Aretha Franklin, and Janis Joplin, this irresistible revue will fly you back in time to experience firsthand the music that thrilled a generation.
Performance runtime is approximately 2 hours with a 15 minute intermission.
Performances held at the Broadway Rose New Stage, 12850 SW Grant Ave., Tigard, OR 97223
Created by LARRY GALLAGHER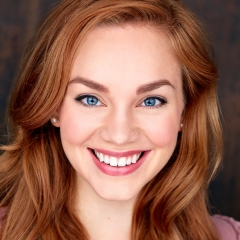 Alyssa Birrer
Alyssa Birrer is an Oregon native making her Broadway Rose debut! Selected credits include Dona Elvira in Don Juan (West End Theater, NYC), Doralee in 9 to 5 (Oregon Cabaret Theatre), Mary Hatch in It's A Wonderful Life: A Live Radio Play (Oregon Cabaret Theatre), Hot Box Girl/Agatha/Sarah Brown U/S in Guys and Dolls (Oregon Shakespeare Festival), Ensemble/Mopsa U/S in Head Over Heels (Oregon Shakespeare Festival), Audrey in Little Shop of Horrors, Clara in Light in the Piazza, and Rita in Lucky Stiff. Education: B.F.A., Southern Oregon University.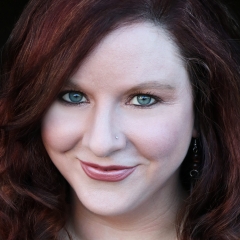 Kristen Calvin
Beehive is Kristen's debut performance at Broadway Rose. A midwest native, Kristen grew up on the stage and began classical voice lessons at age twelve. She graduated from Ball State University's musical theatre program and spent several years performing in Chicago. She was most recently seen in the Oregon Cabaret Theatre's "Double Creature Feature" as Maggie in Bat Boy and Magenta in The Rocky Horror Show. Some other favorite roles include Marian in The Music Man, Liza in Spotlight on Liza Minnelli, and this summer she will perform a dream role, Lady of the Lake in Spamalot at the Camelot Theatre. Kristen resides in Ashland with her husband, Noah, and their cat, Tinker. www.kristencalvin.com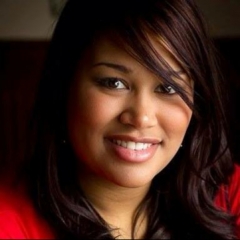 Antonía Darlene
Antonía Darlene is excited to be making her debut at Broadway Rose Theatre Company. Antonía has been in Cinderella, RENT, and The Music Man at the 5th Avenue Theatre in Seattle, and Porgy and Bess at the Seattle Opera. She's been in AIDA, Showboat, and Saint Heaven at Village Theatre, Footloose at Tacoma Little Theatre and Tacoma Musical Playhouse, Hairspray at Coeur d'Alene Summer Theatre, Fame at Capital Playhouse, and Christmas Survival Guide, Soul on Fire, Stardust, and Sixties Kicks at Harlequin Theatre in Olympia. She was Sofia in the Color Purple, Deena Jones in Dreamgirls, Joanne in Godspell, Charlaine in Ain't Misbehavin', and Esmerelda in The Hunchback of Norte Dame. Antonía would like to thank God for everything and for her mother who watches over her three beautiful children (number four on the way and due in October!!) and without whom none of this would be possible. "Love you Mommy!!"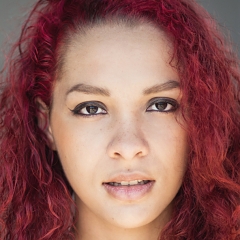 Kayla Dixon
Kayla Dixon is proud to be working with Broadway Rose for the second time! She has several professional credits including Magenta in The Rocky Horror Show and Mary Kate Olsen is in Love at Studio Theatre in Washington D.C., Brenda in Smokey Joe's Café at Stumptown Stages, Anita in West Side Story here at Broadway Rose, and Claire in Forever Dusty at triangle productions! Her film and television credits include Willa in NBC's Outlaw, a feature on Grimm, and a featured role in I Don't Feel At Home In This World Anymore (directed by Macon Blair, the film premiered at Sundance and won the U.S Grand Jury prize in 2017). Kayla is the vocalist for Helion Prime and the internationally touring local doom metal band Witch Mountain.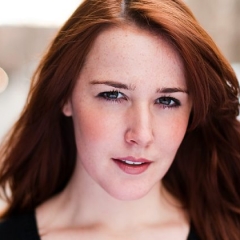 Andrea Enright
Andrea Enright is thrilled to return to the Broadway Rose stage following her portrayal of Amy in Company. You may have seen her regionally in Prism Theatrics' Thoroughly Modern Millie (Mrs. Meers) or in New York where her credits include The 25th Annual Putnam County Spelling Bee (Rona Lisa Peretti) and Company (Susan) with the Mount Carmel Theatre Company as well as two world-premiere musicals, Deployed, with the Society of Artistic Veterans, and Sophia! at Write Act Repertory. Andrea was also a finalist in the New York Musical Theatre Festival's Next Broadway Sensation competition in both 2012 and 2013 and is a proud graduate of Otterbein University and high school graduate of Interlochen Arts Academy. Learn more about Andrea's journey at andreaenright.net. For GJ, with love.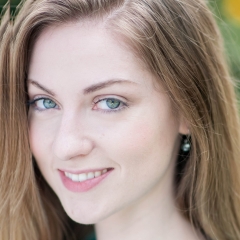 Malia Tippets
Malia Tippets is thrilled to return to Broadway Rose Theatre after making her debut as Daphne in Fly By Night. Holding a degree in Theatre Performance from Marymount Manhattan College, she spent her college years performing in New York and went on to tour the nation in the mega musical Evita as Eva Peron. Returning to New York, she was featured in the "Town Hall: Rising Stars of Broadway" concert. She spent two years in Japan, performing as Elphaba in the Universal Studios production of Wicked before returning to Portland. Favorite Portland credits include Carrie: The Musical (Carrie White), Anything Goes (Hope Harcourt), and Heathers: The Musical (Veronica Sawyer). She wishes to thank her parents for their endless support and her love for making every day better.
Show Dates
Thursday, April 13, 7:30 PM
PREVIEW—Limited Availability 
Friday, April 14, 7:30 PM
OPENING NIGHT
Saturday, April 15, 2:00 PM
Saturday, April 15, 7:30 PM
Thursday, April 20, 7:30 PM—Limited Availability 
Friday, April 21, 7:30 PM
Saturday, April 22, 2:00 PM—Limited Availability —Post-show talk back*
Saturday, April 22, 7:30 PM—SOLD OUT 
Sunday, April 23, 2:00 PM—SOLD OUT
Thursday, April 27, 7:30 PM—SOLD OUT 
Friday, April 28, 7:30 PM—SOLD OUT
Saturday, April 29, 2:00 PM—SOLD OUT
Saturday, April 29, 7:30 PM—SOLD OUT
Sunday, April 30, 2:00 PM—SOLD OUT
Thursday, May 4, 7:30 PM—SOLD OUT
Friday, May 5, 7:30 PM—SOLD OUT
Saturday, May 6, 2:00 PM—SOLD OUT– Audio description available
Saturday, May 6, 7:30 PM—SOLD OUT
Sunday, May 7, 2:00 PM—SOLD OUT
Wednesday, May 10, 7:30 PM—Limited Availability—Added performance
Thursday, May 11, 2:00 PM—SOLD OUT—Added matinee performance
Thursday, May 11, 7:30 PM—Limited Availability
Friday, May 12, 7:30 PM—SOLD OUT
Saturday, May 13, 2:00 PM—SOLD OUT—Added performance
Saturday, May 13, 7:30 PM—SOLD OUT
Sunday, May 14, 2:00 PM—SOLD OUT
*Talk-backs are free and open to the public. They begin immediately following the first Saturday matinee performance of the mainstage production, and are held in the theater. You do not have to attend the Broadway Rose production in order to attend the talk-back.
Creative
Directed by Sharon Maroney
Music Direction by Jeffrey Childs
Choreography by Dan Murphy
Set Designed by Robert Vaughn
Costume Design by Brynne Oster-Bainnson
Lighting Design by Carl Faber
Prop Design by Jeff Duncan
Sound Design by Brian K. Moen
Wig Design by Jane Holmes
Stage Manager Jessica Junor
Musicians
Keyboards Jeffrey Childs
Drums Mitch Wilson
Electric Bass Dan Gildea
Guitar Jeff Langston
Trumpet Levis Dragulin
News, Reviews, and Buzz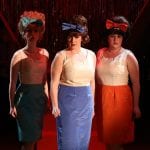 Beehive's Hum and Sting
By Christa McIntyre
ArtsWatch, Apr. 18, 2017
At the end of the performance, the cast and audience have been taken beyond crayons and perfume to an unbridled expression of woman…We become aware of the tapestry that makes up women's experiences and voices, but most of all the enormous amount of musical legacy they contribute to… Read more.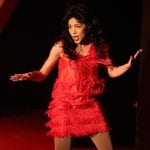 Beehive Takes Broadway Rose By Storm
By Tina Arth
Westside Theatre Reviews, Apr. 18, 2017
I was swept up in the excitement that brought the audience to its feet to honor the 6 women (and Jeffrey Childs' band) for a tour de force that transcends nostalgia. My only real complaint is that this was not a "real" concert, so we couldn't clap and scream for encores… Read more.
Actress surprised to be onstage
By Barbara Sherman
Regal Courier, Apr. 7, 2017
Antonia Darlene is the most surprised of anyone to find herself on the stage in the Broadway Rose Theatre Company's production of "Beehive," with good reason. "It was my worst-ever audition," said Darlene, who gave birth two weeks later...Read more.