Broadway Rose Theatre Company believes in the power of musical theatre to bring people together
through the universal language of music and movement. With professional productions, educational camps and workshops for children and teens, and hands-on training for emerging artists and technicians, we pursue our mission to create unparalleled musical theatre experiences that invigorate audiences and enrich our communities.
Artists, audiences, students, and community members are maximizing every inch of building space and overflowing into temporary and rented workspaces to join us in this work. We have the opportunity to expand our facility so that individuals can more fully access and participate in musical theatre, while we continue to present productions of exceptional artistic quality.
The time for this critical expansion is now. We are ideally positioned to launch this next stage with a robust base of loyal and enthusiastic supporters, long-term relationships with community leaders, a healthy, debt-free financial standing; a proven record of responsible stewardship of resources, and a strong, stable staff. In addition, we have signed a new lease with the Tigard-Tualatin School District to ensure our home for decades to come.
Our budget for this project is $3 million. With $1 million already set aside in our cash reserve and a strong base of support, we are poised to raise the funds needed to open our doors wider to the community.

YOUR INVESTMENT IN THIS PROJECT IS AN INVESTMENT IN THE FUTURE.
Help us create a lasting legacy of professional musical theatre in our community.

NEW STUDIO SPACE to facilitate artistic development, support education programs, and accommodate community partnerships.
Uses include:
Rehearsals
Camps and workshops
Audience engagement experiences
Special events and performances
Community partnership activities such as play-readings, civic forums, and meetings
COSTUME SHOP and ENLARGED SCENIC  to bring creative teams and resources under one roof, eliminate the expense of renting space off-site, reduce waste, improve access, and expand capacity.
ADDITIONAL ADMINISTRATIVE OFFICES to support the needs of the Broadway Rose staff.
"After ten years at the New Stage, Broadway Rose is in a wonderful position to deepen its community connections and develop new offerings. The board of directors enthusiastically supports expanding the building to achieve this."
– Jan Leone, president of the Board of Directors

$1,223,355 left  to raise
$776,645 pledged as of Aug. 13, 2019
$1 million cash in reserve
Broadway Rose's $3 million expansion will be made possible by our board-designated cash reserve, foundation and corporate grants, and gifts from individuals who share our vision for the future of our community.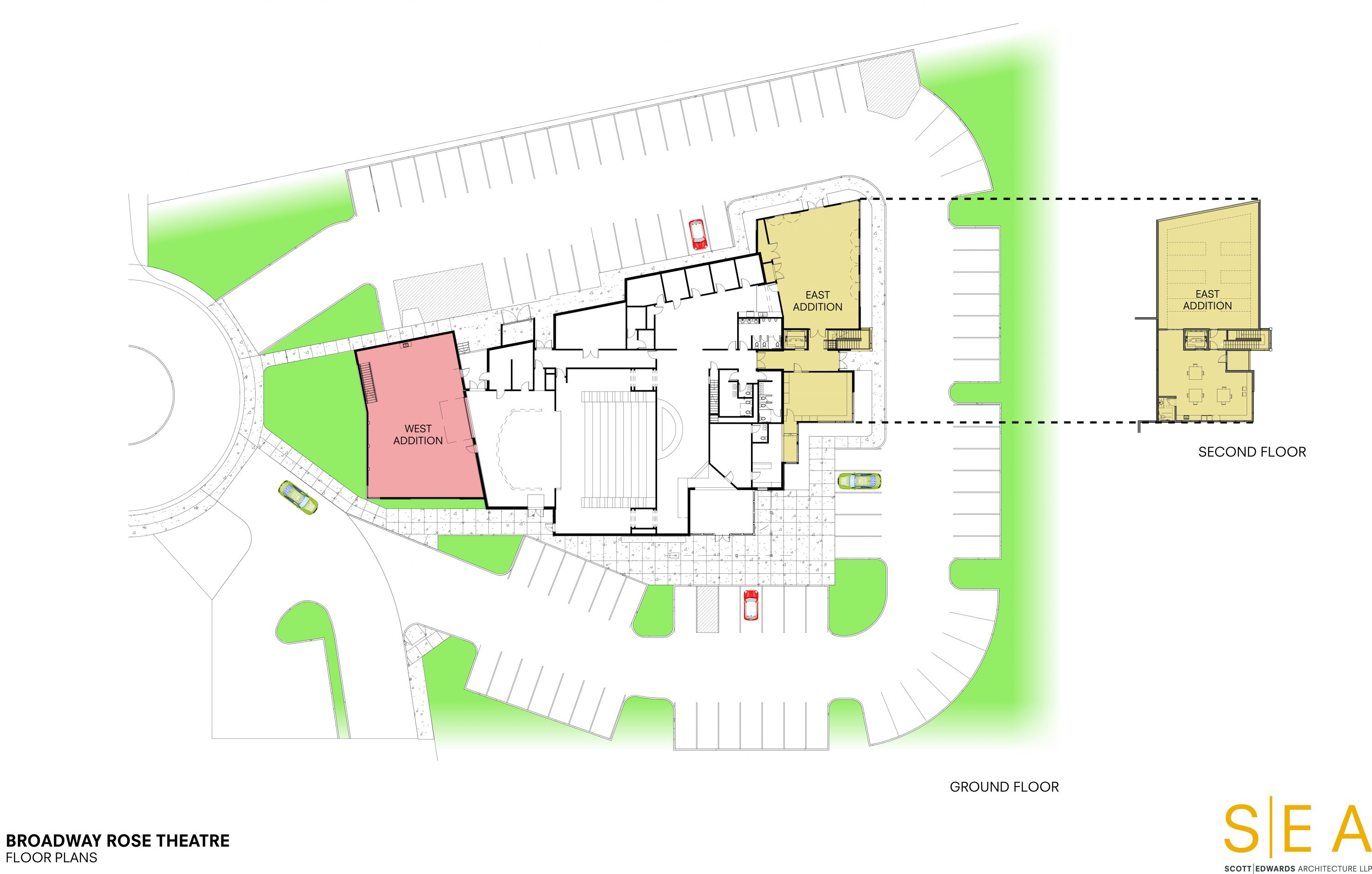 Our construction plan will enable us to continue presenting our mainstage productions without interruption as the following improvements are added:
Studio space with square footage to accommodate New Stage and Deb Fennell stage footprints for rehearsals
Audio/visual system to facilitate flexible needs, including special events and community use
Enlarged scenic shop to house construction and storage of scenery, eliminating the need for rented space
Costume and prop storage to reduce waste, eliminate off-site storage expenses, and reduce labor
Elevator access to new second floor costume and prop shop
Additional office space for creative collaboration
Improved public visibility and exterior signage