A Christmas Carol, the Musical • November 24 – December 23, 2021

Bitter miser Ebenezer Scrooge has nearly humbugged his way through another Christmas Eve when the specter of his former partner, Jacob Marley, appears to warn him that three spirits will visit in the night to lead him through Christmases past, present, and future. Through a sweeping score and whimsical storytelling, Scrooge seeks redemption for his selfish ways in time for a happy Christmas Day – lest he doom himself and others to a more chilling fate.
Broadway heavy hitters Alan Menken (Disney's Beauty and the Beast, Little Shop of Horrors, Newsies) and Lynn Ahrens (Anastasia, Ragtime, Once On This Island), breathe fantastic new life into Charles Dickens' time-honored tale, earning its place as Broadway's longest-running holiday show.
Run time is approximately 1 hour and 30 minutes with no intermission.
Directed by DAN MURPHY and ANNIE KAISER
Music Director DARCY WHITE
Music by ALAN MENKEN
Lyrics by LYNN AHRENS
Book by MIKE OCKRENT and LYNN AHRENS
Based on the story by CHARLES DICKENS
Original Choreography by SUSAN STROMAN | Originally Directed by MIKE OCKRENT
Originally Presented by Radio City Entertainment at the Theater at Madison Square Garden
Performances held at the Broadway Rose New Stage, 12850 SW Grant Avenue, Tigard, OR

Show Sponsor


Cast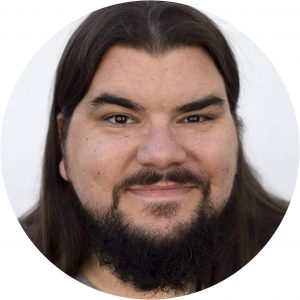 Paul Cosca as Scrooge
Paul is very proud to make his Broadway Rose debut in one of his favorite shows. Paul is an actor, director, playwright, composer, and (since the world flipped upside down) an artisan. Portland area credits include Audrey II in Little Shop of Horrors (Magenta Theatre), Neville in The Mystery of Edwin Drood (Metropolitan Performing Arts Community Theatre) and Victor in Frankenstein (The Modern Prometheans). Other Oregon credits include Frollo in The Hunchback of Notre Dame and The D'Ysquith Family in A Gentleman's Guide to Love and Murder (Camelot Theatre) and Nicky/Trekkie in Avenue Q (Oregon Cabaret Theatre). He is also the host of a weekly Dungeons & Dragons livestream on YouTube called The Adventurers Guild. You can find out more at www.paulcosca.com

Francesco Germano as Tiny Tim and others
Francesco is excited to make his stage performance debut with Broadway Rose in A Christmas Carol, the Musical. He is currently in the 5th grade and explores his love of music by taking piano and drum lessons. He hopes to continue to grow as a musician and performer through shared experiences such as these.

Robert Head as Fred, Young Scrooge, and others; Choreographer
Robert is thrilled to be back at Broadway Rose! A Northwest native, Robert performed in the national tour of Broadway's Something Rotten (Nick/Nigel u.s.) and sang onboard Royal Caribbean's Liberty of the Seas (Saturday Night Fever). Local credits: Plaid Tidings, Holiday Hit Parade, Cats, Hairspray, and Joseph and the Amazing Technicolor Dreamcoat (Broadway Rose); Fiddler on the Roof (Portland Center Stage), Legally Blonde (Pixie Dust Productions), White Christmas (Lakewood Theatre Company), and Spring Awakening (Live On Stage). Regional credits: Little Mermaid, Singin' in the Rain, and Sister Act (Arrow Rock Lyceum Theater); Newsies, Shrek, and Mamma Mia! (Tuachan Amphitheater); and Austen's Pride (The Rev Theatre Company). Robert also teaches voice and piano at Happy Valley Arts Academy and choreographs and music directs for various youth theater programs. IG: @robshead

Emily Sahler as Mrs. Cratchit, Mrs. Fezziwig, and others
Emily is grateful to reunite with her Broadway Rose family to tell this classic story about how we live and how we treasure one another. Previous roles here include Miss Adelaide (Guys and Dolls), Jenny (Company), Domina (A Funny Thing Happened on the Way to the Forum), Mrs. Meers (Thoroughly Modern Millie), Doatsey May (The Best Little Whorehouse in Texas), Mrs. Tottendale (The Drowsy Chaperone), and Barbara (The Bikinis.) Other favorites include Connie (Jack Goes Boating), Sister Lidwina (Gracie and the Atom), and Bette (The Marriage of Bette and Boo) at Artists Repertory Theatre; Rose (Gypsy), Jack's Mother (Into the Woods), and Doreen (Tartuffe) at Lakewood Theatre Company. Television credits: Trinkets, The Librarians, Grimm, Portlandia, and Leverage.

William Shindler as Marley, Ghost of Christmas Present, and others
William is honored to be stepping back on to the Broadway Rose stage. Past credits include Cowboy Bob in Footloose, Buzz in A 1940s Radio Christmas Carol, and Rusty Charlie in Guys and Dolls.

Valentina Silva as Emily and others
Valentina is so excited to spend the holiday season making her Broadway Rose debut in A Christmas Carol, the Musical. After receiving her B.F.A. in musical theatre from Webster Conservatory of Theatre Arts, Valentina moved to Houston, Texas, where she plans to continue auditioning and working on her craft until the time is right to make the jump to New York City. Favorite roles include Sister Mary Robert in Sister Act, Linda in The Wedding Singer, and Olivia in Miss You Like Hell.

Tom Slater as Mr. Cratchit, Mr. Fezziwig, and others
Tomis happy to be back! After graduating from Western Oregon University in 2010, Tom appeared here in a number of shows including The Drowsy Chaperone, My Fair Lady, and The Music Man. He moved to New York City in 2014 and got the chance of a lifetime to play Franz Liebkind in the national tour of The Producers. Since returning to Oregon in 2018, Tom has performed in Stumptown Stages' A Christmas Carol and in Broadway Rose and All Classical Portland's co-production of Sherlock Holmes and the West End Horror. His voiceover work includes several advertisements and an appearance in the video game Red Dead Redemption 2. Tom and his wife, Jena, are going to be parents early next year and he couldn't be more excited!

Victoria Spelman as Ghost of Christmas Past and others
Victoria is excited to be making her debut performance at Broadway Rose. A Las Vegas native, Victoria received her B.A. in stage and screen acting from the University of Nevada, Las Vegas. She has worked in cities such as Chicago, Los Angeles, San Diego, and Skagway, Alaska in both theatre and film. She recently studied at the Dell'arte School of Physical Theatre where she trained in clown, mime, and commedia dell'arte. She is an absolute goofball who loves teaching yoga, going on walks, and eating ice cream.
Show Dates
Wednesday, November 24, 7:30 p.m. — PREVIEW
Friday, November 26, 7:30 p.m. — OPENING NIGHT
Saturday, November 27, 2:00 p.m.
Saturday, November 27, 7:30 p.m.
Sunday, November 28, 2:00 p.m. — limited availability
Wednesday, December 1, 7:30 p.m.
Thursday, December 2, 7:30 p.m.
Friday, December 3, 7:30 p.m.— limited availability
Saturday, December 4, 2:00 p.m. — post-show talk-back — SOLD OUT
Saturday, December 4, 7:30 p.m.— limited availability
Sunday, December 5, 2:00 p.m. — SOLD OUT
Wednesday, December 8, 7:30 p.m.
Thursday, December 9, 7:30 p.m.—limited availability
Friday, December 10, 7:30 p.m.— limited availability
Saturday, December 11, 2:00 p.m. — SOLD OUT
Saturday, December 11, 7:30 p.m.— limited availability
Sunday, December 12, 2:00 p.m. — SOLD OUT
Wednesday, December 15, 7:30 p.m.
Thursday, December 16, 2:00 p.m.
Thursday, December 16, 7:30 p.m.
Friday, December 17, 7:30 p.m.— limited availability
Saturday, December 18, 2:00 p.m. — limited availability— audio description available
Saturday, December 18, 7:30 p.m.— limited availability
Sunday, December 19, 2:00 p.m. — SOLD OUT
Tuesday, December 21, 7:30 p.m.— limited availability
Wednesday, December 22, 7:30 p.m.— limited availability
Thursday, December 23, 7:30 p.m.— SOLD OUT

Creative
Directed by Dan Murphy and Annie Kaiser
Music Direction by Darcy White
Choreographed by Robert Head
Set Design by Robert Vaughn
Light Design by Blain Radford
Costume Design by Sydney Dufka
Prop Design by James Sharinghousen
Sound Design by Brian Karl Moen
Wig Design by Jane Holmes
Stage Manager Jessica Junor
Assistant Stage Manager Liv Hancock
Musicians
Darcy White Piano/Conductor
Zac Stowell Drums
Amy Roesler Bass
Logan Brown Trumpet
Production Photos
News, Reviews, and Buzz
Promises & threats: Christmas Carols for the Scroogiest of Scrooges
by Marty Hughley
Oregon ArtsWatch, Dec. 14, 2021
Once the Ghost of Christmas Past (Victoria Spelman, resplendent in a dress with angular tiers resembling a pagoda) reminds him of his own buried heart, Paul Cosca's Scrooge shows an uncommon eagerness for instruction through his supernatural trials. Read more.
A jolly Christmas pudding!
by Judy Nedry
JudyNedry.com, Dec. 1 2021
It is an energetic and pleasing production…Make reservations now if you plan to attend! Read more.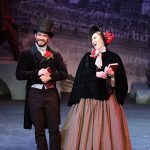 A Christmas Carol at Broadway Rose – Not the Usual Fare
by Tina Arth
Westside Theatre Reviews, Nov. 29, 2021
No matter how many versions of A Christmas Carol you may have seen, do not miss this fresh and funny take – it's the perfect way to kick off the most wonderful time of the year! Read more.