Don't Hug Me • April 14 – May 15, 2022
Oh, for cryin' in yer snow shoes! It's the coldest day of the year in Bunyan Bay when a slick karaoke salesman arrives at the town bar and turns the locals' lives upside down in this "terrifically silly" (LA Weekly) romantic comedy. With over-the-top songs like "My Smorgasbord of Love," "Upside Down in My Pickup Truck," and "He Wore a Purple Tux," you'll be laughing 'til the spring thaw!
Book and Lyrics by Phil Olson
Music by Paul Olson
Run time is approximately 2 hours and 15 minutes, including one 15-minute intermission.
Performances held at the Broadway Rose New Stage,
12850 SW Grant Avenue, Tigard, OR
Show Dates
Thu., Apr. 14, 7:30 p.m.
P
Fri., Apr. 15, 7:30 p.m.
O

Sat., Apr. 16, 2:00 p.m.
L
Sat., Apr. 16, 7:30 p.m.
Thu., Apr. 21, 7:30 p.m.
Fri., Apr. 22, 7:30 p.m.
Sat., Apr. 23, 2:00 p.m.* L
Sat., Apr. 23, 7:30 p.m.
Sun., Apr. 24, 2:00 p.m. S
Thu., Apr. 28, 7:30 p.m. L
Fri., Apr. 29, 7:30 p.m. S
Sat., Apr. 30, 2:00 p.m. L
Sat., Apr. 30, 7:30 p.m.
Sun., May, 1, 2:00 p.m. S
Thu., May 5, 7:30 p.m. L
Fri., May 6, 7:30 p.m. L
Sat., May 7, 2:00 p.m.° L
Sat., May 7, 7:30 p.m.
Sun., May 8, 2:00 p.m. L
Sun., May 8, 7:30 p.m.
Wed., May 11, 7:30 p.m.
Thu., May 12, 7:30 p.m. L
Fri., May 13, 7:30 p.m. L
Sat., May 14, 2:00 p.m.* S
Sat., May 14, 7:30 p.m. L
Sun., May 15, 2:00 p.m. S
Sun., May 15, 7:30 p.m. L
P – Preview performance
O – Opening night
* – post-show talkback
° – audio description available
L – Limited availability
S – sold out
Cast

Matthew H. Curl as Aarvid Gissellson
Matthew couldn't be happier to be back on the stage at Broadway Rose after two very long years. He last performed here in Once as the Bank Manager, and before that in Mamma Mia! as Harry Bright. Other local theatre credits include A Connecticut Yankee (Lt. Martin Barrett) at Lakewood Theatre Company and Oklahoma! (Mike) at Clackamas Repertory Theatre. Some of his favorite roles have been Seymour in Little Shop of Horrors, Eddie in A View from the Bridge, and Bernard in Arcadia. As a musician, Matthew is best known for his role as singer-songwriter in the Portland bands Jonah, Hello Morning, The Half Hearted, and as his solo artist moniker, Henry Curl.

Clara-Liis Hillier as Bernice Lundstrom
Clara-Liis is a graduate of Reed College. She is thrilled to return to Broadway Rose for her first time back on the stage in a bit. A former company member of Theatre Vertigo, she was last seen in Dial M for Murder and Godspell (Drammy Award, Outstanding Supporting Actress in a Musical) at Lakewood Theatre Company, Complex and Carnivora at Theatre Vertigo, Guys and Dolls and Gypsy at Broadway Rose, Hurl at Corrib Theatre, The Caucasian Chalk Circle at Shaking The Tree, and as the Wicked Witch in The Wizard of Oz at Northwest Children's Theater and School. When not onstage, Clara-Liis works in arts education administration and teaches theatre, dance, and Pure Barre.

Peter Liptak as Kanute Gunderson
Peter is overjoyed to be silly on stage again. It's been a long two years! The last time Broadway Rose audiences saw Peter was in 2019's Footloose, when he was on his 4th consecutive show playing a teenager (following Band Geeks!, Grease, and Oklahoma!). He swore he would one day play an adult… and now it's happening. We did it everybody! Some favorite past shows include Take Me Out (Kippy), Grease (Danny), Beauty and the Beast (LeFou), American Idiot (Favorite Son), Godspell (Jesus) and You're a Good Man, Charlie Brown (Charlie).

Kevin-Michael Moore as Gunner Johnson
Kevin-Michael has spent over 40 years in theatre and has performed in hundreds of plays. Some highlights include Assassins and The Ghosts of Celilo for Artists Repertory Theatre, and Trails for Broadway Rose. Kevin teaches and performs for Northwest Children's Theater and School and was last seen as Miss Trunchbull in Matilda, for which he was nominated for a Drammy Award, and in How I Became a Pirate, for which he won the Drammy for Outstanding Supporting Actor in a Musical. For nearly 15 years Kevin wrote, directed and performed for The 3rd Floor sketch comedy troupe that entertained locally and toured nationally. Kevin has acted in numerous television productions including Grimm and Portlandia, and in the films Wild, First Cow, Pig, Timmy Failure and the upcoming film Showing Up.

Elizabeth Young as Clara Johnson
Elizabeth is thrilled to be returning to the Broadway Rose stage, particularly with such a delightful cast. Her last appearance here was as Cinderella's Stepmother in Into the Woods. She has also appeared onstage at Lakewood Theatre Company, Northwest Classical Theatre Company, Northwest Children's Theatre, Theatre Vertigo, Stark Raving Theatre, and more. Elizabeth has also been involved in theatre behind the scenes, with sound designs for Corrib Theatre, CoHo Theatre, Theatre Vertigo, and Post5, and choreography and direction for Anonymous Theatre. She is also a proud company member of Anonymous Theatre.
Creative Team
Directed and
Choreographed by
Dan Murphy

Music Direction by
Jennifer Ackerman
Set Design by
Bryan Boyd
Costume Design by
Annie Kaiser
Lighting Design by
Larry Larsen
Prop Design by
Emily Wilken
Sound Design by
Brian Moen
Stage Manager
Jessica Junor
Midday Cabaret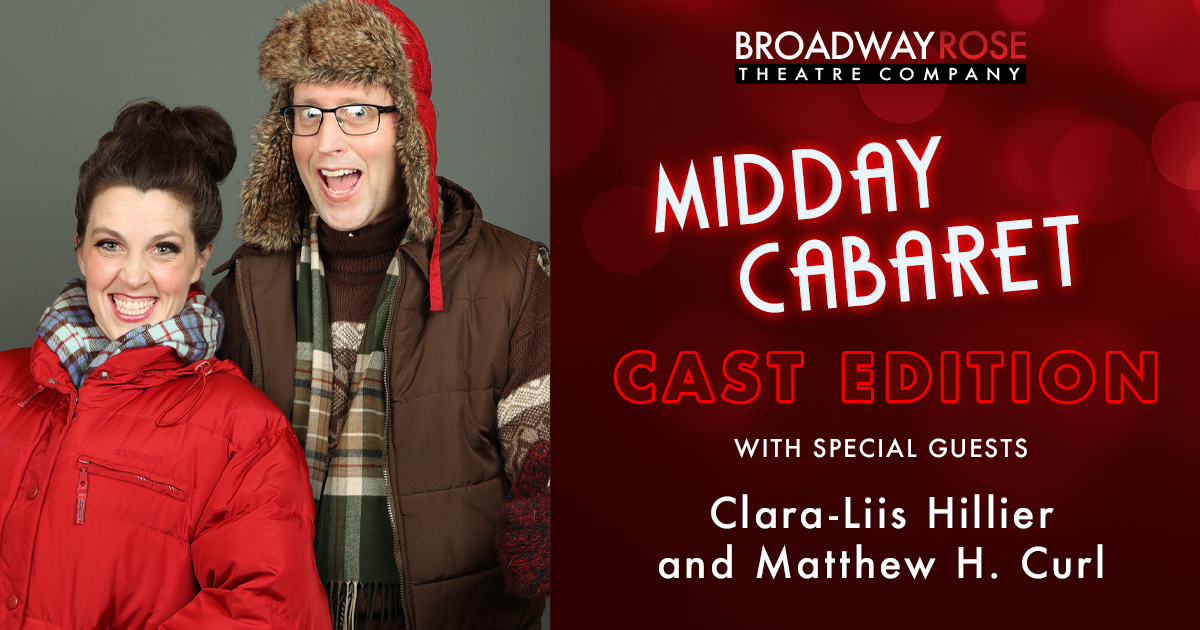 Dan Murphy hosted a special livestream Wednesday, April 20, at 1:00 p.m. featuring Don't Hug Me cast members, on Facebook and our YouTube channel. The cabaret included an interview about the production and performances with Matthew H. Curl and Clara-Liis Hillier.
News, Reviews, & Buzz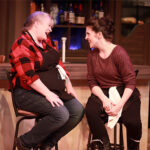 Review: Don't Hug Me at Broadway Rose
by Krista Garver
BroadwayWorld.com, Apr. 21, 2022
Don't Hug Me is a silly show about some residents of Bunyan Bay, Minnesota, whose lives get a jolt thanks to the appearance of a karaoke machine salesman. Read more.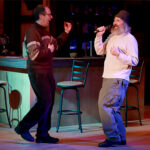 Don't Hug Me (But DO See Me!)
by Tina Arth
Westside Theatre Reviews, Apr. 21, 2022
Don't Hug Me is pure schmaltz with a big dose of heart, and it provides a wonderful, if all too brief, refuge from the outside world.  Read more.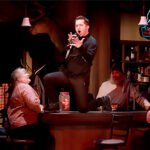 Fargo meets The Music Man!
by Judy Nedry
JudyNedry.com, Apr. 20, 2022
This is a silly play that will make even the grumpiest of Norsemen laugh out loud. Read more.