Gypsy • The mother of all musicals 
August 3 – 20, 2017
Based on the 1957 memoirs of world-famous striptease artist Gypsy Rose Lee, Gypsy begins at the end of the vaudeville era as overbearing stage mother Rose carts young daughters June and Louise (the young Lee) throughout the country, performing in fading venues for dwindling audiences. Rose's desperate desire for fame soon pushes the family to its limits, unraveling relationships, unveiling a new star, and revealing the raw power of ambition laid bare.

With six Broadway productions and two film adaptations, Gypsy has transfixed and astounded audiences for generations, holding its place among the greatest of all American musicals.
Performance runtime is approximately 3 hours with one 15-minute intermission.
Starring Broadway Rose co-founders SHARON MARONEY (Mama Rose) and DAN MURPHY (Herbie).
Parental guidance suggested. Content advisories.
Book by ARTHUR LAURENTS
Music by JULE STYNE
Lyrics by STEPHEN SONDHEIM
Suggested by memoirs of GYPSY ROSE LEE
Original Production by DAVID MERRICK and LELAND HAYWARD
Entire production originally directed and choreographed by JEROME ROBBINS
Performances held at the Deb Fennell Auditorium, 9000 SW Durham Rd., Tigard, OR 97224

Show Sponsor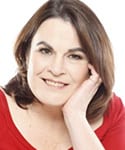 Sharon Maroney as Rose
Sharon Maroney is the founding producing artistic director of Broadway Rose and has been running the theatre alongside her husband, founding managing director Dan Murphy, for 26 years. Past roles here include Mona in The Best Little Whorehouse in Texas, Dolly in Hello, Dolly!, Carla in The Bikinis, Louise in Always...Patsy Cline, Rhetta in Pump Boys and Dinettes, Angela in Honky Tonk Angels, Muriel in Dirty Rotten Scoundrels, Dorothy Brock in 42nd Street, Keely in Pete 'n' Keely, and Sonia in They're Playing Our Song (the last time she played opposite Dan). Performances elsewhere include Forbidden Broadway and The Queen of Bingo for triangle productions!, and as a fallen angel the final season of The Fallen Angel Choir. Sharon also directs for Broadway Rose; recent shows include Beehive, Oklahoma!, My Fair Lady, and The King and I. She has also written several children's shows here, such as Sleeping Beauty, The Three Little Pigs and Freud, and Goldilocks and the Three Dysfunctional Bears.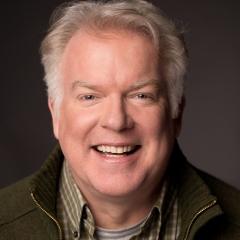 Dan Murphy as Herbie
Dan Murphy is the founding managing director of Broadway Rose. Some of his favorite roles here have been Man in Chair in The Drowsy Chaperone, Edna Turnblad in Hairspray, and Pseudolus in A Funny Thing Happened on the Way to the Forum. He has performed locally with Pixie Dust Productions, Lakewood Theatre Company, Oregon Children's Theatre, and The Musical Theatre Compay. He appeared in over 50 television shows, commercials and films when living in New York City. Although many appearances wound up on the editing room floor, he has the pay stubs to prove it.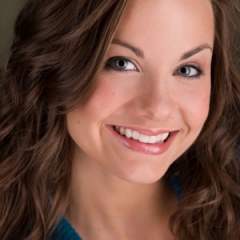 Kelly Sina as Louise
Kelly Sina feels so blessed to be making her Broadway Rose mainstage debut after appearing in a spectacular summer children's production. A transplant from New York City, she was most recently seen in Godspell at Lakewood Theatre Company as well as in 1776 as Martha Jefferson.  Favorite credits include Marian in The Music Man at Clackamas Repertory Theatre, Maria in The Sound of Music and Cinderella in Rodgers and Hammerstein's Cinderella (Derby Dinner Playhouse).  Other regional credits: Carrie (Stumptown Stages); Annie (Fireside Dinner Theatre); The Producers (Skylight Music Theatre).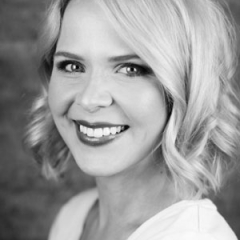 Kailey Rhodes as June
Kailey Rhodes moved to Portland from the good ol' state of Georgia and is on a continuous quest for the best biscuits and gravy in town. You may have seen her as Roxie Hart in Metropolitan Community Theatre Project's Chicago, for which she received a 2016 Drammy nomination, or in Lakewood Theatre Company's One Man, Two Guvnors. She was recently onstage with an incredible, all-female cast in The Importance of Being Earnest at Artists Repertory Theatre.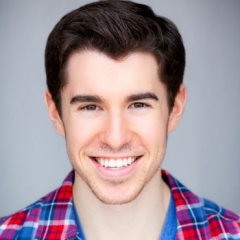 Bryan Thomas Hunt as Tulsa
A native of Portland, Bryan is thrilled to return to Broadway Rose after last performing in Singin' in the Rain and Les Misérables. National Tours: Billy Elliot and Irving Berlin's White Christmas (Kennedy Center). Regional favorites include Barry Manilow's Harmony (Ahmanson/Alliance), Holiday Inn (Goodspeed Musicals/The Muny), and 42nd Street (The Muny).
.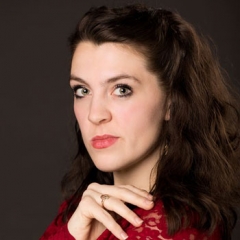 Clara-Liis Hillier as Electra and Miss Cratchitt
Clara-Liis is a graduate of Reed College. She is thrilled to return to Broadway Rose after performing as the Fairy Godmother in Cinderella! A proud company member of Theatre Vertigo, she was last seen in Godspell at Lakewood Theatre Company and the world premiere of Carnivora at Theatre Vertigo, and has performed with Bag&Baggage Productions, Northwest Classical Theatre Company, Portland Shakespeare Project, and Northwest Children's Theater. When not onstage, she works for Portland Center Stage at The Armory as their education and community programs associate and teaches dance and theatre for NWCTS and Riverdale High School.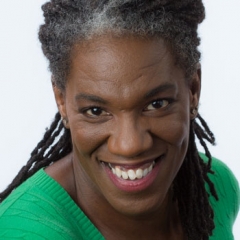 Ithica Tell as Mazeppa
Ithica is over the moon and back again to be playing Mazeppa, and to be performing with Broadway Rose again, this time, on the mainstage! Portland credits include Bagheera in The Jungle Book, Judas in Jesus Christ Superstar, Othello in Othello, Goneril in Lear, The Selector in How We Got On, and Maria in Twelfth Night to name a few. She has appeared on Grimm and The Librarians as well as commercials and voiceover work for Nike.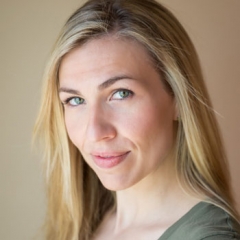 Danielle Valentine as Tessie Tura
Danielle is happy to be back in her second show at Broadway Rose. You may have seen her last year spreading holiday cheer in A Very Merry PDX-mas. Favorite credits include Velma in Chicago and Inga in Young Frankenstein. Danielle holds a degree in music performance which carries over onstage and in her passion for working with youth in music and theatre.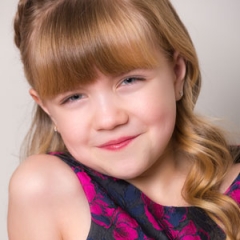 Ryleigh Hefflinger as Baby June
Ryleigh is making her Broadway Rose debut. She has performed as Matilda in "When I Grow Up," a musical theatre performance as well as a lead, Charlotte, in a "Christmas Spectacular" theatre production with Danceworks Performing Arts. She has studied dance and musical theatre with Danceworks Performing Arts for five years, where she has been a part of their performance company.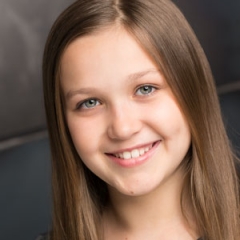 Aida Valentine as Baby Louise
Aida Valentine is excited to back on the Broadway Rose stage where she started her journey as Gretl in The Sound of Music. She has enjoyed working with many theatre companies around Portland including Portland Center Stage, Oregon Children's Theatre, Northwest Children's Theatre, Lakewood Theate Company, Stumptown Stages, and Portland Opera. She is looking forward to playing Small Alison in Fun Home at PCS this fall. When not performing, she enjoys training her mini-pig, Flora Belle.
.
---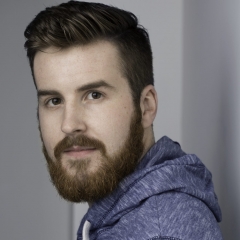 Nate Ayers as a Farmboy
Nate is not only performing with Broadway Rose for the first time, but is making his professional acting debut with this role. Originally from the Sacramento area, Nate moved to Oregon to attend George Fox University, where he earned his B.A. in theatre and performed in a number of mainstage productions, including as the title role in Sunday in the Park with George.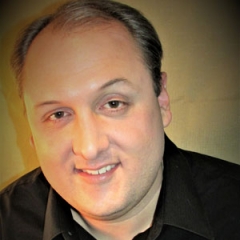 Dan Bahr as Georgie, Mr. Kringelien
Dan is excited to be returning to Broadway Rose after last being seen in The Music Man. A native Minnesotan, Dan completed a Ph.D. in physics from the University of Illinois where he also performed as Oscar in Sweet Charity, Luther Billis in South Pacific, Sancho Panza in Man of La Mancha, and Ottone in L'incoronazione di Poppea. Locally, he's performed as the Barber in Man of La Mancha and Samuel Chase in 1776 (Lakewood Theatre Company), and King Herod in Jesus Christ Superstar, Motel in Fiddler on the Roof, and Lord Farquaad in Shrek the Muscial (Theatre In The Grove). He has played roles in Candide, Grease, Little Shop of Horrors, La Bohème, Romeo et Juliette, and Bernstein's Mass.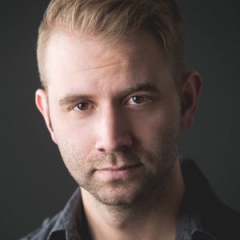 Mitchell Bray
Mitchell is beyond excited to be making his Oregon acting debut with the wonderful Broadway Rose Theatre Company. Having recently moved to Oregon from Idaho, he has found – as Dorothy so eloquently stated – Toto, I've a feeling we're not in Kansas anymore. He loves Oregon so far and plans to stay for a while. Some of his more notable previous performances include: Mark (Rent), Enjolras (Les Misérables), Tennessee Williams (Mr. Williams and Miss Wood), Joshua (Corpus Christi), and Brindsley Miller (Black Comedy). While he is not on stage, he enjoys spending quality time with his family, friends, and pups. He also loves cheering on the Chargers on Sundays.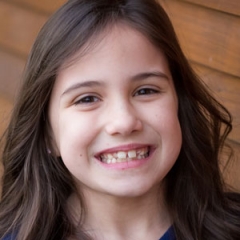 Sophie Fletcher
Sophie is very excited to be making her Broadway Rose debut in Gypsy. She recently played Louise in George Fox University's production of Sunday in the Park with George. She has also appeared in Voice for Voiceless Theatre's production of Elf the Musical. She is a 3rd grader at Edy Ridge Elementary and a current member of Sherwood, Oregon's Maid Marian Court.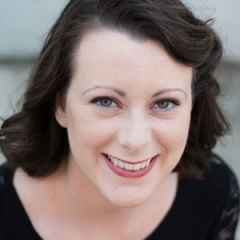 Christine Greenhalgh as Dolores
Christine is so happy to be a part of Broadway Rose again, this time in Gypsy. She graduated from Western Oregon University with a B.A. in theatre arts and a double minor in music and dance. Christine is a tap dancer, choreographer, and actor whose previous credits include White Christmas, Anything Goes, Nine (Lakewood Theatre), The Music Man (Broadway Rose), Beauty and the Beast, and Legally Blonde (Pixie Dust Productions).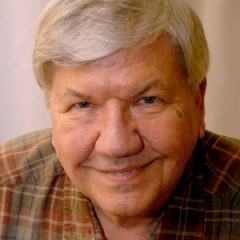 Stephen Guntli as Pop, Cigar
Stephen recently retired from a 35-year career in nonprofit fundraising. He was a starving actor until the age of 30, after receiving an M.F.A. in acting from Cornell. He did more theatre while living in Boston, where he also played a role in the movie The Defection of Simas Kidurka starring Alan Arkin. While doing theatre in New York, he met his wife in a children's theatre touring production of Daniel Boone! He has done theatre in Oregon as his schedule permits, most recently doing a reading with his wife of The Occupant by Edward Albee. He has lived in Oregon since 1991 with his wife, Chrisse Roccaro, a local actress, director, and teacher.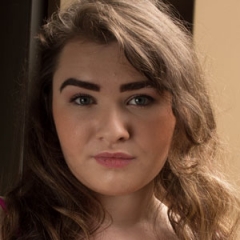 Hannah Hensley as Marjorie May
Hannah is excited to be making her Broadway Rose debut with Gypsy! She is currently getting her transfer degree from MHCC and is looking forward to completing a B.A. in theatre arts. She has worked with several local improv troupes and theatre companies including The Hot New Jam, Mt. Hood Improv Troupe, Icicle Creek Center for the Arts, Journey Theatre Arts Group, Sandy Actors Theatre, and Christian Youth Theatre. Favorite credits include Essie in You Can't Take It With You, Hope in Urinetown, and Kitty in The Drowsy Chaperone.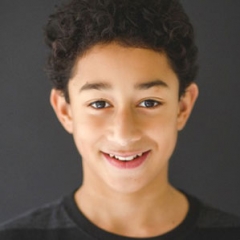 Alex Jarmon
Alex is thrilled to make his Broadway Rose debut in Gypsy. Alex is 13 years old and has been acting for a little over two years, primarily taking part in film acting. His first experience with musical theatre was with Krayon Kids Musical Theatre last fall as Swatch in Red, with a twist. He fell in love with performing on stage and is eager to be part of the Broadway Rose cast this summer. Alex is very grateful to his acting and vocal coaches, especially Brian Sutherland, Katie O'Grady, Kurt Conroyd, and Amy Aronson.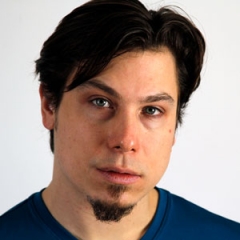 Anthony McCarthy
Anthony is elated to be doing his first show with Broadway Rose. Originally from Eugene, Oregon, this multi-instrumentalist moved up to pursue more acting, music, and comedy. Since then, Anthony has appeared in Funhouse Lounge's Buffy The Vampire Slayer Musical and is currently part of the comedy troupe Festival the Show. Some of his more notable roles include Che in Evita and Bloom in The Producers at Actor's Cabaret of Eugene. Anthony is also a singer-songwriter, traveler, and video editor. When he is not doing theater, you can catch Anthony playing music at bars around Portland.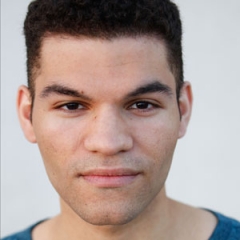 Dominic Pecikonis as a Farmboy
Broadway Rose debut! Dominic recently received his B.F.A. in musical theatre from Sam Houston State University. During his last semester he was selected as the Region 6 National Finalist for the Kennedy Center American College Theatre Festival. He has worked regionally in Texas at theaters such as Watertower Theatre, Lyric Stage (Irving), Stages Repertory Theatre, and Garland Summer Musicals. Fun Fact: His favorite movie is The Goonies!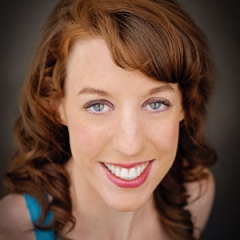 Shauntel Pyper
Shauntel is primarily from the great potato state of Idaho! She is currently training to gain her B.F.A. in musical theatre at Central Washington University. She has worked in various theatre companies across Wyoming, Idaho and Washington. Shauntal was recently seen as Helena in CWU's Midsummer Night's Dream, Adella/Ensemble in Akin Center Theater's The Little Mermaid, and Beatrice at Icicle Creek's Center for the Performing Art's Much Ado About Nothing. Shauntal's main goal in theatre is to intake and share the experience of life and humanity. This is Shauntal's first show with Broadway Rose.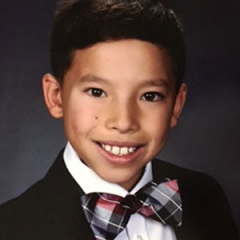 Darren Sze
This is Darren's first show with Broadway Rose and he is super excited to get to sing and dance on stage. He is a second year Spotlight Musical Theatre Academy student who enjoys singing, writing songs, and taking dance and gymnastics classes. He is looking forward to starting sixth grade in the fall where he will get to be part of the Lakeridge Junior High choir. When he grows up he would like to be a singer/songwriter.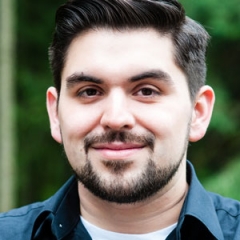 Feliciano Tencos-Garcia as a Farmboy
Feliciano is excited to return to Broadway Rose for Gypsy. He studied contemporary music at Western Oregon University. While in school, he performed in The American Metropole Orchestra and Western Hemisphere Orchestra with featured artists Allen Toussaint, Kurt Elling, Liz Wright, Hindu Rodeo, and Cassio Vianna. Feliciano also served as assistant music director for Marin Theatre Company's production of Mary Poppins. Past credits include Franz (understudy) and Ensemble in Rock of Ages, Chino in West Side Story, Piragua Guy and Ensemble for In The Heights, and Moritz in Spring Awakening. Most recently he could be seen as one of the Muleteers in Portland Opera's production of Man of La Mancha.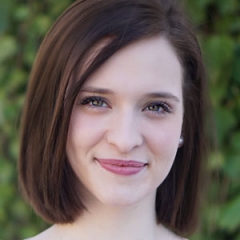 Meredith Waggoner as Thelma
Meredith is excited to return to the Broadway Rose stage! Past Broadway Rose shows include the title role in Cinderella, Tinkerbell in Peter Pan in Neverland, and ensemble in The Music Man. Meredith is currently studying musical theatre at Belmont University in Nashville, TN. At Belmont, she's been seen as Mary Phagan in Parade and was in the ensembles for All Shook Up, White Christmas, The Addams Family, and 9 to 5. Other recent theatre work: Anybodys in West Side Story with Middle Tennessee State University and ensemble in Studio Tenn's production of Evita. Meredith looks forward to graduating with a B.F.A. in the spring of 2018.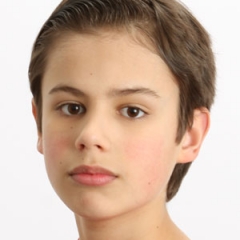 Phillip Wells
Phillip is 11 years old and is so excited to be making his Broadway Rose debut! He is a 5th grade homeschooler who loves acting and singing. Some of his favorite roles have been playing Jeremy Potts in Chitty Chitty Bang Bang with Journey Theater Arts Group, and Winthrop in The Music Man and Chef Louis in The Little Mermaid with Journey Youth Theater. In his free time, Phillip enjoys reading books, listening to Hamilton, Legos, bike riding, ballet and tap dancing, and Disneyland.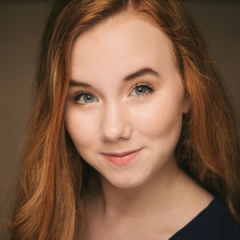 Hannah Lauren Wilson as Agnes
Hannah is thrilled to be making her debut at Broadway Rose. Hannah has been performing in Portland for the past nine years in theatre, film, and television. Selected credits include Kate Monster in Avenue Q (triangle productions!), Portland Area Musical Theatre Award-winning Young Liza Minnelli in Liza, Liza, Liza (triangle productions!), Shprintze in Fiddler on the Roof (Portland Center Stage), Heather McNamara in Heathers the Musical (triangle productions!), Esther Jane in A Christmas Story (Portland Center Stage) and Iola Stover in Parade (Staged!). If you were a fan of TNT's Leverage, you may have seen Hannah in a co-star role as Julliard in "The Fairy Godparents Job." Hannah is currently studying for her B.F.A. in musical theatre at Coastal Carolina University.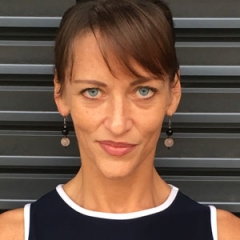 Deanna Olsen White
Deanna is thrilled to be returning to Broadway Rose, where she has appeared in Chicago, Singin' in the Rain, and most recently as Tintinabula in A Funny Thing Happened on the Way to The Forum. Her musical theatre credits include Cabaret, The Mystery of Edwin Drood, Camelot, and A Funny Thing Happened on the Way to the Forum (Gemini Twin) with Pioneer Theater Company in Salt Lake City, UT. She has also danced with IBT (International Ballet Theater) and Tatarstan State Ballet in Kazan, Russia, and holds a B.F.A. (ballet emphasis) from the University of Utah. As a ballet instructor at Element Dance Studio, Deanna continues to share her love of dance with her wonderful talented young students.
Show Dates
Thursday, August 3, 7:30 PM
PREVIEW
—
Limited Availability
Friday, August 4, 7:30 PM
OPENING NIGHT

Saturday, August 5, 2:00 PM
—
SOLD OUT
Saturday, August 5, 7:30 PM
Sunday, August 6, 2:00 PM—
Limited Availability
Thursday, August 10, 7:30 PM
Friday, August 11, 7:30 PM
Saturday, August 12, 2:00 PM—Post-show talk back*
Saturday, August 12 7:30 PM
Sunday, August 13, 2:00 PM—Limited Availability
Thursday, August 17, 7:30 PM—SOLD OUT
Friday, August 18, 7:30 PM
Saturday, August 19, 2:00 PM– Audio description available
Saturday, August 19, 7:30 PM
Sunday, August 20, 2:00 PM
*Talk-backs are free and open to the public. They begin immediately following the first Saturday matinee performance of the mainstage production, and are held in the theater. You do not have to attend the Broadway Rose production in order to attend the talk-back.
Creative
Directed by Annie Kaiser
Music Direction by Jeffrey Childs
Choreography by Maria Tucker
Set Design by Gene Dent
Lighting Design by Gene Dent
Costume Design by Darrin J. Pufall
Prop Supervision by Emily Wilken
Sound Design by Brian K. Moen
Wig Design by Jane Holmes
Stage Manager Kristen Mun
Musicians
Conductor, Keyboard Jeffrey Childs
Reeds Meika Bruggeman, Alicia Charlton, and Marc Grafe
Violin Amy Roesler
French Horn Wendy Peebles
Trumpet Levis Dragulin and John Kim
Trombone Justin Canfield
Bass Will Amend
Percussion Alex Geffel
News, Reviews, and Buzz
Last week to see 'Gypsy' at Broadway Rose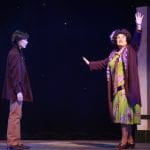 by Judy Nedry
JudyNedry.com
, Aug.14, 2017
Sharon Maroney gives a tour de force performance of an increasingly driven, narcissistic, frustrated woman who never gives up. Rather, she keeps bouncing back for more, dragging her hapless children and Herbie with her
…
Read more.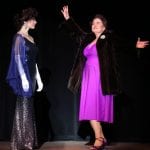 'Gypsy' will entertain you with its tribute to family and showbiz
by Lee Williams
The Oregonian/OregonLive, Aug. 9, 2017
A mighty musical tribute honoring perseverance, family, resourcefulness and that elusive style of showmanship that leaves 'em wanting more…Read more.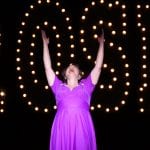 Gypsy @ Broadway Rose
by Kristopher Haines
The Crippled Critic, Aug. 8, 2017
It is a moment so striking that all which came before it is momentarily reduced to a blur…It's the strangest feeling, one I have experienced very few times. [Maroney] owns the thing...Read more.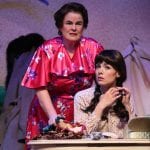 Catch this Gypsy Before it Leaves Town!
by Tina Arth
Westside Theatre Reviews, Aug. 8, 2017
This 'Gypsy' gives us a great combination of humor, top-class song and dance, and sobering themes, clearly demonstrating why it's often called America's greatest musical. It should not be missed… Read more.
Video: Interview with Bryan Hunt
KGW Portland Today, Aug. 2, 2017
Actor Bryan Thomas Hunt sat down with KGW's Portland Today host Cathy Marshall to talk about his role as Tulsa in Gypsy and treated viewers to a preview of his performance. Watch the interview and hear Bryan sing "All I Need is the Girl"  here.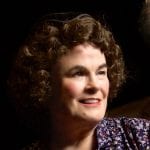 Sharon Maroney shines whatever she does
by Barbara Sherman
Regal Courier, Jul. 26, 2017
"I'm very grateful for my life – running this theater… we're on the other side of the mountain."…Read more.
Director's Note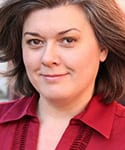 A Note From the Director: Annie Kaiser
---
In being asked to direct this production of Gypsy, I have been gifted with a task both daunting and delicious. Hey, Annie…would you like to guide a phenomenally talented cast through the interpretation of what many critics and writers have called 'the greatest American musical'? Hey, Annie…how about it being the first big summer musical you'll direct for Broadway Rose? And, hey, Annie…the artistic director and managing director will be playing Rose and Herbie…how does that sound?
I think it all sounds TREMENDOUS. My favorite part of theatre is its invitation to examine humanity in all of its naked glory, and the legendary Madame Rose willingly exposes herself as being one of the strongest and most vulnerable leading ladies ever created. She is a fascinating creature, driven by a dark desire that takes her daughters and us on a turbulent and desperate journey through vaudeville and burlesque houses, fueled by her own unrequited ambitions. Rose has a dream and it's gonna come true, baby – no matter the cost. While we may be left mouths agape at her methods of mothering and managing her daughters, one can't help but admire Rose's moxie. She is a fighter. A survivor. That the character is based on a real woman, Rose Hovick, makes the story that much more compelling. And her dream did come true: Gypsy Rose Lee was the most popular theatrical entertainer of her time.
This is my 16th season with Broadway Rose. Sharon and Dan have been incredible mentors over the years and have become dear friends…almost family. I am absolutely thrilled that they asked me to come along for this ride-of-a-lifetime – that we get to bring this monumental piece of musical theatre to life together and share it with our Broadway Rose audiences.