Honky Tonk Laundry • January 27 – February 20, 2022
Wash your cares away with this jukebox musical full of country favorites from Carrie Underwood, Trisha Yearwood, Reba McEntire, Tammy Wynette, Loretta Lynn, Patsy Cline, and more! When Lana Mae Hopkins, owner and proprietress of the Wishy Washy Washateria, hires Katie to help out, they soon find themselves up to their elbows in soap, suds, and cheatin' hearts. The women join forces to transform the laundromat into a bootscootin' honky-tonk and exact a touch of revenge against those that done 'em wrong.
Featuring Country favorites like: "Why'd You Come In Here Lookin' Like That," "Stand By Your Man," "Before He Cheats," "These Boots Were Made For Walkin'," "I Fall To Pieces," "Goodbye Earl," and more!
Written by Roger Bean
Music Arrangements by Jon Newton
Run time is approximately 2 hours and 15 minutes, including one 15-minute intermission.
Performances held at the Broadway Rose New Stage,
12850 SW Grant Avenue, Tigard, OR

Title Sponsor




Show Sponsor
Bonnie Conger

Show Dates
Thu., Jan. 27, 7:30 p.m. P
Fri., Jan. 28, 7:30 p.m.  O
Sat., Jan. 29, 7:30 p.m.
Sun., Jan. 30, 2:00 p.m.
Thu., Feb. 3, 7:30 p.m.
Fri., Feb. 4, 7:30 p.m.
Sat., Feb. 5, 2:00 p.m.* L
Sat., Feb. 5, 7:30 p.m.
Sun., Feb.  6, 2:00 p.m. S
Thu., Feb. 10, 7:30 p.m.
Fri., Feb. 11, 7:30 p.m.
Sat., Feb. 12, 2:00 p.m. L
Sat., Feb. 12 7:30 p.m.
Sun., Feb. 13, 2:00 p.m. S
Thu., Feb. 17, 7:30 p.m. L
Fri., Feb. 18, 7:30 p.m. L
Sat., Feb. 19, 2:00 p.m.° L
Sat., Feb. 19, 7:30 p.m. L
Sun., Feb. 20, 2:00 p.m. S
P – Preview performance
O – Opening night
L – Limited Availability
S – Sold out
* – post-show talk-back
° – audio-description available
Cast

Jessica Brandes as Katie
Jessica Brandes is so excited to be working with everyone at Broadway Rose again. She completed her undergrad in theatre at CAP 21/Tisch at New York University. She worked extensively in New York City with Andrew Lippa and Stephen Flaherty. She also had the honor of performing Kathy in The Last Five Years at The Other Palace in London, UK. Favorite regional roles include Eve in Children of Eden, Sally in Cabaret, and Rita in Lucky Stiff.

Emily Cadiz as Lana Mae
Emily Cadiz is a graduate of Columbia University in New York City. She holds her Master's degree in music, special education, and education. Her performance career includes time with the Portland State University Choir, the Oregon Mozart Players, Portland Opera, the Festival of American Music, the University of Oregon Theatre, and numerous other local, regional, and national organizations. Emily has held the roles of Wendy in Peter Pan, Gypsy Rose Lee in Gypsy, and Diana Devereaux in Of Thee I Sing. Emily is also the founder and CEO of the inclusive music company Finnegan the Dragon. She created Finnegan the Dragon by leveraging her 20 years of experience teaching music and working with special needs children to develop this distinctive character and one-of-a-kind learning game.
Creative Team
Directed by
Sharon Maroney
Music Direction by
Mak Kastellic
Choreography by
Dan Murphy
Set Design by
Sean O'Skea
Costume Design by
Kimberly Hergert
Light Design by
Carl Faber
Prop Design by
James Sharinghousen
Sound Design by
Brian Moen
Stage Manager
Jessica Junor
Musicians
Mak Kastellic
Piano/Conductor
Dave Muldoon
Drums
Amy Roesler
Bass
Joseph Mammarella
Electric Guitar
Midday Cabaret
Our Midday Cabaret: CAST EDITION with Jessica Brandes and Emily Cadiz from Honky Tonk Laundry, took place live on set on February 2!
Production Photos
News, Reviews, & Buzz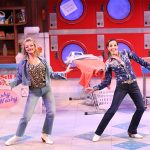 Broadway Rose's Honky Tonk Laundry Brings Down-Home Musical Fun
by Tina Arth
Westside Theatre Reviews, Feb. 5, 2022
Even with spectacular vocals (and the vocals are pretty damned spectacular), the show would still be a bit of a drag if the actors didn't bring their "A" game – but this is simply not an issue in the Broadway Rose production… Read more.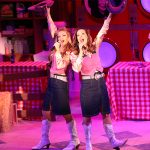 Review: HONKY TONK LAUNDRY at Broadway Rose
by Krista Garver
BroadwayWorld.com, Feb. 4, 2022
While the dialogue is funny and the music fantastic – even to a non-country person like me – what really sells this show is the stars… They can twang, they can belt, they can yodel… Read more.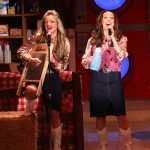 Honky tonk fun
by Judy Nedy
JudyNedry.com, Feb. 2, 2022
If you find yourself deep in mid-winter with a hankering for some good old country music, Broadway Rose Theatre Company has the show for you… Read more.