May 30 – June 30, 2019
Take a journey into the enchanted world of magic beans and moonlit nights, towering giants and handsome princes, and fates sealed (and unsealed). Familiar storybook figures such as Cinderella, Little Red Riding Hood, Jack (with his beanstalk), and Rapunzel cross paths with the childless Baker and The Baker's Wife on their quest to reverse the Witch's curse on their fruitless family tree. But as the characters descend deeper into the forest, they find that getting what you wish for doesn't always end happily ever after. Stephen Sondheim's witty, powerful score and James Lapine's imaginative, darkly humorous book combine to make the Tony Award-winning Into The Woods a favorite among musical lovers and a timeless masterpiece. This imaginative production employs elaborate costumes, inventive scenery, magical stagecraft, and a single piano to offer an adventure through the woods unlike any other.
Directed by JESSICA WALLENFELS
Music and Lyrics by STEPHEN SONDHEIM • Book by JAMES LAPINE
Originally Directed on Broadway by JAMES LAPINE • Orchestrations by JONATHAN TUNICK
Run time is approximately 2 hours and 50 minutes, including one 15-minute intermission.
Performances held at the Broadway Rose New Stage, 12850 SW Grant Avenue, Tigard, OR

Show Sponsor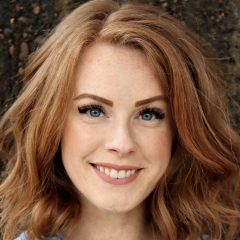 Erin Tamblyn as The Witch
Erin is excited to return to the Woods with Broadway Rose. Erin has portrayed iconic roles such as Belle in Beauty and the Beast, Dorothy in The Wizard of Oz, Queenie in The Wild Party, and The Baker's Wife in Into the Woods. Previous shows with Broadway Rose include: Celebrate Home: A Broadway Rose Christmas, Honky Tonk Angels, Band Geeks, and The World Goes 'Round. You may also find her as a guest artist in concerts throughout the U.S. When Erin is not performing, she enjoys helping others find their way to a healthier lifestyle as a health and wellness coach and spending time with her husband Greg and their blended family, Ariel, Aurora, and Preston. IG: @mrserintamblyn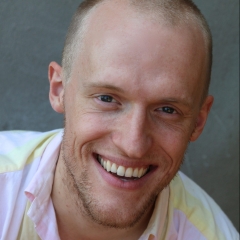 Eric Michael Little as The Baker
Eric is so glad to be back at Broadway Rose doing one of his favorite musicals, and grateful to be able to do it with this amazing team. Broadway Rose credits include Joseph in Joseph and the Amazing Technicolor Dreamcoat and music director for Cats and The Drowsy Chaperone. Other area credits include music director and actor in A Christmas Carol at Portland Playhouse, and conductor of Fun Home at Portland Center Stage.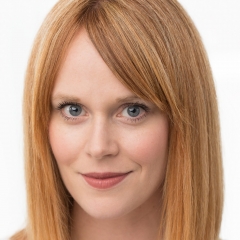 Leah Yorkston as The Baker's Wife
Leah is beyond atingle to be back at Broadway Rose playing the Baker's Wife. Regional credits: Forever Dusty (Dusty Springfield), The Rocky Horror Show (Janet), Sweeney Todd, The Sound of Music (Maria), Joseph and the Amazing Technicolor Dreamcoat (The Narrator), White Christmas (Betty Haynes), An Act of God (Michael). Television: Documentary Now!: "Original Cast Album: Co-Op." Leah is a two-time Portland Area Musical Theatre Award recipient. IG: @msleahyorkston
Kailey Rhodes as Cinderella
Kailey is so excited to be back at Broadway Rose for this incredible show with an amazing team. She joined Broadway Rose earlier this season as Claire in Ordinary Days, and last season as Dainty June in Gypsy. She recently appeared in Teenage Dick at Artists Repertory Theatre, where she previously appeared in An Octoroon and The Importance of Being Earnest. Other local credits include Sense and Sensibility at Clackamas Repertory Theatre and Chicago with Metropolitan Community Theatre Project (Drammy nomination, Best Actress in a Musical). This fall, she's thrilled to collaborate with Jessica Wallenfels again on Portland Playhouse's production of The Wolves.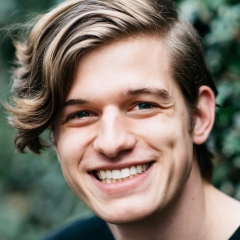 Austin Comfort as The Wolf/Cinderella's Prince
Austin is an actor, singer, puppeteer, and candlestick maker (not in that order). Recent work includes Shakespeare in Love at the Oregon Shakespeare Festival as well as work with the Fertile Ground Festival, Oregon Fringe Festival, and Puppeteers For Fears. He holds a B.F.A. from Southern Oregon University.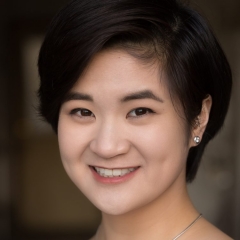 Hannah Sapitan as Little Red Ridinghood
Hannah is grateful for the opportunity to play Little Red Riding Hood in her Broadway Rose debut! Her past performances include Mary Magdalene in Stumptown Stages' production of Jesus Christ Superstar, Wednesday Addams in Newberg High School's production of The Addams Family, The Cat from Honk! the Musical, Sour Kangaroo in Seussical the Musical, and Antonio in The Tempest.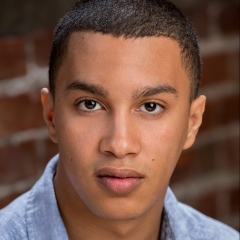 Tyler Andrew Jones as Jack
A Portland native, Tyler is thrilled to be back at Broadway Rose! Regionally, Tyler has been seen as Papa Ge in Once On This Island at Coeur d'Alene Summer Theatre, Lonnie in Locomotion at Oregon Children's Theatre, Angel in Rent, and Fulana de Tal in Boomcracklefly at Milagro Theatre. Off-Broadway: Asher in The Marks You Leave at The Cell Theatre, Songs at The New World at New World Stages. New York: Balloon Boy: The Musical (New York Musical Festival) and debuted at Feinstein's/54 Below. His play, The Marks You Leave, produced in part with Ronnie Lacroute, premiered at the International New York Fringe Festival. Tyler attended Marymount Manhattan College and is a proud alumnus of Third Rail Repertory Theatre's mentorship company. His first solo cabaret, Little Dark Star, will premiere later this summer.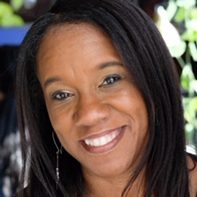 Josie Seid as Jack's Mother
Josie is so excited to return to the Broadway Rose stage. You may have previously seen her in The Drowsy Chaperone as Trix the Aviatrix and in the ensemble of Hairspray. Some of her other favorite roles include Viney in Artists Repertory Theatre's The Miracle Worker, and Dido in An Octaroon. She also appeared in Portland Actors Ensemble's production of Antony and Cleopatra as the Soothsayer and as OG in Third Rail Repertory's Men On Boats, and was a member of the Drammy Award-winning ensemble of Brother Sister Plays with Portland Playhouse. Concert credits include the Billie Holiday tribute concert held at the Alberta Rose Theatre and Portland Sings at Artist's Repertory Theatre.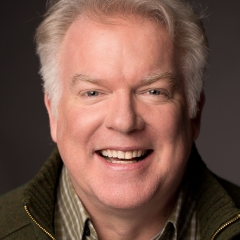 Dan Murphy as The Narrator/Mysterious Man
Dan is the founding managing director of Broadway Rose Theatre Company and occasionally trots the boards both here and around town. He has performed locally for The Musical Theatre Company, Pixie Dust Productions, Magdelyn Theatre, Well Arts Institute, Oregon Children's Theatre, Stumptown Stages, and Lakewood Theatre Company. Audiences may recognize him from Broadway Rose's productions of The Drowsy Chaperone as Man in Chair, Hairspray as Edna Turnblad, My Fair Lady as Alfred P. Doolittle, A Funny Thing Happened on the Way to the Forum as Pseudolus, Gypsy as Herbie, and most recently in Nunsense as Reverend Mother. Originally from New York, Dan has appeared in over 60 movies, television shows and commercials and, although most of his best work has wound up on the editing room floor, he has the pay stubs to prove it.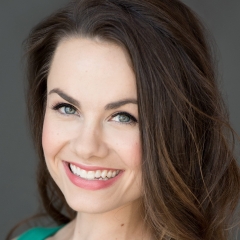 Kelly Sina as Rapunzel
Kelly is always blessed to be back with her Broadway Rose family – this time playing opposite her real-life prince, Adam!  She was on this stage ten minutes ago in A Grand Night For Singing and was previously a Hot Box Girl in Guys and Dolls and starred in Gypsy as Louise (Portland Area Musical Theatre Award for Outstanding Female Actor). Kelly was recently seen in Pippin (Catherine), Cabaret (Sally Bowles), Godspell (Drammy Award, Best Ensemble), and 1776 (Martha Jefferson) at Lakewood Theatre Company. Other local credits: Marian in The Music Man at Clackamas Repertory Theatre, Northwest Children's Theater, Stumptown Stages, and Fertile Ground Festival. Up next, Kelly will play Nellie Forbush in South Pacific with Clackamas Repertory.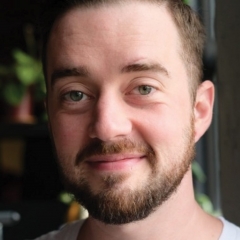 Adam Elliott Davis as Rapunzel's Prince


Adam is thrilled and honored to be returning to the Broadway Rose stage as Rapunzel's Prince, especially since he gets to play opposite his lovely bride, Kelly Sina. In addition to over a decade of stage performances in the Portland area, Adam is also a Portland-based filmmaker, writer, and screen actor with award-winning roles in feature films such Undeserved (for which he won a number of "Bests," including supporting actor and villain, at national film festivals) and appearances in popular television shows including Grimm. He recently completed the feature thriller Losing Addison, which he co-wrote, produced, and starred in alongside fellow BR alum Joel Walker, and Sherilyn Fenn (Twin Peaks, Golden Globe/Emmy Nominee). The film is anticipated to release in 2020. www.adamelliottdavis.com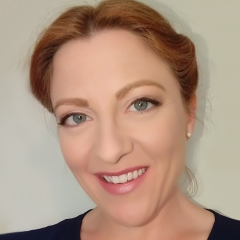 Katherine Martin as Cinderella's Mother/Grandma/Voice of the Giant
Katherine comes to Broadway Rose by way of Phoenix, Arizona, and is thrilled to be making her debut here in Oregon with one of her most beloved shows. Prior to this Sondheim classic Katherine has portrayed Amalia Balish in She Loves Me at Don Bluth Front Row Theatre, Anna Leonowens in The King and I at Greasepaint Youtheatre, as well as The Lady of the Lake in Spamalot at Desert Stages Theatre.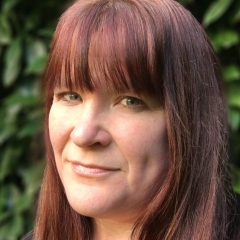 Elizabeth Anne Young as Cinderella's Stepmother
Elizabeth is thrilled to be making her Broadway Rose debut in one of her favorite musicals, acting alongside some of her favorite people, directed by even more of her favorite people. She has been involved in theatre most recently mainly behind the scenes, following the birth of her son seven years ago, and has done sound designs for CoHo Theatre, Theatre Vertigo, and Post5; choreographed and directed for Anonymous Theatre, and serves as a company member for Anonymous Theatre. Prior to motherhood she appeared onstage at Lakewood Theatre Company, Northwest Classical Theatre Company, Northwest Children's Theater, Theatre Vertigo, Stark Raving Theatre, and more.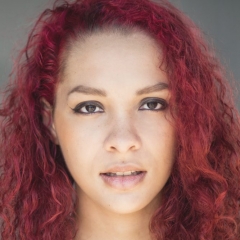 Kayla Dixon as Florinda
Kayla is proud to be returning for her third show with Broadway Rose! She has several professional credits including Magenta in The Rocky Horror Show and Mary Kate Olsen is in Love at Studio Theatre in Washington DC, Brenda in Smokey Joe's Café at Stumptown Stages, Anita in West Side Story at Broadway Rose, Claire in Forever Dusty at triangle productions! and Beehive at Broadway Rose. She has several film and television credits including Portlandia, Grimm, Outlaw, and the film I Don't Feel At Home In This World Anymore. Kayla is the vocalist for the Bay Area band Dress the Dead and the internationally touring doom metal band Witch Mountain.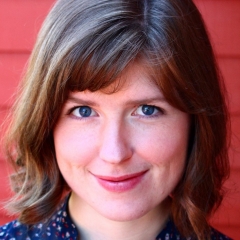 Sarah DeGrave as Lucinda
Sarah is happy to be back at Broadway Rose after previously appearing in A Very Merry PDX-mas! and The Sound of Music. Other recent roles include Lily St. Regis in Annie at Clackamas Repertory Theatre and Soupy Sue in Anonymous Theatre's thrilling production of Urinetown. Sarah has also worked onstage at triangle productions!, Stumptown Stages, Milagro Theatre, and Seattle Musical Theatre, among others, and is producer and co-creator of the hit cabaret The Ingenue's Revenge. You can catch her later this summer in South Pacific at Clackamas Repertory and in the upcoming film By and By. For other upcoming projects, visit www.sarahdegrave.com. @sing_dance_repeat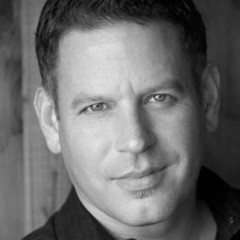 Bruce Blanchard as Cinderella's Father
Bruce most recently played Feldzieg in The Drowsy Chaperone at Broadway Rose. Portland credits include Ripper (John Pizer/Willy) at Broadway Rose, The Secret Garden (Archibald) at Lakewood Theatre Company, Death of a Salesman (Biff) at Artist Repertory Theatre, Eating Raoul at Live On Stage, Sweeney Todd at Portland Center Stage, Camelot (Lancelot) with the Oregon Symphony, and Kiss Me, Kate (Fred Graham/Petruchio) at the Musical Theatre Company. National credits include Hello, Dolly! with Carol Channing (First National Tour, Broadway), Forever Plaid (Smudge) off-Broadway, Detroit, Atlantic City, Boston, Chicago, Las Vegas and Johannesburg, South Africa; Forbidden Broadway (National Tour, off-Broadway), Opal (Narrator) at the Lambs Theatre, off-Broadway (Outer Critic Award); and Les Misérables (Second National Tour). He studied for his M.F.A. at the University of Mississippi and received a B.S. in history from Corban University.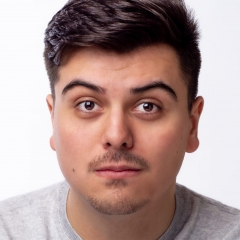 Alec Cameron Lugo as The Steward
Alec is honored to be making his Broadway Rose debut! A 2016 Pacific University graduate, Alec's recent acting credits include the world-premiere of The Legend of Rock, Paper, Scissors! (The Announcer) at Oregon Children's Theatre, Mary Poppins (Bert) at Northwest Children's Theatre, Cabaret (Clifford Bradshaw) at Fuse Theatre Ensemble, and A Midsummer Night's Dream (Demetrius) at Anonymous Theatre Company, among others. He also recently made his television debut on IFC in the Documentary Now! episode "Original Cast Album: Co-Op." As a graphic artist, he has developed artwork for companies including Bag&Baggage Productions, Corrib Theatre, Aloha Theatre, and the OUTwright Theatre Festival, among others. He received a Portland Spotlight Award in 2018 for his work in media and marketing.
Show Dates
Thursday, May 30, 7:30 PM PREVIEW—SOLD OUT
Friday, May 31, 7:30 PM OPENING NIGHT—SOLD OUT
Saturday, June 1, 7:30 PM—SOLD OUT
Sunday, June 2, 2:00 PM—SOLD OUT
Thursday, June 6, 7:30 PM—SOLD OUT
Friday, June 7, 7:30 PM—SOLD OUT
Saturday, June 8, 2:00 PM—SOLD OUT—Post-show talk-back*
Saturday, June 8, 7:30 PM—SOLD OUT
Sunday, June 9, 2:00 PM—SOLD OUT

Thursday, June 13, 7:30 PM—SOLD OUT
Friday, June 14, 7:30 PM—SOLD OUT
Saturday, June 15, 2:00 PM—SOLD OUT
Saturday, June 15, 7:30 PM—SOLD OUT
Sunday, June 16, 2:00 PM—SOLD OUT
Wednesday, June 19, 7:30 PM—SOLD OUT—Added performance!
Thursday, June 20, 7:30 PM—SOLD OUT
Friday, June 21, 7:30 PM—SOLD OUT
Saturday, June 22, 2:00 PM—SOLD OUT—Audio description available
Saturday, June 22, 7:30 PM—SOLD OUT
Sunday, June 23, 2:00 PM—SOLD OUT
Wednesday, June 26, 7:30 PM—SOLD OUT—Added performance! 
Thursday, June 27, 2:00 PM
Thursday, June 27, 7:30 PM—SOLD OUT
Friday, June 28, 7:30 PM—SOLD OUT
Saturday, June 29, 2:00 PM—SOLD OUT
Saturday, June 29, 7:30 PM—SOLD OUT
Sunday, June 30, 2:00 PM—SOLD OUT
*Talk-backs are free and open to the public. They begin immediately following the first Saturday matinee performance of the mainstage production and are held in the theater. You do not have to attend the Broadway Rose production in order to attend the talk-back.
Creative
Directed and Choreographed by Jessica Wallenfels
Assistant Director Kelly Lyons
Music Direction/Piano by Eric Nordin
Set Design by Sean O'Skea
Light Design by David Castaneda
Prop Design by Emily Wilken
Costume Design by Darrin J. Pufall Purdy
Sound Design by Brian K. Moen
Wig Design by Jane Holmes
Stage Manager Jessica Junor
Assistant Stage Manager Brooke Larson
Director's Note
A NOTE FROM THE DIRECTOR: JESSICA WALLENFELS
Into the Woods celebrates the unmistakable characters and situations of fairy tales, just before blowing them up. A good girl is starting to see that nice gets her nowhere, while princes enjoy the agony of unrequited love – until it becomes requited, at which point it becomes dull. Sondheim and Lapine's twist on our shared oral, folkloric history is filled with contemporary cultural critique that only continues to become more relevant as the years go by.
Paradoxically, it is the underlying seriousness that makes Into the Woods funny, even as it makes us think. Music director/pianist Eric Nordin and I have embraced the comedy in this stripped down, one-piano arrangement he has created, which also features percussive parts played by actors, conceived as actions meant to be part of their journey through the woods. I've drawn from a modernized form of commedia dell'arte, a tradition of physical theatre dating back to 16th-century traveling bands of actor/clowns playing stock characters in comic scenarios. The highly stylized nature of this form accentuates larger than life emotions and wild exaggeration, which we've carried through the costume design as well.
Over the course of the show, it becomes clear that no matter how our perspectives may collide, in the end, all we can do is share our stories. Ultimately we see how a community pulls together in the face of disaster, while examining how our "found," or chosen, families sustain us when others must leave. As theatre lovers know, it is stories that pull us together and save our lives, again and again. Most notably, Sondheim and Lapine force us to notice that how we tell those stories shapes the young minds in front of us. The Witch sings:
Careful the tale you tell / That is the spell. / Children will listen…
This is a story about a community who, through crisis, finds that people may move from selfishness to solidarity, leaning on one another as they journey through the darkness. Enjoy the ride of Into the Woods as it invites us to think, feel, laugh and sing.
News, Reviews, and Buzz
Broadway Rose's Momentous "Into The Woods"
by Tina Arth
Westside Theatre Reviews, Jun. 6, 2019
…when [Erin Tamblyn] sang "Stay With Me" I not only got chills, but I found myself wondering how humans had ever evolved to be able to make such magnificent music with their voices. …Read more.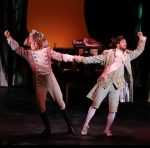 BWW Review: INTO THE WOODS Is Everything You Could Wish For, At Broadway Rose
by Krista Garver
BroadwayWorld.com, Jun. 5, 2019
Jessica Wallenfels' movement-focused direction, and the strongest cast that Broadway Rose has ever assembled brought out the richness of Stephen Sondheim's classic in a way that at times made me feel like I was seeing it for the first time. …Read more.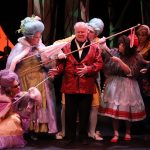 "Into The Woods" @ Broadway Rose
by Kristopher Haines
The Crippled Critic, Jun. 5, 2019
"Into the Woods" proves once again that Dan Murphy needs to step on stage more often, and not just to tell the audience to "turn-off anything that's not implanted."His Narrator is the most consistent source of humor in the production. …Read more.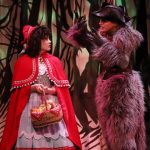 Once more, into the ticket
by Bennett Campbell Ferguson
orartswatch.org/once-more-into-the-thicketOregon ArtsWatch, Jun. 4, 2019
Every actor is a master of verbal and physical wit, especially Sapitan (who imbues Red Ridinghood with the frenetic energy of a kid who just drank a 24-pack of Red Bull) and Austin Comfort, who oozes sensuality and smugness as both Cinderella's Prince and the Wolf… Read more.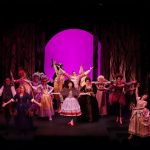 When Wishes Come True
by Judy Nedry
JudyNedry.com, Jun. 4, 2019
It's a lovely, complex show with lots of fun, great dialog, incredible costumes… Read more.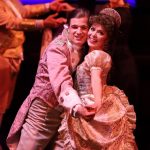 Strong 'Into the Woods' cast leads audience smoothly along an artistic trail of bread crumbs
by Lee Williams
The Oregonian/OregonLive, Jun. 3, 2019
The heroes of this tale? The actors. The cast's nerve, verve and across-the-board artistry give the production its happily ever after. This may be the best cast Broadway Rose has ever assembled. …Read more.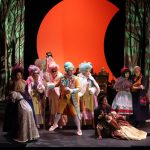 Into The Woods — Broadway Rose
by Dennis Sparks
All Thing Performing Arts, Jun. 3, 2019
This complex, re-inventing of these familiar stories, which are told with much gusto from an amazing cast and a pianist without equal, the brilliant, Eric Nordin! …Read more.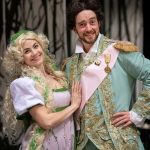 West Linn couple live real-life fairy tale
by Holly Bartholomew
West Linn Tidings, May 28, 2019
"It was our first or second rehearsal together and we had to finally break the ice and kiss each other," Elliot Davis said. "In that moment, I was literally almost swept off my feet and my breath was taken away."…Read more.
Go 'Into the Woods' with Tigard's Broadway Rose
by Janae Easlon
Hillsboro Tribune, May 15, 2019
Tigard's Broadway Rose, known as the crown jewel of musical theater in Washington County, is taking a favorite and experimenting with movement as it takes on Tony Award winner "Into the Woods"… Read more.
Production Photos
Behind-the-Scenes