Joseph and the Amazing Technicolor Dreamcoat (2023). Photo by Howard Lao.
Joseph and the Amazing Technicolor Dreamcoat (2023). Photo by Howard Lao.
June 29 – July 23, 2023
Joseph and the Amazing Technicolor Dreamcoat
This colorful retelling of the story of Joseph, his coat of many colors, and his amazing ability to interpret dreams is a blockbuster of biblical proportions. From the legendary musical theatre duo of Andrew Lloyd Webber and Tim Rice (Evita, Jesus Christ Superstar), this musical parable features an exuberantly catchy score including such hits as "Go, Go, Go Joseph," "Close Every Door," and "Any Dream Will Do." Don't miss this family-friendly, high-energy production that has delighted audiences for generations.
Lyrics by Tim Rice
Music by Andrew Lloyd Webber
Directed and Choreographed by Dan Murphy
Run time is approximately 2 hours, including one 20 minute intermission.
Performances held at the Deb Fennell Auditorium
9000 SW Durham Rd, Tigard, OR
Children under six years of age are not admitted to mainstage shows.
Cast


Alex Foufos as Joseph
Alex Foufos graduated from Willamette University with a Bachelor of Arts in theatre. While most of his days are spent building riverboards and inflatable raft pumps in Hillsboro, he finds the time to sing and act as much as possible. Most recently he was seen as Henrik in A Little Night Music in Salem and Guillaume/Hugh/Chris in Colonialism Is Terrible, But Pho Is Delicious at Oregon Contemporary Theatre in Eugene. Outside of work and theatre, Alex enjoys spending time with his friends, family, and partner.


Danielle Valentine as Narrator
Danielle Valentine is thrilled to be playing the Narrator, a role she's been prepping for since she began belting at age two. She has been fortunate enough to perform for various theatre companies in the Portland area and is excited to be back on stage at Broadway Rose. Some favorite roles include: Elspeth in Loch Lomond, Mr. Wormwood in Matilda, Sister Robert Anne in Nunsense, and Player 2 in Up and Away. When not in a theater she can be found stuffing her face at "family dinners." Thanks to Dan and the whole Broadway Rose family for this amazing opportunity!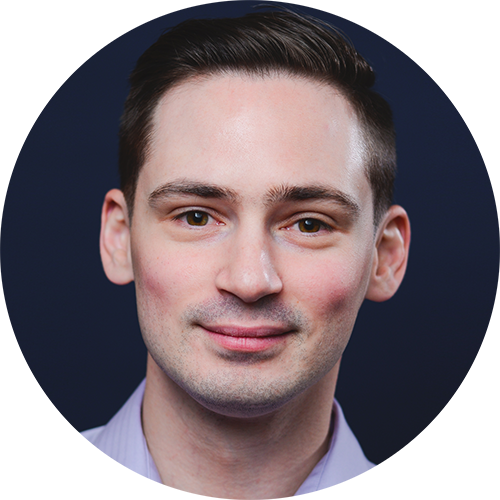 Robert Altieri as Gad/Butler
Robert Altieri is ecstatic to make his Broadway Rose debut as they return to the Deb Fennell Auditorium! He last appeared  in ELF The Musical and Celebration (Lost Treasures Collection) at Lakewood Theatre Company. Active in musical theatre since 2016, his highlights include: The Beadle in Sweeney Todd: The Demon Barber of Fleet Street, Max in Lend Me a Tenor, featured ensemble parts in Urinetown and Singin' in the Rain, and most excitingly, a short-lived cameo as Steve in the West End production of Heathers: The Musical. Offstage, Robert works as a construction project manager and is a competitive bowler. He would like to thank the entire production team and cast for this incredible opportunity and experience.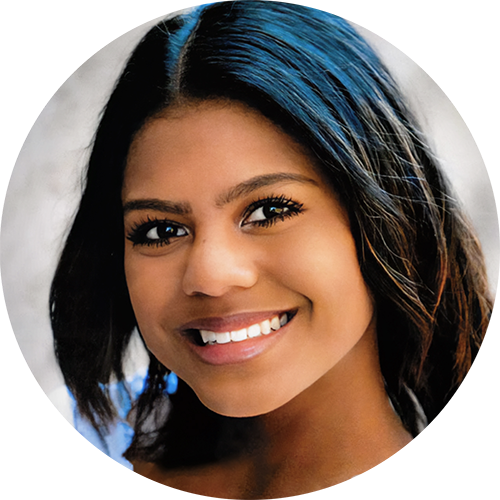 Tatiana Bernardo as Ensemble
Tatiana Bernardo is a kinesiology major at George Fox University. She was the show choir captain at her high school with nine years of dance experience, including jazz, contemporary, tap, hip hop, and more. She is currently a part of the George Fox University Choir. She was recently seen in The Rocky Horror Show (Phantom and Rocky u/s) and Godspell (Lindsay). Tatiana hopes you enjoy this beautiful show!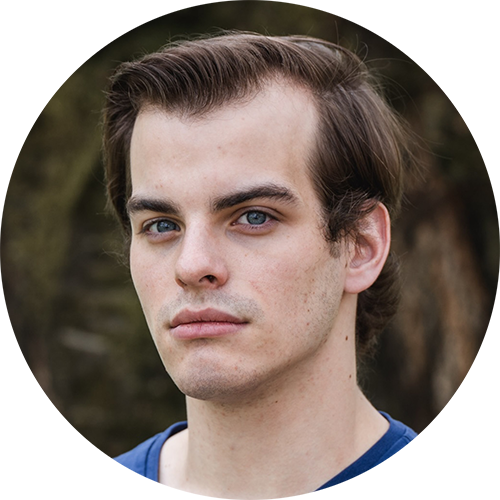 Aidan Brown as Naphtali
Aidan Brown is a Portland-based actor originally from Castle Rock, Colorado. He graduated from University of Portland with a Bachelor of Arts in theatre. He's worked on musicals and plays in school and around the Portland area in community productions. Some of these shows include The Crucible as Ezekiel Cheever for Twilight Theater, Company as Harry for University of Portland, and Almost, Maine as Marv for Magenta Theater. He is excited to work on this production with Broadway Rose and hopes to bring the electric energy required for such an exciting show. He dedicates his performances to the teachers who helped in his musical training.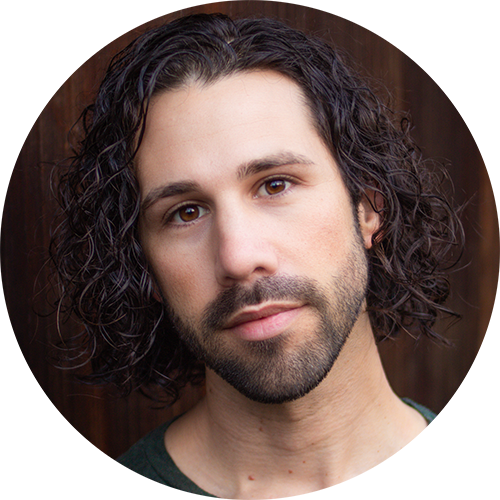 Chad Craner as Levi
Chad Craner couldn't be more thrilled to be back on the Broadway Rose stage. He was last seen in Broadway Rose's production of It Happened One Christmas as a member of the quartet. Other favorite roles include Jimmy Smith in Thoroughly Modern Millie, Mother's Younger Brother in Ragtime, and Frederic in The Pirates of Penzance.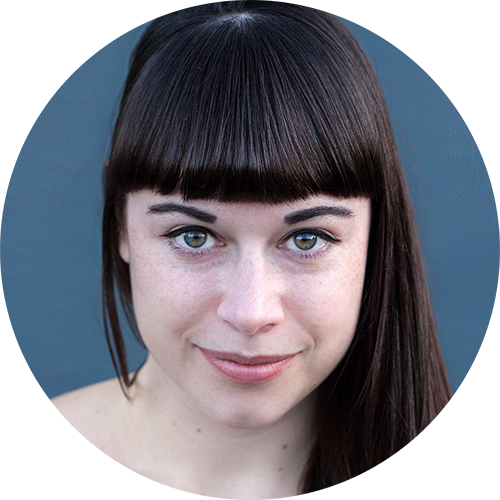 Brit Eagan as Ensemble
Brit Eagan is excited to be making her Broadway Rose debut! You may have seen Brit onstage as the former lead vocalist with Millennium Dance Band, as Emily in ELF The Musical (2021) at Lakewood Theatre Company, or as Wren in Twilight Theater Company's recent production of 5 Lesbians Eating a Quiche. She has also been in productions at Portland Musical Theatre Company, the Oregon Musical Theatre Festival, and Umpqua Actors Community Theatre. Fun fact: Brit's very first role (at age eleven) was in the children's chorus of Joseph and the Amazing Technicolor Dreamcoat! She's been in love with theatre ever since.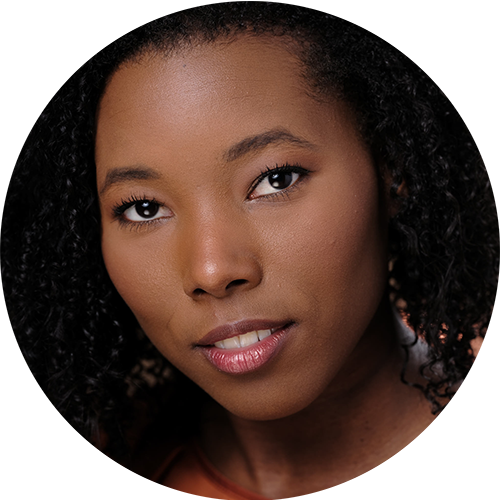 Lydia Fleming as Mrs. Potiphar/Ensemble
Lydia Fleming has starred in works such as The Strange Case of Doctor Jekyll and Mr Hyde as Cecily and Reefer Madness as Mary Lane. More recently she came out of lockdown swinging into roles such as Crystal the urchin in Little Shop of Horrors and Delilah the mermaid in the local PDX Panto performance of Peter Pan. From a young age Lydia was entranced with the theatrical arts, passionately pursuing any avenue to absorb and grow in her craft. She is grateful to be a part of this production of Joseph and the Amazing Technicolor Dreamcoat and gives a heartfelt shout out to the wonderfully talented cast and crew for their stellar work!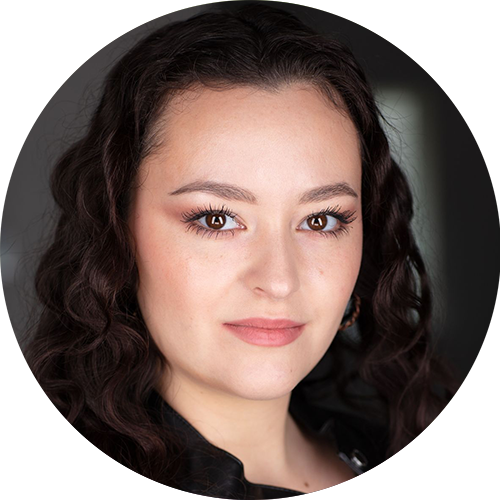 Amy Lichtenstein as Ensemble
Amy Lichtenstein is currently a student at Portland State University majoring in theater arts. They have recently appeared as Win in Frontieres Sans Frontieres and the Lady in Oh, the Humanity at Portland State School of Music and Theater, and as Jemilla in STAGE's production of Firebringer. Other credits include ensemble roles in The Kiss and ELF The Musical at Lakewood Theater Company, Frisius the Paladin in Guilds of Manzoa at Torchsong Entertainment, and Antigone in Jean Anouilh's Antigone at Twilight Theater Company.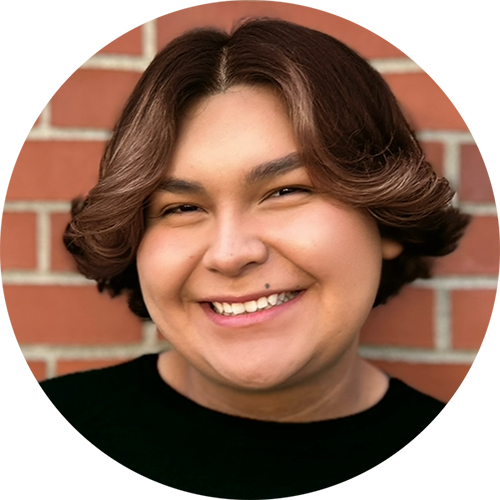 Antonio Lopez-Villarreal as Asher/Baker
Antonio Lopez-Villarreal is so excited to be making his professional debut with Broadway Rose! He has participated in over 30 community productions in the California Bay Area. Some of his favorite roles include: Penelope Pennywise in Urinetown, Javert in Les Misérables, and Gomez Addams in The Addams Family. He has also been invited to perform multiple times at Carnegie Hall in New York City and the Musikverein in Vienna, Austria. He wants to give a special thanks to PDX Vox, Northwest Voice Studio, his sister, and his mom for continuing to support him on this journey. He hopes you enjoy the show!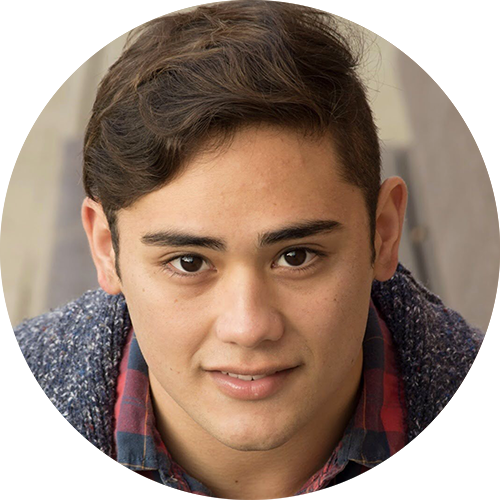 Dylan Macabitas as Issachar
Dylan Macabitas is thrilled to be returning to Broadway Rose Theatre Company! Dylan is a graduate from Central Washington University where he earned a Bachelor of Arts in musical theatre. Dylan appeared in Broadway Rose's productions of Mamma Mia! and Footloose, and was most recently seen in Mamma Mia! at Village Theatre in Seattle. Dylan would like to thank his friends and family for their endless love and support! @dylan.macabitas, dylananthonymacabitas.com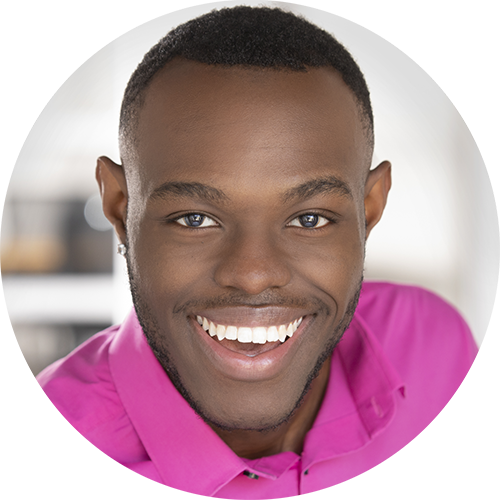 Rodney McKinner III as Judah
Rodney McKinner III is overjoyed to make his Broadway Rose debut! He recently graduated from the University of Oklahoma, where he received his Bachelor of Arts in musical theatre. Some of his favorite theatrical highlights include Natasha, Pierre & The Great Comet of 1812 (Pierre), She Loves Me (Georg Nowack), and A New Brain (Roger). When he is not performing, Rodney can be found cooking up a new recipe in the kitchen or going on a new adventure! "Shout out to my family for continuously encouraging me to chase my dreams and to my friends for being my support system."

Kevin-Michael Moore as Jacob
Kevin-Michael Moore was last seen at the Broadway Rose as Gunner in Don't Hug Me. He has spent over 40 years in theater and has performed in hundreds of plays. Some highlights include Assassins and The Ghosts of Celilo for ART, and Trails and A Funny Thing Happened on the Way to the Forum for Broadway Rose. Kevin teaches and performs for the Northwest Children's Theater and was last seen as Miss Trunchbull in Matilda for which he was nominated for a Drammy Award, and in How I Became a Pirate where he won the Drammy for best supporting actor. For nearly 15 years Kevin wrote, directed, and performed for The 3rd Floor sketch comedy troupe which entertained locally and toured nationally. Kevin has acted in numerous television productions including Grimm and Portlandia, and the films Wild, First Cow, Pig, Timmy Failure, and Showing Up.

Alexis Read as Simeon/Potiphar
Alexis Read is excited to be a part of Joseph and the Amazing Technicolor Dreamcoat as the Broadway Rose returns to the Deb Fennell Auditorium. She most recently played Cornelius Hackl in Hello, Dolly! with Nutz-n-Boltz Theater. Alexis studied vocal performance at Seattle Pacific University and left early to pursue her dreams of fronting for a rock band. As a lifelong Pacific Northwesterner, when not on the stage, you can find her solo backpacking in the Cascades, training for the next triathlon, diving into the mysteries of the Enneagram, or trying to keep up with her four boys. 

Nick Serrone as Zebulon/Pharaoh
Nick Serrone is very excited to be returning to the stage at Broadway Rose Theatre Company! You may have recently seen him on stage at Theatre in the Grove as Karl in Big Fish, Orin Scrivello, D.D.S. in Little Shop of Horrors, and at Broadway Rose as Cop/Ensemble in Footloose. Other favorite credits include: Ash in Evil Dead The Musical, "The Fonz" in Happy Days, Billy Crocker in Anything Goes, King Herod in Jesus Christ Superstar and Drake in Annie. He would like to thank Rick Lewis, Bridgetown Conservatory of Musical Theatre, Cami Curtis, Max Powell, and his ohana for all their support in this wonderful adventure!

Shane Smith as Dan
Shane Smith is an Oregon native who grew up in Portland and a rural town in Eastern Oregon. He is a musician, actor, and carpenter who actively plays drums in multiple bands in the area. Shane participated in theatre all throughout junior high and high school. He is known for his captivating presence both on and offstage. Shane regularly volunteers at Broadway Rose and is excited and incredibly grateful to experience his first professional performance here!

Maximilian Tapogna as Reuben
Maximilian Tapogna is an actor, singer, writer, and educator from Portland. He recently performed in the sold-out run of the immersive theatre piece Forbidden Fruit at Shaking the Tree Theatre, and writes about the arts regularly for Oregon ArtsWatch and Willamette Week. Maximilian studied theatre at the University of Puget Sound. He is thrilled to be making his Broadway Rose debut. 

Ryder Thompson as Benjamin
Ryder Thompson is thrilled to be making his Broadway Rose mainstage debut! Favorite performances include Pestilence: Wow! (Georgette) at Oregon Children's Theatre, Theory of Relativity (Oliver) at Bridgetown Conservatory of Musical Theatre, and Matilda (Escapologist), Mary Poppins (Valentine), Peter Pan (Peter Pan), and The Wizard of Oz (Ensemble) at Northwest Children's Theater. Ryder is a 2023 National YoungArts Finalist in Theater who in his free time enjoys crying to Joni Mitchell's Blue album and running his high school book club. He is attending Stanford University in the fall. Ryder would like to thank his friends, family, Dan, and his cast and crew for their continued love and support.
Show Dates
Thursday, June 29, 7:30 p.m. – Preview performance
Friday, June 30, 7:30 p.m. – Opening night
Saturday, July 1, 7:30 p.m.
Sunday, July 2, 2:00 p.m.
Thursday, July 6, 7:30 p.m.
Friday, July 7, 7:30 p.m.
Saturday, July 8, 2:00 p.m. – ADDED PERFORMANCE – best seating available
Saturday, July 8, 7:30 p.m.
Sunday, July 9, 2:00 p.m.
Thursday, July 13, 7:30 p.m.
Friday, July 14, 7:30 p.m.
Saturday, July 15, 2:00 p.m. – Post-show talkback
Saturday, July 15, 7:30 p.m.
Sunday, July 16, 2:00 p.m. – Limited availability
Thursday, July 20, 7:30 p.m. – Limited availability
Friday, July 21, 7:30 p.m. – Audio Descriptions available
Saturday, July 22, 2:00 p.m. – Limited availability
Saturday, July 22, 7:30 p.m.
Sunday, July 23, 2:00 p.m. – SOLD OUT
Creative Team
Directed and Choreographed by

Dan Murphy
Music Direction by
Kristi Stingle
Set Designed by
Emily Rusmisel
Original Costume Designs by
Allison Dawe
Additional Costume Designs by
Kimberly Hergert
Lighting Design by
Kristeen Willis
Prop Design by
Mary Smalley Acuff
Sound Design by
Brian Karl Moen
Stage Manager
Emily Fekkes
Assistant Lighting Designer
Nathan Thrasher
Musicians
Conductor/Piano
Kristi Stingle
Keyboard
Corin Parker
Bass
Amy Roesler
Drums
Zac Stowell 
Guitar
Joseph Mammarella
News & Reviews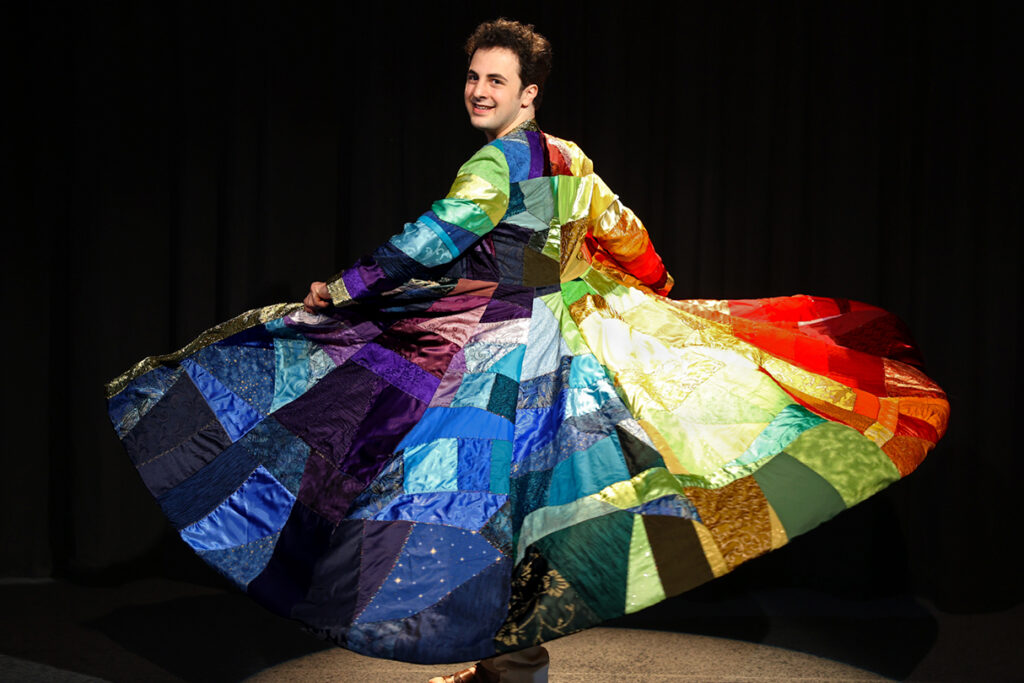 Teamwork makes the 'Dreamcoat'
by Lee Williams
OregonLive.com, June 26, 2023
Design takes center stage at Broadway Rose this summer… Read more.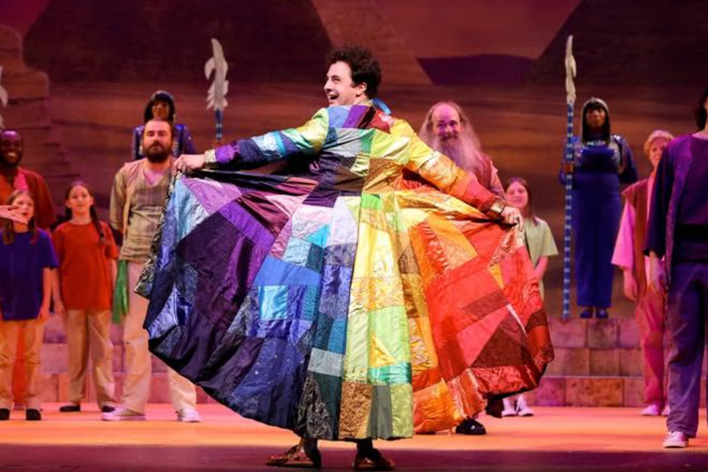 Broadway Rose's "Joseph and the Amazing Technicolor Dreamcoat" Revels in Its Vibrant Musical Parodies
by Linda Ferguson
WWeek.com, July 11, 2023
Despite its biblical roots, the production's vibe is more vaudevillian than moralistic… Read more.
Director's Notes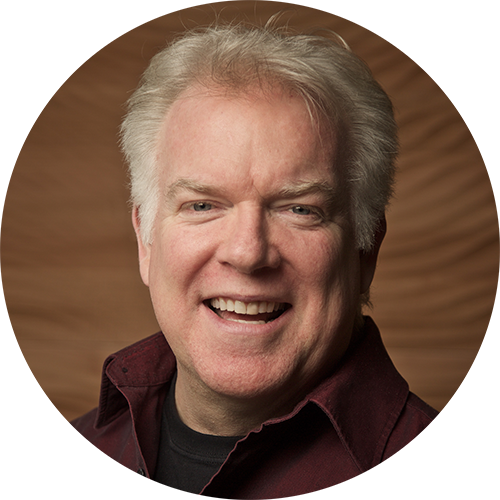 Joseph and the Technicolor Dreamcoat holds a special place in my heart.
I first encountered the musical as an actor in Shamokin Dam, Pennsylvania doing summer stock back in 1984. I played the brother Asher and
doubled as the Baker. Sharon played the Narrator. Basically, the leading lady was fooling around with one of the chorus boys, and the rest, as they say, is history. I have often preached, "be careful of summer stock romances, sometimes they work out." I went on to participate in several productions throughout Pennsylvania and upstate New York, playing most of the various brothers.
With our familiarity of the show, it seemed appropriate to open the Broadway Rose with Joseph back in 1992. We then presented it again for our 20th anniversary, and as we are now celebrating our return to the Deb Fennell, it seemed like a good time to share it with audiences once more. ­
Joseph is truly a high-energy ensemble piece where the actors barely leave the stage. This jubilant show offers the perfect opportunity to welcome all ages back to the theater, and because it includes many musical genres, it offers a little something for everyone. With all the changes and challenges of the past few years, we hope you are ready to smile, tap your toes, and applaud. Just try not to sing-a-long!
Thanks for being a part of our 32nd season and I look forward to seeing you in the lobby for the next show.
– Dan
Meet the Artist: Kristeen Willis - Lighting Designer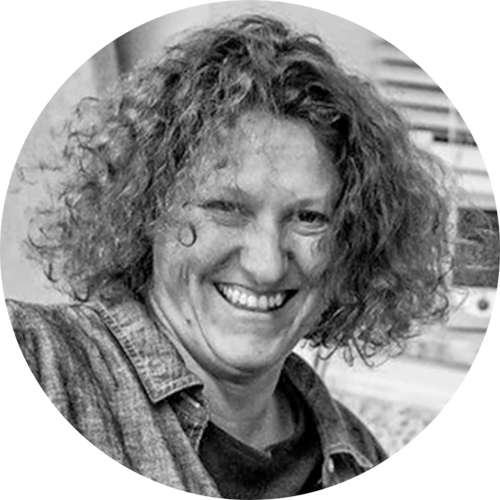 "If it's something to do with the theatre I've probably done it at this point, whether it's in front of the stage or behind it – but lighting is where my heart is." ~ Kristeen Willis
What is a lighting designer? A lighting designer works with the director, choreographer, set designer, sound designer, and even the costume designer to create the lighting systems for a show.
Kristeen Willis has a Master of Fine Arts in lighting design and over 25 years of experience in the industry. She is the lighting designer for the Broadway Rose productions of Joseph and the Amazing Technicolor Dreamcoat and Rodgers + Hammerstein's Cinderella. Kristeen is a resident artist with Artists Repertory Theatre, has designed locally and regionally, was nominated for an Ovation Award in Los Angeles for her work on Foxfinder with Furious Theatre Company, and has won several Drammy Awards in the Portland area for both lighting and scenic design. Staffer Dani Wright sat down recently with Kristeen to ask them about their experience in theatre.
Where do you start when designing lights?
Story is always the starting point for me. Then I move to architecture – I think about what the space is and how I can live within that space. Then I look at how the director is interpreting that space with the actors, and I choose what elements to exaggerate, emphasize, or lean into to tell the story. I'm a very intuitive designer, and a lot of what I do with lighting is in reaction to the set designs and director's choices, and even in response to how the actors relate to the piece. I gather information from the script, the set, the decisions of the creative team, and the decisions of the actors themselves, and I also feel my choices in many ways.
What is unique about designing lights for Joseph?
Ultimately the play is called Joseph and the Amazing Technicolor Dreamcoat. "Technicolor" says a lot about the approach that one might take. There's a lot of color and there are no hard and fast rules. I don't necessarily have to live within a sense of reality. The sky can turn green, and that's okay, for a moment. It's very freeing to have the ability to suddenly have rainbows dancing across the backdrop. And because there are very few moments were there is not music playing, there's a constant rhythm and movement which leads to the potential for a lot of variations in the lighting as well.
In designing Joseph, I also had to think about how to design systems of light that will work for both Cinderella and Joseph – so that as we move from one show to the next, we won't have to rearrange all of the lights during the very short turnaround time between these summer shows.
You mentioned that your lighting design is often based on the response of actors onstage, can you give an example of that?
Everyone knows how a song sounds that is a little sad versus a joyful song. I can shift the quality of the light to match that. Some of it has to do with colors and color temperature – warmer colors tend to be more joyful, cooler tones more sad. I lean into purples and pinks for romance, cooler tones for sad. Sometimes I use green for an out of this world, or strange or evil feeling. I will lean into reds for anger or overly passionate feelings. I do a lot of psychological relationships with color and mood and tone. An example would be the difference between a night scene that is blue and a night scene that is purple. We are used to watching television shows that use blue light to show the viewer that it's night time – there is a blue slash of light through the blinds on to the character's face, and you know that it's nighttime outside. If we add a little bit more red, making that blue a little bit purple, suddenly there's a subtle shift to romance.
Kristeen Willis's upcoming projects include lighting design for Rodgers + Hammerstein's Cinderella with Broadway Rose, and a production this September with PassinArt.
JOSEPH AND THE AMAZING TECHNICOLOR DREAMCOAT is presented by arrangement with Concord Theatricals on behalf of The Really Useful Group. www.concordtheatricals.com