June 27 – July 22
Get swept away by the infectious music, uplifting story, and dazzling dance numbers that have made Mamma Mia! a worldwide phenomenon. As wedding festivities commence on an idyllic Greek island, a young bride-to-be schemes to discover the identity of her father from among three men from her mother's past. Through the eternally catchy score of ABBA chart-toppers, the hilarious and touching tale of daughter, mother, and would-be dads crescendos to an exhilarating finale celebration you simply can't resist! Audience discretion is suggested.
Music and Lyrics by BENNY ANDERSSON and BJÖRN ULVAELUS and some songs by STIG ANDERSON
Book by CATHERINE JOHNSON • Originally conceived by JUDY CRAYMER
Additional material and arrangements by MARTIN KOCH
Runtime is approximately 2 hours and 30 minutes, including intermission.
Performances held at Deb Fennell Auditorium 9000 SW Durham Rd., Tigard, OR

Show Sponsor


[masterslider id="21″]
[masterslider id="22″]
Show Dates
Wednesday, June 27, 7:30 PM 
PREVIEW—
Limited Availability
Thursday, June 28, 7:30 PM 
PREVIEW—
Limited Availability
Friday, June 29, 7:30 PM 
OPENING NIGHT—
Limited Availability
Saturday, June 30, 2:00 PM
—
Limited Availability
Saturday, June 30, 7:30 PM—
Limited Availability
Sunday, July 1, 2:00 PM
—
Limited Availability
Tuesday, July 3, 7:30 PM
Thursday, July 5, 7:30 PM
Friday, July 6, 7:30 PM
Saturday, July 7, 2:00 PM—
Limited Availability
Saturday, July 7, 7:30 PM—
Limited Availability
Sunday, July 8, 2:00 PM
—
SOLD OUT
Tuesday, July 10, 7:30 PM
Wednesday, July 11, 7:30 PM
Thursday, July 12, 7:30 PM—Limited Availability
Friday, July 13, 7:30 PM—Limited Availability
Saturday, July 14, 2:00 PM—Post-show talk-back*—Limited Availability
Saturday, July 14, 7:30 PM—Limited Availability
Sunday, July 15, 2:00 PM—SOLD OUT
Tuesday, July 17, 7:30 PM—Limited Availability
Wednesday, July 18, 7:30 PM—Limited Availability
Thursday, July 19, 7:30 PM—SOLD OUT
Friday, July 20, 7:30 PM—SOLD OUT
Saturday, July 21, 2:00 PM—Audio description available—SOLD OUT
Saturday, July 21, 7:30 PM—SOLD OUT
Sunday, July 22, 2:00 PM—SOLD OUT
*Talk-backs are free and open to the public. They begin immediately following the first Saturday matinee performance of the mainstage production, and are held in the theater. You do not have to attend the Broadway Rose production in order to attend the talk-back.
Creative
Directed and Choreographed by Lyn Cramer
Music Direction by Alan D. Lytle
Set Design by Bryan Boyd
Light Design by David Castaneda
Costume Design by Allison Dawe
Wardrobe Supervisors Brynne Oster-Bainnson and Carol Babilon
Props Design by Emily Wilken
Sound Design by Brian K. Moen
Sound Mixer Michelle Strahm
Stage Manager Jessica Junor
Musicians
Keyboards
Alan Lytle
Keyboard/Conductor
Benjamin Quintel
Keyboard 
Charlie Gregson
Keyboard 
Adrienne Varner
Keyboard 
Strings
Eric Vanderwall Guitar
Dan Gildea Guitar
Jeff Langston Bass
Percussion
Mitch Wilson Drums & Rehearsal Drums
Alexandra Geffel Percussion
Pit Singers
Brock Bivens
Collin Carver
Kristi Foster
Christine Greenhalgh
Bob Meek
Barbara Richardson
News, Reviews, and Buzz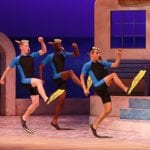 BWW Review: ABBA Music, Great Dancing, Fabulous Costumes, Rotating Set!
Broadway Rose's MAMMA MIA! Has 'Em All
by Krista Garver
BroadwayWorld.com, Jul.6, 2018
...the real standouts in this cast are the members of the groom's party… They bring the lion's share of the energy and dance talent to the stage, and the night I went they brought the house down several times...Read more.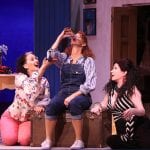 Mamma Mia @ Broadway Rose
by Kristopher Haines
The Crippled Critic, Jul. 6, 2018
I must confess that I did not expect to love "Mama Mia."…No one was more surprised than me when I quickly found myself enjoying it immensely…I seem to say a version of this in virtually every review of a Broadway Rose show, but hats-off to Broadway Rose for "going-big"...Read more.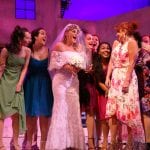 Music! Marriage! Mamma Mia!
by Judy Nedry
JudyNedry.com, Jul. 4, 2018
Aided by ABBA's all-time great hits–"Honey, Honey", "Mamma Mia", "The Winner Takes It All", "Lay All Your Love On Me", "Dancing Queen", and the rest, this show soars to the top of the musical-comedy genre… Read more.
Mamma Mia!—Broadway Rose Theatre Company: Life at Full Throttle
by Dennis Sparks
Dennis Sparks Reviews, Jul. 4, 2018
The songs and dances are a-plenty, all very well executed by an extremely talented troupe of performers, with nary a weak link in the bunch.  Harrison knocks 'em dead with, "Does Your Mother Know," and McCulloch explodes with, "Take a Chance on Me," both show-stoppers…Read more.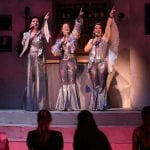 Still Dancing, Still the Queen
by Bennett Campbell Ferguson
Oregon ArtsWatch, Jul. 4, 2018
…the production's brand of bravado is the kind that not only inspires standing ovations, but makes you want to leap out of your seat and onto the stage…and I found the songs coursing pleasurably through my mind days later...Read more.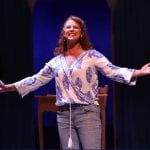 Mamma Mia! — The Perfect Summer Show
by Tina Arth
Westside Theatre Reviews, Jul. 3, 2018
Whether performing as lead singer on some amazingly arranged, choreographed numbers by "Donna and the Dynamos"…or delivering powerful, emotional renditions of "One of Us" and "The Winner Takes It All" … [Peggy Tapphorn] owns the stage throughout…Read more.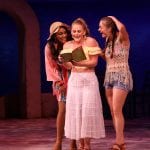 Let 'Mamma Mia!' take you on a nostalgic get-away to Broadway Rose
by Lee Williams
The Oregonian, Jul. 1, 2018
…this sun-kissed fairy tale is the summer beach party you can't wait to attend. Consider Mamma Mia! a musical mental health night. Read more.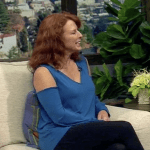 Broadway Rose Theatre Company: "Mamma Mia!" [Interview]
Peggy Taphorn and Helen Raptis
AM Northwest, KATU 2
Watch Mamma Mia! artist Peggy Taphorn in conversation with Helen Raptis on AM Northwest as she talks about this irresistibly fun show and what the role of Donna means to her. Watch now.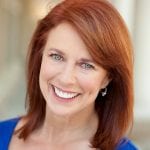 Mamma Mia star recalls Broadway performances
by Blair Stenvick
Regal Courier, Jun. 25, 2018
Taphorn is looking forward to taking on the role of Donna for Broadway Rose. "I've been waiting a long time for this role, and I just love it," she said. "(Donna has) got a lot of heart and a lot of spunk, and she's not a typical leading lady…" Read more.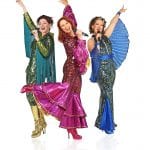 It's the summer of the musical superfan at Portland-area theaters
by Lee Williams
The Oregonian/OregonLive, Jun. 11, 2018
"I think people really gravitate to bringing different groups of people to a show like this," says the Vancouver Super Trouper. "…Everybody embraces it because it's just so fun." Read more.

Behind-the-Scenes of Mamma Mia! 
A Tumblr collection  
A look behind-the-scenes of the irresistible sensation via social media content from our artists and audiences. See the collection.

Director's Note
A Note From the Director Lyn Cramer
Over 60 million people all around the globe have fallen in love with the story and the music that makes Mamma Mia! the ultimate feel-good musical. The hits you know and love make this worldwide phenomenon, performed in 50 countries on 6 continents, the only contemporary musical translated into a dozen languages.
Mamma Mia! is based on the songs of ABBA, one of the most popular international pop groups of all time, topping the charts again and again in Europe, North and South America, and Australia in the late '70s and early '80s. This musical was the brainchild of producer Judy Craymer (no relation). She met original group members and songwriters Björn Ulvaeus and Benny Andersson in 1983 when they were working with Tim Rice on Chess. It was the song 'The Winner Takes It All' that suggested to her the theatrical potential of their pop songs.
Led by Broadway Rose Theatre veteran Peggy Taphorn, I am so happy to share this exuberant, talented, and fun loving cast with you. We have had such fun putting this show together and I must thank Sharon and Dan for inviting and supporting me, Alan for his musical genius, Jeff for his right and left brain, David and Bryan who gave us the best sandbox in which to play, and Allison for her delicious fashion sense. The entire creative team and crew should be applauded for their talent, time, help, and support with this huge undertaking.
A celebration of love, laughter, family, and friendship, Mamma Mia! is exactly what the world needs right now: an uplifting, fun-filled night at the theatre.