June 27 – July 22
Get swept away by the infectious music, uplifting story, and dazzling dance numbers that have made Mamma Mia! a worldwide phenomenon. As wedding festivities commence on an idyllic Greek island, a young bride-to-be schemes to discover the identity of her father from among three men from her mother's past. Through the eternally catchy score of ABBA chart-toppers, the hilarious and touching tale of daughter, mother, and would-be dads crescendos to an exhilarating finale celebration you simply can't resist! Audience discretion is suggested.
2018 Season Content Advisories
Music and Lyrics by BENNY ANDERSSON and BJÖRN ULVAELUS and some songs by STIG ANDERSON
Book by CATHERINE JOHNSON • Originally conceived by JUDY CRAYMER
Additional material and arrangements by MARTIN KOCH
Runtime is approximately 2 hours and 30 minutes, including intermission.
Performances held at Deb Fennell Auditorium 9000 SW Durham Rd., Tigard, OR

Show Sponsor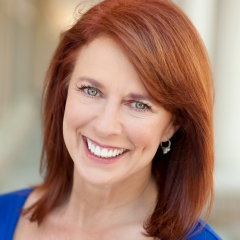 Peggy Taphorn as Donna
Peggy just completed her tenth season as the producing artistic director of the Temple Theatre in Sanford, North Carolina! And, this is her tenth production at Broadway Rose as either a performer, director, choreographer, or all three at once!! Peggy spent 22 years based in New York City with six Broadway and numerous Off-Broadway productions to her credit. Broadway shows include: Broadway and the Tony Award-winners Me And My Girl, Show Boat, Smokey Joe's Café, and Urinetown. National Tours include: Anything Goes, Company, Little Women starring Maureen McGovern, and Sweet Charity starring Molly Ringwald. Peggy appeared on London's West End in Show Boat. She portrayed Velma in Chicago in Macao, China. She has sung at such prestigious venues as The Rainbow Room, The Russian Tea Room, and Tavern On The Green. Recent accolades include the Kevin Kline award-winning Show Boat at the MUNY, the Drammy and Portland Area Musical Theatre Award-winning Hairspray and The Music Man at Broadway Rose. She has directed and choreographed for the North Carolina Symphony. Peggy was a 2013 North Carolina Mainstreet Champion for her dedication to revitalizing downtown Sanford. Most recently, she was awarded the 2016 Sanford Herald's Lifetime Achievement Award. At the Temple Theatre she has produced over 90 productions, providing Broadway caliber shows at a fraction of the cost. Visit www.templeshows.com for more information!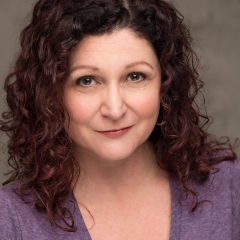 Lisamarie Harrison as Tanya
Lisamarie Harrison is thrilled to be back on the Broadway Rose stage! Previous Broadway Rose credits: Morticia, The Addams Family; Miss Flannery, Thoroughly Modern Millie; Jody, The Bikinis; Rhetta, Pump Boys & Dinettes; Sue Ellen, Honky Tonk Angels (Portland Area Musical Theatre Award); LaVerne Andrews, Sisters of Swing; Sister Hubert, Nunsense. Other stage roles include Mom/Madame, John Hughes High (world premiere); Mama Maddelena, Nine; Ms. Fleming, Heathers! The Musical; Violet, 9 to 5 (Drammy Award nomination); Betty, The Great American Trailer Park Musical; Laura, Recognition; Mazeppa, Gypsy; Gabrielle, The Dinner Party; Elizabeth, El Grito del Bronx; Alcandre, The Illusion; Kate, The Wild Party; Woman 1, Putting It Together; Mae, Reefer Madness! The Musical; and Rizzo, Grease.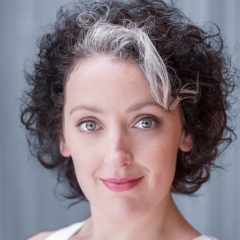 Laura McCulloch as Rosie
Laura hails from Melbourne, Australia, where she studied musical theatre at the Victorian College of the Arts. Some of her favorite performances include Grizabella, Jennanydots, and Jellylorum in Cats (Australasian Tour); Alexi Darling and Ensemble in RENT (UK), Felicia Lipschitz in A Class Act (UK), Pam in Baby (Australia), and Christine Daee in Phantom (Portland). When she's not on stage Laura can be found exploring the great Pacific Northwest with her husband in their "Gypsy Caravan of Courage" and sharing her love for singing with her voice students in Portland. Laura made her Broadway Rose debut as Beatrice O'Leary in Your Holiday Hit Parade and is thrilled to be back again this summer to play one of her dream roles.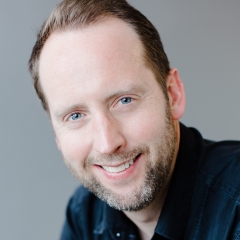 Matthew H. Curl as Harry
Matthew is thrilled to be making his Broadway Rose debut in Mamma Mia! After many years performing as a singer-songwriter in Portland, the return to the theatre is a welcome one. Matthew was last seen in Clackamas Repertory Theatre's production of Oklahoma! (Mike). He holds a B.F.A. in theatre and music from Pacific Lutheran University and studied acting at the University of Iowa. Favorite roles include Eddie in A View from the Bridge, Frederic in The Pirates of Penzance, Bernard in Arcadia, and Seymour in Little Shop of Horrors. Matthew is best known as the lead singer for Portland bands Jonah and Hello Morning, and currently as a solo artist and one half of the indie-folk duo The Half Hearted.
Andrew Maldarelli as Sam
Andrew is excited to return to the Broadway Rose stage. He was last seen as Jackson in Pump Boys and Dinettes. Other favorite roles include Sparky in Forever Plaid, Herman in The Most Happy Fella, Angel City 4 in City of Angels, Adam in The Apple Tree, and Mr. Lindquist in A Little Night Music. He studied theatre and music in California before moving to the Portland area. Andrew is an elementary school teacher by day and a husband-father-dog owner-neighbor by night.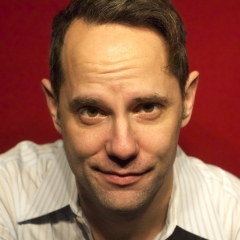 Joey Klei as Bill
Joey is excited to be returning to Broadway Rose with this opportunity to sing and dance ABBA all summer!! Joey was last seen working the Rose boards as a Protean in A Funny Thing Happened on the Way to the Forum. Joey's previous Broadway Rose credits include Thoroughly Modern Millie (Ensemble), The Best Little Whorehouse in Texas (C.J. Scruggs), and Joseph and the Amazing Technicolor Dreamcoat (Brother Dan). Joey has worked with the following Portland area theatre companies: Lakewood Theatre Company (as a sailor in Anything Goes, Drop Dead Fred/Prince Herbert in Spamalot, Carmen Ghia in The Producers, Deputy in The Mystery of Edwin Drood, and Albert Peterson in Bye Bye, Birdie), Clackamas Repertory Theatre (Gremio in Kiss Me, Kate and Bobby in Cabaret), and Northwest Children's Theatre and School (LaFou in Beauty and the Beast and Phineous Trout in Willy Wonka).
Sophie Moshofsky as Sophie
Sophie is utterly stoked to be back at Broadway Rose! A Portland native, she has been based in New York City for the last five years. Recent Projects: Disney Cruise Line (Yzma, Cruella, Mrs. Potts, Fairy Godmother, and more), Rocky Horror and Evil Dead the Musical (Wolfbane Productions,) and the feature film Scarlet Winter. She is the cofounder of Fight the Good Fight Productions in New York City. Oklahoma City University 2013. Sophiemoshofsky.com, @sophiemoshofsky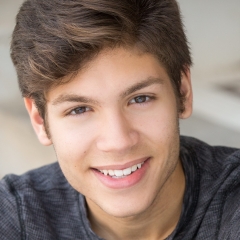 Aaron Stewart as Sky
Aaron is a junior musical theatre major at the University of Oklahoma. This is his first production here at Broadway Rose and he is more than grateful to get to be a part of this production! Regional theatre credits include Fiddler on the Roof and Oklahoma! at Lyric Theatre. University Theatre: Daryl Grady in Curtains, Stone/ Munoz u/s in City of Angels. His favorite roles include Sonny in In The Heights and Link in Hairspray. A special thanks to Lyn Cramer and the rest of Broadway Rose for giving him this opportunity.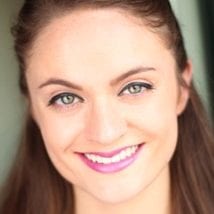 Shanise Jordan as Ali
This is Shanise's first production with Broadway Rose. Shanise is a Vancouver native, but only recently relocated back to the Northwest after spending time in Orlando, Florida and New York City. While in Orlando she performed at Universal Studios in holiday and events entertainment, pursued commercial acting, and played various theatrical roles, some of which include Vanda in Venus In Fur and Brenda in Lovers and Other Strangers. While in New York she focused on her craft, studying at Stella Adler Studio and Upright Citizens Brigade. She also spent time abroad studying Shakespeare at the London Academy of Music and Dramatic Art.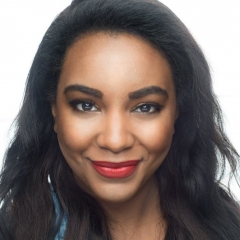 Jalena Montrond as Lisa
Jalena is incredibly excited to be making her Broadway Rose debut in one of her favorite musicals! Jalena is a Portland native and classically trained singer. She has been singing, acting, and performing since she was just a little kid. She currently works as an actress, model, and full-time mommy! Some of her favorite musical theatre credits include Ti Moune in Once on This Island, Carla in In the Heights, and ensemble in Aida (all for Stumptown Stages); and Ragtime (Couer d'Alene Summer Theatre). She has also worked with triangle productions!, Torchsong Entertainment, Bubblegum Productions, and Duct Tape Productions. When she's not performing, Jalena loves spending time exploring, shopping, traveling, cooking, and simply enjoying life with her spirited four-year-old daughter Nia and fiancé Gavin. Jalena is so thrilled to be joining the Broadway Rose family!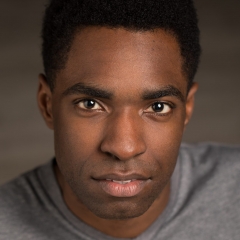 Charles Grant as Pepper
Charles is excited to run around the island and get his ABBA on with the talented cast and crew of Mamma Mia! Recent Portland credits include: A Year With Frog & Toad, And in This Corner: Cassius Clay (Oregon Children's Theatre), A Christmas Carol (Portland Playhouse), Merrily We Roll Along (Staged!), and Snow White (Broadway Rose). Charles holds a B.F.A. in Acting from University of California, Santa Barbara. #GoGauchos! Portland Playhouse Apprentice 2016-2017. thecharlesgrant.com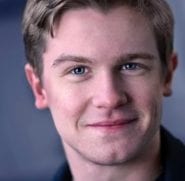 Colin Stephen Kane as Eddie
Colin is excited to be returning to Broadway Rose with this wonderful cast and crew! He was previously seen in The Addams Family last season, as the "normal" boyfriend Lucas. Some of his favorite roles include Snail in A Year with Frog and Toad (Oregon Children's Theatre), Sparky in Plaid Tidings (Stumptown Stages), and Herb in Godspell (Lakewood Theatre Company).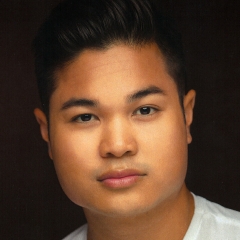 Anthony Chantracharoen (Ensemble)
Anthony is super excited to be making his Broadway Rose debut in Mamma Mia! He was last seen in Pixie Dust Productions of Disney's Beauty and the Beast. His past favorite shows include: Anything Goes at Lakewood Theatre Company, La Cage Aux Folles (Lakewood Theatre and Pixie Dust Productions) Legally Blonde The Musical, The Wizard of Oz (Pixie Dust Productions), Thoroughly Modern Millie, The Producers, Hello, Dolly!; Oklahoma!, Bye Bye Birdie (Lakewood Theatre), The Wild Party, The Who's Tommy, and Hair (Live On Stage).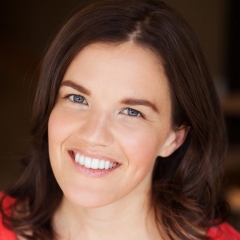 Tasha Danner (Ensemble)
This is Tasha's debut with Broadway Rose and she is so happy it is with this amazing cast and crew! Tasha was a part of the Drammy Award-winning ensemble of Godspell in 2017 at Lakewood Theatre Company and has also worked locally with Stumptown Stages, Northwest Children's Theatre, Stageworks Ink, and triangle productions! along with appearing in episodes of Portlandia, local films, and both regional and national commercials. Tasha has been singing and dancing on stages and in front of cameras since the age of six and will likely never stop.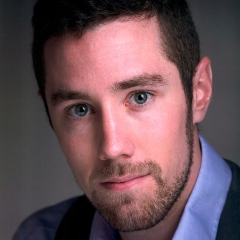 John Corr (Ensemble)
John moved to Portland to attend the Portland Actors Conservatory after completing his B.A. in film, television, and theatre at the University of Notre Dame. Since moving to Portland he has worked with Portland Actors Conservatory (A Midsummer Night's Dream, Sense and Sensibility, The Amish Project) and Portland Shakespeare Project (Twelfth Night, Play On! A Midsummer Night's Dream, Proscenium Live) as well as being featured as Shere Khan in Broadway Rose's children's production of The Jungle Book. John made his Broadway Rose mainstage debut last season in The Addams Family as an ancestor.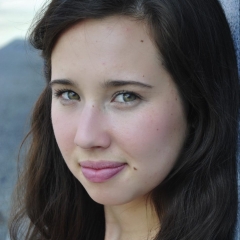 Heather Dell (Ensemble)
Broadway Rose debut! Other performance favorites include dancing with Minnie Mouse on Disney Cruise Line, Hello, Dolly! at Wagon Wheel Theatre, and her one-woman performance of The Wiz. Proud graduate of Otterbein University. As always, for Meryl.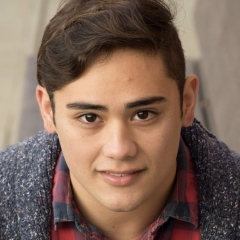 Dylan Anthony Macabitas (Ensemble)
Dylan is eager to perform in his first show at Broadway Rose! Dylan started his acting journey at Western Washington Center for the Arts in Port Orchard, Washington, where he grew up. Dylan is going into his second year in the B.F.A. Musical Theatre Program at Central Washington University. He was last seen in Central Theatre Ensemble's production of Legally Blonde: The Musical.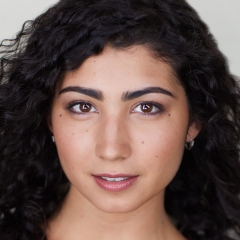 Allesondra Helwig (Ensemble)
Allesondra is pleased to making her Broadway Rose debut in Mamma Mia! Other theatre credits include: The 25th Annual Putnam County Spelling Bee (Off Off-Broadway), West Side Story (Regional), and Come Back to the Five and Dime Jimmy Dean, Jimmy Dean. Select TV/film credits include: Technically Speaking, Taffy, and The Wonderland Murders, which will be airing in the summer of 2018. Allesondra is proudly represented by OPTION Model & Media and is a graduate of the American Academy of Dramatic Arts-NY (AADA). www.allesondrahelwig.com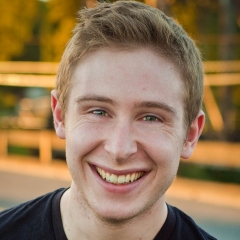 Ryan Monaghan
Ryan is excited to be returning to Broadway Rose; you may have seen him in other Broadway Rose theater productions such as West Side Story, The Best Little Whorehouse in Texas, Oklahoma!, Band Geeks!, and My Fair Lady. Ryan holds a B.F.A. in musical theatre performance from Central Washington University and has recently moved to Portland. Other theaters he has performed with include Pixie Dust Productions, Lakewood Theater Company, Metropolitan Theater, Tacoma Musical Playhouse, and many others!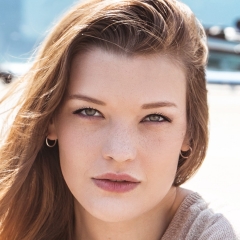 Franny Kromminga (Ensemble)
Franny is a graduate of Adrian College and a recent transplant to Portland, Oregon from Detroit, Michigan. Recently, she was seen as Consuelo in El Grande de Coca-Cola. Favorite roles include Janet (The Drowsy Chaperone), Desdemona (Othello), Reno (Anything Goes), Martha (The Children's Hour), Bridget (Nana's Naughty Knickers), Mimi (Rent), and Brittney (Mom's Gift). Fkromminga.com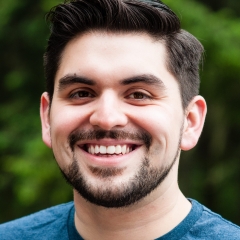 Feliciano "Chano" Tencos-Garcia (Ensemble)
Feliciano is thrilled to be returning to Broadway Rose! Past credits include: Die Hard: A Musical Parody (Funhouse Lounge), Profile Theatre's 20th Anniversary Benefit Celebration, Gypsy and West Side Story (Broadway Rose Theatre Company), Man of La Mancha (Portland Opera), Rock of Ages and In The Heights (Stumptown Stages), and Spring Awakening (Western Oregon University). He was recently onstage as Chente in Watsonville: Some Place Not Here (Milagro Theatre). If you know of any good tacos shops in Portland, please let him know!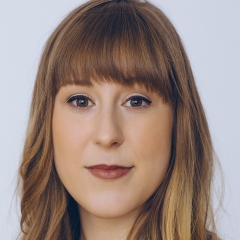 Laura Loy (Ensemble)
Laura is an actor-creator-incendiary and founding member of award-winning physical theatre company Box of Clowns. She believes in the transformative power of art and is currently working on ripping apart the time-space continuum with the help of the audience. Since beginning her career in her New Hampshire backyard, she has gone on to devise, direct, teach, and perform at venues across North America. Portland credits include work with Imago, Tears of Joy, Speculative Drama, and Sir Cupcake's Queer Circus. Miss Loy holds a B.A. in theatre and dance from the University of New Hampshire and is a graduate of the professional training program at Dell'Arte International School of Physical Theatre. She had a 'Dancing Queen' themed 17th birthday party.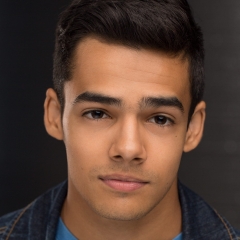 Matthew Snyder (Ensemble)
Matthew is thrilled to make his Broadway Rose debut in Mamma Mia! Most recently, Matthew performed as Pablo in Lakewood Theatre's Sister Act and Danny Mena in the premier showing of the original script Antoinette in New York City, where he also trained for eight weeks at the Broadway Dance Center. Local stage credits include Franz in Stumptown Stages' Rock of Ages (2017 Portland Area Musical Theatre Award for Outstanding Young Performer and 2017 Drammy Award nomination for Best Young Performer), Sonny in Stumptown Stages' In the Heights (2016 PAMTA nomination), guest artist in Portland Gay Men's Chorus' BraveSouls and Dreamers and I Am Harvey Milk, altar boy in Portland Opera's Tosca, and ensemble in Fiddler on the Roof and A Christmas Story as well as Seriozha in the world-premiere of Anna Karenina at Portland Center Stage. www.matthewboydsnyder.com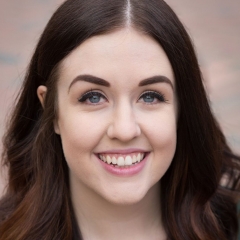 Ashley Roy (Ensemble/Dance Captain)
Ashley is a Seattle native and beyond excited to be spending her summer at Broadway Rose for the first time! In addition to being a dance instructor and choreographer, as a performer her favorite stage credits include Thoroughly Modern Millie (Millie), The Last Five Years (Cathy), Young Frankenstein (Elizabeth), Return to the Forbidden Planet (Omnes), Next to Normal (Natalie), and Spamalot (Laker Girl). Ashley is secretary of the Board of Directors for Changing Scene Theatre NW in Tacoma, Washington, and is represented by MAM Seattle & Portland.
Show Dates
Wednesday, June 27, 7:30 PM 
PREVIEW—
Limited Availability
Thursday, June 28, 7:30 PM 
PREVIEW—
Limited Availability
Friday, June 29, 7:30 PM 
OPENING NIGHT—
Limited Availability
Saturday, June 30, 2:00 PM
—
Limited Availability
Saturday, June 30, 7:30 PM—
Limited Availability
Sunday, July 1, 2:00 PM
—
Limited Availability
Tuesday, July 3, 7:30 PM
Thursday, July 5, 7:30 PM
Friday, July 6, 7:30 PM
Saturday, July 7, 2:00 PM—
Limited Availability
Saturday, July 7, 7:30 PM—
Limited Availability
Sunday, July 8, 2:00 PM
—
SOLD OUT
Tuesday, July 10, 7:30 PM
Wednesday, July 11, 7:30 PM
Thursday, July 12, 7:30 PM—Limited Availability
Friday, July 13, 7:30 PM—Limited Availability
Saturday, July 14, 2:00 PM—Post-show talk-back*—Limited Availability
Saturday, July 14, 7:30 PM—Limited Availability
Sunday, July 15, 2:00 PM—SOLD OUT
Tuesday, July 17, 7:30 PM—Limited Availability
Wednesday, July 18, 7:30 PM—Limited Availability
Thursday, July 19, 7:30 PM—SOLD OUT
Friday, July 20, 7:30 PM—SOLD OUT
Saturday, July 21, 2:00 PM—Audio description available—SOLD OUT
Saturday, July 21, 7:30 PM—SOLD OUT
Sunday, July 22, 2:00 PM—SOLD OUT
*Talk-backs are free and open to the public. They begin immediately following the first Saturday matinee performance of the mainstage production, and are held in the theater. You do not have to attend the Broadway Rose production in order to attend the talk-back.
Creative
Directed and Choreographed by Lyn Cramer
Music Direction by Alan D. Lytle
Set Design by Bryan Boyd
Light Design by David Castaneda
Costume Design by Allison Dawe
Wardrobe Supervisors Brynne Oster-Bainnson and Carol Babilon
Props Design by Emily Wilken
Sound Design by Brian K. Moen
Sound Mixer Michelle Strahm
Stage Manager Jessica Junor
Musicians
Keyboards
Alan Lytle
Keyboard/Conductor
Benjamin Quintel
Keyboard 
Charlie Gregson
Keyboard 
Adrienne Varner
Keyboard 
Strings
Eric Vanderwall Guitar
Dan Gildea Guitar
Jeff Langston Bass
Percussion
Mitch Wilson Drums & Rehearsal Drums
Alexandra Geffel Percussion
Pit Singers
Brock Bivens
Collin Carver
Kristi Foster
Christine Greenhalgh
Bob Meek
Barbara Richardson
News, Reviews, and Buzz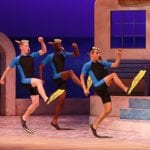 BWW Review: ABBA Music, Great Dancing, Fabulous Costumes, Rotating Set!
Broadway Rose's MAMMA MIA! Has 'Em All
by Krista Garver
BroadwayWorld.com, Jul.6, 2018
...the real standouts in this cast are the members of the groom's party… They bring the lion's share of the energy and dance talent to the stage, and the night I went they brought the house down several times...Read more.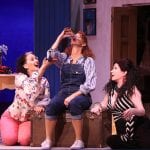 Mamma Mia @ Broadway Rose
by Kristopher Haines
The Crippled Critic, Jul. 6, 2018
I must confess that I did not expect to love "Mama Mia."…No one was more surprised than me when I quickly found myself enjoying it immensely…I seem to say a version of this in virtually every review of a Broadway Rose show, but hats-off to Broadway Rose for "going-big"...Read more.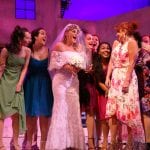 Music! Marriage! Mamma Mia!
by Judy Nedry
JudyNedry.com, Jul. 4, 2018
Aided by ABBA's all-time great hits–"Honey, Honey", "Mamma Mia", "The Winner Takes It All", "Lay All Your Love On Me", "Dancing Queen", and the rest, this show soars to the top of the musical-comedy genre… Read more.
Mamma Mia!—Broadway Rose Theatre Company: Life at Full Throttle
by Dennis Sparks
Dennis Sparks Reviews, Jul. 4, 2018
The songs and dances are a-plenty, all very well executed by an extremely talented troupe of performers, with nary a weak link in the bunch.  Harrison knocks 'em dead with, "Does Your Mother Know," and McCulloch explodes with, "Take a Chance on Me," both show-stoppers…Read more.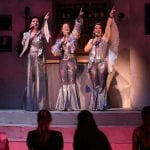 Still Dancing, Still the Queen
by Bennett Campbell Ferguson
Oregon ArtsWatch, Jul. 4, 2018
…the production's brand of bravado is the kind that not only inspires standing ovations, but makes you want to leap out of your seat and onto the stage…and I found the songs coursing pleasurably through my mind days later...Read more.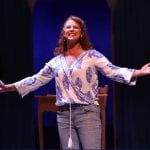 Mamma Mia! — The Perfect Summer Show
by Tina Arth
Westside Theatre Reviews, Jul. 3, 2018
Whether performing as lead singer on some amazingly arranged, choreographed numbers by "Donna and the Dynamos"…or delivering powerful, emotional renditions of "One of Us" and "The Winner Takes It All" … [Peggy Tapphorn] owns the stage throughout…Read more.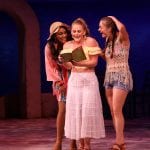 Let 'Mamma Mia!' take you on a nostalgic get-away to Broadway Rose
by Lee Williams
The Oregonian, Jul. 1, 2018
…this sun-kissed fairy tale is the summer beach party you can't wait to attend. Consider Mamma Mia! a musical mental health night. Read more.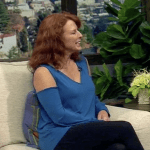 Broadway Rose Theatre Company: "Mamma Mia!" [Interview]
Peggy Taphorn and Helen Raptis
AM Northwest, KATU 2
Watch Mamma Mia! artist Peggy Taphorn in conversation with Helen Raptis on AM Northwest as she talks about this irresistibly fun show and what the role of Donna means to her. Watch now.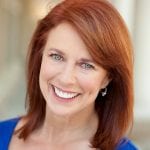 Mamma Mia star recalls Broadway performances
by Blair Stenvick
Regal Courier, Jun. 25, 2018
Taphorn is looking forward to taking on the role of Donna for Broadway Rose. "I've been waiting a long time for this role, and I just love it," she said. "(Donna has) got a lot of heart and a lot of spunk, and she's not a typical leading lady…" Read more.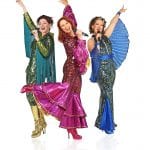 It's the summer of the musical superfan at Portland-area theaters
by Lee Williams
The Oregonian/OregonLive, Jun. 11, 2018
"I think people really gravitate to bringing different groups of people to a show like this," says the Vancouver Super Trouper. "…Everybody embraces it because it's just so fun." Read more.

Behind-the-Scenes of Mamma Mia! 
A Tumblr collection  
A look behind-the-scenes of the irresistible sensation via social media content from our artists and audiences. See the collection.

Director's Note
A Note From the Director Lyn Cramer
Over 60 million people all around the globe have fallen in love with the story and the music that makes Mamma Mia! the ultimate feel-good musical. The hits you know and love make this worldwide phenomenon, performed in 50 countries on 6 continents, the only contemporary musical translated into a dozen languages.
Mamma Mia! is based on the songs of ABBA, one of the most popular international pop groups of all time, topping the charts again and again in Europe, North and South America, and Australia in the late '70s and early '80s. This musical was the brainchild of producer Judy Craymer (no relation). She met original group members and songwriters Björn Ulvaeus and Benny Andersson in 1983 when they were working with Tim Rice on Chess. It was the song 'The Winner Takes It All' that suggested to her the theatrical potential of their pop songs.
Led by Broadway Rose Theatre veteran Peggy Taphorn, I am so happy to share this exuberant, talented, and fun loving cast with you. We have had such fun putting this show together and I must thank Sharon and Dan for inviting and supporting me, Alan for his musical genius, Jeff for his right and left brain, David and Bryan who gave us the best sandbox in which to play, and Allison for her delicious fashion sense. The entire creative team and crew should be applauded for their talent, time, help, and support with this huge undertaking.
A celebration of love, laughter, family, and friendship, Mamma Mia! is exactly what the world needs right now: an uplifting, fun-filled night at the theatre.