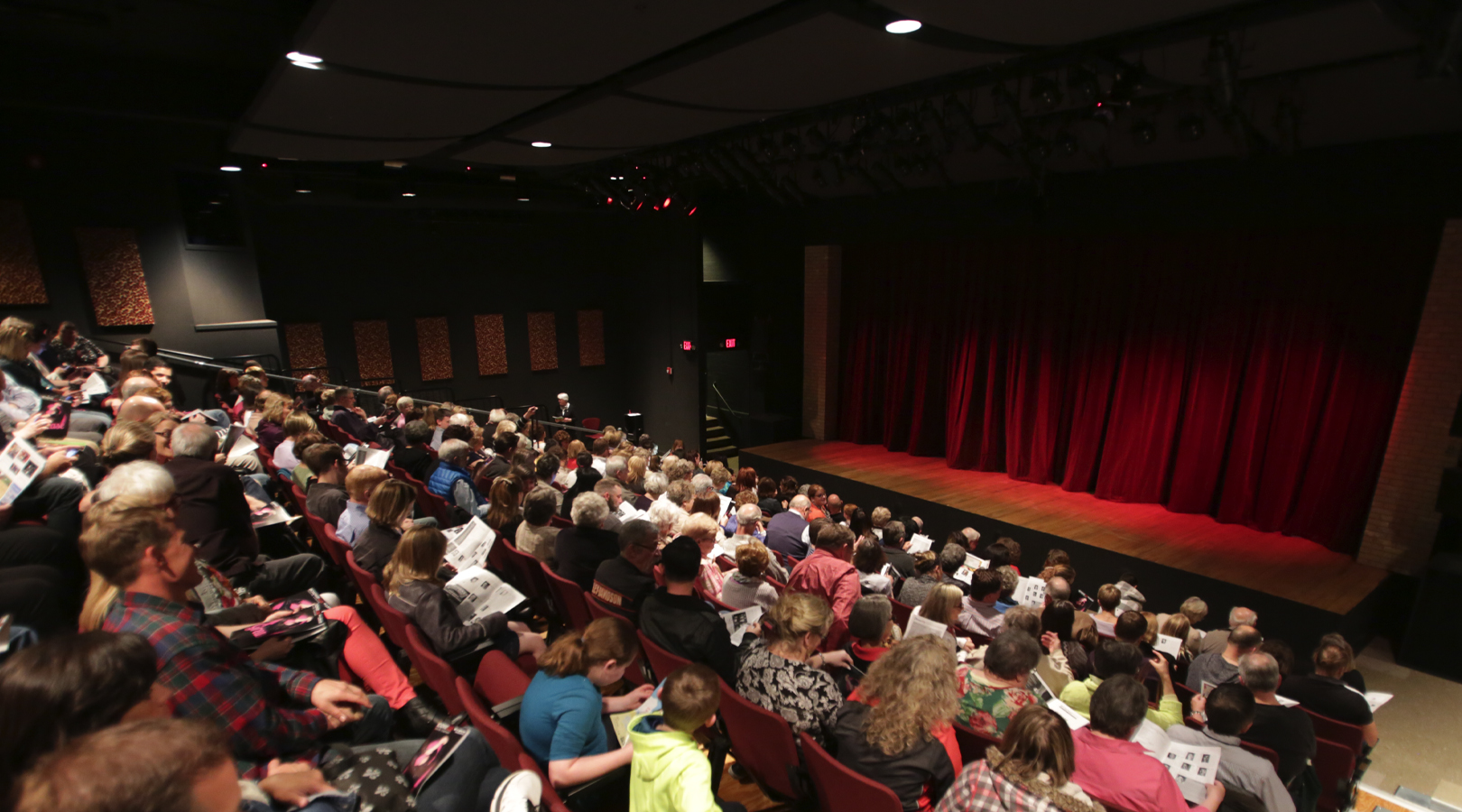 Meet the Artist
RICK LEWIS, WRITER
Regards from Broadway Rose
Fall 2023
Rick Lewis is the creator of the hit off-Broadway musicals The Taffetas, The Cardigans, and Have a Nice Day! Much of Rick's local music directing work, for which he received multiple Drammy Awards, has been performed at Portland Center Stage, where he has worked on over two dozen shows as a music director and/or supervisor or composer. At Broadway Rose Theatre Company, Rick has worked on over 20 productions either on the boards, in the pit, or from the director's chair. Rick was music supervisor for the West Coast regional premiere of Next to Normal (Artists Repertory Theatre), conductor/music director for the pre-Broadway production of Somewhere in Time, assistant conductor/vocal director for the pre-Broadway workshop of Cy Coleman's The Life, and writer/arranger for Disney Live Family Entertainment, American Hawaii Cruises, and American Classic Voyages. We sat down with Rick recently to learn more about his career in musical theatre and his history with Broadway Rose.
What was your first experience with Broadway Rose?
In 1993, Sharon and Dan and I all moved here from New York within a week of each other. I had only just met them at a fundraiser in New York City where Dan was hosting and I believe Sharon sang. I watched Dan do the Dan Murphy show, as he does so beautifully, and I thought, "We're going to be in Portland together – we're either going to hate each other or we're going to be best friends." We immediately started working together after we all got here, and Dan and Sharon are like my second family.
When did you first become interested in musical theatre?
My dad was a Baptist minister – anything that wasn't gospel music was a sin, so my learning curve when I did start working in theatre was incredibly steep. I remember I was in a production of How to Succeed in Business Without Really Trying in high school and my dad came to rehearsal and tried to have me removed because he didn't think that people should be dancing around on stage. It was rather embarrassing. Then, I was Motel in Fiddler on the Roof the next year, and that was not so horrible for my parents. I ended up working in a local dinner theatre and doing summer stock, but my parents very rarely came to see things. So I was kind of pushing the boundaries, but you do what you have to do.
Where did you go to college?
I was a classical voice major at Wright State University before they had a musical theatre program. I was caught crossing the hall to go into the theatre department and was called into the dean's office on my return and told never to go into that side of the building because theatre and music didn't mix at that school. Now, oddly enough, they have one of the better musical theatre programs in the country.
How did you get your start in the theatre industry?
I moved to New York in 1978, and that was actually when the world of theatre opened up to me much more vividly. New York is kind of magical. If you go there and you're open to any opportunity and you say yes, amazing things can happen. I went to be an actor and ended up being a musical director and pianist and working with William Finn, Stephen Sondheim, and Cy Coleman. I wrote a couple of off-Broadway shows, worked for Disney, wrote for cruise lines. One thing just snowballed into another. So the question is how did I start? I have no idea.
Where do you begin when you start writing a show?
It's different each time, and Dan Murphy is probably the only person that I collaborate with. Collaboration is a really odd relationship; it's a lot of give and take and I don't give very well. But Danny and I are such good friends and have known each other for such a long time that it's kind of easy, and we've found a way to dance around each other. Writing a show starts with the germ of an idea, and sometimes that idea morphs into something else when you start to work on it. One of my playwright friends says that he just sits down at the computer and starts typing, and then the characters and events tell him what's going to happen. That's kind of how it worked with Home for the Holidays. Dan had the idea for the show and with that starting point, I was able to suggest additional ideas to flesh it out. I have a huge collection of old vintage holiday music and access to a lot of holiday songs, so as we were talking about things, sometimes an idea for a song for a particular character would pop into my head.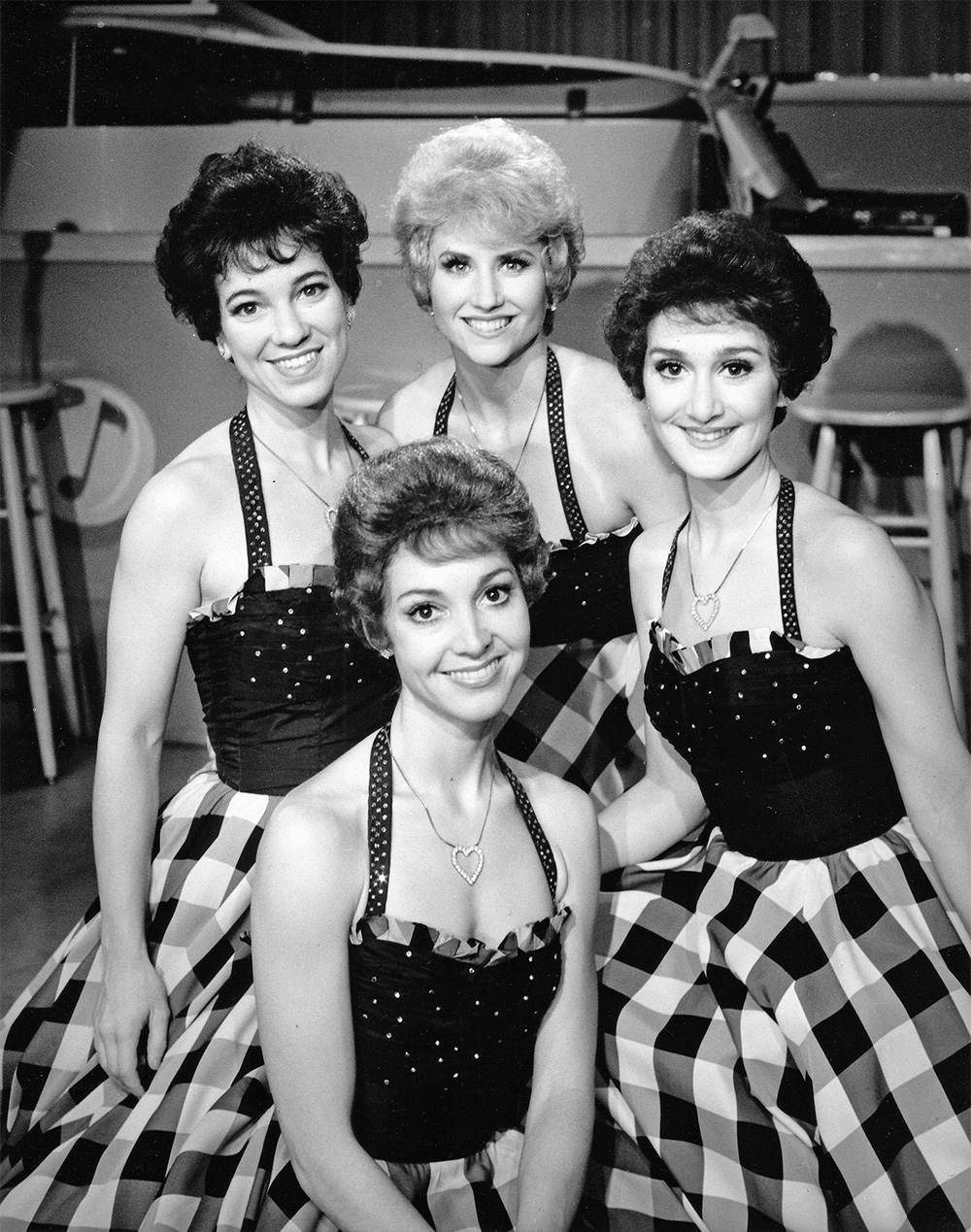 The original Off-Broadway cast of The Tafettas. Cherry Lane Theatre, 1988. (Clockwise from bottom) Karen Curlee, Jody Abrahams, Melanie Mitchell, and Tia Speros.
When you're writing a song, do you start with the lyrics or the tune?
It depends. I was writing something for an event at Portland Center Stage and I was stuck. So I sat down at the computer – that's called forced creativity, I think. Then I gave up and went out to water flowers in the garden, and while I was watering the idea came to me and I came back in, sketched out the lyrics, and then the melody came after that.
I think that if you start with the melody first, your song isn't as intelligent – or at least my songs would not be. Sometimes if I have a really good hook, I can find a way to make that wrap around an idea, but usually the lyrics come first.
Do you have any favorite projects?
The Taffetas. I had been New York for 11 years at the point when The New York Times gave The Taffetas a rave review, and the show was featured in People magazine and the Macy's Thanksgiving Day Parade. Actually, when the folks from NBC and Macy's came to discuss the song they wanted for the parade I was in the hospital for an emergency appendectomy, so they had to reschedule. During the parade, the girls were staged on the Great American Dog Float by Purina Dog Chow and they sang a medley of "How Much Is That Doggie In The Window" from the show. It was really kind of cool.
And now, Bridgetown Conservatory of Musical Theatre. After my stroke, seven years ago, I finally started a triple-threat program for middle and high school performers, with the goal of getting them into top tier college musical theatre programs and careers in the industry. I'm most proud of Bridgetown.
What are some of your other favorite musicals?
I was the resident conductor at Portland Center Stage for about 15 years. My favorite musical from that time period, and probably a musical I could do for the rest of my life, is Ragtime. The score just sings itself. It's such an incredibly intelligently constructed piece. If you just pay attention to what Flaherty and Ahrens are asking for, it's also a very moving piece.
My favorite musical growing up and during my time in New York was Dreamgirls. When people came to visit me in New York, that was the one show I would take them to see, and I would pay full price for the tickets (I think it was $17.50 for an orchestra seat).
And also Hairspray at Broadway Rose. I was the music director for that production and it was actually kind of perfect in so many ways.
Any advice for other theatre artists?
Listen to your gut and your soul, not to anybody else. We are all enough, and if we trust that, the right things will happen for us. If we're always looking over our shoulder, we're missing an opportunity straight ahead of us. I had no help from anyone when I was in New York, but I still knew that I wanted to do it. That's why I founded Bridgetown Conservatory of Musical Theatre, where we work with kids to get them into college and a career. Because I think if I had someone to help me at a much younger age, I would have been dangerous – in the best way.
Anything else you'd like to say to the patrons at Broadway Rose?
It's nice to be asked every few years to write another holiday piece for Broadway Rose. They've made my summers very Christmassy, because that's when we have to start writing the holiday shows, and then by the time the holiday comes I'm actually kind of over it – but they've really given me some beautiful Christmas memories in July over the years.