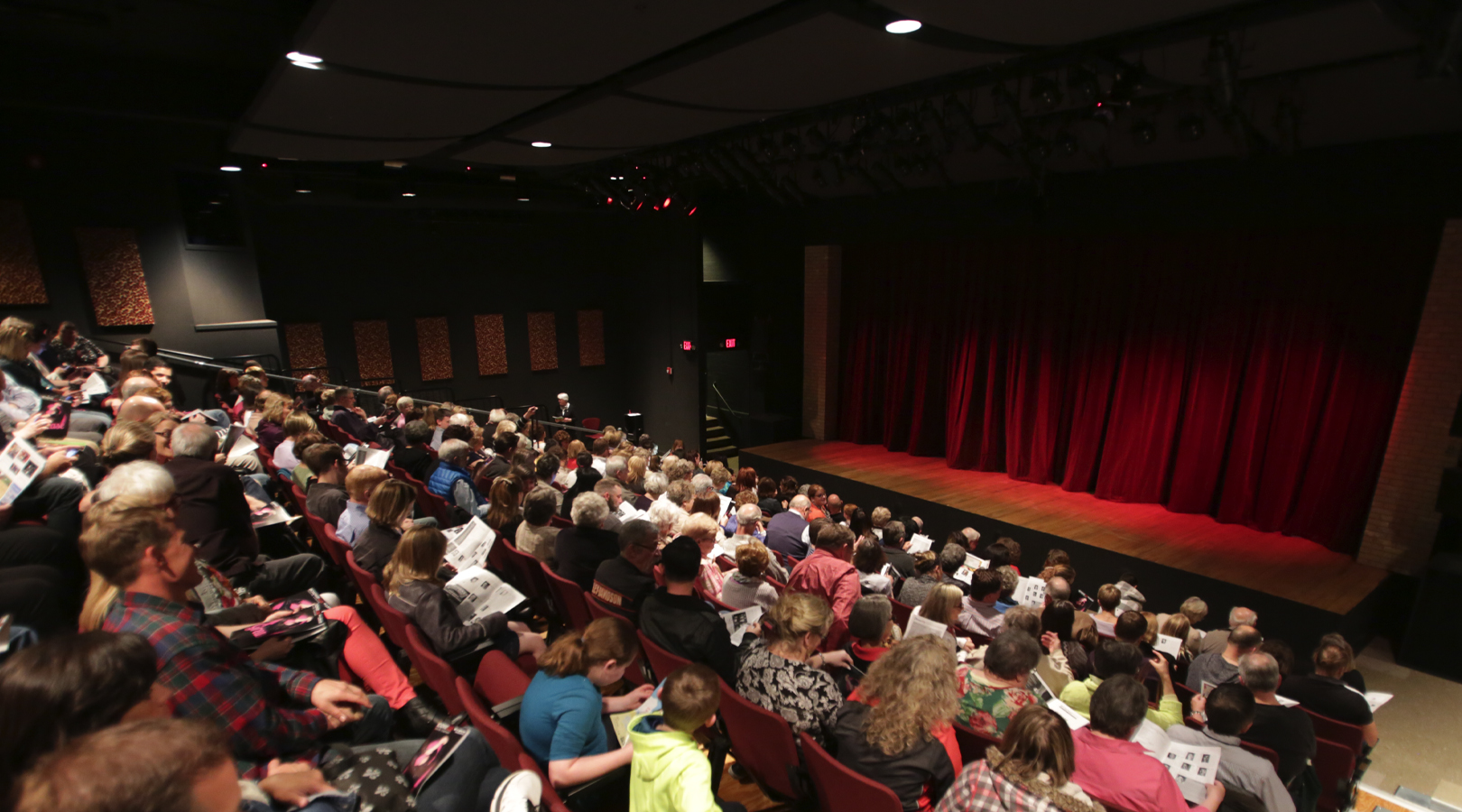 Meet the Staff
AMAYA SANTAMARÍA, EDUCATION & COMMUNITY ENGAGEMENT MANAGER
Regards from Broadway Rose
Spring 2023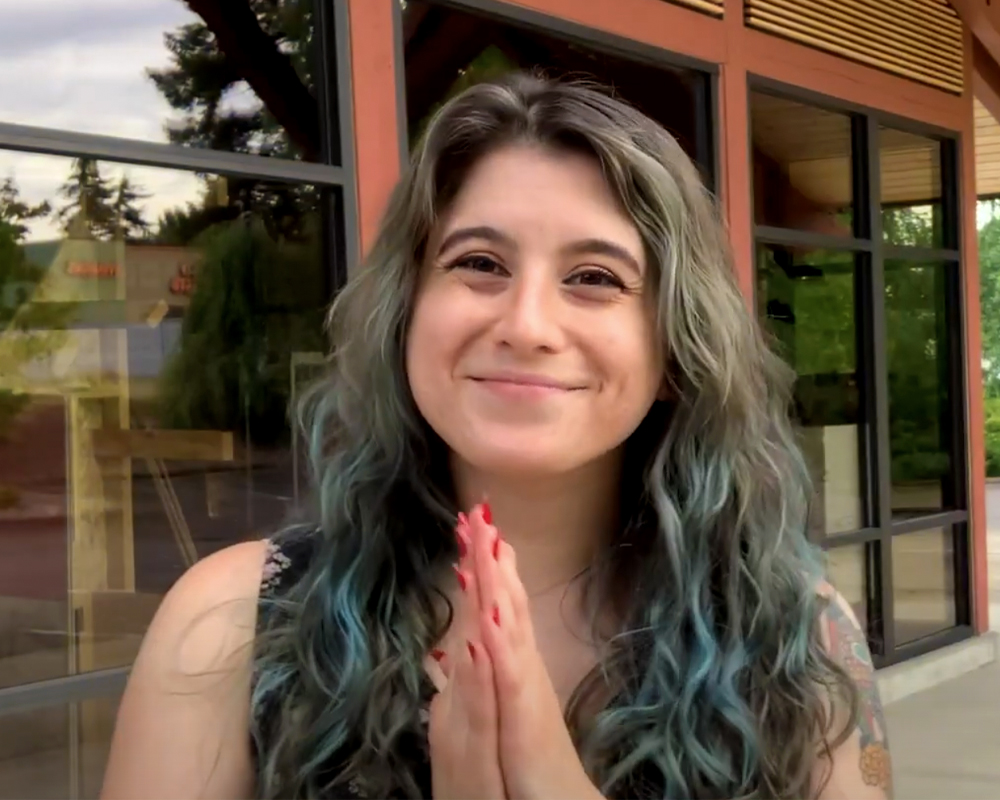 Amaya Santamaría, passionate advocate for musical theatre education for all ages
Amaya began her career with Broadway Rose as education and community engagement manager in 2017. During Amaya's five years in this position, the education program has seen phenomenal growth, evolving from spring and summer youth and teen musical theatre camps into a year-round educational program offering 15 different classes and workshops covering a range of musical theatre skills for children, teens, and adults.
"I am extraordinarily proud of the growth of our education programs," said Amaya, "and I've learned how passionately I care about theatre education."
Amaya's dedication to theatre started with dance classes at the age of four. "Theatre has always been a huge part of my life," Amaya said, "but I was really, really shy when I was a kid." Amaya had often participated in competitive dance groups but, with the encouragement of her dance teacher, finally attempted her first musical theatre solo around the age of 15. After she participated in her high school's spring musical Curtains, she was hooked. At college Amaya double majored in theatre studies and public relations and advertising, then worked for several months as an arts management intern for the Portland'5 Centers for the Arts, a job that offered an eclectic range of responsibilities. "I bought socks for Idina Menzel, hair gel for an astronaut, and raw, unsalted almonds for David Sedaris," Amaya mused.
When Amaya heard Broadway Rose was looking for someone to coordinate a new program supporting community engagement and inclusion in theatre, she wasted no time in applying, and was soon hired. When she began working at Broadway Rose, the theater's educational program consisted of spring break and summer camps for children and teens. Amaya began reaching out to community organizations, looking for feedback on potential partnering opportunities with Broadway Rose. She also added Spanish options to education communication, invited school groups to tour the theater, and coordinated speaking engagements within schools to promote awareness and engagement in theatre opportunities for students. Amaya ensured that financial aid was always available for all ages; students were encouraged to apply for scholarships as necessary. She coordinated the theatre's program art contest for students within the Tigard-Tualatin School District as well, with the contest winner's art featured on the summer children's production program, and runner-up art displayed in the lobby. Broadway Rose also offered aid to educators within the district, with staff members assisting with aspects of sound and light support at Tigard and Beaverton High Schools.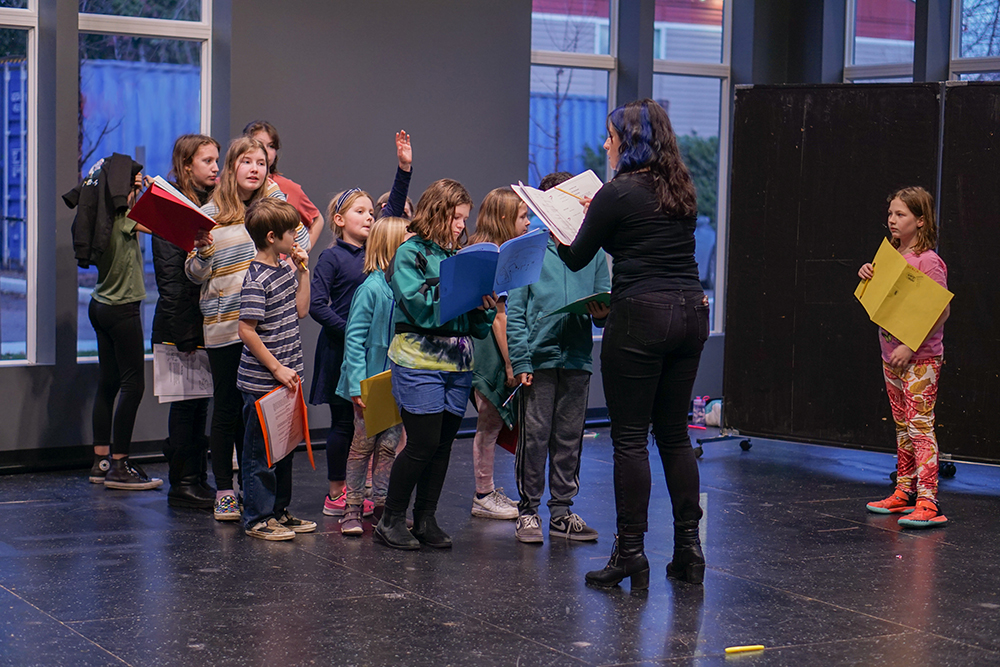 Rehearsing A Pirate's Tale at the 2023 Winter Showcase
Amaya's goal was to approach community engagement through the structure of the education program. "I tend to look at community engagement through the education programs because it's not just the students," Amaya noted. "We have parents that build really strong relationships with Broadway Rose as well."
With Amaya at the helm, the education program saw steady growth until early 2020 and the start of the pandemic. Although a full slate of educational programs for the year was initially cancelled, Amaya was able to create socially distanced courses, with special attention paid to health guidelines and safety protocols. She also partnered with Tonya Hamilton at Metzger Elementary School to offer a virtual drama camp, where elementary schoolers participated via Zoom to create Super Happy Awesome News, a musical structured as a news broadcast. Theatre kids restless to be working collaboratively and creatively again jumped at the chance to participate. The theatre began offering classes for adults as well in 2021, and the Broadway Rose education program began to grow substantially during the pandemic. Fast forward to 2023, and the educational program now features 15 different classes including adult dance and tap, opportunities for youth to participate in children and teen productions, and teen dance classes and cabarets.
Amaya attributes the success of the educational program to the unique opportunities the theatre was able to offer during the pandemic as well as the reputation built with students. "We have so many kids who we see from the time that they are 8 to time that they are 18, and I think that's a credit to the quality of instructors that we have and the quality of the programming," Amaya said. "We've just gotten so much good feedback about expanding these efforts."
Amaya is always eager to encourage anyone to participate in theatre, especially at the younger ages. When asked what advice she might give to a child hesitant to try a musical theatre class, Amaya spoke from experience. "Being shy is totally okay," she admitted. "One of the rules that we have is try your best, and it's always going to be about having fun."
Learn more about our education programs here and stay tuned for the schedule for our upcoming fall courses, additional classes will be listed online in mid-June. Contact Amaya with any questions at 503.906.2383 or amaya@broadwayrose.org.