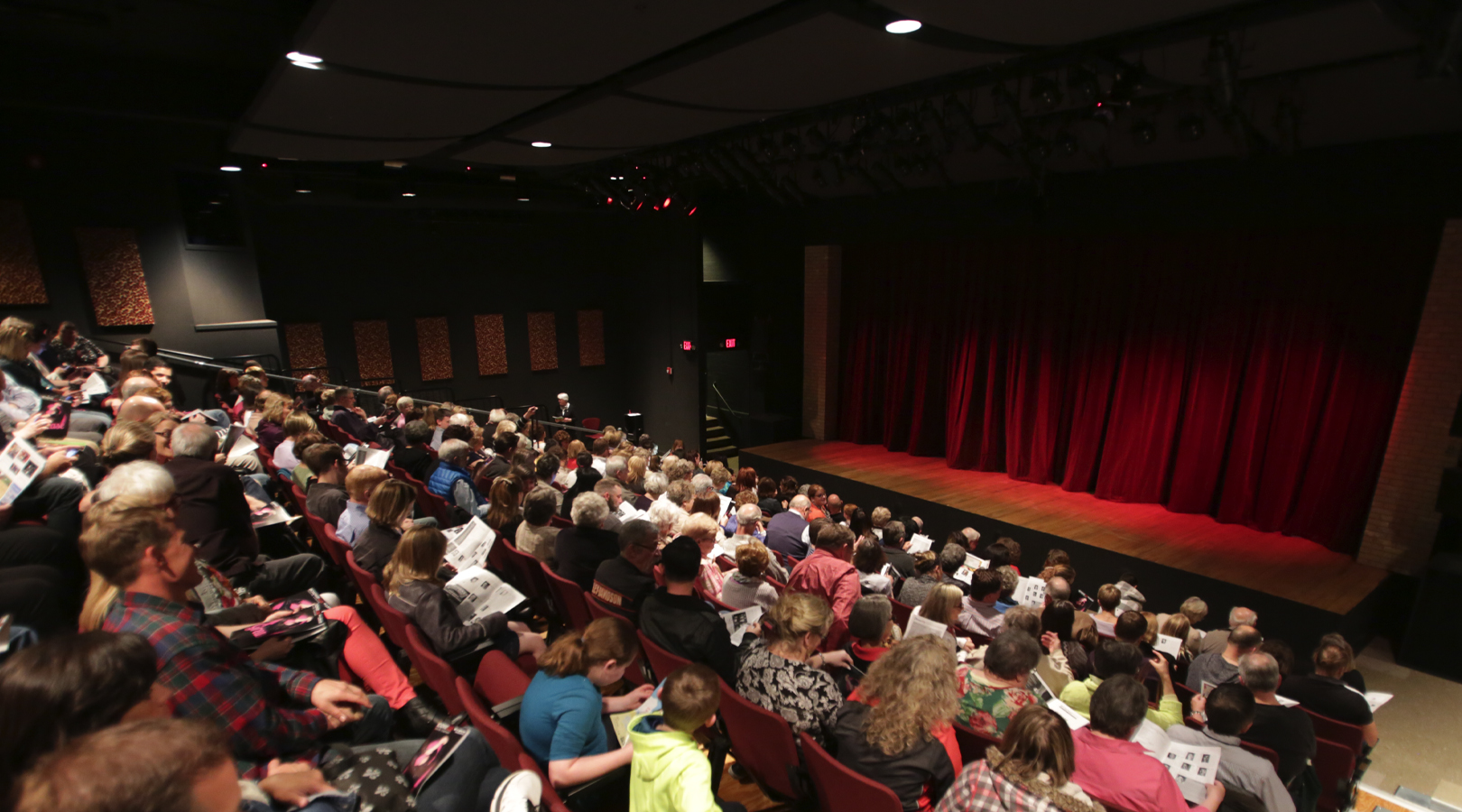 Featured Sponsor
LISA FRANCOLINI & RIVERWEST ACUPUNCTURE
Regards from Broadway Rose
Spring 2023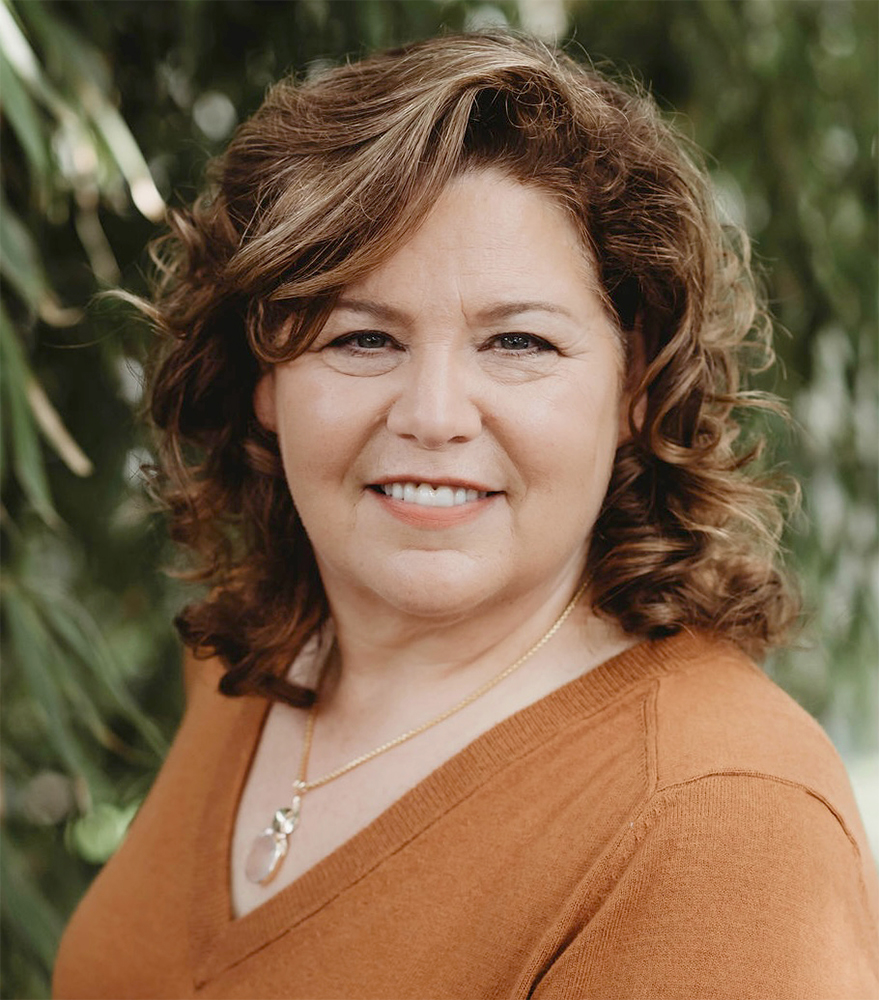 Lisa Francolini, owner and founder of RiverWest Acupuncture
Lisa Francolini, owner and founder of RiverWest Acupuncture, has been an advisor, friend, and supporter of Broadway Rose since 2004.
Lisa met Sharon Maroney 19 years ago, and the two women very quickly connected. Since then, Lisa has played an important role at Broadway Rose, serving on the board, hosting strategic planning sessions, introducing many of her friends to the theatre, cooking sumptuous meals for fundraiser dinners, and even playing the part of a 'dead body' during the theatre's production of Les Misérables! RiverWest Acupuncture has also served as a corporate sponsor for Broadway Rose Theatre for many years.
Lisa Francolini began her career in hospital administration, then served as an executive director at nonprofits for people with developmental disabilities and the elderly. Lisa's dedication to her community, through her service in leadership as well as her active participation in and support of nonprofits, has been a key tenet of her career.
"I love the health industry because it's a very direct way to help people," said Lisa, "and I always believe that if you're going to make a difference you should be in leadership."
In 1995, Lisa founded RiverWest Acupuncture with the goal of helping people to remove mental and physical barriers to health. RiverWest offers a variety of services, including acupuncture, community acupuncture, treatment with Chinese herbs, and Digital Meridian Imaging. Lisa herself offers her patients treatment through acupuncture and the Body/Emotion Code.
"My job, whether it be with acupuncture or the Body/Emotion Code, is to help shift a person's suffering. In my practice, I look at what's happening in the body and what's happening in the mind – what issues is trauma creating and where do they need to be moved," Lisa explained. "I think what I love about RiverWest, is how we treat people," she added, "how we create this community of people." And after working with thousands of people over the years, Lisa has been so pleased to see the results of her work in the improved health and quality of life for the many patients served at RiverWest.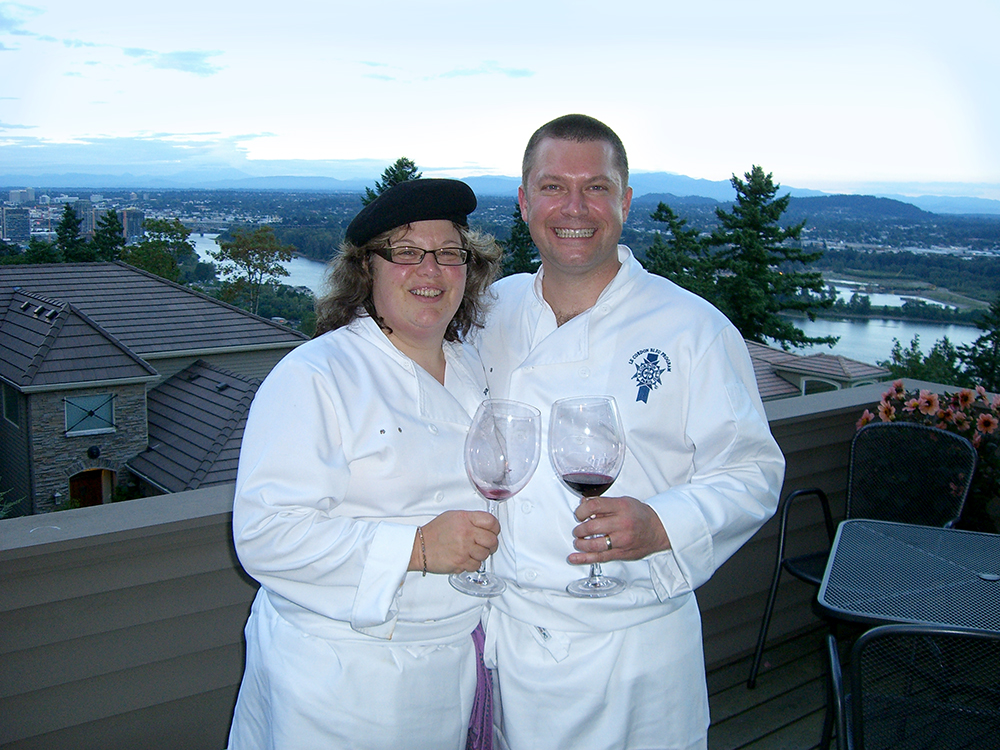 Lisa and Ed toasting at a director's dinner
As RiverWest Acupuncture grew, so did their involvement with Broadway Rose. "We are really committed to the arts," said Lisa, "and we are really committed to assisting nonprofits, and so as our business grew, our sponsorship grew."
In addition to her corporate sponsorship of the theatre, Lisa was also a part of the Broadway Rose board of directors for 12 years, serving as president for close to three of them. "I really enjoyed it," Lisa admitted. "I like strategic planning. It was fulfulling to be a board member and help navigate where I could, and be a part of something that was expanding – and also to watch something grow with a great reputation."
Lisa's love for cooking led to her additional involvement with director's dinners. Broadway Rose offers director's dinners at the annual gala; these fundraisers give patrons a chance to interact with the directors of different productions over a gourmet meal. With the help of her good friend Ed, Lisa created multicourse feasts for several director's dinners, each menu themed around the featured musical production. For Hairspray, Lisa created a menu of prominent Baltimore foods from that period, including a 12-layer King Cake! For The King and I, a lush Thai dinner was recreated. "It was always a remarkable evening," Lisa said. "And you learn a lot. I really do encourage people to get a seat at the table for the director's dinners, because you hear things that you wouldn't otherwise know."
Lisa has also introduced many loyal theatre patrons, board members, and donors to Broadway Rose. "I'm always so in awe of Sharon and Dan, and their creative ability to anticipate what will work," Lisa said, "and I've watched them evolve over the years." She believes that knowing what's behind the scenes, and what it takes to create each production, makes each musical that much more incredible to watch.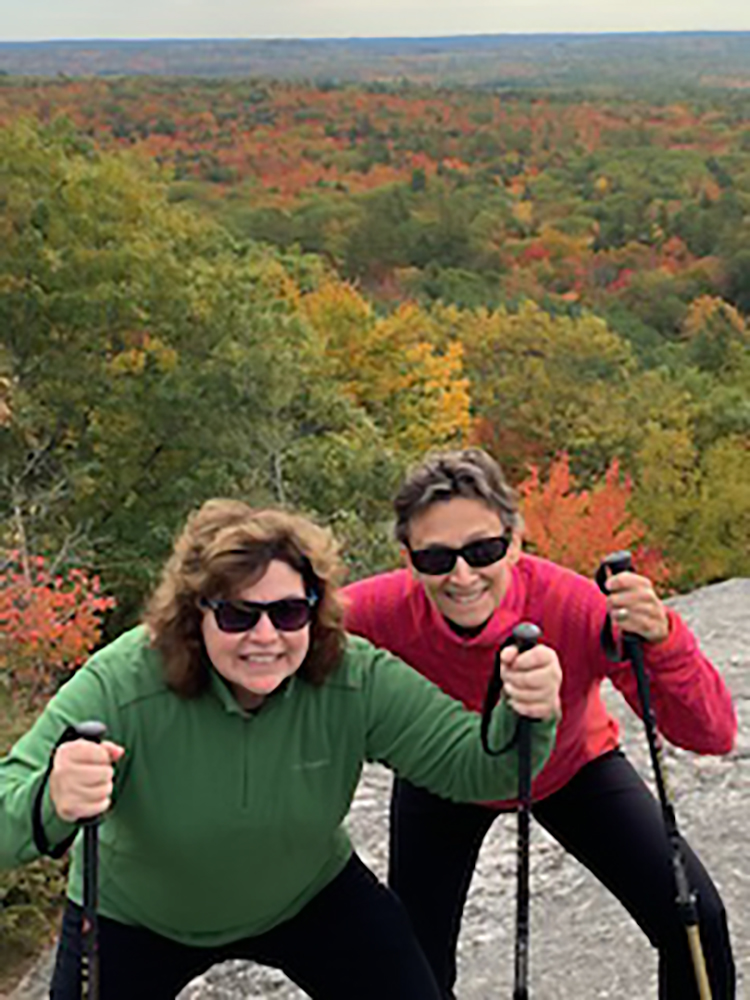 In many ways, Dan, Sharon, and Lisa have shared similar paths over the years, in their work with nonprofits, their status as business owners, and their passionate support of the arts. "Over the last 20 to 25 years we all grew up together," Lisa said, "and it's a great place to sit, at this point."
When asked why she believes people keep coming back to Broadway Rose, Lisa put it down to the quality of the shows created and the genuine connections made. "Sharon and Dan have done a great job of welcoming people in and making them feel like they're part of something," Lisa noted, "and that's really important – to be a part of art? That's huge."
In addition to her support of the arts and theatre, her work as a business owner, and her efforts to build community in all areas of her life, Lisa also loves traveling and exploring with her wife Bev, playing the piano as part of a quartet, and creating art with her small glass business, Glass by Lisa. Throughout her many experiences, accomplishments, and adventures, Lisa consistently places a high value on the connections made within her personal and professional realms, as well as here at Broadway Rose.
"We argue art imitates life; life imitates art," said Lisa. "I feel that the relationships that I've built in my life are really a reflection of that, and thus far, I think both the art and the life are brilliant."
Click here to learn more about Lisa Francolini and RiverWest Acupuncture.