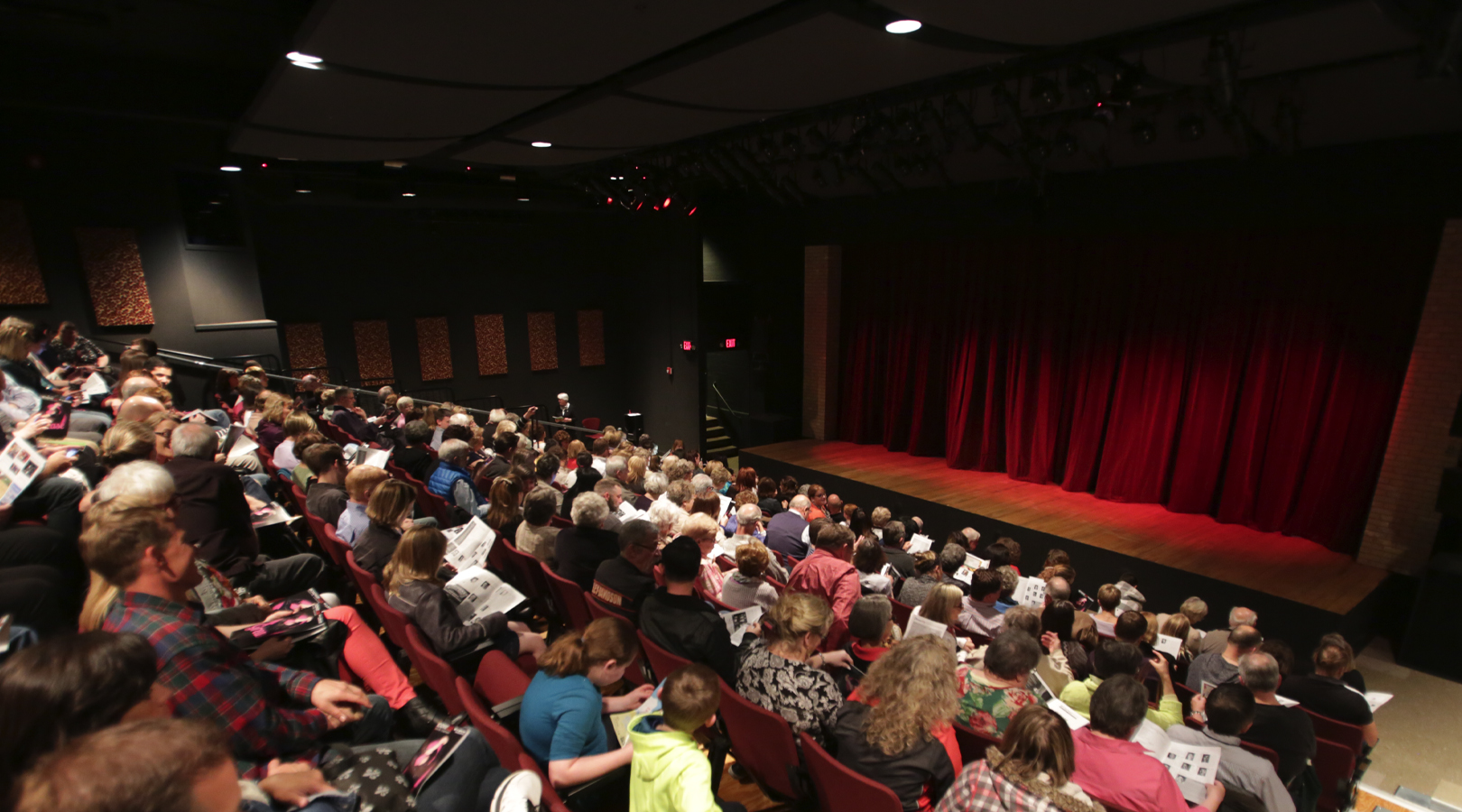 Theatre Guild Tribute
PAT STUPUR, GUILD PRESIDENT
Regards from Broadway Rose
Spring 2023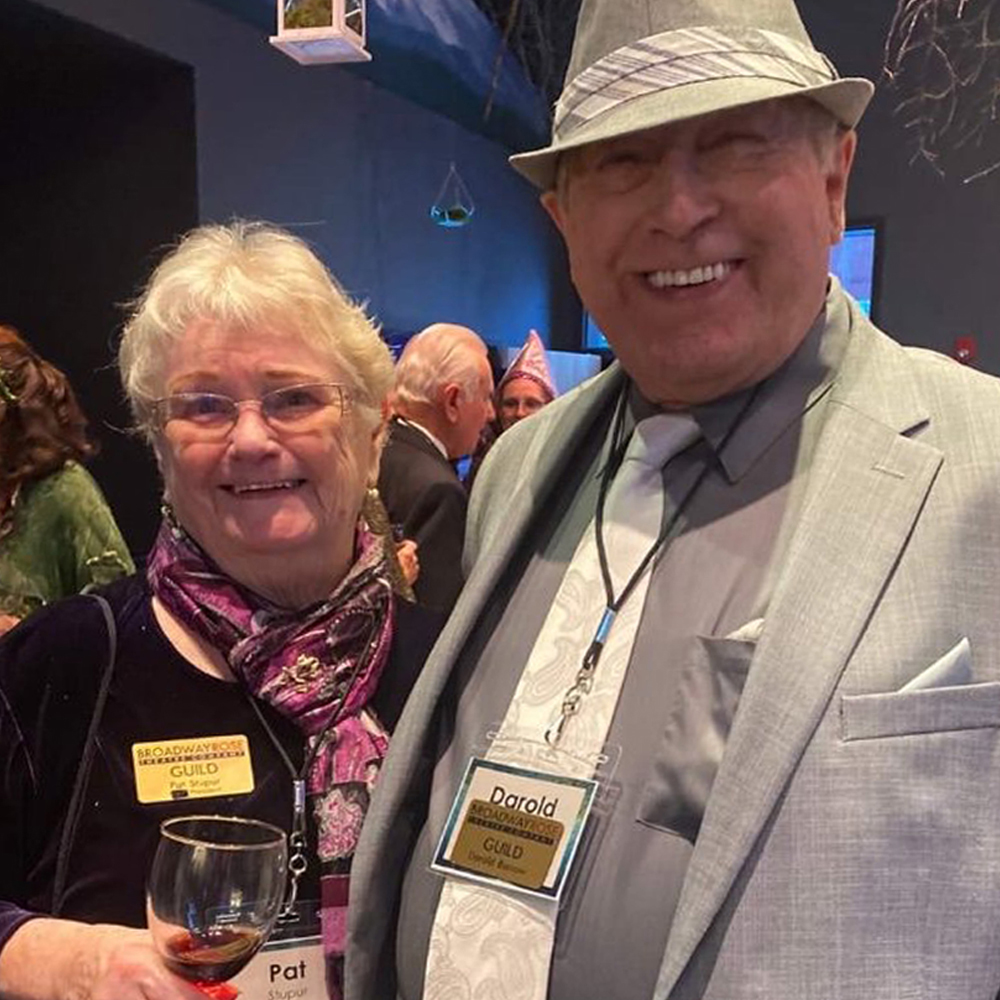 Pat and Darold at the Once Upon a Time gala
Pat Stupur first visited Broadway Rose in 2007 with her companion Darold, eager to see Producing Artistic Director Sharon Maroney on stage after enjoying her performances at other venues across town. It was not long after their first visit that Pat and Darold decided to join the Broadway Rose trip to New York City, and it was there that Pat first heard about the Broadway Rose Theatre Guild. Now, over 15 years later, Pat is heading into her second year as Guild president, after having participated in numerous events and fundraisers and served consecutive two year terms as secretary, treasurer, and vice president.
Pat has enjoyed the variety of activities that being a Guild member brings, as well as the chance to get to know other theatre patrons and staff. "I enjoy the camaraderie – the Guild people are really neat people, and the staff is great," Pat said.
The Broadway Rose Theatre Guild was founded in 2005 and offers an opportunity for Guild members to support the theatre through marketing, fundraising, and hospitality efforts.
Guild members attend farmers' markets throughout the area, provide food and snacks for the cast and creative team during each mainstage show, distribute posters and flyers to local businesses, and run multiple annual fundraisers, including a plant sale in the spring, a See's Candies sale at Christmas, and the Santa Sing-Along.
Members of the Guild are also offered a chance to learn more about how a theatre is run. Guild meetings feature guest speakers each month who share their experiences in theatre.
"I love the fact that we get to hear from some of the actors and staff. Even though I was involved in theatre back in high school, I still didn't know all of the ins and outs," said Pat.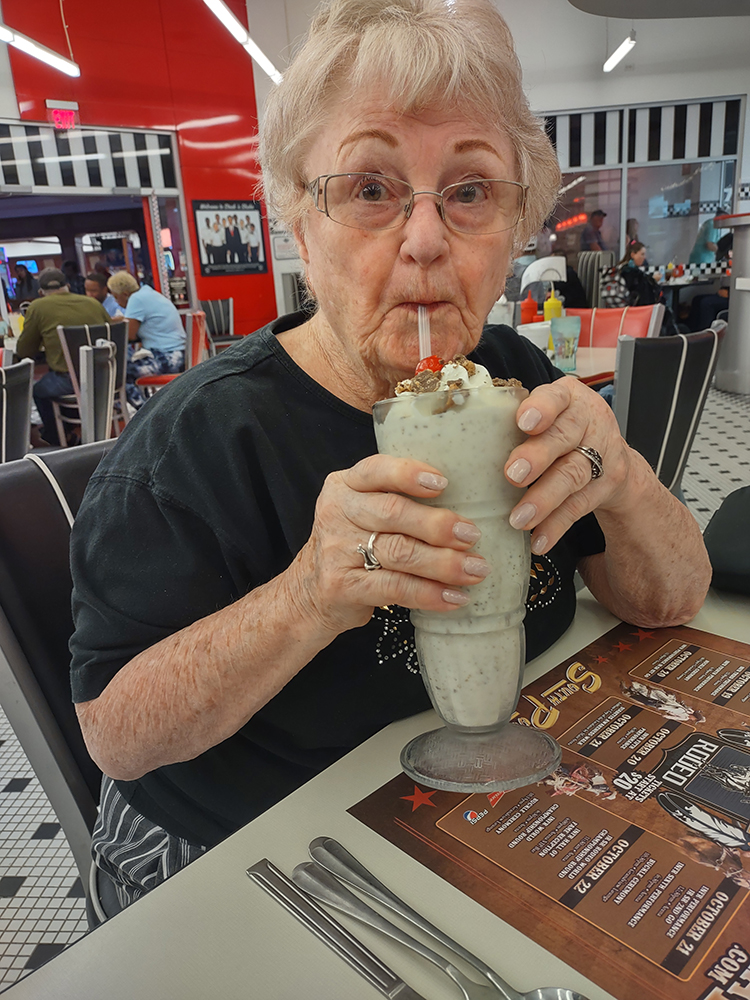 Pat enjoying the finer things of life
Pat's love of theatre started at an early age. She participated in theatre throughout high school and was even considering a career in the performing arts. Pat was in the midst of applying for a scholarship to Pasadena Playhouse when she met a boy, and, as so often happens, life went a different way. Contributing with the Broadway Rose Theatre Guild is one of the ways in which Pat continues to participate in theatre work.
Guild members are often given the opportunity for additional involvement behind the scenes at Broadway Rose, and Pat enjoyed a few minutes on stage during a rehearsal of The 25th Annual Putnam County Spelling Bee, where she played the part of a spelling contestant, and was shocked at the results. "I misspelled 'gnocchi,' can you believe that? I cook with it all the time!" Pat chuckled.
The Broadway Rose Theatre Guild has been steadily growing over the past few months, and is currently standing at 38 members. This growth has been especially encouraging after the pandemic. "When I was vice president it was a little discouraging because I wasn't able to do much to encourage new people to join. During Covid, we were just meeting by Zoom," Pat explained. "I'm really excited about the growth we've had recently."
"Participating in the Broadway Rose Guild has been a great experience, and it's a nod back to the career I had originally dreamed of in high school. I still think about how my life might be different – maybe I would have won an Oscar," Pat laughed.
Learn more about the Broadway Rose Theatre Guild here or contact Marketing Director Alan Anderson at 503.906.2380 or alan@broadwayrose.org.