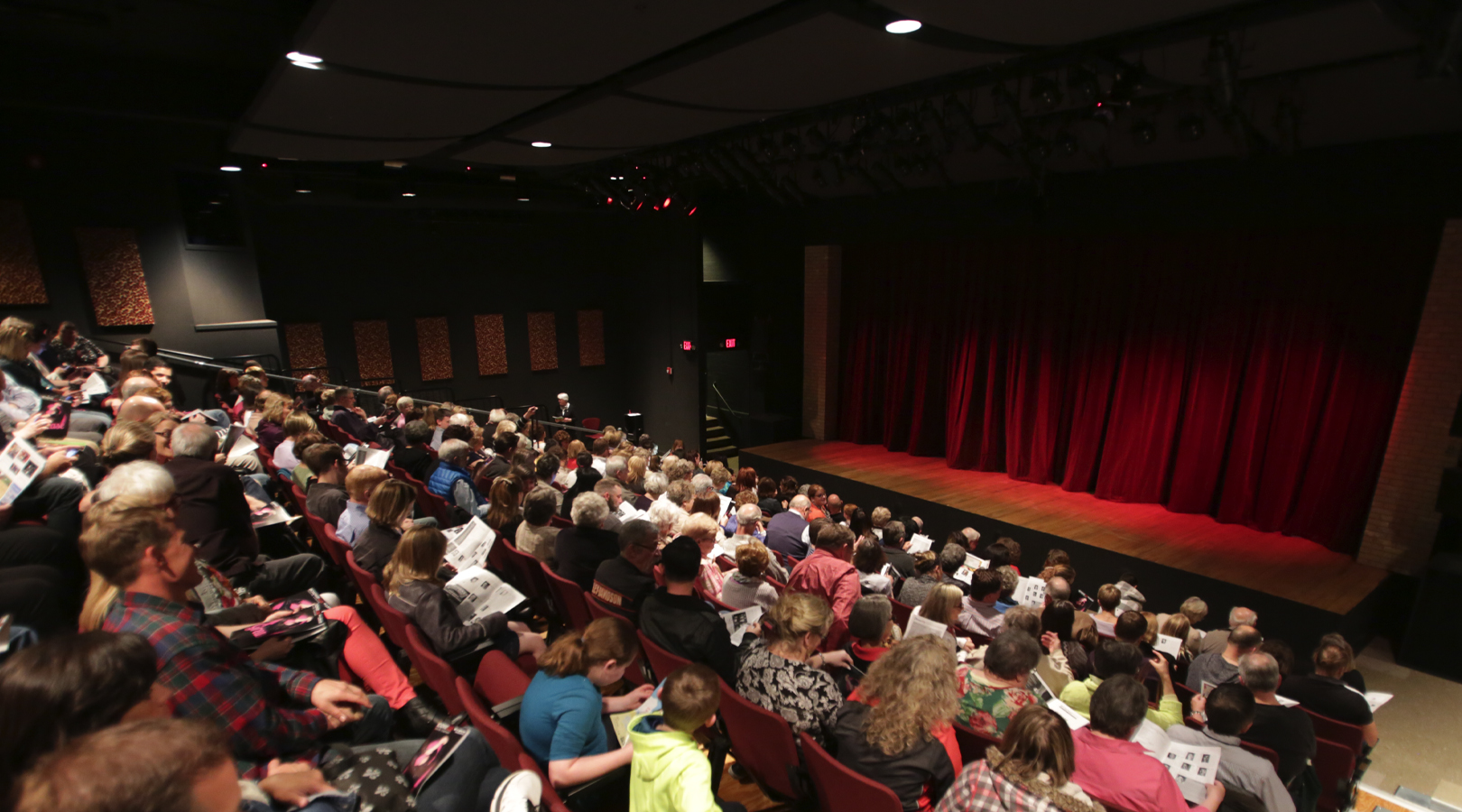 Meet the Artist
ELAINE AKAMIAN, SCENIC ARTIST
Regards from Broadway Rose
Spring 2023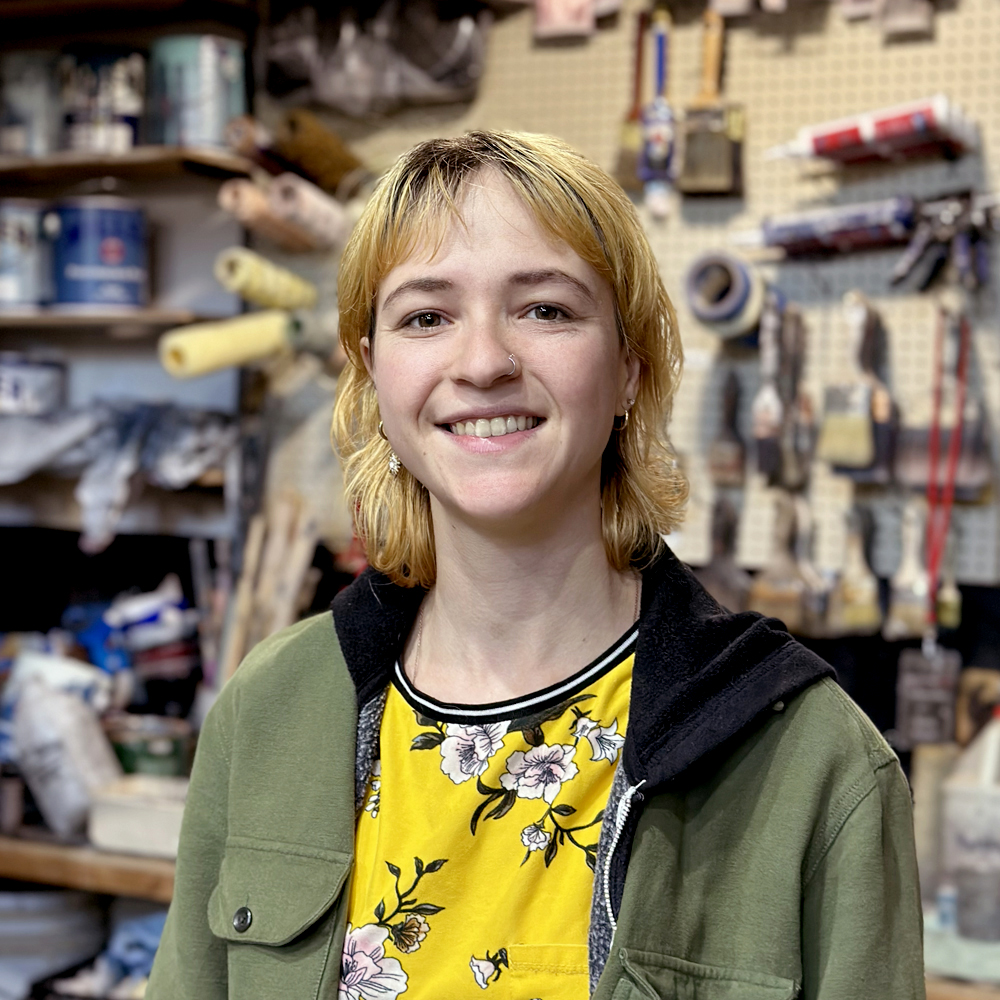 Elaine Akamian, Scenic Artist
"I tell everyone – participate in high school theatre! It's a really great place to explore a lot of different things." ~ Elaine Akamian
Scenic Artist: A scenic artist paints, sculpts, and texturizes set elements based on a set design created by the scenic designer.
Elaine Akamian, scenic artist for Audition From Hell, is a young professional with an eclectic theatre background and a yearning for creative communication. Staffer Dani Wright sat down recently with Elaine to ask them about their experience in theatre.
How did you start out in theatre?
While attending Tigard High School, I participated in their robust theatre program, then started interning with Broadway Rose during my sophomore year. I had the time of my life during my internship with Broadway Rose! My experiences throughout my high school theatre program and the Broadway Rose internship gave me a solid foundation for my career. I learned how to work as a part of a team and communicate, and I was able to explore a lot of different things. I was also able to learn from others and made connections that led to future work.
How does the scenic artist contribute to the creation of a set?
When the set designs come in from the scenic designer, the artistic team looks at the designs together and decides which direction to go. I will then create samples for paint colors, patterns, and textures and share them with the team for review and approval. When the carpenters have built enough of the set that I'm not obstructing them while they're still putting up walls, I'll start working on painting the set. There's like a delicate dance going on, having that all come together with the right timing.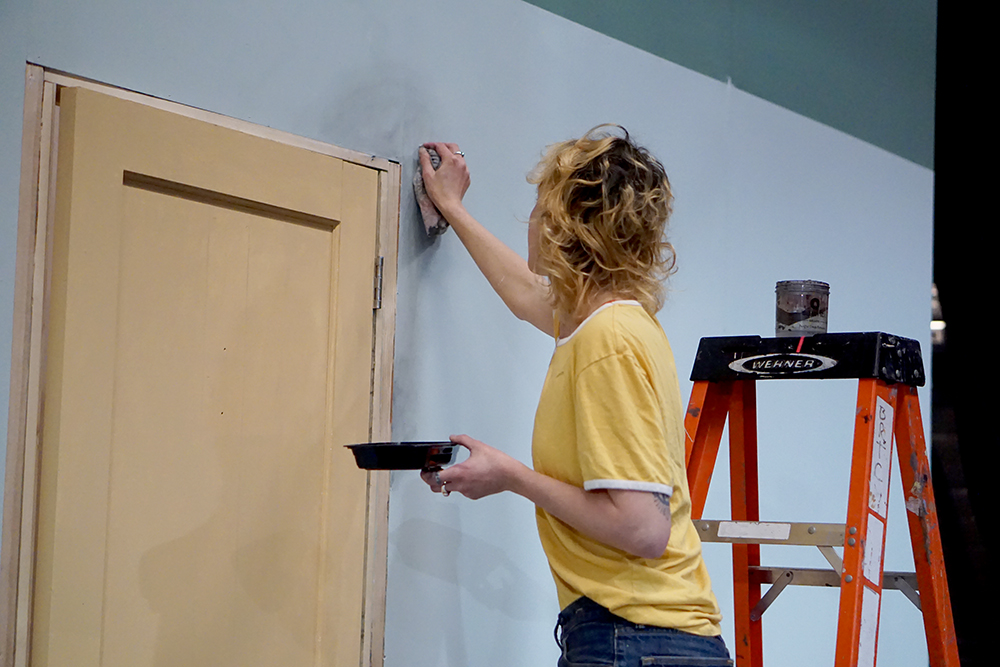 Elaine aging the walls on the Audition From Hell set
What was your college experience like?
My college experience was unique because I started at Portland Community College, then went to Southern Oregon University for theatre, but didn't end up finishing there. I headed to Paris to study art and film and dropped out because I wanted to live there. After a couple of years in France, I headed back to the United States and graduated with a degree in communications at Portland State University because I wanted to be involved in media representation, and art, filmmaking, and communications are all connected.
What's it been like working as a scenic artist with Broadway Rose?
Recently, I worked as the scenic artist on Broadway Rose's production of Snapshots. Working on Snapshots was the first time in a while that I worked on a job, especially a theatre job, where I was only responsible for one task. That was nice! I had also worked with Larry Larsen before, the scenic designer for Snapshots, so it was cool to work with him again. Larry actually paints his designs, and so I would ask him a lot about textures and how he wanted the textures in his designs to transfer to the stage. Designs for Audition From Hell are digital so there is less interpretation involved. Altogether the set painting for Snapshots took two weeks – just painting the wood floor itself took about three days, and I had some help. Audition From Hell is a smaller job and should take about one week to complete.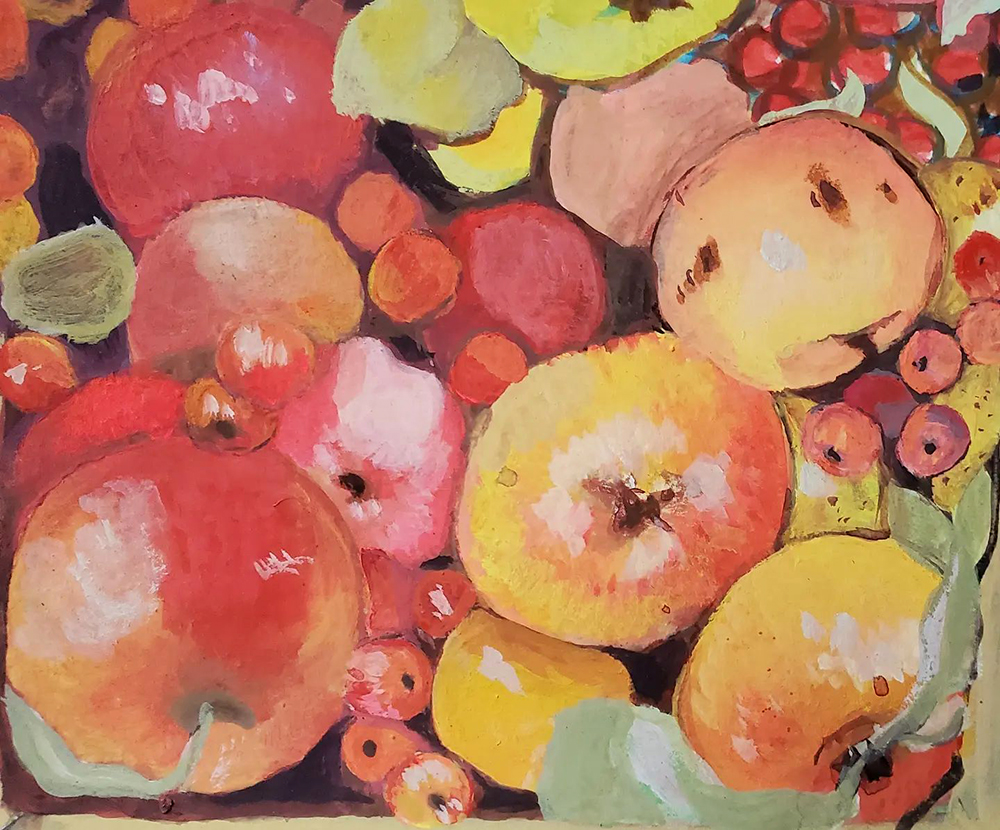 Additional artwork by Elaine
What is the most challenging project that you've worked on?
I was a theatre tech teacher for two terms at Village Home, a private school in Beaverton. This was really challenging because I had to step in and be the theatre expert and resource for the entire school. I also learned to delegate and get others involved. It was a busy time! I was designing sets, teaching a class, and serving as the technical director for two productions, You're a Good Man, Charlie Brown and Matilda JR.
What else do you do in your spare time?
I'm passionate about the creative thinking and planning that goes into producing creative media, and I've been working as a freelance production coordinator and graphic designer. Painting sets is my favorite type of theatre work, but I'm always trying to fashion art and create. I'm also trying to get more involved in mural painting. One of my murals is featured at the A-List hair studio in Portland – it's a golden bee Gucci-inspired design.
Do you have advice for other artists starting out?
Don't be afraid to ask people if they need help, get to know what they do, and why. Just showing interest is what's gotten me work in theatre. Create as much as you can and share it with people, and get as much feedback and practice as possible.