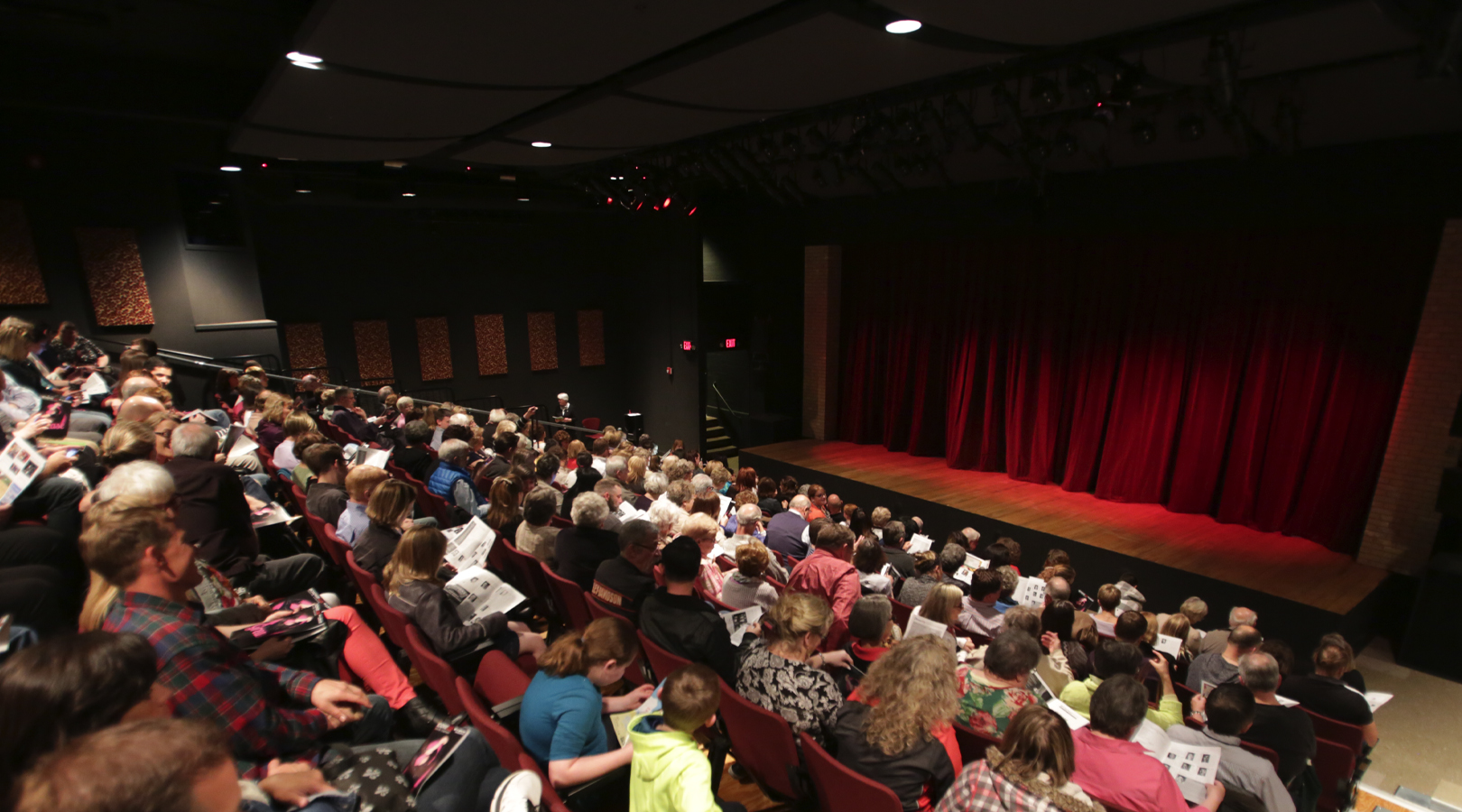 Volunteer Tribute
JUDY KOONCE
Regards from Broadway Rose
Summer 2023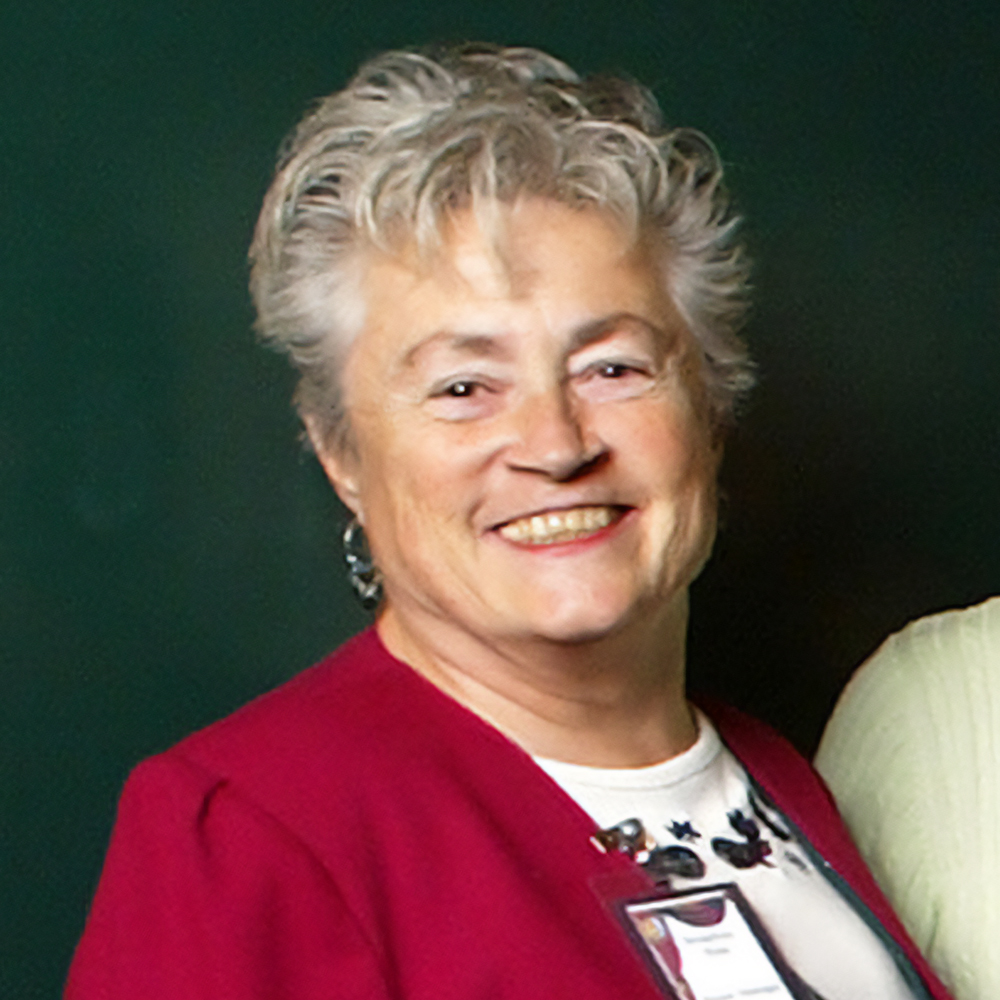 Judy Koonce, volunteer extraordinaire
Judy Koonce met Dan Murphy when he was directing a production of The Mikado for the Musical Theatre Company in 1998. At the time, Judy was working as house manager for the company. It wasn't long after they met that Judy started volunteering as an usher at Broadway Rose. She has been volunteering for over 25 years now. "Judy Koonce is the definition of the heart of a volunteer. She is someone who is willing to dedicate her life to making events happen," said Lead House Manager Bliss Talbot. "She's amazing."
When asked about her outstanding commitment to volunteering at Broadway Rose, Judy explained, "I'm into theatre, and even with ushering, it's the closest I can get to being in theatre."
But Judy did not start out as a theatre nerd. When she moved to Portland in 1957, she was headed down a different path. "I was going to be a missionary in Ecuador," Judy remembered. Judy started attending Multnomah University's three year program, but six years later she was still working on her degree and starting to have second thoughts. Somewhere along the way, Judy had also discovered a passion for theatre. One of the English teachers at Multnomah hosted an oral interpretation contest that Judy had participated in, securing first place during her last year at Multnomah. This success came after a rocky start, as Judy had passed out in the middle of her first performance, a rendition of John F. Kennedy's 1961 inaugural address. But even then, Judy had been determined that the show must go on, and after she was revived, she got right back up and finished Kennedy's stirring appeal. The next year she won the oral interpretation contest with her rendition of Edna St. Vincent Millay's potent poem "Renascence," the lines from which she still remembers to this day: "All I could see from where I stood / Was three long mountains and a wood." The theatre bug had decidedly bit, as Judy admits, "That experience got me interested in what I could do." She decided to head in a different direction, leaving Multnomah University for Mount Hood Community College.
It was 1966 and Mount Hood had just opened its doors, using a trailer to host classes when Judy entered their theatre program. Judy performed in a couple of productions at Mount Hood before she transferred to Portland State University where she learned more about what happens offstage as well as on while working as a stage manager on productions there. By that time, Judy had moved on from acting. "I guess I was never a good actress," Judy laughed, "but I was good at stage managing." In 1981, Judy graduated from Portland State University with a Bachelor of Science in theatre arts, finally completing the degree she had come to Portland in 1957 to attain.
In 1981, Judy spent the summer stage managing with the Portland State University Summer Stock Company at Coaster Theatre Playhouse in Cannon Beach. It was her first professional theatre job and she loved it. On returning to Portland, Judy worked at the Theatre Workshop for the City of Portland before hearing about Broadway Rose during her stint as house manager for the Musical Theatre Company.
Since Judy started volunteering at Broadway Rose back in those early days, she has seen almost all of our productions. However, she has only recently become a season subscriber. "This is the first year that I bought season tickets," Judy admitted.
In addition to generously contributing her time as an usher, Judy has also donated funds to support the theatre for over 15 years.
Judy volunteers her time around the city in other capacities as well. She is involved with Cascade Relays, has put together teams and volunteered for the Providence Hood and Portland To Coast Relay, serves on the committee for the Friends of Portland Community Gardens, sits on her church council, and is a longtime member of the Columbia River Volkssport Club.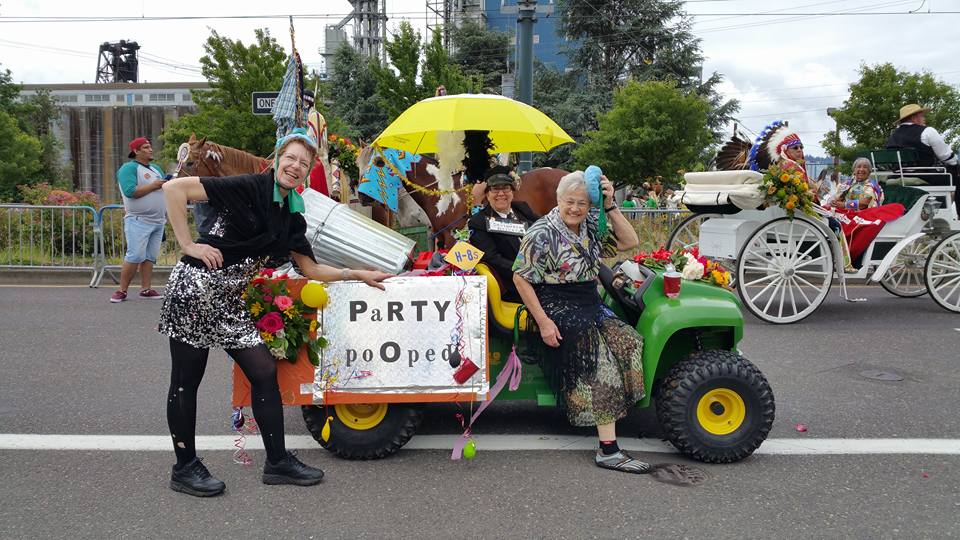 Judy (right) and friends in the Pooper Scooper mobile at the Portland Rose Festival parade
She also participates in Cycle Oregon, a group she has been involved with for quite some time – even though she admitted that her first foray into cycling years ago did not go smoothly. When Judy participated in her first Cycle Oregon event, she had purchased her bike just three weeks prior to the occasion, thinking this would be enough time for her to prepare for a six-day event where cyclers cover hundreds of miles. Judy calculates that she was probably numb for a good six months afterward.
Recently Judy even served as one of the official Portland Rose Festival Pooper Scoopers, helping to keep the Rose Festival parade route clear of horse manure. For this laudable service to her city, Judy very understandably earned an award. "I just like to volunteer for things that are needed," said Judy.
On October 2, Judy turns 85, but not before she participates in her 21st Portland Marathon just the day before her birthday. Judy never stops moving for long, but one place you can find her this summer is in the lobby at the Deb Fennell Auditorium during our summer shows. "Come Saturday night and you'll see me here," Judy laughed.
We at the Broadway Rose are so grateful for Judy's dedication and hard work! It takes volunteers like Judy to keep things running at an arts organization – we couldn't make live theatre happen without them. We are so thankful to Judy for sharing her valuable time with us throughout the years, and we look forward to seeing her in the lobby at each performance!