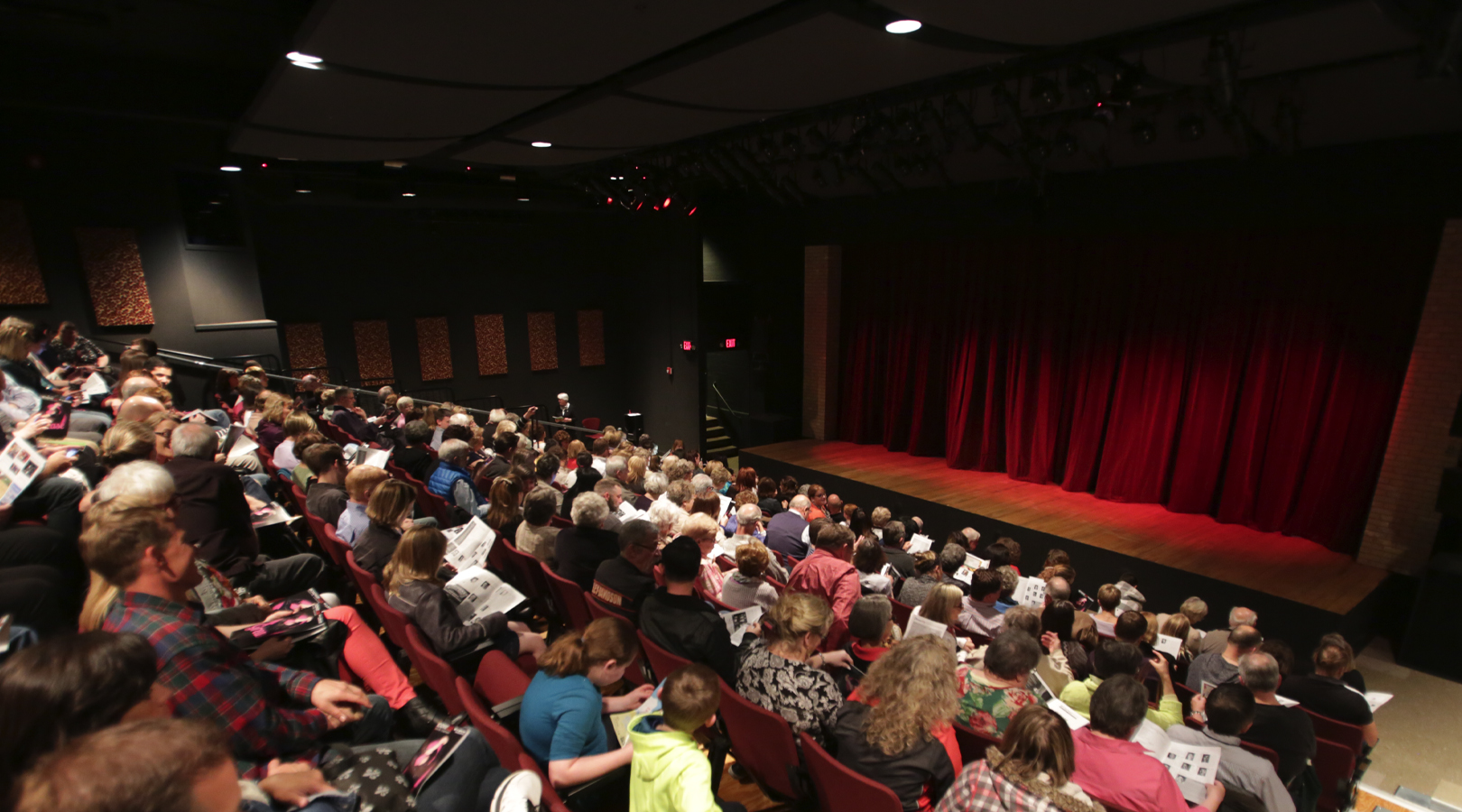 Meet the Staff
HOLLY RICHARDS, DEVELOPMENT MANAGER
Regards from Broadway Rose
Summer 2023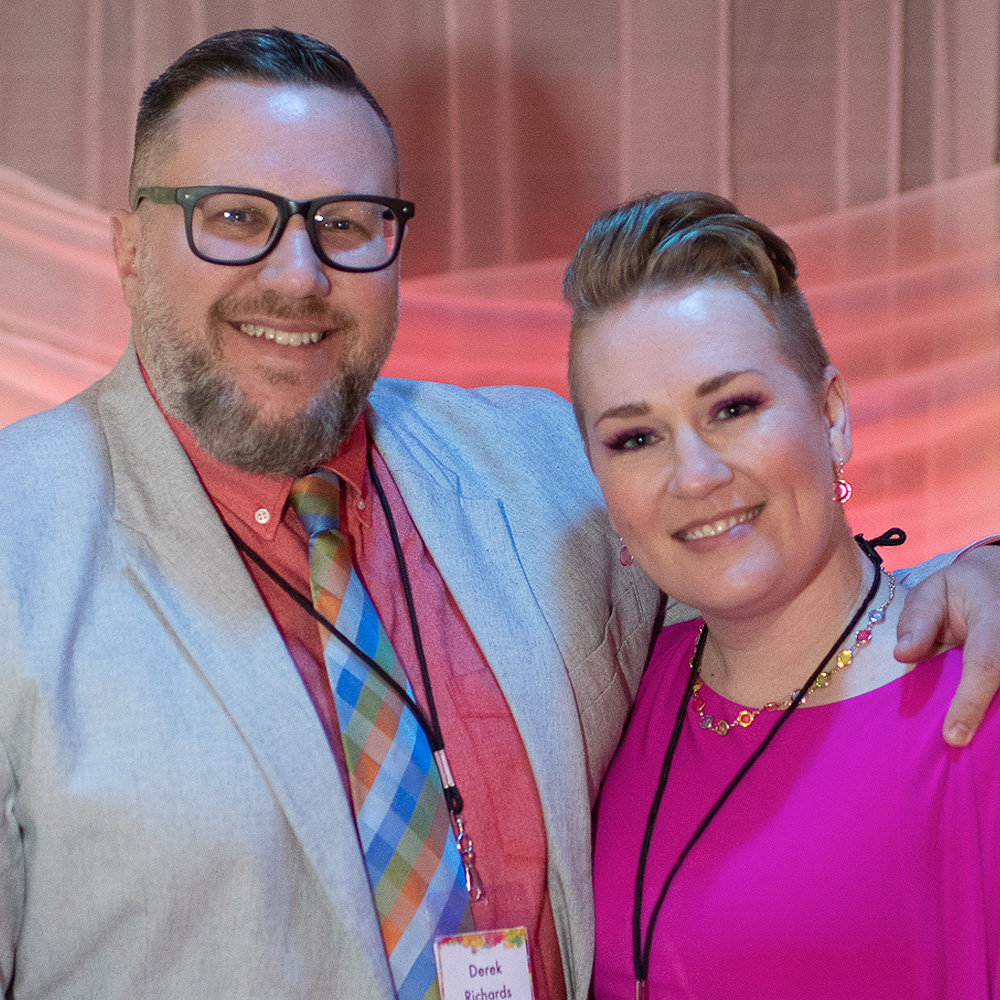 Holly Richards and her husband Derek at the 2022 Gala
Holly Richards has been involved in theatre since the fourth grade when she wrote, produced, and performed in her first musical at her grade school.
"I was 9 years old when I wrote my first musical. It was called Cindy's Bad Day, and it was really bad, because a 9-year-old wrote it," Holly laughed. Holly recruited her friends to act in the production and she served as director, choreographer, sound design, lone musician, and one of the performers for Cindy's Bad Day. The experience gave Holly her first taste of musical theatre and she was hooked. "It was a disaster, but the staff at the school believed in me and let me put on this trainwreck of a production, and that's where it all began for me," she said.
After that, Holly spent all of her time writing and creating musicals – and then trying to sell tickets to the neighbors. "That's how I process life," she laughed, "let's put on a show!"
In high school Holly's interest turned to performing. She was constantly performing in school productions, participating in show choir, and taking voice and tap lessons. Holly took a break from theatre after high school when she married and started a family. But in 2017 she made her way back to her theatre beginnings when she wrote and performed in a one woman musical called Pop, Goes the Bubble at the Vieve Gore Concert Hall in Salt Lake City.
With this success under her belt, Holly made the decision to explore a career in theatre. At the time, Holly was a newly single mom with four children at home, and deciding to pursue a career in an artistic field may have been considered by some to be an unorthodox decision.
"That is not the traditional thing that you would hear a single mom say," Holly admitted. "But I just knew that I was doing the right thing, and doing what brought my soul joy – and that people do make a living in the world of musical theatre, and goldarn it, I was going to be one of them."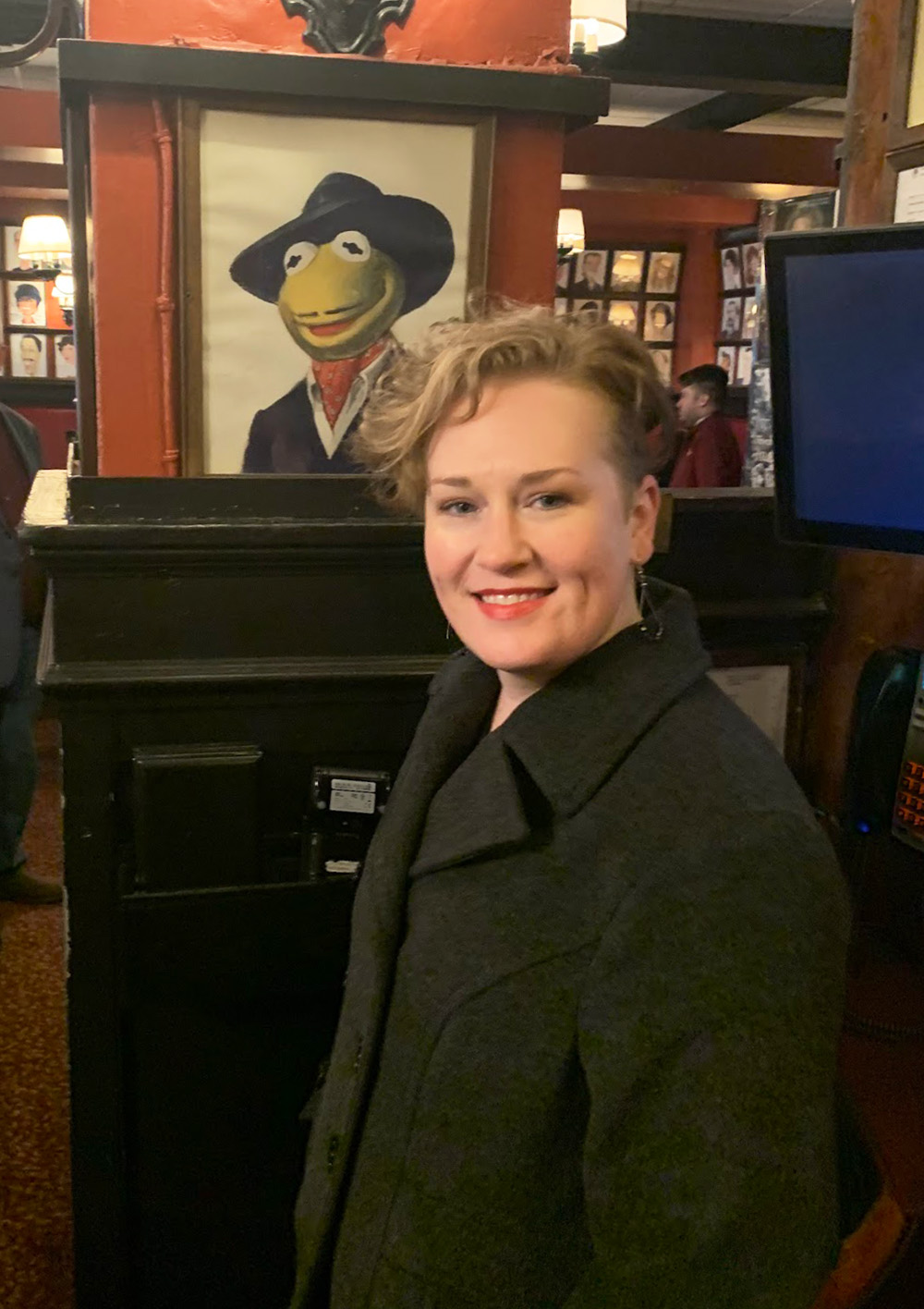 Holly at Sardi's on the 2023 trip to New York with Broadway Rose patrons
Holly went back to school to study arts administration at Marylhurst University. She was just wrapping up her degree in 2018 when she applied for a box office position at Broadway Rose and was swiftly hired. Holly worked in the box office from 2018 to the start of the pandemic in March of 2020. The position offered her valuable insight into patron needs and gave her a taste of the business end of a theatre organization, and Holly proved adept at connecting with patrons and supporting their needs. After COVID hit, Holly returned home full-time to help support her family, which had doubled in size after her second marriage with the addition of her husband's children. She faced the challenge of supporting her eight children as they began the adventure of schooling from home.
But Holly had not seen the last of Broadway Rose, and she was invited back to the theatre in January of 2021 to start working with the development team. As she started to learn about theatre from yet another perspective, Holly proved successful at bringing her firsthand knowledge of Broadway Rose patrons and her ability to connect with theatre lovers on a personal level to bear. She also found she still had more to learn about what it takes to make a theatre thrive.
"The first thing that you learn when you are part of theatre fundraising is how little the ticket prices actually cover," Holly said "So there is a great need for foundations, donors, and government support to keep this art form alive."
Throughout her years in the development department she has taken care to maintain that personal touch in each donor relationship.
"At first glance fundraising can be intimidating because it can just seem on the outside to be a job where you're asking people for money," Holly admitted. "But I have come in and maintained the attitude that that's actually not what it's about, it's about relationships. It's about finding the people in this world that are also passionate about musical theatre – the people who have the means to support something they care about just as much as you do. It just becomes more of an effort of teamwork more than anything transactional."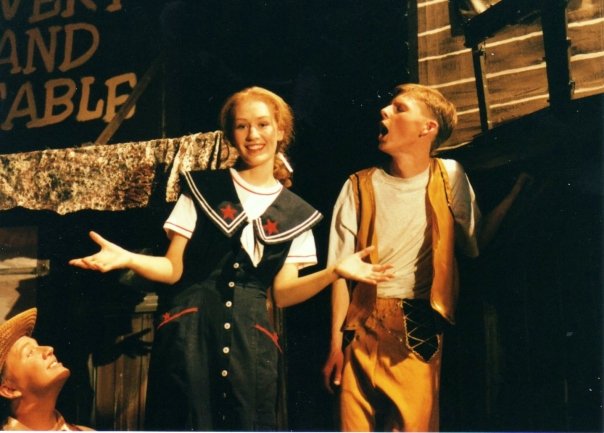 Holly as Polly Baker in her high school's production of Crazy For You
With the pandemic receding, Holly has been excited to welcome patrons back to the theater. "It's exciting to see that people are ready to start coming back out and it's so much fun for me to finally be able to connect names with actual faces, and get to have that physical interaction," Holly said. Broadway Rose has offered a bevy of events for donors in 2023, starting out the year in January with an Opening Night Party to inaugurate the 2023 season. A Cabaret Lunch with Leaders in February offered donors a chance to socialize with Broadway Rose founders, and the Once Upon a Time gala in March offered a memorable evening to close to 200 patrons. Recently, Broadway Rose was excited to welcome 130 patrons to our Sneak Peek event, where patrons were offered a chance to watch part of a rehearsal for Joseph and the Amazing Technicolor Dreamcoat. And our upcoming Curtain Up! event offers donors a first look at our exciting 2024 Season line-up, with preview performances from these upcoming musicals.
Broadway Rose has continued to survive and thrive with the guidance and hard work of staff members like Holly, but, more importantly, through the gracious and generous gifts from Broadway Rose patrons who have supported the theatre throughout the years.
"Thank you to our supporters! Our loyal supporter base has stuck with us through the thick and the thin, and we would not have been able to do it without them," Holly said. "As many are aware, theatre organizations in general are really struggling right now. We still aren't 100% back up on the balance beam, and we need our donors' help to keep building. We're so grateful that they're still on this journey with us."
We at Broadway Rose are thankful for our loyal supporters, and we're so excited to see new faces at the theatre as we welcomed over 800 newcomers to Broadway Rose for the first time for our first two shows of the year, Snapshots and Audition From Hell. We are thrilled to be hosting our blockbuster summer shows for the first time in five years at our larger auditorium, the Deb Fennell at Tigard High School, and we're looking forward to featuring the Tony Award winning Ain't Misbehavin' back at the New Stage this fall.
Please don't hesitate to reach out to Holly with any questions on Broadway Rose Theatre development. Live theatre offers a unique experience, and we are so pleased to be able to share these extraordinary moments with our patrons.
"There is such a magical 'something' that happens when you combine the power of the spoken word with music, the creativity of dance, and the visual aspect of lighting design and scenery," said Holly. "There is no other medium like musical theatre.
Contact Holly Richards at holly@broadwayrose.org.