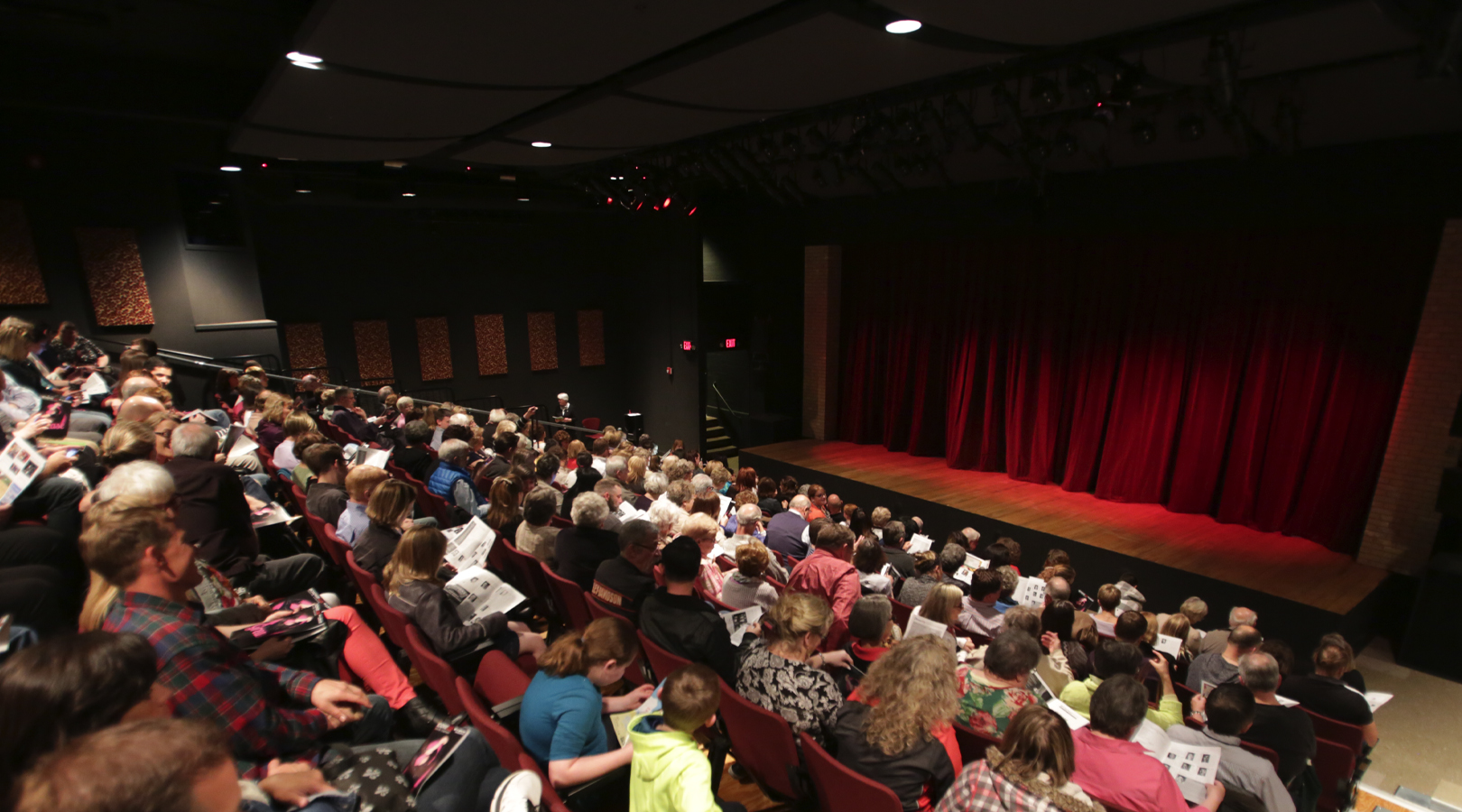 Meet the Artist
ALAN D. LYTLE, MUSIC DIRECTOR
Regards from Broadway Rose
Summer 2023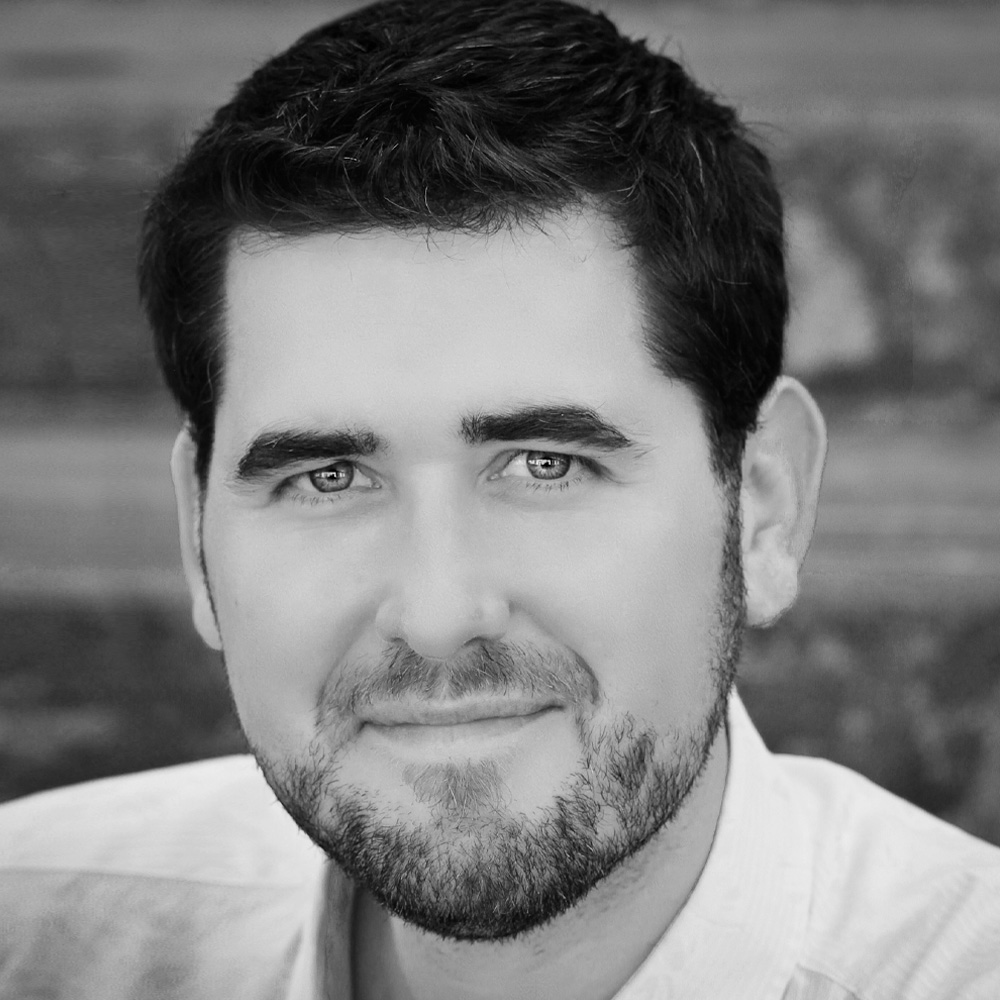 Alan D. Lytle, music director
"Music direction is all about trying to create the sound from the orchestra pit that supports the magic that's happening onstage." ~ Music Director Alan D. Lytle
What is a music director? A music director works with the arrangements and musicians to support the action onstage. They are involved in casting decisions for actors and hiring decisions for the orchestra. Music directors who also serve as conductors may direct the orchestra during the run of the show.
Alan D. Lytle has worked as a music director for close to 30 years for different theatres throughout the Portland area and has been awarded multiple PAMTA and Drammy Awards. Staffer Dani Wright sat down recently with Alan to ask him about his experience as a music director and conductor.
How did you start out as a music director?
I was born into a musical family. When I was very young, I watched my grandpa, Don Wolfe, a well-respected high school choral musician and orchestra conductor, conduct Fiddler on the Roof, The Sound of Music, and The Music Man. In fact, I use a baton of my grandfather's when I'm conducting the orchestra. This legacy of conducting has been a part of who I am since a very young age. We didn't have a theatre program in high school and so I didn't participate in theatre until college. As soon as I got to college I was enrolled in choir and immediately found musical theatre that first year. I performed in an opera production and in musicals several times in college, but quickly found that I wanted to be in the pit – I found myself spending more time watching the musicians. So I started playing the piano for pit orchestras throughout college, and while I was still in college I received an invitation to be the music director for a local dinner theatre, and it was all downhill from there!
Where do you start when given a new project?
Each new project starts out with a conversation between the producer and the music director about what is available from the licensing house, especially for older shows where the original Broadway orchestration may be for 25 people. We talk about how many musicians we can hire and how many actors will be cast. For example, the original show may have had a cast of 40 and we have 20 in our cast, so how are we going to reduce? We have to make a decision at the beginning of the process based on the resources available. Often throughout the last 30 years, I've spent many hours rearranging orchestrations to suit a smaller orchestra, reducing and sometimes rewriting entire books, copying and pasting bits and bobs and passing them out to different players.
Alan conducting the orchestra for The King and I (2010). Photo by Craig Mitchelldyer.
For Rodgers + Hammerstein's Cinderella there are three different currently licensed versions. The original made for TV movie with Julie Andrews in 1957, the 1997 version redone for Brandy and Whitney Houston, and the 2013 Broadway remake. For the Broadway Rose production of Rodgers + Hammerstein's Cinderella, we are producing the 2013 Broadway remake which includes all new orchestrations. We could have chosen to use the full Broadway orchestration for 20 musicians, or the touring version for 14 musicians, and we decided to go with the touring version.
What is unique about being a music director?
A director is with the production until opening night, as is the costumer, and the lighting and sound designers, etc. All of these members of the creative team are there until opening night and then the show is set and their work is done. The conductor and stage manager are with the cast all the way through the run. Just being there every night to see the magic come together is pretty exciting, and I have the best seat in the house as the conductor. I can hear and feel the energy of the audience right behind me, with the vantage point of the entire stage in front of me, and the entire orchestra around me. There's nothing like the energy of the theatre when Dan Murphy says, "Sit back, relax, and enjoy the show," the orchestra starts, and here we go! That's my favorite moment, every single night.
When it comes to casting decisions, how is the music director involved?
Music directors are involved in casting the actors and in hiring decisions for the orchestra. Working as a music director is about assembling a great team of people who are bringing awesome energy to the production – we can't do theatre without lots of people coming together. After casting and hiring decisions are made, my job then becomes to unite the orchestra and translate what the cast and stage need into musical terms for the musicians so we can all support the action.
What is one of the most challenging projects that you've worked on?
New works are the most challenging – when a musical is evolving and changing. New works are also the most exciting. At Broadway Rose, we worked with the composer and creator of Ripper back in 2011. That was a huge project involving a complex orchestration that was evolving through opening week. We were revising charts, working side by side with the composer, and tweaking things to make it all work up until the last minute. Mamma Mia! was another challenging project I worked on five years ago with Broadway Rose. This show offered new complexity, involving techniques and systems we'd never used before. Not only did we have the full cast onstage and a full band in the pit, but we also had a full group of backstage singers and prerecorded backing tracks. To keep everything in sync, each musician had their own individual ear monitor, which gave them the beat they needed, along with their own instrumental mix with exactly what they needed to hear.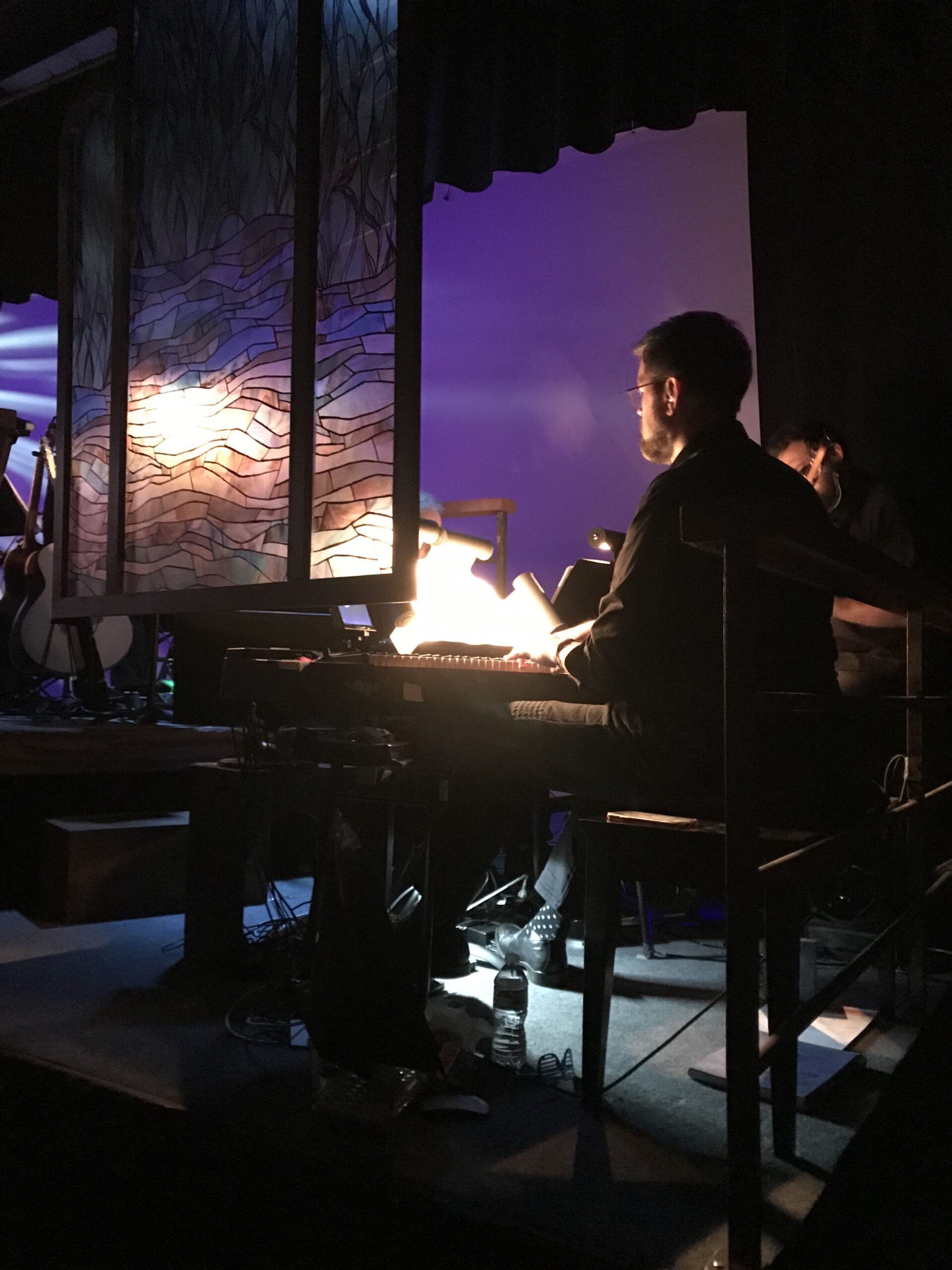 Alan at the piano, conducting the orchestra on stage for Footloose (2019). Photo by Will Shindler.
What's unique about the music direction for Cinderella?
What impresses me about Cinderella is how much music is involved in this production. We have 57 different individual music cues (musicals usually average 20-30 music cues). A music cue refers to each individual start and stop of the orchestra. What this also means is that there is a lot of underscoring. Underscoring is when the orchestra accompanies actor dialogue. A lot of traditional musicals may have a couple of underscored scenes with a few bars of underscoring between verses. In this show, so much of the action is underscored. I love underscoring, and if it's done well, underscoring can add depth and intensity to a scene. Underscoring also gives the audience clues about what's coming, "Oh, this is a tender moment," or, "Oh something is coming." Underscoring often reflects what we're feeling as audience members. I love figuring out the pacing of the underscoring with the actors in rehearsal. This is also going to be one of the biggest orchestras we've ever had at the Deb Fennell. We've got a string quartet, plus two woodwinds, three brass, two keyboards, plus drums, percussion, and bass.
Do you have any advice for someone who is considering doing what you do?
Get involved. Be onstage. As a music director, you need to understand the perspective of being onstage. Music directors also really need basic piano chops. So if you're already a pianist, get yourself out there. There's always a need for piano in local theatre. We're a small community around Portland, and we all like to reach out to each other for help. Theatre is a business of connections, just as all of the collaborative arts. I love it when folks reach out for help as they're getting started. Start meeting people. Take whatever work you can.
Do you have any dream shows or future projects?
Not that I can share. But there is a show that Sharon and I are talking about for next summer that is awfully exciting!