Snapshots: A Musical Scrapbook (2023). Photo by Amanda Shama.
Snapshots: A Musical Scrapbook (2023). Photo by Amanda Shama.
January 26 – February 19, 2023
Snapshots:
A Musical Scrapbook
Showcasing a treasure trove of hit songs and hidden gems by composer Stephen Schwartz (Wicked, Pippin, Godspell, Enchanted) updated with new lyrics, Snapshots: A Musical Scrapbook  follows empty-nesters Sue and Dan on a poignant journey through their past, guided by a box of photographs and the memories the pictures bring to life. As the pair uncover secrets and surprises about their relationship, they're given an opportunity to rediscover the love they share for one another.
Music and Lyrics by Stephen Schwartz
Book by David Stern
Conceived by Michael Scheman and David Stern
Additional Music and Lyrics by David Crane, Seth Friedman, Marta Kauffman, Alan Menken and Charles Strouse
Arrangements and Orchestrations by Steve Orich
Directed by Annie Kaiser
Music Direction by Colin Shepard
Choreographed by Dan Murphy
Run time is approximately 2 hours, including one 15-minute intermission.
Performances held at the Broadway Rose New Stage,
12850 SW Grant Avenue, Tigard, OR
Cast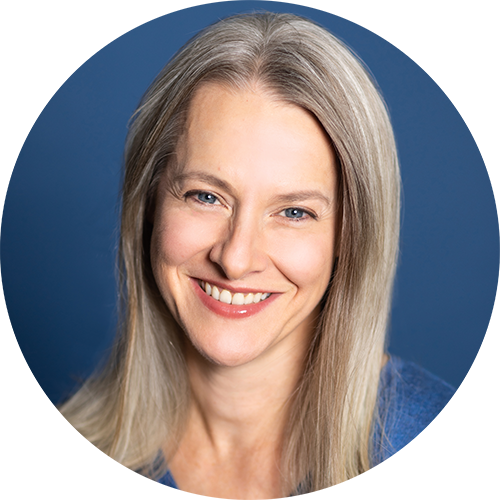 Ali Bell as Sue
Ali Bell is thrilled to be back on the Broadway Rose stage, where she most recently played Ethel McCormack (aka Kevin Bacon's mom) in Footloose. Ali holds a Master of Music in Opera Performance from the University of Texas and is a founding partner of Wildwood Law Group here in Portland. In the past, she performed such roles as Hodel in Fiddler on the Roof, Cherubino in The Marriage of Figaro, and Queen of the Night in The Magic Flute. Ali is deeply grateful to her husband and daughters for their constant support and general awesomeness!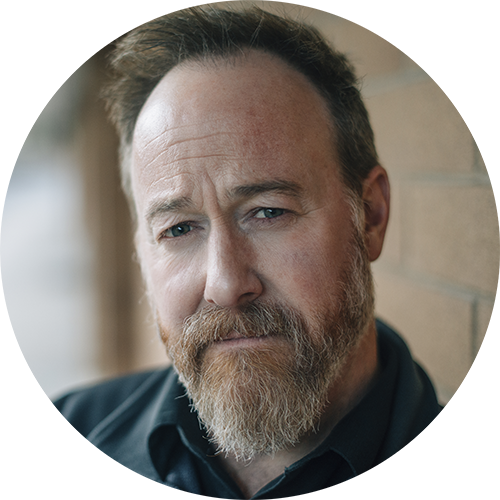 Andrew Maldarelli as Dan
Andrew Maldarelli is excited to return to Broadway Rose after playing Billy in the 2019 production of Once. He has performed for Broadway Rose as Sam in Mamma Mia!, and Jackson in Pump Boys and Dinettes. Other roles include Sparky (Forever Plaid), Herman (The Most Happy Fella), Adam (The Apple Tree), and Angel City 4 (City of Angels). Andrew also performed as Mr. Lindquist (A Little Night Music), where he met his wife. Offstage, Andrew is a kindergarten teacher. Since retiring from the family band (The Jane Lewis Band), Andrew has picked up classical guitar. He is gratefully amused for the opportunity to play a middle-aged father and husband!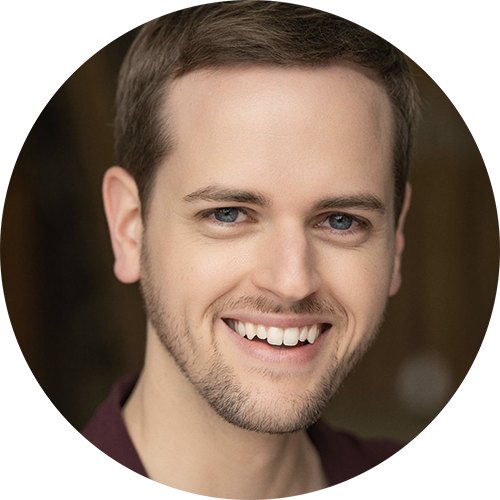 Collin Carver as Danny
Collin Carver is a business owner and licensed cosmetologist in Vancouver, Washington. He's also a teacher, violinist, wig designer, and amateur cosplayer. Theatre credits include: Raoul in The Kiss (Lakewood Theatre Company); Endrej in Once (Broadway Rose Theatre Company); The Soul in One Move (Fertile Ground Festival); Eugene/Teen Angel in Grease (Broadway Rose Theatre Company) (PAMTA Best Supporting Actor nominee); Miss West Coast in Pageant (triangle productions!); Alfred Bell in the original and revival productions of a WWII Radio Christmas (Oregon Children's Theatre); and The Fire in Ablaze (Staged!) (PAMTA Best Original Musical and Best Ensemble award winners). Collin's life goal is to give everyone a safe space to escape – a place where all can be inspired to embrace and celebrate their own uniqueness, nerve, and talent.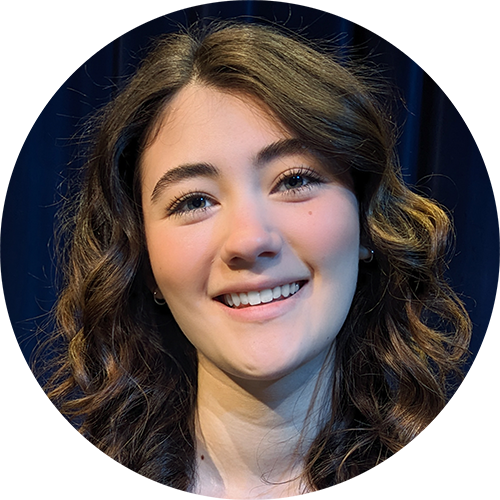 Marin Donohue as Susan
Marin Donohue is grateful to be making her Broadway Rose debut. Marin is a senior at George Fox University where she is studying theatre and music. She was recently seen as Nancy in Oliver! and sang "Learn Your Lessons Well" in Godspell at George Fox University. She is overwhelmed with gratitude for the people in her life who encourage her to wonder at the world, creating in, through, and for love. "Thank you, Lord, for possibilities."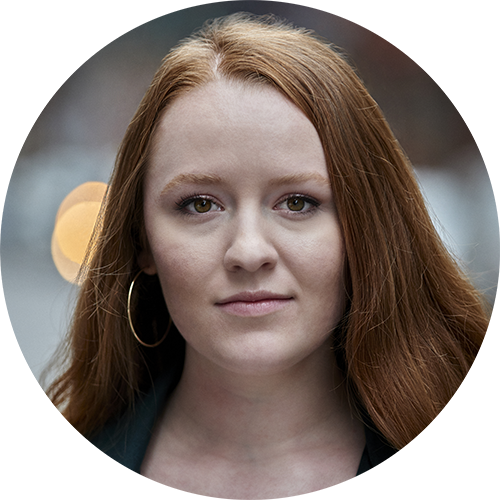 Sophie MacKay as Susie
Sophie MacKay is thrilled to be making her Broadway Rose debut! She is a born and raised Portlander who graduated from Muhlenberg College in May of 2020 with a Bachelor of Arts in Music and Theater. Favorite roles have included The Witch (Into the Woods) and Skylar (Bring It On), both at Muhlenberg, and Snow White (Snow White) and Cinderella (Cinderella) at Northwest Children's Theater. Sophie was most recently seen at Lakewood Theater Company as Emily Hobbs (Elf, The Musical), and in the past performed as Princess Ember (The Kiss) and a Reveler (Camelot). She was also honored to be a part of the Rosetta Project at the Bridgetown Conservatory of Musical Theatre. Sophie is a teaching artist with Northwest Children's Theater and owns and operates Sophie MacKay Studios, teaching vocal lessons in person and online. At the conclusion of this show, Sophie is excited to finally move to New York City to follow her dreams! sophiemackay.com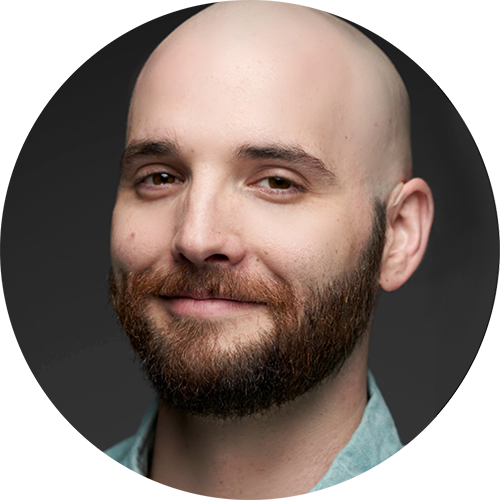 Alex Trull as Daniel
Alex Trull boasts a diverse range of performance credits spanning opera, musical theater, concert, and recital work. Alex was most recently seen in Portland Opera's production of Carmen. Favorite roles include Nemorino (L'elisir d'amore) with Opera Bend, Tony (West Side Story) with Stumptown Stages, and Colonel Fairfax (The Yeomen of the Guard) with Opera on The Bluff for which he was awarded a PAMTA for Outstanding Actor. Alex received his masters in music in vocal performance from Portland State University in 2017, where he performed Mayor Upfold in Albert Herring, Rinuccio in Gianni Schicchi, Steve in The Place Where You Started, Eisenstein in Die Fledermaus, Doctor Miracle in Doctor Miracle, and Florestan in Un mari à la porte. Mr. Trull is excited to be making his Broadway Rose debut as Daniel. Instagram: alextrulltenor.
Creative Team
Directed by
Annie Kaiser
Choreographed by
Dan Murphy
Music Direction by
Colin Shepard
Scenic Design by
Larry Larsen
Costume Design by
Marion Dawn Hazelwood
Lighting Design by
Carl Faber
Prop Design by
Emily Rusmisel
Sound Design by
Brian Karl Moen
Stage Manager
Jessica Junor
Director's Notes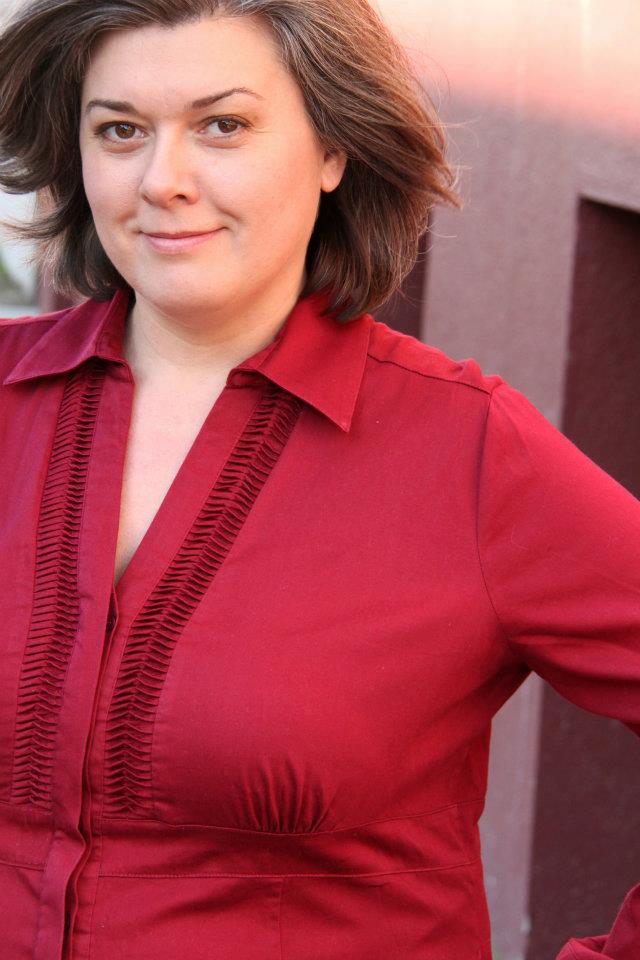 Along with the honor and pleasure of being asked to direct for Broadway Rose again, I have been gifted with an unexpected treasure by this little musical, Snapshots: A Musical Scrapbook.
I am deeply inspired by the humility of Stephen Schwartz, who was so intrigued by the premise pitched to him – a compilation of his songs used as a musical scrapbook of a couple's relationship – that he put ego and any sense of completion aside and became a part of the writing team. I am fascinated by the process of revisiting and retooling that this massively successful theatre composer went through, writing almost completely new lyrics for some of his own songs so they would better support the narrative of this production – a revue, but also a new musical – that the team was creating. It's a powerful lesson about the possibilities inherent in allowing ourselves to continue to be curious and vulnerable, no matter what we have already accomplished. Mr. Schwartz's process is also a beautiful parallel to the experience Sue and Dan have in their attic, sifting through and reexamining the memories attached to moments in time captured in a lifetime of snapshots.
The cast, crew, and creative team have thoroughly enjoyed every moment of putting this show together, and we thank you for joining us!
Annie Kaiser, Director
Meet the Artist - Larry Larsen, Scenic Designer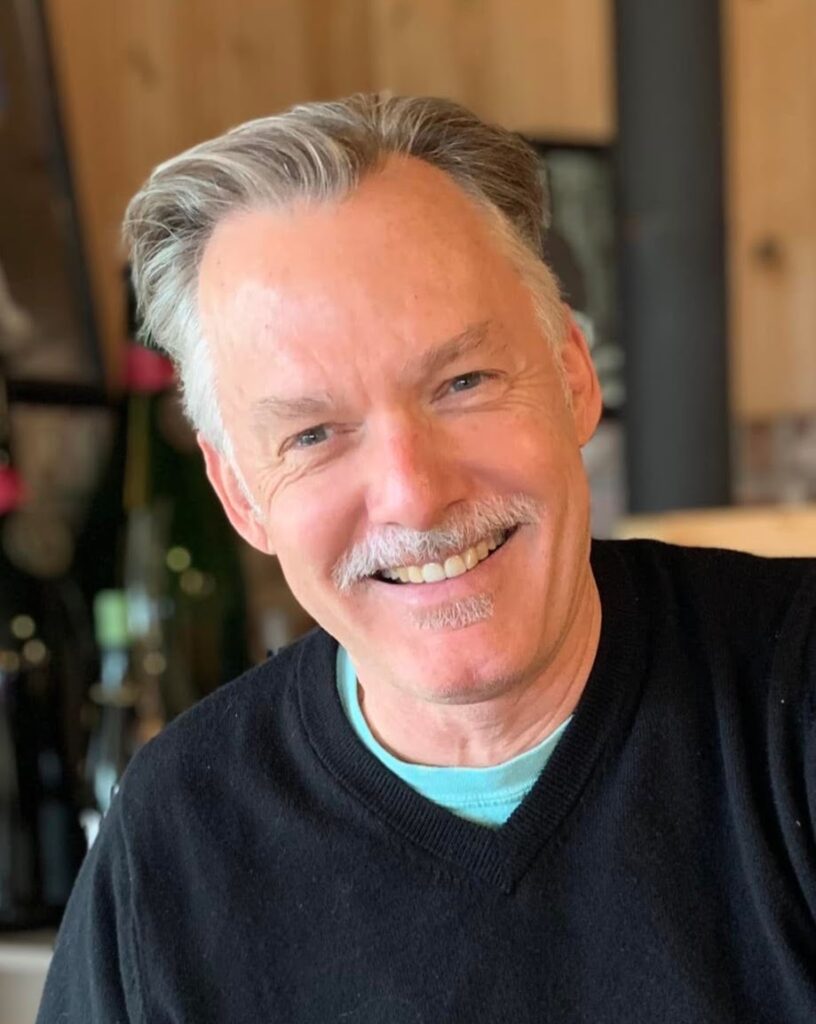 The action of Snapshots: A Musical Scrapbook takes place within just one setting, making the design of the set itself extremely important. Staffer Dani Wright sat down with Larry Larsen, the scenic designer for Snapshots, for a quick Q&A behind the scenes:
Where do you start when designing a set?
With musicals, the first question I ask is, "Where's the orchestra?" When I did Nunsense, the orchestra was on stage, part of the action. In Company, the orchestra was not visible. Another question I ask is, "What is the level of reality?" Snapshots is fairly realistic. Adrift in Macao was very silly, and so the set was a much more stylized theatrical world as opposed to a real place, real world type situation.
What's unique about Snapshots set designs?
So much of this show was based on my grandparents' attic. Half of the attic had been finished, and then the other half was left unfinished, full of old stuff, and it was kinda cool to rummage through it as a kid. So there was the idea within the set design of the unfinished component as well as the finished, as in the Snapshots story, where pieces of these peoples' lives had been left unfinished. I also think there are things that designers sometimes subconsciously do to convey the story. For example, the Snapshots set is placed at an angle to the audience. I knew it didn't want to be straight on, it needed to be off-kilter, off-centered – just like these peoples' lives were at odds, to create some sort of visual tension.
What was your most challenging set design?
There was a show I did for Third Rail Repertory Theatre years ago, a new play called Collapse about a man who had been in a car during the bridge collapse in Minneapolis over the Mississippi River. I came up with the idea that the set would be a series of fragments of imploding bridge, with the floor a series of asphalt fragments falling apart, and then two bridge structures flying apart into space. Sets like these are the most challenging because you're trying to find a balance between what is visually engaging without distracting from the story. A set should support the story without getting into the way of the actors trying to tell the story.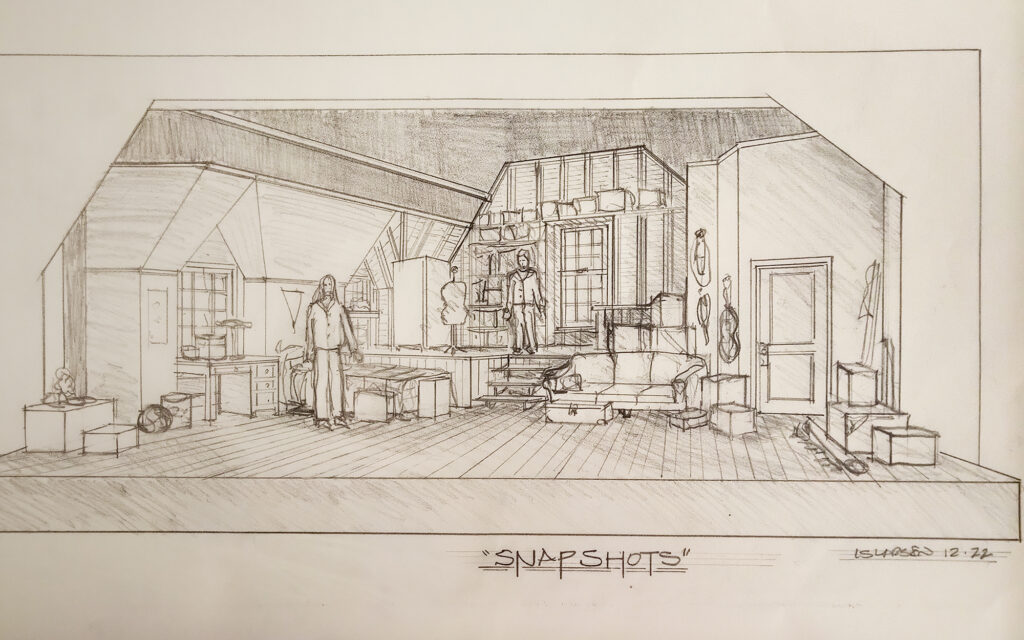 What are your dream shows?
Gypsy and Sunday in the Park with George. Gypsy is one of those classically formatted, complex musicals, where I think you'd probably have seven or eight different settings that need to transform and appear. Sunday in the Park with George is one of those really hard to do musicals that is about turning the stage into this famous oil painting by Georges Seurat.
Do you have any advice for designers starting out?
My advice is to always get to know the new young directors in town. Figure out how to build that professional network, the theater community around where you want to work. Even if you don't get that first job or end up doing something else, like building props, painting, etc. – even being involved in a small way in a production helps build those connections, which is important.
Larry Larsen's upcoming projects include set designs for The Wolves and Twelfth Night for the University of Portland, and The Magic Flute with Portland State University Opera.
Musicians
Darcy White Music Director/Piano
Amy Roesler Bass
Sean Kelleher Reeds
Zac Stowell Drums/Percussion
Alberta Barnes Violin/Viola
News & Reviews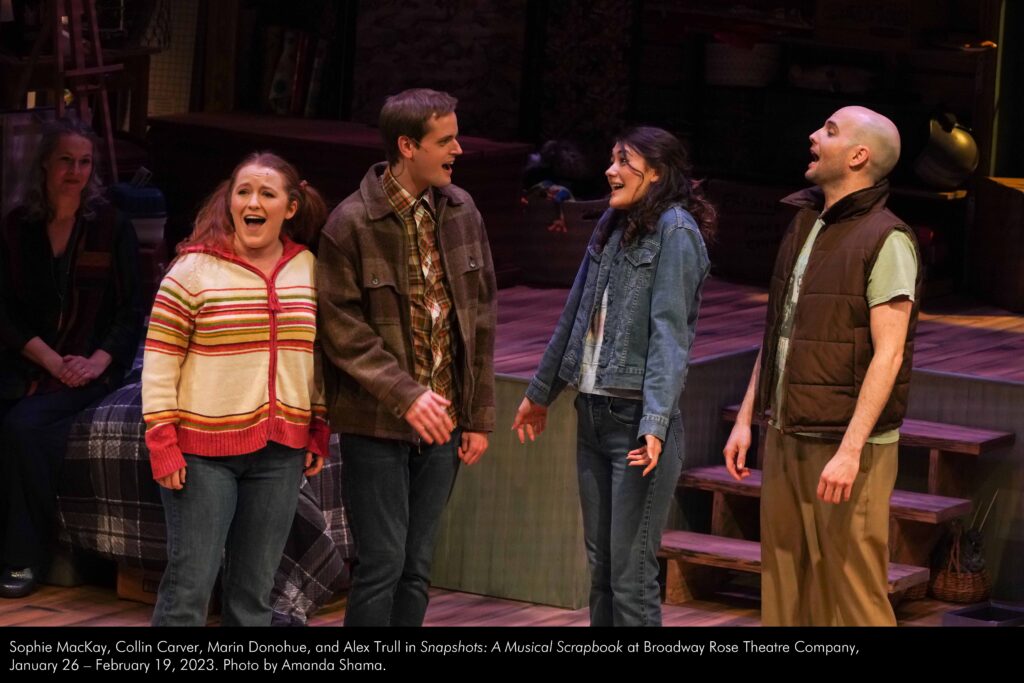 Treasures in the Attic
by Judy Nedry
Judy-Nedry.com, January 31, 2023
Old, abandoned attics are where the good stuff lives… Read more.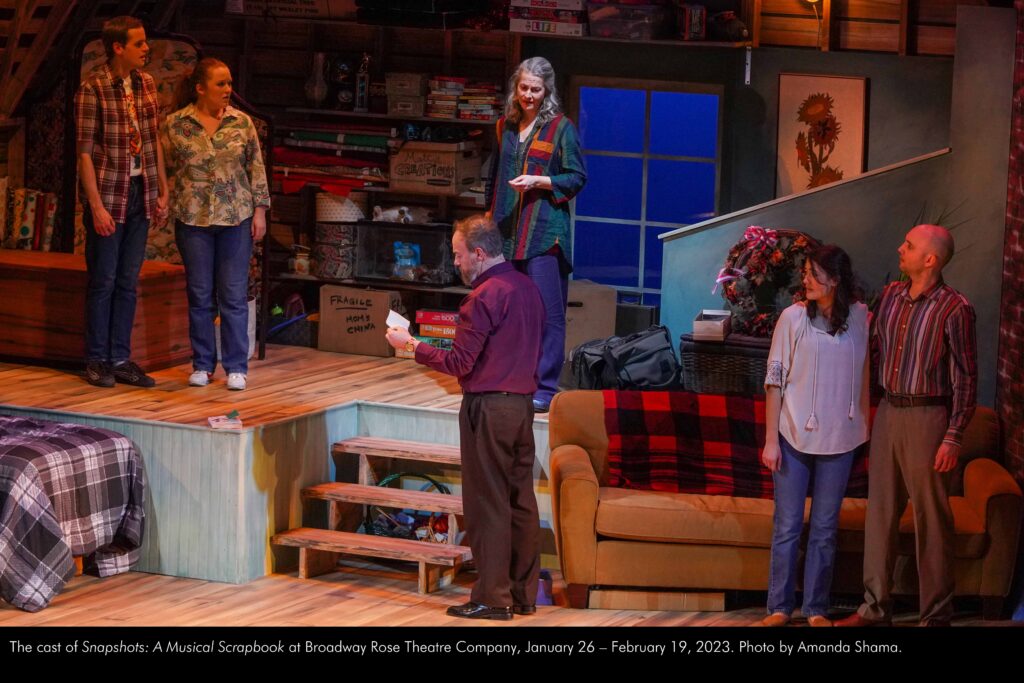 Snapshots So Much More Than a Scrapbook
by Tina Arth
Westside Theatre Reviews, January 31, 2023
To say that Snapshots: A Musical Scrapbook exceeded my expectations is a vast
understatement…  Read more.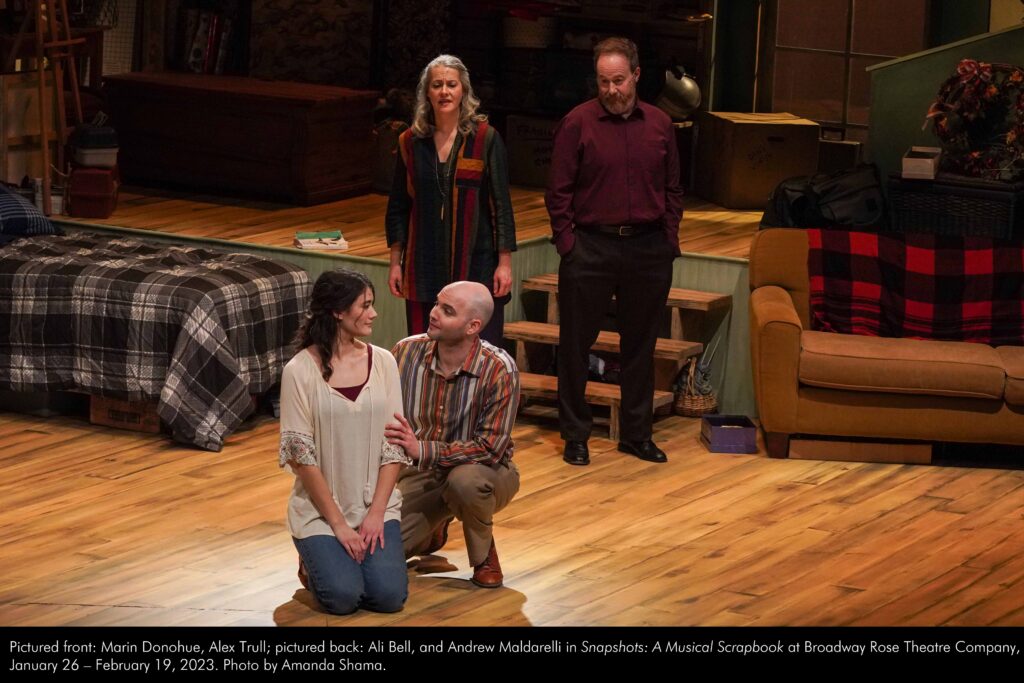 Review: SNAPSHOTS: A MUSICAL SCRAPBOOK at Broadway Rose
by Krista Garver
BroadwayWorld Portland, February 1, 2023
Directed by Annie Kaiser, this production is a sweet, funny, and poignant ride…  Read more.