Music by Richard Rodgers
Lyrics by Oscar Hammerstein
Book by Howard Lindsey and Russell Crouse
Suggested by "The Story of the Trapp Family Singers"
June 28 – July 22, 2012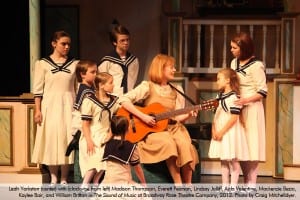 When a postulant proves too high-spirited for the religious life, she is dispatched to serve as governess for the seven children of a widowed naval captain. Her growing rapport with the youngsters, coupled with her love of music and generosity of spirit, gradually captures the heart of the stern captain, and they marry. Upon returning from their honeymoon they discover that Austria has been invaded by the Nazis, who demand the captain's immediate service. The family's narrow escape over the mountains to Switzerland on the eve of World War II provides one of the most thrilling and inspirational finales ever presented in the theater. With its unforgettable score that includes musical favorites like "My Favorite Things," "Do-Re-Mi," "Climb Ev'ry Mountain," and "The Lonely Goatherd," The Sound of Music is the perfect family treat!
Starring Leah Yorkston, Isaac Lamb, and Margie Boulé.
Performances held at the Deb Fennell Auditorium, 9000 SW Durham Road, Tigard.
Performance run time is 2 hours, 35 minutes with one 15-minute intermission.
Children under six years of age, including babes in arms, will not be admitted to this production.
Title Sponsor



Sponsored by
Pearson Financial
Media Sponsor
The Oregonian
Directed by Sharon Maroney
Musical Direction by Alan D. Lytle

Lighting Design by Gene Dent
Costumes Coordinated by Allison Dawe
Sound Design by Dan Hallberg
Leah Yorkston (Maria Rainer) is thrilled to be back at Broadway Rose Theatre Company's stage as Maria! Recent credits include Gracie! A Musical Adventure with triangle productions!, White Christmas as Betty Haynes at Lakewood Theatre Company, Joseph and the Amazing Technicolor Dreamcoat as the Narrator, G.I. Holiday Jukebox, and Evita with Broadway Rose Theatre, Heart Beatings at CoHo Theater, Wildspace a Go Go (WSAGG Productions), and the rock opera The Beggars Opera with Opera Theater of Oregon.
Isaac Lamb (Captain Georg von Trapp) was last seen at Broadway Rose in A Very Merry PDX-MAS, Ripper, and Forbidden Broadway. Isaac is a native Portlander, a graduate of Loyola Marymount University, and a proud company member of Third Rail Repertory Theatre. For several years Isaac starred in the national tour of Defending the Caveman, Broadway's longest running one-person show. Locally, Isaac has performed with Third Rail in The Lying Kind, Kiss Me Like You Mean It, and The Wonderful World of Dissocia, with Portland Center Stage in The 25th Annual Putnam County Spelling Bee, with Artists Repertory Theatre in Assassins and Vitriol & Violets (2009 Fertile Ground), with Lakewood Theatre Company in City of Angels, Into the Woods, and Lend Me a Tenor, and with Northwest Children's Theatre in Beauty and the Beast (Drammy Award, Outstanding Supporting Actor). Isaac also directs theater and film in Portland and teaches theater skills for high school and middle school students, including Broadway Rose's teen summer workshop. Isaac recently got engaged (you may have heard) to the love of his life, Amy.
Margie Boulé (The Mother Abbess) enjoyed a career as a broadcast and print journalist. In her off hours she accumulated an eclectic performing resume – from singing opera, to recording commercial jingles, to teaching and performing music improv comedy. Margie has appeared as guest soloist with many American symphonies and has performed in over 80 plays, musicals, and operas. She is delighted to play Mother Abbess in The Sound of Music; Margie made her professional acting debut playing Liesl in Los Angeles when she was 16, and later played Maria in several productions. This is Margie's third show with Broadway Rose; she previously appeared in Phantom and Getting to Know You. Recently Margie has appeared as The Wicked Witch in The Wizard of Oz, Desirée in A Little Night Music, and Princess Puffer in The Mystery of Edwin Drood. She dedicates her performance to her late mother, who always wanted Margie to be a nun.
Jami Chatalas Blanchard (Elsa Schrader) is excited to be making her Broadway Rose debut in The Sound of Music! A few favorite roles – at Portland Center Stage: Cherie in Bus Stop; at Artists Repertory Theater: Celemene in The Misanthrope; at Profile Theater: Joanne in becausehecan, Rosalie in Landscape of the Body, Catherine in Suddenly Last Summer, Nirvana in Road to Nirvana; at Lakewood Theatre: Gillian in Bell, Book and Candle; at triangle productions!: Janet in The Rocky Horror Show, female roles in The Blue Room, Tracy Ann in Sealed for Freshness; At Stumptown Stages: Sally in Reefer Madness; at Hey City: Maddy Monroe in Tony 'n' Tina's Wedding. In addition to traditional stage Jami has a love and affinity for improv and sketch comedy. Jami has a B.A. in theater and vocal performance from Portland State University.
David Sargent (Max Detweiler) is thrilled to be making his Broadway Rose debut. Originally from Southern California, he most recently appeared on the TV series CSI, and has also appeared in several feature films, including Dragnet, Number One with A Bullet, and Galaxies are Colliding. He has also done voice work for the films Platoon and The Good, The Bad, & The Ugly. On stage, David spent several years performing at The Groundlings Theater in Los Angeles, and also appeared in local productions including Sweet Charity, West Side Story, and Mame.
Lindsay Jolliff (Liesl von Trapp) is so excited to be making her Broadway Rose debut as Liesl in The Sound of Music this summer! She is currently going into her senior year at Western Oregon University where she is studying musical theater. Some of her favorite roles include Millie in Thoroughly Modern Millie at WOU, Ariel in Footloose, and her all-time favorite Le Fou in Beauty and the Beast. She would like to thank everyone at Broadway Rose for being so welcoming, her voice teacher Wendy, and her supportive family and friends.
Everett Pearson (Friedrich von Trapp) is thrilled be back at Broadway Rose Theatre Company again after appearing as one of the king's children in The King and I in 2010! His recent local credits include Colin in The Secret Garden, Leroy in The Best Christmas Pageant Ever, The Singing Christmas Tree, and Nicely Nicely in OES' Guys and Dolls production. He would like to thank Sharon and Alan for this amazing opportunity, Rick for his expert coaching, and StageCoach Theater Arts for their training and support.
Madison Thompson (Louisa von Trapp) is thrilled to make her debut at Broadway Rose Theatre Company in the role of Louisa! She has been most recently seen as Pepper in Annie, as Veruca Salt in Willy Wonka, and in El Zorrito at Northwest Children's Theater.
In her spare time she studies voice, acting and dance and loves taking master classes. She would like to thank Director Sharon Maroney and Musical Director Alan D. Lytle for this amazing opportunity, and her family for their love and support.
William Britton (Kurt von Trapp) is an 11-year-old actor who has performed at Broadway Rose as a drama camp participant in The Little Mermaid, Sleeping Beauty, Cinderella, Rumpelstiltskin Is My Name, and The Frog Prince.
He is honored to join the cast and would like to thank his friends and family for supporting him from the first singing lesson to the callback! He is currently enrolled in Southwest Charter School. "Enjoy the show!"
Kaylee Bair (Brigitta von Trapp) is excited to be part of The Sound of Music, one of her favorite musicals. She has previously appeared in Evita and Celebrate Home at Broadway Rose Theatre Company and has also participated in several school productions. Kaylee enjoys singing in her school choir and dancing with the state-winning Synergy dance team. As a level five gymnast last year, Kaylee won second place in the Oregon state gymnastics meet. When she's not busy singing, dancing, and flipping, you will usually find her with a book in hand, much like the character she plays!
Mackenzie Bezio (Marta von Trapp) is very excited to be in The Sound of Music! She will be a sixth grader at Rosemont Ridge Middle School this fall. She enjoys singing, reading, writing, hanging with friends and eating cupcakes! She has performed with Portland Opera since she was six years old, Northwest Children's Theater Kids Co., and Lakewood Theatre. She would like to thank all of her wonderful teachers at StageCoach Theater Arts School and Rob Ainsley at Portland Opera and Alan Lytle, the music director. She also thanks her family for their support and transport!
Aida Valentine (Gretl von Trapp) is seven years old and will be a second grader at Arleta Elementary School this fall. She has enjoyed playing small roles for Warner Pacific College and Franklin High School, but she is most excited about her first big role as Gretl.
She currently attends StageCoach Theatre Arts school. When she's not singing or acting you can find her eating burgers or watching Looney Toons.
Collin Carver (Rolf Gruber), 18, graduated this year from Carver Academy for the Arts. He has trained with Oregon Children's Theatre's Young Professionals program for three years. He was also on OCT's Improv Team Impulse. Collin has played many characters such as Alfred Bell in Oregon Children's Theatre's WWII Radio Christmas, Zebulon in Christian Community Theater's Joseph and the Amazing Technicolor Dreamcoat and Matt in Beaverton Civic Theater's The Fantasticks. He hopes his talent, good work ethic, character, love for entertainment and his faith will help him achieve the goal of one day being a world class entertainer.
David Brown (Franz) has been acting and dancing since the age of 11 and enjoyed a career in musical productions before taking an extended hiatus for college and parenthood.
He returned to the dance world in 2003, appearing in character roles for Oregon Ballet Theatre and Portland Festival Ballet. David returned to acting in 2010 and is delighted to be making his first appearance with Broadway Rose Theatre Company! "This one's for you, Mom."
Lalanya Gunn (Frau Schmidt) is so excited to be making her Broadway Rose debut. She was recently seen in the Fertile Ground 2012 reading of Oil Change: The Musical. Other local Credits include Beaverton NAC Is he Dead?, Bag&Baggage's Crimes of the Heart, and Third Eye Theatre's Grand Guignol 3. She holds a B.F.A. in theater arts from Niagara University, and has studied locally with Michael Mendelson of ART and Rick Lewis. Much Love to Greg for his continued support even when he's a 1,000 miles away.
Margo Schembre (Sister Berthe) recently moved to the Portland area and is excited to be performing with Broadway Rose Theatre Company!
Favorite past performances include Marian in The Music Man, Agnes in I Do! I Do!, Aldonza in Man of La Mancha, The Actress in Enter the Guardsman. Margo also enjoyed playing an assortment of wacky Gilbert & Sullivan characters, including Mad Margaret, in Ruddigore.
Catherine Bridge (Sister Margaretta) is so excited to be joining the cast of The Sound of Music in her first show at Broadway Rose. Most recently, she was seen at Lakewood in City of Angels. Other productions include CoHo's Madder Music & Stronger Wine, Classic Greek Theatre Oregon's Trojan Women, Opera Theatre Oregon's Beggar's Opera, triangle production's My First Time and Stumptown Stage's Ebenezer Ever After. Favorite productions from her years at Western Oregon University include Victor/Victoria, Songs for a New World, The Mystery of Edwin Drood and the title role in an abridged version of Bizet's Carmen. Catherine stays busy practicing massage therapy in Tigard.
Eve Bernfeld (Sister Sophia) is delighted to make her Broadway Rose debut in The Sound of Music. Most recently, she was seen in The Tripping Point at Shaking the Tree. Prior to that, she performed in Captured by Aliens with Action Adventure Theatre. Eve teaches theater around the Portland area, including at StageCoach Theatre Arts School and the Portland Playhouse. She is also an AmSAT certified teacher of the Alexander Technique. Thanks to everyone at Broadway Rose and love to Brian.
V. Spencer Page (Admiral von Schreiber) has appeared in musical comedy, comedy, drama, melodrama, Shakespeare and special event productions in Portland since 2001. On the Broadway Rose stage, he was Bratt in How to Succeed in Business Without Really Trying. He has an M.F.A. in acting, directing and advanced stage make-up from the University of Idaho. Earlier careers include Navy officer on Pacific Fleet ships during Vietnam and trial attorney. Despite being roundly booed at the Sing-A-Long-A Sound of Music event in May, he is thrilled to once again join a Broadway Rose production, knowing that he is in for a memorable experience.
Blaine Palmer (Herr Zeller) is delighted to make his debut with Broadway Rose. Blaine appears regularly on Portland stages, most recently playing nine roles in the Live On Stage! production of Spring Awakening. Other favorite stage roles include FDR in Northwest Children's Theater's Annie and Lituma in La Chunga at Miracle Theater. Film credits include this year's Gone with Amanda Seyfried. Blaine got his start in San Francisco, doing improv in clubs with the likes of Robin Williams. His wife Regina and children — Devlin, Julian and Francesca — are a few of his favorite things, and he thanks them for all their love and support.
Brian Tennison (Baron Eberfeld) is happy to return to the Broadway Rose stage. Theater credits in Portland include roles in Our Town, Party, Bingo, Cyrano de Bergerac, and Ripper. Brian was a featured performer for six summers in the Midwestern amusement parks Six Flags and Worlds of Fun, and for two years he performed aboard the Lt. Robert E. Lee Dinner Theatre. He is a graduate of the Broadcast Center in St. Louis and has worked as an on-air personality as well as provided talent for numerous radio and television commercials. Favorite roles include Stine in City of Angels, Sid in The Pajama Game, and Pharaoh in Joseph and the Amazing Technicolor Dreamcoat.
Travis Patterson (Ensemble) is thrilled to be back on the stage with Broadway Rose! Some of his prior work includes Evita, Dreamgirls, Grease, Pippin, Annie Warbucks, West Side Story, and Rent playing Steve as well as Mark during the final four performances. Travis formally worked as choreographer and cast member for The Lipz Cabaret Drag Revue in Vancouver. He has served his community holding fundraisers for multiple charities to include: Pride of the Rose Scholarship, Martha's Pantry, and Audria M. Edwards Scholarship. Travis most profoundly thanks his co-workers, friends, family, and husband Robert for their continued support.
Sharon Maroney (Director) is the co-founder and producing artistic director at Broadway Rose Theatre Company. The last production she directed for Broadway Rose was The King and I. A few other Broadway Rose musicals she's directed include Phantom, Cole, The Will Rogers Follies, Oklahoma!, Fiddler on the Roof, and Bye, Bye Birdie.
Alan D. Lytle (Musical Director) happily returns for his ninth season with Broadway Rose. Previous music direction credits for Broadway Rose include Ripper (PAMTA), The King and I, Evita, Celebrate Home (Drammy), Nite Club Confidential, Plaid Tidings (Drammy), and No Way to Treat a Lady (Drammy). Other local music direction credits with Lakewood, Pixie Dust, and JANE theater companies, including The Wizard of Oz (Drammy), Beauty and the Beast, Company (PAMTA), Into the Woods (Drammy), Ragtime, Hello Dolly! (Drammy), and Ernest in Love (Drammy). Alan sends love to his grandpa, Don Wolfe, whom he watched conduct The Sound of Music when he was about 7 years old.
Lisamarie Harrison (Choreographer) is an actress and choreographer with over 25 years on the Portland stage. On-stage roles: Rhetta Cupp in Pump Boys & Dinettes, Sue Ellen in Honky Tonk Angels (2011 PAMTA award for Outstanding Female Actor), LaVerne Andrews in Sisters of Swing and Christmas of Swing, Sister Hubert in Nunsense (Broadway Rose); Laura in Recognition (Stage One); Mazeppa in Gypsy, Lottie Ames in Mack & Mabel, Gabrielle in The Dinner Party (Lakewood Theatre); Barbarette Blade in Wild Space a Go Go; Elizabeth in El Grito del Bronx (Miracle Theatre), Alcandre in The Illusion; Hamster in wish (defunkt theatre); Kate in The Wild Party (Live On Stage); Woman 1 in Putting It Together (Salem Rep); Mae in Reefer Madness! The Musical, Rizzo in Grease, and Flaminia in Rapture, (Stumptown Stages). Choreography: Pirates of Penzance, 25th Annual Putnum County Spelling Bee (Clark College).
Thursday, June 28, 7:30 PM
PREVIEW
Friday, June 29, 7:30 PM
OPENING NIGHT
Saturday, June 30, 7:30 PM
Sunday, July 1, 2:00 PM
Thursday, July 5, 7:30 PM
Friday, July 6, 7:30 PM
Saturday, July 7, 2:00PM SOLD OUT
Saturday, July 7, 7:30 PM
Sunday, July 8, 2:00 PM
Wednesday, July 11, 7:30 PM
Thursday, July 12, 7:30 PM
Friday, July 13, 7:30 PM
Saturday, July 14, 2:00 PM
Saturday, July 14, 7:30 PM
Sunday, July 15, 2:00 PM
Wednesday, July 18, 7:30 PM
Thursday, July 19, 7:30 PM
Friday, July 20, 7:30 PM
Saturday, July 21, 2:00 PM
Saturday, July 21, 7:30 PM
Sunday, July 22, 2:00 PM SOLD OUT

Photos
BWW Reviews: Broadway Rose Theater's THE SOUND OF MUSIC a Visual Stunner with Powerhouse Talent
By Barrett Johnson
BroadwayWorld, Jul 19, 2012
The Sound Of Music remains as true to form as ever, made even more impressive by its slick direction, larger-than-life production value, and extensive cast that has talent (so close to literally!) pouring out into the aisles. Read the rest here.
The Sound of Music @ Broadway Rose Theatre Company
By Kristopher Haines
The Crippled Critic, Jul 15, 2012
The Sound of Music is an ambitious show in every respect. It begins with a haunting chant by the nuns of the abbey, which not only stands in stark contrast to the joyful tunes that follow, but it's also the first glimpse you get of the precision and synchronicity the show demands. Read the rest here.
Review: 'The Sound of Music' is tuneful, well-cast and smartly directed
By Holly Johnson
The Oregonian, Jun 30, 2012
Broadway Rose delivers the goods at the spacious Deb Fennell Auditorium in Tigard, and the show's a hit, thanks to smart direction by Sharon Maroney, fine technical work, a top-of-the-line cast and a tuneful little orchestra conducted by Alan D. Lytle. Read the rest here.
Broadway Rose hits all the right notes with a classic (Review)
By Tina Arth and Darrell Baker
Washington County Review, Jul 2, 2012
A 'flawless' Maria leads the production that boasts impressive sets and some 'unexpected' yet welcome characterizations. Read the rest here.
Art imitates life
Newly engaged Isaac Lamb shares another love story in 'Sound of Music'
By Barbara Sherman
The Times, Jun 21, 2012
While the songs from the show are familiar to many people, the story itself is well written too, according to Lamb. "It's a great story set against the backdrop of the Nazi invasion of Austria during World War II," he said. "It's such a beautiful story of life, and the kids in the show are so great and so lovable. It's so lovely to come to rehearsal and play this character. It's a lovely change of pace for me." Read the rest here.
Download the official press release here: Broadway Rose Theatre Company is Alive with the Sound of Music – 6/8/2012