My Fair Lady (2013). Photo by Craig Mitchelldyer.
My Fair Lady (2013). Photo by Craig Mitchelldyer.
Whether this is your first visit to Broadway Rose Theatre or your fiftieth, we want to ensure that you enjoy every moment. If you have any questions about tickets or our services, please call the box office at 503.620.5262 or email boxoffice@broadwayrose.org.
Arrival Time
Productions begin promptly, so please arrive at least 15 minutes early. Doors open an hour before the show, and seating begins 30 minutes before showtime. Please check show listings for performance times.
Around Town
With easy access to shopping, restaurants, entertainment, and outdoor spaces, Tigard offers many amenities for our patrons. Whether you want to plan a full day of pampering, or simply want to grab a quick bite before the show, visit our Dining and More page for some of our suggestions.
Attire
Broadway Rose requires the basics (shirt, shoes, etc.) but beyond that, come as you like and be comfortable! Casual dress is fine, so is your Sunday best. The key is to enjoy the show!
Tip: We do our best to keep the temperature comfortable, however, you may prefer to bring a wrap or dress in layers.
Box Office
The box office is located at our New Stage Theater at 12850 SW Grant Ave. in Tigard. You may purchase tickets in person or by phone at the box office by calling 503.620.5262 or purchase online at www.broadwayrose.org. Tickets cannot be held without payment. Box office hours are Monday through Friday from noon. to 6 p.m. During productions, the box office will open at the venue of your performance 90 minutes prior to curtain time.
Cameras & Recording
Photography, videography, and audio recording are strictly prohibited during performances.
Children
Children under six years of age, including babes in arms, will not be admitted to our mainstage shows. Broadway Rose mainstage productions may deal with mature themes and may not be appropriate for children. View our current content advisories here. Children of all ages are welcome at our children's theatre productions and annual Santa Sing-Along.
COVID-19 Safety Measures
Broadway Rose no longer requires patrons to provide proof of full COVID-19 vaccination or a negative test at entry. Patrons are strongly encouraged to wear masks in the theater, but it is not required. Tickets are sold up to full seating capacity without spacing between parties.
If you are a current ticket holder and are unable to attend performances with these updated policies, please contact the box office to discuss your options, including putting the value of your tickets on account for future productions or requesting a refund.
Broadway Rose Theatre is taking precautions to keep patrons, artists, and staff protected. Below are the current protocols.
Improved Air Handling System
The New Stage has MERV 13 filters installed in the auditorium HVAC unit.
An ultraviolet germicidal system, which disinfects the air with UV light, has been installed into the air vent.
Directions & Parking
Broadway Rose New Stage
12850 SW Grant Avenue
Tigard, OR 97223
The theater is about 15 minutes south of downtown Portland. Take I-5 south to exit 294, OR-99W toward Tigard/Newberg. Stay on 99W/SW Pacific Hwy for two miles. Turn right onto SW Walnut St. Make the next left onto SW Grant Ave. Go to end of block. The New Stage is on your left. Free parking is available in the theater parking lot, with additional parking at the C.F. Tigard Elementary School.
Deb Fennell Auditorium
9000 SW Durham Road
Tigard, OR 97224
The theater is about 15 minutes south of downtown Portland. Take I-5 south to exit 290 and make a right at the bottom of the ramp. Turn right at the first light onto 72nd Ave. At the second light, turn left onto Durham. Go through three lights. The Deb Fennell Auditorium is on your left. Parking is free.
Accessibility
Broadway Rose's mission is to create unparalleled musical theater experiences that invigorate audiences and enrich our communities. In addition to putting the best work possible on our stage, to us that also means making it possible for individuals to experience it as fully and comfortably as possible. Please contact us personally at 503.620.5262 if you have questions about our facilities and programs or if we can assist you in reserving accessible seating or help with other needs.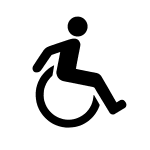 Accessible Seating
Broadway Rose Theatre Company performs in two venues, both with accessible seating: The first row of the New Stage Auditorium is at ground level and offers removable seats for patrons with wheelchairs or other mobility concerns. The Deb Fennell Auditorium includes a wide handicapped accessible aisle in the 7th row (row G) of the theater, which is at ground level to the entrances. Limited wheelchair and companion seating is available in the lower left and lower right sections of row G. Accessible rows are also available for those using walkers, canes, or who have difficulty navigating stairs. A limited number of armless chairs are available upon request. Note: all other rows require the use of stairs. Please call us at 503.620.5262 if we may assist you with reserving accessible seating.
Click here to view our seat maps.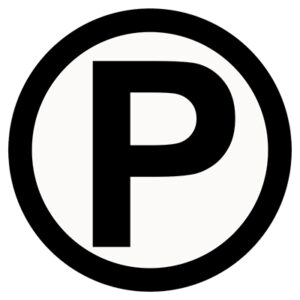 Parking
The Broadway Rose New Stage has free parking lots with dedicated accessible parking spaces. Additional parking is available next door at C.F. Tigard Elementary.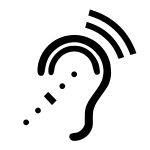 Assistive Listening Devices
For patrons with hearing loss, Broadway Rose provides Assistive Listening Devices (ALDs) with over-the-ear headphone or inductive-coil attachments. These are available, free of charge, at our Will Call desk prior to the performance and can be reserved with either a driver's license or credit card as collateral.  Reservations may be made when you purchase tickets online by requesting an ALD headset in the Notes box, or reserve by phone at 503.620.5262.


Audio Description
Broadway Rose offers an audio-described performance by request on the last Saturday matinee of each show. Please call the box office at least two weeks prior to the performance at 503.620.5262 to reserve or for additional information.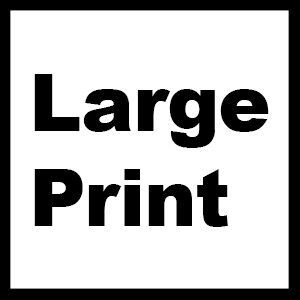 Large Print Programs
Complimentary large print programs are available at mainstage performances. Please inquire at the box office prior to the performance.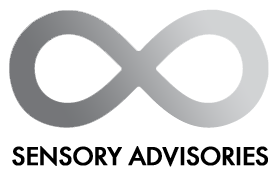 Sensory Advisories
Occasionally productions may include the use of strobe effects, sudden loud noises such as gunshots, smoke, and fog, or other sensory effects. In these cases, we post notices outside the auditorium prior to the performance.

Service Animals
Dogs that are individually trained to do work or perform tasks for people with disabilities are welcome at all Broadway Rose performances. If possible, please let us know at the time of booking so that we may ensure both you and your canine are seated comfortably.
Arts For All
Broadway Rose believes in accessible, affordable theatre for everyone. That's why we proudly join with dozens of Portland's best music, theatre, and dance groups in the "Arts for All" initiative and offer $5 tickets to current Oregon Trail Card holders. Learn more.
Food & Drinks
Refreshments such as soda and snacks are available for purchase at concessions before the performance and during intermission.
At New Stage performances we are pleased to offer wine, beer, and hot beverages. Also available at the New Stage only are reusable Broadway Rose lidded cups so that you may enjoy your beverage in the auditorium. Bottled waters purchased at concessions are also allowed in the auditorium; food and outside beverages are not permitted.
Late-Seating Policy
To cause the least amount of disruption to the performance and the other patrons, and to ensure safety, late arrivals will be seated at the first suitable pause in the performance at the discretion of the house manager. You might not be seated in your assigned seat until intermission. In some cases, late seating may not be permitted.
Lost & Found
To inquire about a lost item, please call the box office at 503.620.5262, Monday through Friday, noon to 6 p.m. or email
boxoffice@broadwayrose.org
 with the subject line "Lost & Found." Please include your name, phone number, seat location, and a description of the item. Unclaimed lost and found items are stored for three months and then donated to charity.
Patron Considerations
Patrons leaving the auditorium during the performance may not return to their seats until intermission
Use of mobile devices is not permitted during performances; turn them off before taking your seat.
Please refrain from wearing strong perfume and cologne.
Please do not talk, hum, and sing during the performance.
Open cough drop wrappers prior to the show beginning.
Disruptive audience members may be asked to leave at the discretion of house staff.
Tickets and Exchanges
You may purchase tickets online, by phone, or in person at the Broadway Rose New Stage box office. Tickets cannot be held without payment. All sales are final and non-refundable.
Ticket Exchanges
Subscribers can exchange tickets up until two hours prior to curtain time for the same production at no charge. Exchanges are based on availability. Seating upgrades may apply, and there are no refunds for downgrades in seating price.
Single ticket buyers can exchange tickets for another performance of the same show subject to a $5 per ticket exchange fee – including seat changes. Seating upgrade charges may apply, and there are no refunds for downgrades in seating price. All fees and upgrades must be collected at the time of exchange. Seating is based on availability. Please call the box office no later than 48 hours in advance to exchange your tickets.
If you're unable to attend a performance, you may donate your tickets to Broadway Rose and receive a tax-deductible receipt for your income taxes. Please let us know if you cannot use your tickets so that we may make those seats available for others.
If you lose or forget your tickets, we will be happy to reprint them at the box office the day of the show.
Subscribers who miss their performance may come to the theater and wait for standby availability for the same production. If we have room, we'll get you in.
If you can't make it to a show, please donate your tickets back to the theater for resale and receive a tax receipt. Call the box office at 503.620.5262 in advance of the performance.
Weather Policy
Broadway Rose Theatre Company is committed to not canceling a performance due to weather. In the event of performance cancellation, Broadway Rose will alert ticket holders via email and phone, as well as post a notice on the website homepage. Ticket holders will have the option of rescheduling for another performance, taking the unused tickets as a tax deduction, or requesting a gift certificate.