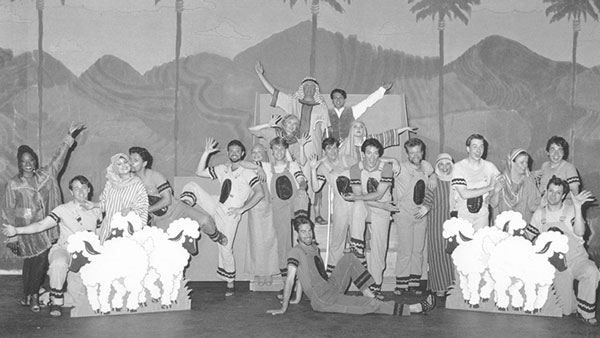 Act 1, Scene 1: 1984-1996
The Broadway Rose story began on July 11, 1984. During a summer stock production of Joseph and the Amazing Technicolor Dreamcoat in Shamokin Dam, Pennsylvania, young actors Dan Murphy (from New York) and Sharon Maroney (from Wisconsin) locked eyes across a crowded room. The rest (as they say) was history. Also in the production was Matthew Ryan (a native of Tigard, Oregon, and resident of New York), with whom Dan and Sharon became friends. Sharon had originally planned to return to Wisconsin after the show closed, but moved to New York instead, where she and Dan worked in restaurants and other classic actor side-jobs while pursuing acting careers.
The romance continued and Dan and Sharon married in 1987; their daughter Megan was born the following year. While living in Queens, New York, both Dan and Sharon found work doing summer stock theatre, but in different states. The challenge of raising Megan while living hundreds of miles apart made it painfully clear to the couple that something had to change.
Sharon and Dan shared their dilemma with Matthew and his partner (set and costume designer Joseph Morkys) and the four decided to start a summer stock theatre in Tigard, reasoning that the Portland metro area was large enough and sophisticated enough to support a professional summer theatre, yet there was none. Sharon recounts, "We always planned a professional theatre as opposed to a community theater; in professional theatre the talent, the musicians, and the technicians are paid." They envisioned a company that would enable them to have a family life as well as work professionally in the career they love.
On November 5, 1991, Broadway Rose Theatre Company was incorporated as a 501(c)(3) in Matthew's Greenwich Village apartment. Sharon's mother drew up the papers. Dan, Sharon, Matthew, and Joseph pooled their savings and came up with $21,000 to start the theatre company.
In January 1992, Dan and Matthew visited Portland to do some fundraising and investigate the potential for a theatre. They met with the superintendent of the Tigard-Tualatin School District about using the Deb Fennell auditorium (at Tigard High School) for performances. A deal was struck, and the planning began.
That summer, the founders hired eight seasoned actors and a music director from New York, and the whole bunch flew to Tigard to hold local auditions and begin rehearsals for the first season. That summer Broadway Rose produced five shows…in eight weeks…plus a children's show! The company set up temporary headquarters in the Bull Mountain home of Matthew's parents. Joseph and the Technicolor Dreamcoat opened the season on July 2. Average attendance in that first year was 32 people per performance. A $3,000 grant from the Metropolitan Arts Commission (a forerunner of the Regional Arts and Culture Council, which would itself launch in 1995) helped the fledgling company get off the ground, yet at the end of its the first season they had lost $8,700.
When the season was over, Dan, Sharon, Matthew, and Joseph returned to New York and decided going forward to produce three shows and two children's shows each summer, a model that Broadway Rose stuck to for the next decade.
By the second summer, Dan and Sharon – with another baby on the way – moved to Oregon permanently. The company opened the season with Oklahoma! and no cash—putting the entire payroll on Dan's personal credit card. The situation resolved itself as audiences picked up. By the 1994 season, audiences averaged 132 people per performance, a 313 percent increase from 1992.
In 1995, Sharon became the company's first paid employee when The Collins Foundation awarded Broadway Rose a $5,000 grant. The following year, Platt Electric Supply became Broadway Rose's first title sponsor, providing a new level of stable funding. The "administration office" was now in Dan and Sharon's kitchen and the "box office" was in their garage.
"Things got a little rocky in 1996," says general manager Dan Murphy. "We were all working so hard, and while it was rewarding, the returns were small." Matthew and Joseph decided to return to New York, but Dan and Sharon (with two kids, a tiny apartment, and hopes for a mortgage someday) dug in even harder, trusting that making Broadway Rose successful was the best way to support their family and this newfound musical theatre community.