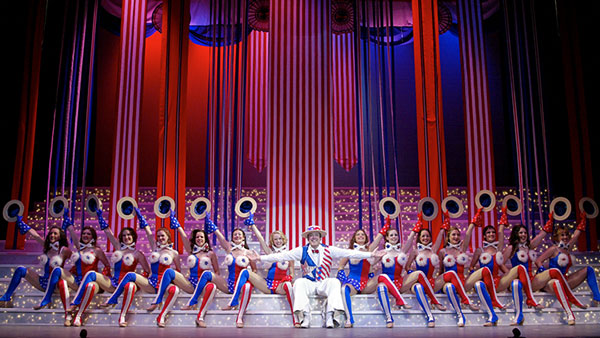 Act 1, Scene 3: 2002-2006
The first decade of Broadway Rose ended with a sense of optimism. The artistic quality was strong, the audience was growing, and the small, nimble staff was energized and ready to take on the next five years.
Although the company started out as a summer stock theatre company, there was always a desire to one day produce musicals year-round. The previous year the company added a holiday show to its schedule, and in 2002 it began a cabaret series held at Tigard Friends Community Church, a 240-seat venue. Each February, March, and April different solo artists presented songs and stories during a one-night-only event. Artists included Rick Lewis, Susannah Mars, Terry Palasz, Shirley Nanette, and Corey Brunish. The cabaret series provided additional entertainment throughout the year and kept Broadway Rose's name in the press. By the third year a second performance was added, and the series would continue through 2008.
When The Musical Theatre Company went out of business, Broadway Rose offered their subscribers left with unused tickets free tickets to their upcoming summer productions. Many people took advantage of the offer and are still Broadway Rose patrons today.
The big show set for the summer was The Will Rogers Follies. Sets and costumes from the Broadway production had been secured for the Broadway Rose production, but following 9/11 many theatres were looking to do shows with an Americana theme and a bigger theatre offered the rental company much more money for the package. The rental agreement was terminated, sending director Sharon Maroney scrambling. Another costume package was rented and local set designer Chris Whitten designed and built a massive stair unit complete with thousands of small Christmas lights to light up each step.
As ticket sales increased, the general seating policy proved to be chaotic. Patrons often arrived before the staff did to get in line to secure the best seats. There would be so many people in the lobby that you couldn't walk through and people were getting tired and knocked around. In 2003 Broadway Rose initiated assigned seating and tested the system at the holiday show. While Dan was reluctant at first, he quickly realized that it eased congestion and improved customer experience. Two new staff positions were added: a full-time position combining administrative duties with fundraising responsibilities was filled by Brisa Trinchero; and Vera Rojas joined the team as a part-time box office representative.
In 2004 the company added a fall play reading series, similar to the cabaret series, to its line-up. In the summer Broadway Rose produced a critically-acclaimed production of Jekyll & Hyde directed by Abe Reybold and staring Broadway veterans Robert Hunt, Catherine Walker, and Candace Song Donehoo, and for the first time in Broadway Rose history, Sharon and Dan were on stage together in They're Playing Our Song. Also that summer, Broadway Rose supported a workshop reading of Illyria, a new musical by local playwrights Wade Willis and Connor Kerns.
In 2005, The National Alliance of Musical Theatre awarded Broadway Rose $3,000 to support a developmental production of Ghosts of Celilo written by Marv Ross. A reading was presented that summer to 400 responsive guests. Abe Reybold was unavailable to direct Chicago that summer, but recommended his colleague Peggy Taphorn, who would not only direct and choreograph the show, but would star in it as well (and receive a Drammy Award for her performance!). The musical revue, The Melody Lingers on: The Songs of Irving Berlin, swept the Drammy Awards, including an award for Outstanding Production.
The desire to become a year-round theatre grew stronger. In 2004 the Charles F. Tigard Elementary School was demolished so a new school could be built on the site (on Grant Avenue); the separate cafeteria building, which contained a stage, was left standing, although all utilities were cut off. The following year, Susan Stark-Haydon, community relations manager for the Tigard-Tualatin School District, brought the abandoned cafeteria to Broadway Rose's attention, suggesting that with renovation, it might make a nice theater. In December, the school board gave Broadway Rose a green light to explore the opportunity.
While the possibility of producing year-round theatre was becoming a reality, Artistic Director Sharon Maroney knew much work needed to be done before taking on such a big project, including increasing the size of the staff and the Board of Directors. In 2006, Brisa Trinchero, after a short absence, returned to the company as the development director, and Quimby Lombardozzi was hired as the development manager and grant writer. In addition, an administrative position was added. In December, Broadway Rose approached the Tigard/Tualatin School District with a proposal to renovate the abandoned cafeteria building and turn it into a theater, and the school board approved. Fundraising began, but the campaign would be "silent" (unpromoted) until summer 2007. A five-year strategic plan and a capital campaign plan was developed and the staff and board were filled with excitement and anticipation for Broadway Rose's future.