A Musical Comedy

Music by Peter Melnick
Book and Lyrics by Christopher Durang
September 24 – October 25, 2015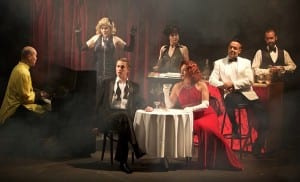 Set in 1952 in Macao, China, Adrift in Macao is a side-splitting parody of classic film noir. The usual suspects are all here: Laureena, the slinkily dressed dame; Rick Shaw, the cynical casino owner; Mitch, the American framed for murder; even the mysterious villain McGuffin – and everyone is looking to leave the past behind. With a "drop-dead funny book and shamefully silly lyrics by Christopher Durang and lethally catchy music by Peter Melnick" (BroadwayWorld.com), Adrift In Macao playfully reminds us that sometimes laughter is the best escape of all.
Performances held at the Broadway Rose New Stage, 12850 SW Grant Ave., Tigard.
Performance run time is approximately 1 hour and 35 minutes. There is no intermission.
Directed by Isaac Lamb
Musical Direction by Mont Chris Hubbard
Choreography by Dan Murphy
Scenic Design by Larry Larsen
Costume Design by Grace O'Malley
Lighting Design by Phil McBeth
Assistant Lighting Design Chynna Sing
Sound Design by Elizabeth Wyatt
Properties Design by Kendra Comerford
Wig Design by Jane Holmes
Stage Manager Jessica Junor
PAM MAHON (Lureena) is thrilled to back on the Broadway Rose stage. A few of you might remember her from way back as Ronda (no H) from Have a Nice Day! Other Portland credits include: Madame de la Grande Bouche in Beauty and the Beast, Wicked Witch of the West in The Wizard of Oz, Brooke Wyndham in Legally Blonde, The Musical (Pixie Dust Productions); Mazeppa in Gypsy (Portland Center Stage); Susan in [title of show] (triangle productions!); Mary Bland in Eating Raoul (Live On Stage); Claire Ganz in Rumors, Donna/Oolie in City of Angels, Carmen in Sweet Charity, Mother in Ragtime, Baker's Wife in Into the Woods, Pam in The Full Monty, Aldonza in Man of La Mancha (Lakewood Theatre Company); young boy in Jenufa, Chocholka/Jay in The Cunning Little Vixen, Papagena in The Magic Flute, Nurse Maid in Street Scene (Portland Opera). Miss Mahon performs with the Oregon Symphony in the Kid Concerts series and the Kinderkonzert Program.
MICHAEL MORROW HAMMACK (Mitch) is excited to be making his debut with Broadway Rose Theatre. He was last seen as Fabrizzio in The Light in the Piazza with Portland Playhouse. Just before returning home to Portland, Michael created the role of Telemachus in the world premiere of Crown of Shadows: The Wake of Odysseus at Roundhouse Theatre in Washington, DC. Favorite roles include Monty in Violet, Gayman in The Lucky Chance, Tim in Suburbia, and Peter in Theatreworks USA's national tour of The Lion, the Witch, and the Wardrobe. He holds a B.F.A in Musical Theatre from Webster University's Conservatory of Theatre Arts. He would like to thank his parents, Diane and Fred, sister Meghan, and wife Caroline for their never ending love and support. Michael is a proud member of Actors' Equity.
GENE CHIN (Tempura) is thrilled to be making his Broadway Rose and Portland-area debut. Born and raised in Malaysia, but an Oregonian since the '90s, he was most recently seen onstage as Marcus Lycus (A Funny Thing Happened…Forum). Theatre credits include: Tom Collins (Rent), Dr. Madden/ Dr. Fine (Next to Normal), Carl-Magnus (A Little Night Music), Georges (La Cage aux Folles), The Baker (Into the Woods) and Benjamin Stone (Follies); opera credits include: Papageno (The Magic Flute), Aeneas (Dido and Aeneas), Melchior (Amahl and the Night Visitors), Falke (Die Fledermaus), Almaviva (The Marriage of Figaro) and Sam (Trouble in Tahiti); with: Eugene Opera, Cascadia Concert Opera, Oregon Contemporary Theatre, Very Little Theatre of Eugene, Actor's Cabaret of Eugene, and The Shedd Institute. Offstage, Gene teaches voice privately and as adjunct voice faculty at Lane Community College and the University of Oregon.
DANIELLE WEATHERS (Corinna) is honored to be working with such a wonderful cast and creative team during her debut with Broadway Rose. Some favorite previous stage credits include Bus Stop and Tartuffe – Born Again (Broadway Understudy, Circle in the Square Theatre), The Country Wife and Julius Caesar (Shakespeare Theatre of New Jersey), Much Ado About Nothing (Hamptons Shakespeare Festival), The Trojan Women and Prometheus Bound (Lucky Devil Theatre Company), Oedipus (American Stage Company), and 110 in the Shade (Stumptown Stages). Film/TV: Zilla and Zoe (Independent Film), Grimm (NBC). Danielle is a graduate of the Circle in the Square Professional Theatre School and founder of The Reading Parlor. Huge love and thanks to her amazingly supportive husband Tim and the kids, her mom, Louanne; Kyleigh, Carissa, Mary, Sharon and Dan, Isaac, and Mont Chris.
GARY WAYNE CASH (Rick Shaw) is excited to be returning to Broadway Rose after 20 years! He has worked over 30 years with nearly every musical theatre company in Portland. Highlights in his career include Anatoly in Chess, Bobby in Company, and Jerry in Sugar with Lakewood Theatre Company and George in She Loves Me with Musical Theatre Company; all were Drammy nominated performances earning Mr. Cash two awards for Outstanding Actor in a Musical. In addition he has received a total of five OTAS Awards for his work. Gary also works professionally in television and print. Mr. Cash spent two years as the "face" of Spirit Mountain Casino both in print and television. He has been seen on TNT in the series Leverage, on ABC in Final Witness, and on NBC's Grimm. Toss in entertaining on cruise ships, singing with the Oregon Symphony Pops, and even the National Anthem at PGE Park ball games, but being onstage in live theatre on a Portland stage is his idea of a perfect place to be. Mr. Cash, like most actors, has worn a few other professional hats in addition to his acting. He worked 10 years as a high school theatre teacher, followed by 7 years as a MH therapist, and now owns a bed & breakfast and cares for his father.
JOEY CÔTÉ (Joe/Trenchcoat Man) is delighted to be a part of Adrift in Macao! Previous appearances with Broadway Rose include Dopey in Snow White, Troubadour in Cinderella, Ewart Dunlop in The Music Man, Man 1 in The World Goes 'Round, and most recently as Ali Hakim in Oklahoma! Recent performances in the area include Dad/Booger in Ivy+Bean (Oregon Children's Theater), Francis in La Cage aux Folles (Pixie Dust Productions), Ensemble in Spamalot (Lakewood Theatre Company), Ensemble in Storefront Review: The Babes are Back (triangle productions!) and LeFou in Disney's Beauty and the Beast (Pixie Dust Productions). Joey is excited to be a part of this production with such a wonderful group of performers. Thank you for supporting the beauty and art of live theatre.
OLIVIA SHIMKUS (Daisy/Trenchcoat Woman) returns to Broadway Rose for the second time. Past Portland theatrical credits include roles at Lakewood Theatre Company (Karen Brown in Unnecessary Farce and Annabella/Margaret/Pamela in The 39 Steps), Broadway Rose (Long Liz in Ripper), the 2014 Fertile Ground Festival (Dear Momma), Northwest Children's Theatre (Willy Wonka, Seussical), The Magenta Theater (Illona Ritter in She Loves Me), Portland Actors Ensemble (Shakespeare in Song and Pericles), and the Portland Revels. Film credits include numerous local commercials, voiceovers, and independent film projects. Graduating from Indiana University with concentrations in Opera Performance and Theatre, she would like to thank her husband, Jonathan, for his constant support and encouragement.
Band:
Mont Chris Hubbard, Piano
Lee Elderton, Reeds
Rob Fishel, Synthesizer
Alex Geffel, Drums
Amy Roesler, Bass
Thursday, September 24, 7:30 PM PREVIEW Limited availability
Friday, September 25, 7:30 PM OPENING NIGHT
Saturday, September 26, 7:30 PM
Sunday, September 27, 2:00 PM Limited availability
Thursday, October 1, 7:30 Limited availability
Friday, October 2, 7:30 PM
Saturday, October 3, 2:00 PM – Post-show talk-back*
Saturday, October 3, 7:30 PM
Sunday, October 4, 2:00 PM SOLD OUT
Thursday, October 8, 7:30 PM
Friday, October 9, 7:30 PM
Saturday, October 10, 2:00 PM
Saturday, October 10, 7:30 PM
Sunday, October 11, 2:00 PM Limited availability
Thursday, October 15, 7:30 PM Limited availability
Friday, October 16, 7:30 PM
Saturday, October 17, 2:00 PM – Audio description available
Saturday, October 17, 7:30 PM Limited availability
Sunday, October 18, 2:00 PM Limited availability
Thursday, October 22, 7:30 PM
Friday, October 23, 7:30 PM
Saturday, October 24, 2:00 PM
Saturday, October 24, 7:30 PM
Sunday, October 25, 2:00 PM
* Talk-backs are free and open to the public. They begin immediately following the first Saturday matinee performance of the mainstage production, and are held in the theater. You do not have to attend the Broadway Rose production in order to attend the talk-back.
Photos
'Adrift in Macao' sends up film noir with Christopher Durang silliness (Review)
By Holly Johnson
Oregon Music News, Oct. 1, 2015
"Macao" is a delicious combo of brilliant silliness, satire and film-noir nostalgia, thanks to the grand lyrics and hilarious script by the high priest of the outrageously silly and absurd–Christopher Durang…Under Isaac Lamb's able direction, the 95-minute musical (sans intermission) keeps us doubled over with laughter...Read more.

Adrift in Macao (Review)
By Dennis Sparks
Theatre Reviews by Dennis Sparks, Sep. 29, 2015
The musical talent and acting is always first-rate at this theatre. Mahon as the Rita Hayworth type of leading lady, is just great in look and voice. Hammock is also in fine voice for the handsome leading man, ala Robert Montgomery. Cash is always a stand-out in a show and he does well as the chiseled-face, Bogart-type as the anti-hero...Read more.
Adrift in Macao (Review)
By Tina Arth
Westside Theatre Reviews, Sep. 28, 2015
The sets, costumes, lighting, choreography, and music set the stage for an unashamedly campy homage to film noir. Director Isaac Lamb and his cast embrace the genre's stereotypes with typical Broadway Rose panache and an enthusiastic embrace of the absurd reminiscent of Young Frankenstein, Airplane, or the occasional episode of American Dad!..Read more.
Adrift in Macao at Broadway Rose Theatre (Review)
By Kristopher Haines
The Crippled Critic, Sep. 27, 2015
"Adrift in Macao" struck as what it might be like had the writers of "Airplane!" penned a musical…Read more.
Adrift, but funny
By Barbara Sherman
Beaverton Valley Times, Sep. 25, 2015
…Broadway Rose's next musical, "Adrift in Macao," is a parody of film noir movies, and probably no one typifies a film noir character better than Pam Mahon — she plays the sultry and slinky nightclub chanteuse Lureena who sings for her supper in a 1952 nightclub in China...Read more.
View the official press release: Broadway Rose Theatre Presents A Musical Comedy Mystery – 8/27/15 (PDF)
BACKGROUND INFORMATION
About the writer:
Durang Durang: A Dialogue with the 'Adrift in Macao' Auteur
By Adrienne Onofri
BroadwayWorld, Feb. 19, 2007
For the better part of three decades now, Christopher Durang has been off-Broadway's reigning king of comedy…Durang discussed show business and the various facets of his career, along with its controversies, inspirations and disappointments, in an interview with BWW shortly before Macao's opening. Read more.
About the composer:
Peter Melnick: Drifting from Macao to Off-Broadway
By Maya Cantu
BroadwayWorld, Feb. 10, 2007
Durang and Melnick (who is the son of a film producer) have penned a musical filled with the hard-boiled detectives and soft-hearted dames of classic '40s and '50s noir – and packed with considerably more laughs...Read more.