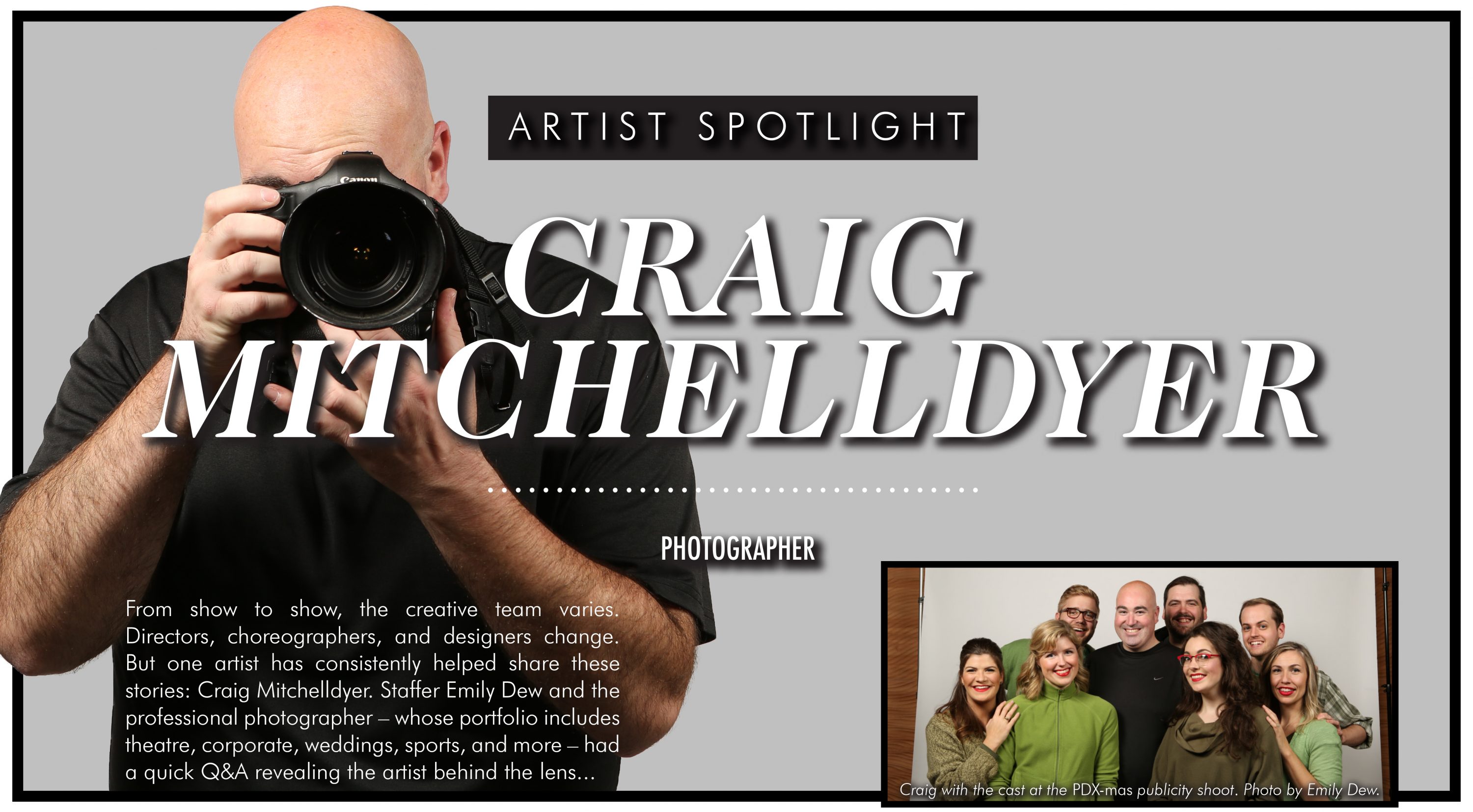 How did you get your start as a professional photographer?
I started my career at Pamplin Media (Tigard-Tualatin Times, Beaverton Valley Times, etc.), mainly shooting sports but also other news and features. That's how I met Alan [Anderson, marketing director for Broadway Rose] too.
You've been capturing our shows since 2002. How has your photography evolved since then?
Has it really been that long?! Wow. Certainly a lot has changed from a technology standpoint, but also a lot has remained the same. I think my approach hasn't changed too much, except now the images get out faster than ever (like instant Twitter pics) and are used in more and more places.
You do a lot of sports photography, such as for the Portland Trailblazers and the Portland Timbers. How does theatre compare?
In a way, photographing a soccer game and a theatre performance are very similar. You have to capture action and emotion and tell the story of the game (or in this case, the show). They each can have challenges with lighting and fast action. I love doing both.
What unique challenges does performance photography present?
The biggest problem when shooting shows is the low levels of light. Also, trying to show in a single image the great sets and details of a show can be tough too. I always try to shoot that one image that lets the viewer know what the show is all about.
favorite show to photograph?
My favorite shows to photograph are ones with very cool lighting and lots of emotion. I'm a sucker for the classic musicals. I liked The Sound of Music – I was in that show when I was in high school. A lot of people don't know that about me, but I was a big Thespian back in the day. Then I started working on lighting for The Music Man and I really loved working the light board and setting lights and programming lighting cues. I credit theatre lighting with really sparking my love for lighting in photography.
You photograph most of our publicity images – what was especially fun?
They are all fun! Shooting the promo photos is my favorite thing. The actors are always so creative and bring a nice energy, and collaborating with Emily and Alan to bring an idea to a poster and promo materials is a blast. A couple that stand out though: The World Goes Round where we shot everyone with some cool lighting in different backstage setups. The Spelling Bee promo shoot was a lot of fun and I loved how those turned out. Ripper too – I liked how we lit those promos. And Always…Patsy Cline.
Most challenging shoot?
Lucky Stiff. We brought a dog and were trying to shoot the dog and the guys together. And the Oklahoma! shoot where we needed to make Tigard at noon on a summer day look like a wheat field in Oklahoma.
You're charged with recording some pretty dramatic moments. Do you ever get emotional behind the lens?
Yes, often. I'm such a crybaby. My wife and kids make fun of me all the time. I get teary eyed at every wedding I shoot during the father-daughter dances. I cry at commercials. It's a problem.
This will be your third time photographing PDX-mas. What will you be looking for this time?
It's a fun show; a nice way to get into the holiday spirit. I'll approach it like I do all the shows and look for the emotion and a way to say "Hey! It's CHRISTMAS! Come to the show and get in the spirit!"
---
Craig Mitchelldyer has photographed the majority of Broadway Rose productions and publicity images since 2002. Upcoming projects include Portland Trailblazer games and Broadway Rose's productions of Company and Beehive.
The 25th Annual Putnam County Spelling Bee, 2016
The World Goes Round, 2015