You're A Good Man, Charlie Brown • July 7 – 31, 2022
Charlie Brown, Snoopy, and the Peanuts gang explore life's great questions as they play baseball, struggle with homework, swoon over crushes, and celebrate the joys of friendship. Based on the beloved Charles Schulz comic strip, this award-winning musical has delighted audiences of all ages with its charm, wit, and heart; inspiring several national tours, television productions, and a Broadway revival.
Based on The Comic Strip "Peanuts" by Charles M. Schulz
Book, Music and Lyrics by Clark Gesner
Additional Dialogue by Michael Mayar
Additional Music and Lyrics by Andrew Lippa
Run time is approximately 2 hours, including one 15-minute intermission.
Performances held at the Broadway Rose New Stage,
12850 SW Grant Avenue, Tigard, OR
Show Dates
Thu.,  Jul. 7, 7:30 p.m. P
Fri., Jul. 8, 7:30 p.m. O
Sat., Jul. 9, 2:00 p.m. S
Sat., Jul. 9, 7:30 p.m.
Sun., Jul. 10, 2:00 p.m. L
Wed., Jul. 13, 7:30 p.m.
Thu., Jul. 14, 7:30 p.m.
Fri., Jul. 15, 7:30 p.m.
Sat., Jul. 16, 2:00 p.m.* L
Sat., Jul. 16, 7:30 p.m.
Sun., Jul. 17, 2:00 p.m. S
Thu., Jul. 21, 7:30 p.m. L
Fri., Jul. 22, 7:30 p.m.
Sat., Jul. 23, 2:00 p.m.
Sat., Jul. 23, 7:30 p.m.
Sun., Jul. 24, 2:00 p.m. L
Thu., Jul. 28, 7:30 p.m.
Fri., Jul. 29, 7:30 p.m.
Sat., Jul. 30, 2:00 p.m.
Sat., Jul. 30, 7:30 p.m.
Sun., Jul. 31, 2:00 p.m. L
P – Preview performance
O – Opening night
* – post-show talkback
° – audio description available
L – limited availability
S – sold out
Cast

James Sharinghousen as Charlie Brown
James is honored to be back on stage for the first time since 2019 with Broadway Rose. He recently designed props for A Christmas Carol, the Musical and Honky Tonk Laundry with Broadway Rose, and is the new technical director for Scaregrounds PDX, a commercial haunted attraction at Oaks Park. When not on stage or being spooky, James has spent the last few years as a coordinator for the art department on the stop motion feature film Pinocchio for Netflix and Shadow Machine.

Sarah Aldrich as Lucy van Pelt
Sarah is an actor and director from Portland, Oregon and this is her first production with Broadway Rose. Last summer she adapted and directed a production of Macbeth with original music by Nathaniel Rodrigues. You may have seen her performing Shakespeare with Experience Theater Project or Portland Actors Ensemble, but most recently she had the privilege of playing Mollie in Pentacle Theatre's production of The Mousetrap.

Kimo Camat as Snoopy
Kimo is thrilled that You're a Good Man, Charlie Brown is his first show at Broadway Rose. Kimo is a Portland native and studied drama and theatre at University of Portland. Some of his favorite past shows are Cabaret at Fuse Theatre Ensemble, Cinderella at Northwest Children's Theatre, and American Idiot at triangle productions! Most recently he was on stage as a stripping cowboy in Bella: An American Tall Tale at Portland Playhouse. When not on stage or at work, Kimo enjoys adventuring around the Pacific Northwest and adding more plant babies to his collection.

Michael Hammerstrom as Linus van Pelt
Michael (he/him) is thrilled to be summering at Broadway Rose with the Peanuts gang, having just performed in this year's gala. Credits include: Babes In Toyland (Lincoln Center, New York City), Joseph in Joseph and the Amazing Technicolor Dreamcoat, and benefit concerts of Pippin and The Secret Garden on Broadway. Michael grew up in Beaverton, works at Oregon Children's Theatre, performs regularly with Portland Gay Men's Chorus, and is an established cabaret artist. He is a board member of Theatre for Young Audiences/USA and Bridging Voices, Portland's Queer/Straight Alliance Youth Chorus. Catch him in the upcoming feature film Showing Up, starring Michelle Williams. Michael holds a B.F.A. in musical theatre from The Boston Conservatory. MichaelHammerstrom.com

Jason Hays as Schroeder
Jason is originally from Austin, Texas and moved to Portland 10 years ago. He is a company member at Curious Comedy Theatre where he performs regularly in Showdown, their flagship improv show. He is also a part of Filbert, which has traveled to festivals around the globe. A few of his favorite stage credits include Pseudolus in A Funny Thing Happened on the Way to the Forum, Sir Evelyn in Anything Goes, and Orin in Little Shop of Horrors. Jason spends his days as a technical writer, a husband, and a parent.

Camille Trinka as Sally Brown
Camille is overjoyed to be playing Sally Brown in You're A Good Man, Charlie Brown at Broadway Rose Theatre Company! She previously appeared at Broadway Rose in Oklahoma!, The King and I, and The Frog Prince. Most recently she was seen as Jovie in Elf The Musical at Lakewood Theatre Company. Favorite roles include Mrs. Wormwood in Matilda the Musical at Northwest Children's Theater and Elle Woods in Legally Blonde at The University of the Arts. Camille holds a B.F.A. in musical theatre from The University of the Arts, Philadelphia. She has been teaching at Northwest Children's Theater for many years and recently directed and choreographed Riverdale Grade School's spring musical Frozen JR.
Creative Team
Directed and
Choreographed by
Dan Murphy

Music Direction by
Darcy White
Set Design by
Sean O'Skea
Costume Design by
Janelle Sutton
Lighting Design by
Kristeen Willis
Prop Design by
Kyra Sanford
Sound Design by
Brian Karl Moen
Stage Manager
Jessica Junor
Musicians
Darcy White Music Director/Piano
Amy Roesler Bass
Sean Kelleher Reeds
Zac Stowell Drums/Percussion
Alberta Barnes Violin/Viola
Midday Cabaret
Our Midday Cabaret: CAST EDITION with James Sharinghousen and Sarah Aldrich from You're a Good Man, Charlie Brown, took place live on set on July 13, 2022!
News, Reviews, & Buzz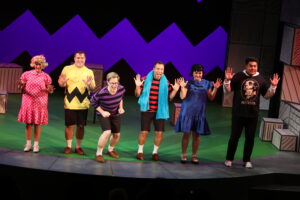 Comic Strip Comes Alive!
by Judy Nedry
Judy-Nedry.com, July 13, 2022
Ah, the troubles that bedevil 6-year-olds–learning to fly a kite, playing baseball, falling love with a little red-headed girl. We may laugh, but these are just a few of the issues troubling Charlie Brown and the rest of the Peanuts gang in You're A Good Man, Charlie Brown… Read more.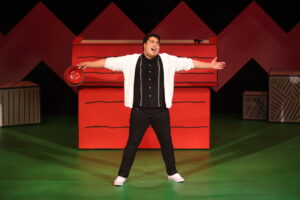 You're A Good Show, Charlie Brown!
by Tina Arth
Westside Theatre Reviews, July 13, 2022
You're A Good Man, Charlie Brown is perfect summer fare – light, but not empty; fun, but not silly; childlike, but not childish – just like Charles Schulz's iconic 17,897 original Peanuts comic strips.  Read more.