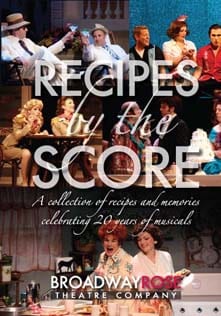 Support Broadway Rose and sample a huge assortment of recipes (or try every one!) when you purchase the Recipes by the Score cookbook from The Broadway Rose Theatre Guild. Peppered with fun anecdotes from actors, directors, staff, and more, this hardcover cookbook will give you a taste of the past 19 seasons of professional musical theater at Broadway Rose!
Recipes include: Stilton tart with cranberry chutney, African chicken peanut soup, smoked trout salad, shrimp mosca, Southern Comfort cake, and Mr. Theissen's killer voice-restore tea!
$15 per book
Available for purchase online, in the lobby at performances, or by calling the box office at 503.620.5262.
(A $3.50 shipping charge will apply for online and phone orders.)
Order Recipes by the Score online.
Proceeds benefit live musical theater experiences at Broadway Rose Theatre Company, a 501(c) nonprofit.