Gypsy • The mother of all musicals 
August 3 – 20, 2017
Based on the 1957 memoirs of world-famous striptease artist Gypsy Rose Lee, Gypsy begins at the end of the vaudeville era as overbearing stage mother Rose carts young daughters June and Louise (the young Lee) throughout the country, performing in fading venues for dwindling audiences. Rose's desperate desire for fame soon pushes the family to its limits, unraveling relationships, unveiling a new star, and revealing the raw power of ambition laid bare.

With six Broadway productions and two film adaptations, Gypsy has transfixed and astounded audiences for generations, holding its place among the greatest of all American musicals.
Performance runtime is approximately 3 hours with one 15-minute intermission.
Starring Broadway Rose co-founders SHARON MARONEY (Mama Rose) and DAN MURPHY (Herbie).
Parental guidance suggested.
Book by ARTHUR LAURENTS
Music by JULE STYNE
Lyrics by STEPHEN SONDHEIM
Suggested by memoirs of GYPSY ROSE LEE
Original Production by DAVID MERRICK and LELAND HAYWARD
Entire production originally directed and choreographed by JEROME ROBBINS
Performances held at the Deb Fennell Auditorium, 9000 SW Durham Rd., Tigard, OR 97224

Show Sponsor


[masterslider id="8″]
---
[masterslider id="9″]
Show Dates
Thursday, August 3, 7:30 PM
PREVIEW
—
Limited Availability
Friday, August 4, 7:30 PM
OPENING NIGHT

Saturday, August 5, 2:00 PM
—
SOLD OUT
Saturday, August 5, 7:30 PM
Sunday, August 6, 2:00 PM—
Limited Availability
Thursday, August 10, 7:30 PM
Friday, August 11, 7:30 PM
Saturday, August 12, 2:00 PM—Post-show talk back*
Saturday, August 12 7:30 PM
Sunday, August 13, 2:00 PM—Limited Availability
Thursday, August 17, 7:30 PM—SOLD OUT
Friday, August 18, 7:30 PM
Saturday, August 19, 2:00 PM– Audio description available
Saturday, August 19, 7:30 PM
Sunday, August 20, 2:00 PM
*Talk-backs are free and open to the public. They begin immediately following the first Saturday matinee performance of the mainstage production, and are held in the theater. You do not have to attend the Broadway Rose production in order to attend the talk-back.
Creative
Directed by Annie Kaiser
Music Direction by Jeffrey Childs
Choreography by Maria Tucker
Set Design by Gene Dent
Lighting Design by Gene Dent
Costume Design by Darrin J. Pufall
Prop Supervision by Emily Wilken
Sound Design by Brian K. Moen
Wig Design by Jane Holmes
Stage Manager Kristen Mun
Musicians
Conductor, Keyboard Jeffrey Childs
Reeds Meika Bruggeman, Alicia Charlton, and Marc Grafe
Violin Amy Roesler
French Horn Wendy Peebles
Trumpet Levis Dragulin and John Kim
Trombone Justin Canfield
Bass Will Amend
Percussion Alex Geffel
News, Reviews, and Buzz
Last week to see 'Gypsy' at Broadway Rose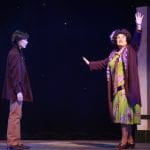 by Judy Nedry
JudyNedry.com
, Aug.14, 2017
Sharon Maroney gives a tour de force performance of an increasingly driven, narcissistic, frustrated woman who never gives up. Rather, she keeps bouncing back for more, dragging her hapless children and Herbie with her
…
Read more.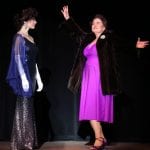 'Gypsy' will entertain you with its tribute to family and showbiz
by Lee Williams
The Oregonian/OregonLive, Aug. 9, 2017
A mighty musical tribute honoring perseverance, family, resourcefulness and that elusive style of showmanship that leaves 'em wanting more…Read more.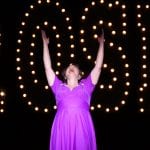 Gypsy @ Broadway Rose
by Kristopher Haines
The Crippled Critic, Aug. 8, 2017
It is a moment so striking that all which came before it is momentarily reduced to a blur…It's the strangest feeling, one I have experienced very few times. [Maroney] owns the thing...Read more.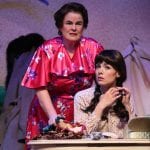 Catch this Gypsy Before it Leaves Town!
by Tina Arth
Westside Theatre Reviews, Aug. 8, 2017
This 'Gypsy' gives us a great combination of humor, top-class song and dance, and sobering themes, clearly demonstrating why it's often called America's greatest musical. It should not be missed… Read more.
Video: Interview with Bryan Hunt
KGW Portland Today, Aug. 2, 2017
Actor Bryan Thomas Hunt sat down with KGW's Portland Today host Cathy Marshall to talk about his role as Tulsa in Gypsy and treated viewers to a preview of his performance. Watch the interview and hear Bryan sing "All I Need is the Girl"  here.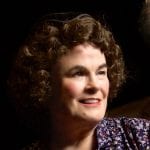 Sharon Maroney shines whatever she does
by Barbara Sherman
Regal Courier, Jul. 26, 2017
"I'm very grateful for my life – running this theater… we're on the other side of the mountain."…Read more.
Director's Note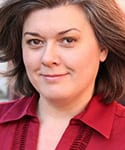 A Note From the Director: Annie Kaiser
---
In being asked to direct this production of Gypsy, I have been gifted with a task both daunting and delicious. Hey, Annie…would you like to guide a phenomenally talented cast through the interpretation of what many critics and writers have called 'the greatest American musical'? Hey, Annie…how about it being the first big summer musical you'll direct for Broadway Rose? And, hey, Annie…the artistic director and managing director will be playing Rose and Herbie…how does that sound?
I think it all sounds TREMENDOUS. My favorite part of theatre is its invitation to examine humanity in all of its naked glory, and the legendary Madame Rose willingly exposes herself as being one of the strongest and most vulnerable leading ladies ever created. She is a fascinating creature, driven by a dark desire that takes her daughters and us on a turbulent and desperate journey through vaudeville and burlesque houses, fueled by her own unrequited ambitions. Rose has a dream and it's gonna come true, baby – no matter the cost. While we may be left mouths agape at her methods of mothering and managing her daughters, one can't help but admire Rose's moxie. She is a fighter. A survivor. That the character is based on a real woman, Rose Hovick, makes the story that much more compelling. And her dream did come true: Gypsy Rose Lee was the most popular theatrical entertainer of her time.
This is my 16th season with Broadway Rose. Sharon and Dan have been incredible mentors over the years and have become dear friends…almost family. I am absolutely thrilled that they asked me to come along for this ride-of-a-lifetime – that we get to bring this monumental piece of musical theatre to life together and share it with our Broadway Rose audiences.