May 30 – June 30, 2019
Take a journey into the enchanted world of magic beans and moonlit nights, towering giants and handsome princes, and fates sealed (and unsealed). Familiar storybook figures such as Cinderella, Little Red Riding Hood, Jack (with his beanstalk), and Rapunzel cross paths with the childless Baker and The Baker's Wife on their quest to reverse the Witch's curse on their fruitless family tree. But as the characters descend deeper into the forest, they find that getting what you wish for doesn't always end happily ever after. Stephen Sondheim's witty, powerful score and James Lapine's imaginative, darkly humorous book combine to make the Tony Award-winning Into The Woods a favorite among musical lovers and a timeless masterpiece. This imaginative production employs elaborate costumes, inventive scenery, magical stagecraft, and a single piano to offer an adventure through the woods unlike any other.
Directed by JESSICA WALLENFELS
Music and Lyrics by STEPHEN SONDHEIM • Book by JAMES LAPINE
Originally Directed on Broadway by JAMES LAPINE • Orchestrations by JONATHAN TUNICK
Run time is approximately 2 hours and 50 minutes, including one 15-minute intermission.
Performances held at the Broadway Rose New Stage, 12850 SW Grant Avenue, Tigard, OR

Show Sponsor


Show Dates
Thursday, May 30, 7:30 PM PREVIEW—SOLD OUT
Friday, May 31, 7:30 PM OPENING NIGHT—SOLD OUT
Saturday, June 1, 7:30 PM—SOLD OUT
Sunday, June 2, 2:00 PM—SOLD OUT
Thursday, June 6, 7:30 PM—SOLD OUT
Friday, June 7, 7:30 PM—SOLD OUT
Saturday, June 8, 2:00 PM—SOLD OUT—Post-show talk-back*
Saturday, June 8, 7:30 PM—SOLD OUT
Sunday, June 9, 2:00 PM—SOLD OUT

Thursday, June 13, 7:30 PM—SOLD OUT
Friday, June 14, 7:30 PM—SOLD OUT
Saturday, June 15, 2:00 PM—SOLD OUT
Saturday, June 15, 7:30 PM—SOLD OUT
Sunday, June 16, 2:00 PM—SOLD OUT
Wednesday, June 19, 7:30 PM—SOLD OUT—Added performance!
Thursday, June 20, 7:30 PM—SOLD OUT
Friday, June 21, 7:30 PM—SOLD OUT
Saturday, June 22, 2:00 PM—SOLD OUT—Audio description available
Saturday, June 22, 7:30 PM—SOLD OUT
Sunday, June 23, 2:00 PM—SOLD OUT
Wednesday, June 26, 7:30 PM—SOLD OUT—Added performance! 
Thursday, June 27, 2:00 PM
Thursday, June 27, 7:30 PM—SOLD OUT
Friday, June 28, 7:30 PM—SOLD OUT
Saturday, June 29, 2:00 PM—SOLD OUT
Saturday, June 29, 7:30 PM—SOLD OUT
Sunday, June 30, 2:00 PM—SOLD OUT
*Talk-backs are free and open to the public. They begin immediately following the first Saturday matinee performance of the mainstage production and are held in the theater. You do not have to attend the Broadway Rose production in order to attend the talk-back.
Creative
Directed and Choreographed by Jessica Wallenfels
Assistant Director Kelly Lyons
Music Direction/Piano by Eric Nordin
Set Design by Sean O'Skea
Light Design by David Castaneda
Prop Design by Emily Wilken
Costume Design by Darrin J. Pufall Purdy
Sound Design by Brian K. Moen
Wig Design by Jane Holmes
Stage Manager Jessica Junor
Assistant Stage Manager Brooke Larson
Director's Note
A NOTE FROM THE DIRECTOR: JESSICA WALLENFELS
Into the Woods celebrates the unmistakable characters and situations of fairy tales, just before blowing them up. A good girl is starting to see that nice gets her nowhere, while princes enjoy the agony of unrequited love – until it becomes requited, at which point it becomes dull. Sondheim and Lapine's twist on our shared oral, folkloric history is filled with contemporary cultural critique that only continues to become more relevant as the years go by.
Paradoxically, it is the underlying seriousness that makes Into the Woods funny, even as it makes us think. Music director/pianist Eric Nordin and I have embraced the comedy in this stripped down, one-piano arrangement he has created, which also features percussive parts played by actors, conceived as actions meant to be part of their journey through the woods. I've drawn from a modernized form of commedia dell'arte, a tradition of physical theatre dating back to 16th-century traveling bands of actor/clowns playing stock characters in comic scenarios. The highly stylized nature of this form accentuates larger than life emotions and wild exaggeration, which we've carried through the costume design as well.
Over the course of the show, it becomes clear that no matter how our perspectives may collide, in the end, all we can do is share our stories. Ultimately we see how a community pulls together in the face of disaster, while examining how our "found," or chosen, families sustain us when others must leave. As theatre lovers know, it is stories that pull us together and save our lives, again and again. Most notably, Sondheim and Lapine force us to notice that how we tell those stories shapes the young minds in front of us. The Witch sings:
Careful the tale you tell / That is the spell. / Children will listen…
This is a story about a community who, through crisis, finds that people may move from selfishness to solidarity, leaning on one another as they journey through the darkness. Enjoy the ride of Into the Woods as it invites us to think, feel, laugh and sing.
News, Reviews, and Buzz
Broadway Rose's Momentous "Into The Woods"
by Tina Arth
Westside Theatre Reviews, Jun. 6, 2019
…when [Erin Tamblyn] sang "Stay With Me" I not only got chills, but I found myself wondering how humans had ever evolved to be able to make such magnificent music with their voices. …Read more.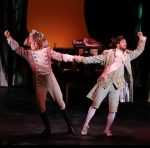 BWW Review: INTO THE WOODS Is Everything You Could Wish For, At Broadway Rose
by Krista Garver
BroadwayWorld.com, Jun. 5, 2019
Jessica Wallenfels' movement-focused direction, and the strongest cast that Broadway Rose has ever assembled brought out the richness of Stephen Sondheim's classic in a way that at times made me feel like I was seeing it for the first time. …Read more.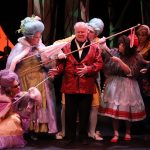 "Into The Woods" @ Broadway Rose
by Kristopher Haines
The Crippled Critic, Jun. 5, 2019
"Into the Woods" proves once again that Dan Murphy needs to step on stage more often, and not just to tell the audience to "turn-off anything that's not implanted."His Narrator is the most consistent source of humor in the production. …Read more.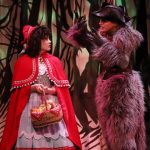 Once more, into the ticket
by Bennett Campbell Ferguson
orartswatch.org/once-more-into-the-thicketOregon ArtsWatch, Jun. 4, 2019
Every actor is a master of verbal and physical wit, especially Sapitan (who imbues Red Ridinghood with the frenetic energy of a kid who just drank a 24-pack of Red Bull) and Austin Comfort, who oozes sensuality and smugness as both Cinderella's Prince and the Wolf… Read more.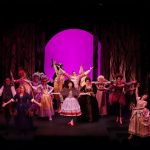 When Wishes Come True
by Judy Nedry
JudyNedry.com, Jun. 4, 2019
It's a lovely, complex show with lots of fun, great dialog, incredible costumes… Read more.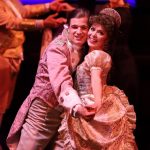 Strong 'Into the Woods' cast leads audience smoothly along an artistic trail of bread crumbs
by Lee Williams
The Oregonian/OregonLive, Jun. 3, 2019
The heroes of this tale? The actors. The cast's nerve, verve and across-the-board artistry give the production its happily ever after. This may be the best cast Broadway Rose has ever assembled. …Read more.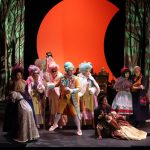 Into The Woods — Broadway Rose
by Dennis Sparks
All Thing Performing Arts, Jun. 3, 2019
This complex, re-inventing of these familiar stories, which are told with much gusto from an amazing cast and a pianist without equal, the brilliant, Eric Nordin! …Read more.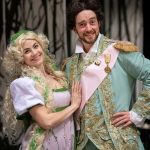 West Linn couple live real-life fairy tale
by Holly Bartholomew
West Linn Tidings, May 28, 2019
"It was our first or second rehearsal together and we had to finally break the ice and kiss each other," Elliot Davis said. "In that moment, I was literally almost swept off my feet and my breath was taken away."…Read more.
Go 'Into the Woods' with Tigard's Broadway Rose
by Janae Easlon
Hillsboro Tribune, May 15, 2019
Tigard's Broadway Rose, known as the crown jewel of musical theater in Washington County, is taking a favorite and experimenting with movement as it takes on Tony Award winner "Into the Woods"… Read more.
Production Photos
Behind-the-Scenes