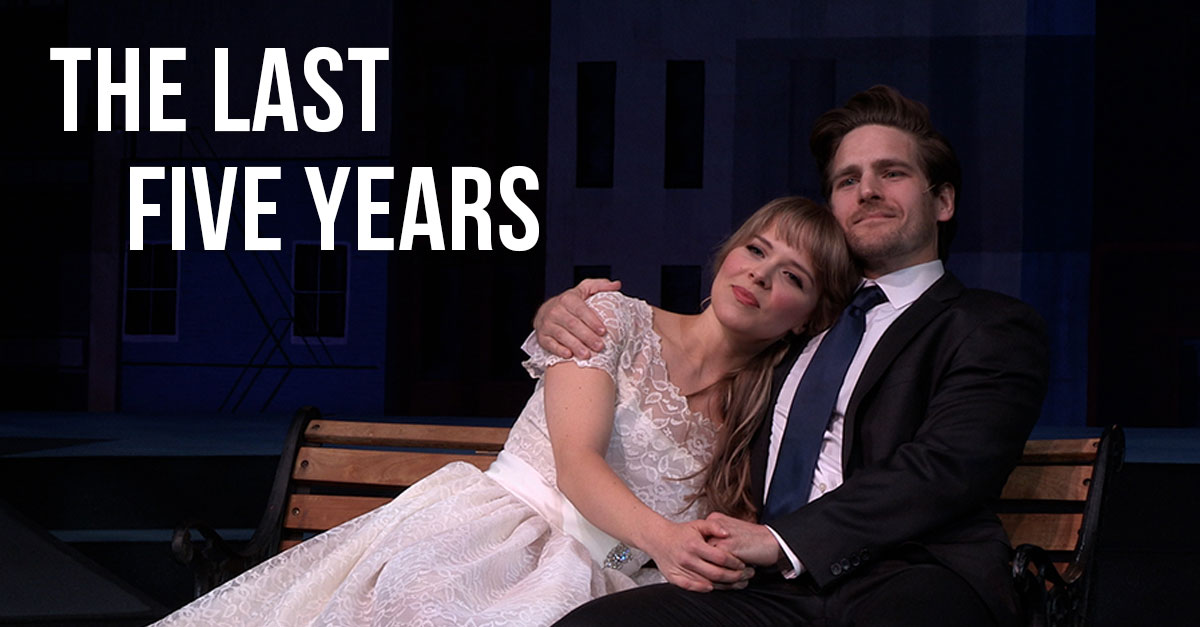 The Last Five Years
A musical love story by Jason Robert Brown • Streaming April 23 – May 23, 2021
Enjoy the magic of theatre anywhere you can access the internet.  Rent the pre-recorded, fully staged production and stream it right to your computer, smartphone, or tablet.
While we are not performing in person yet, Broadway Rose is thrilled to produce this musical and make it available to you in your home during this time of social isolation. Enjoy an evening of entertainment and help keep our staff and artists working during this crisis.
An emotionally powerful and intimate musical sprinkled with humor, The Last Five Years tells the bittersweet tale of a brief marriage between two young artists. The storytelling is non-linear: Cathy, a struggling actor, starts her tale at the end of the marriage, working backwards through the timeline. Jamie, a literary prodigy, begins his at the onset of the relationship. The two narratives intersect on their wedding day before diverging again to arrive at the beginning, and end, of their five years together. With music and lyrics by Tony Award-winner Jason Robert Brown, this nearly sung-through musical has captivated audiences and critics, earning a Drama Desk Award (music and lyrics), a film adaptation, and productions around the world.
Directed by SHARON MARONEY
Music Direction by BRIAN MICHAEL
Written and Composed by JASON ROBERT BROWN
Originally Produced for the New York stage by Arielle Tepper and Marty Bell
Originally Produced by Northlight Theatre Chicago, IL
A  message on safety:  Broadway Rose has taken tremendous precautions to keep our staff and artists safe during the rehearsal and recording process. The small production team maintained social distance, wore masks, and adhered to stringent backstage protocols including personal hygiene, surface cleaning, temperature monitoring, and health surveys. The actors have received COVID-19 vaccinations.
Content Advisories: The Last Five Years is recommended for patrons 16 years and older. The show contains strong language and adult situations including alcohol use and references to sex, infidelity, and the complexities of relationships and marriage.
Run time is approximately 90 minutes.    
Presented through special arrangement with Music Theatre International (MTI).
All authorized performance materials are also supplied by MTI.  www.mtishows.com
Streaming is made available through ShowTix4U, a web browser-based video platform.
Title Sponsor


Show Sponsor


Cast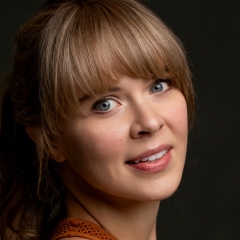 Kailey Rhodes as Cathy
Kailey is honored to take part in this beautiful story. She was seen onstage at Broadway Rose as Cinderella in Into the Woods (Drammy Award) as well as Claire in Ordinary Days. Other credits include Miss Bennet: Christmas at Pemberley at Portland Center Stage, The Wolves at Portland Playhouse, Sense and Sensibility at Clackamas Repertory Theatre, and Urinetown and The 25th Annual Putnam County Spelling Bee with Anonymous Theatre Company. She has appeared in Teenage Dick, An Octoroon, and The Importance of Being Earnest at Artists Repertory Theatre and hopes to rejoin them again one fine post-COVID day for their world premiere of Anthony Hudson's Looking for Tiger Lily.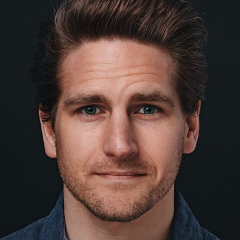 Jeff Rosick as Jamie
Jeff Rosick (pronounced "Raw-sick") is an actor and music composer. Best known for his role as Buddy Jr. on Friday Night Lights (NBC), he has also appeared on Bones (FOX), Parenthood (NBC), Aquarius (NBC), and more. As a commercial, TV, and film composer, he's worked with numerous local, national, and international brands. Recently, he's begun composing orchestral covers of popular songs for his YouTube channel, Cover Orchestra (@CoverOrchestra).
Creative
Directed by Sharon Maroney
Music Direction by Brian Michael
Light Design by Carl Faber  
Costume Design by Allison Dawe 
Prop Design by Liz  Carlson  and  Jeff Duncan  
Sound Design by Brian Karl Moen 
Videography by Mark Daniels  
Stage Manager Jessica Junor  
Musicians
Piano Brian Michael
Guitar Eric Toner
Bass & Violin Amy Roesler
Cello Quinn Liu
News, Reviews, and Buzz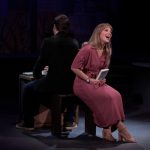 BWW Review: THE LAST FIVE YEARS at Broadway Rose
by Krista Garver
BroadwayWorld.com, May 3, 2021
[Rhodes and Rosick] are able to handle Brown's challenging music skillfully, bringing out the quirkiness as well as the spectrum of emotions from joy to pain to deep ambivalence. Read more.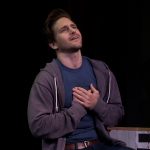 A tender, tragic tale
by Judy Nedry
JudyNedry.com, Apr. 28, 2021
Expertly directed by Broadway Rose Artistic Director Sharon Maroney, this is a fine production featuring top actor/singers, excellent musical direction by Brian Michael, and a talented creative team… Read more.
Broadway Rose's Filmed Production of "The Last Five Years" Makes Music Out of a Doomed Romance
by Bennett Campbell Ferguson
Willamette Week, Apr. 27, 2021
[The founders] may eventually go back to creating colossal productions of expansive musicals like Into the Woods, but let's hope they will carry a piece of Cathy and Jamie's sad but unshakable story with them. I know I will. Read more.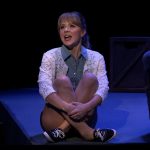 The Last Five Years At Broadway Rose
by Tina Arth
Westside Theatre Reviews, Apr. 27, 2021
The challenging vocals add another layer of complexity in a show that is virtually all song, and both Rosick and Rhodes excel at hitting the right notes… Read more.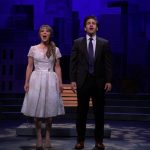 The latest from Broadway Rose is a cozy fit for your living room ('The Last Five Years' review)
by Lee Williams
The Oregonian, Apr. 26, 2021
Rosick admirably fuses Jamie's egoism, charm and ambition. Rhodes, working back from anger to joy, uncovers a confidence and drive that's nearly extinguished in Cathy when we meet her. Both dive heart-first into Brown's affecting score. Read more.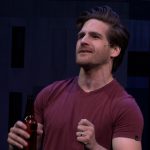 Theater: 5 years, 1 mural, 1 wag
by Bob Hicks
ArtsWatch, Apr. 26, 2021
It takes a good singer to pull these sometimes astringent roles off, and that's part of the attraction: It's a challenge. Rhodes and Rosick rise to it, Rosick in particular, with a strong baritone that can sell a song without overselling it. Read more.
Midday Cabaret
Hosted by Managing Director Dan Murphy, Midday Cabaret is a livestream series featuring interviews and performances with artists from current productions and throughout Broadway Rose's production history. On April 28 our special CAST EDITION cabaret featured Kailey Rhodes and Jeff Rosick from The Last Five Years! Watch now to get to know the artists, hear about making the show, and enjoy musical performances from each of the stars.