The Iconic Broadway Musical
Book, Music, and Lyrics by Meredith Willson
Based on a story by Meredith Willson and Franklin Lacey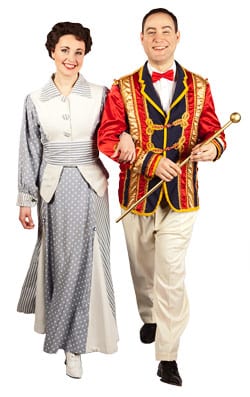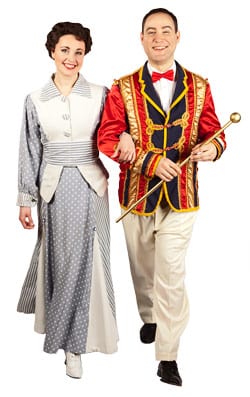 June 26 – July 20, 2014
A sparkling homage to a bygone era, The Music Man follows fast-talking traveling salesman Harold Hill as he cons the people of River City, Iowa, into buying instruments and uniforms for a boys' band he vows to organize – despite the fact he doesn't know a trombone from a treble clef! His plans are foiled when he falls for spirited Marian (the librarian), who transforms him into a respectable citizen by curtain's fall. With songs such as "Seventy-Six Trombones," "Till There Was You," and "Lida Rose," this award-winning classic boasts a brilliant, nostalgic score of rousing marches, barbershop quartets, and sentimental ballads that have earned a place among musical theater's most cherished standards.
Performances held at the Deb Fennell Auditorium, 9000 SW Durham Road, Tigard.
Performance run time is 2 hours and 30 minutes, including one 15-minute intermission.

Sponsored by Pearson Financial
Print Media Sponsor
The Oregonian
Directed and Choreographed by Peggy Taphorn
Musical Direction by Alan D. Lytle
Scenery provided by FCLO Music Theatre
Lighting Design by Gene Dent
Costume Supervision by Grace O'Malley
Prop Coordination by Audra Petrie
Sound Design by Tim Richey
Stage Manager Jessica Downs
Starring:

Ensemble:
Orchestra:
Alan D. Lytle, Conductor
Marc Grafe, Reed I: Flute, Piccolo, Clarinet
Alicia Charlton, Reed II: Clarinet, Tenor Sax
Jennifer Woodall, Reed III: Clarinet, Bass Clarinet
Sean Kelleher, Reed IV: Clarinet, Baritone Sax
Levis Dragulin, Trumpet I
Giancarlo Viviano, Trumpet II
Eric Beam, Trumpet III
Bryant Byers, Trombone
Gary Irvine, Percussion
Jeffrey Childs, Piano, Celeste
Marya Kazmierski, Violin I
Dan Schulte, Bass
Thursday, June 26, 7:30 PM PREVIEW
Friday, June 27, 7:30 PM OPENING NIGHT
Saturday, June 28, 7:30 PM – Limited availability
Sunday, June 29, 2:00 PM – Limited availability
Wednesday, July 2, 7:30 PM
Thursday, July 3, 7:30 PM
Saturday, July 5, 2:00PM
Saturday, July 5, 7:30 PM
Sunday, July 6, 2:00 PM
ADDED: Wednesday, July 9, 7:30 PM
Thursday, July 10, 7:30 PM
Friday, July 11, 7:30 PM
Saturday, July 12, 2:00 PM – Post-show talk-back* – Limited availability
Saturday, July 12, 7:30 PM
Sunday, July 13, 2:00 PM SOLD OUT
ADDED: Wednesday, July 16, 7:30 PM
Thursday, July 17, 7:30 PM – Limited availability
Friday, July 18, 7:30 PM
Saturday, July 19, 2:00 PM
Saturday, July 19, 7:30 PM
Sunday, July 20, 2:00 PM
* Talk-backs are free and open to the public. It will begin immediately following the matinee performance and will be held in the theater. You do not have to attend the Broadway Rose production in order to attend the talk-back.
Photos
Broadway Rose Presents The Music Man (Review)
By Dennis Nyback
Portland Stage Reviews, Jul. 11, 2014
Although there is a lot more going on, this is very much the story of Professor Harold Hill and the Librarian Marion Paroo. Here they are capably essayed by Joe Theissen and Chrissy Kelly-Pettit. Mr. Theissen is very good and appropriately insouciant in the showy part of the con man Harold. He moves well on the stage and his voice is fine for the part. Ms. Kelly-Pettit is very good as the late to awakening in love Marion. She has a nice voice with a warm quality that is well up to the challenges in the score...Read more.
Broadway Rose's "Music Man" celebrates salesmanship, stubborn little towns and the art of redemption (Review)
By Holly Johnson
Oregon Music News, Jul. 7, 2014
Broadway Rose's Music Man is a crystal clear production, and although Theissen sparkles as the wylie Hill and Chrissy Kelly-Pettit is sweet and comely as his love interest Marian the Librarian, it's the chorus and secondary characters who really shine. Director/choreographer Peggy Taphorn knows the abilities and limitations of young dancers,and manages to bring out the best in this group…Read more.
A solidly rendered snapshot from white America's vanished past | THE MUSIC MAN at Broadway Rose
By Win Goodbody
Portland Theatre Scene, Jul. 3, 2014
Fascinating time capsule of 19th century white American mythology…Well done, a great cast, and gorgeously infectious songs…Read more.
The Music Man (Review)
by Tree Palmedo
Willamette Week, Jul. 2, 2014
The cast boasts lots of vocal talent, making the ensemble songs pop and offering several smaller moments that captivate. Chrissy Kelly-Pettit, as Marian the librarian, has a pretty soprano with just enough vibrato to turn slower numbers like "Goodnight My Someone" into standout songs…Read more.
Reviews: 'Music Man,' 'Philadelphia Story'
By Bob Hicks
Oregon ArtsWatch, Jun. 30, 2014
The job of any fresh production is to get you to hop onboard and get excited about taking a familiar journey all over again. Broadway Rose succeeds at that, providing lush sets and costumes (both from Fullerton Civic Light Opera in California), a lot of laughter, a dash of sentiment, and plenty of sharply turned supporting performances…Read more.
Broadway Rose Brings 76 Trombones and a Lot of Exuberance to THE MUSIC MAN (Review)
By Patrick Brassell
BroadwayWorld, Jun. 30, 2014
…the whole show is magic. Willson sneaks songs into the story in unusual ways, and the show never stops dancing, even when the actors are standing still. Broadway Rose always does fine work, but here they've truly outdone themselves…Read more.
Music Man at Broadway Rose (Review)
By Tina Arth and Darrell Baker
Westside Theatre Reviews, Jun. 30, 2014
From the moment the curtain opens on the hypnotic light of a massive train engine until the last chaotic, dissonant notes of the River City Boys Band, the audience is transported to a vital, living, 1912 vision of small-town Americana…Director/choreographer Peggy Taphorn not only brings it back to life, she gives it new life, assisted by her amazing 40-person cast and music director Alan D. Lytle's stunning orchestra…Read more.
The Music Man – A Trip Down Memory Lane (Review)
By Dennis Sparks
Dennis Sparks Reviews, Jun. 30, 2014
The singing and dancing by the entire cast was spot on. Taphorn has done an amazing job of both the direction and choreography of this production. It must have been a grueling schedule for all, but with Taphorn at the helm, everything comes across flawlessly…Read more.
The Music Man at Broadway Rose (Review)
By Kristopher Haines
The Crippled Critic, Jun. 30, 2014
The large cast is impressive in every way, but especially with regard to choreography. The band is top-notch and fills the intimate space with so much melody it seems barely able to contain it…Read more.

Big, loud 'teddy bear' takes to Tigard stage
By David Roza
News Times, Jun. 25, 2014
It's been said that a director paints his scene with the colors of his characters. But when it comes to Charlie Cowell, the anvil salesman in this year's Broadway Rose Theatre Company production of "The Music Man," no one can quite agree what color he is…Read more.
Chrissy Kelly-Pettit is perfect to play Marian the librarian in 'The Music Man'
By Barbara Sherman
Regal Courier, Jun. 24, 2014
When Kelly-Pettit learned late last summer that Broadway Rose would be producing "The Music Man," she set her sights on the role of Marian. "I had to wait a long time to audition, and I only wanted this role," she said, adding, "Broadway Rose is like a family, and I'm so happy to be working here again"…Read more.
Read the official press release: Broadway Rose Theatre Presents The Music Man – 5/30/2014 (PDF)