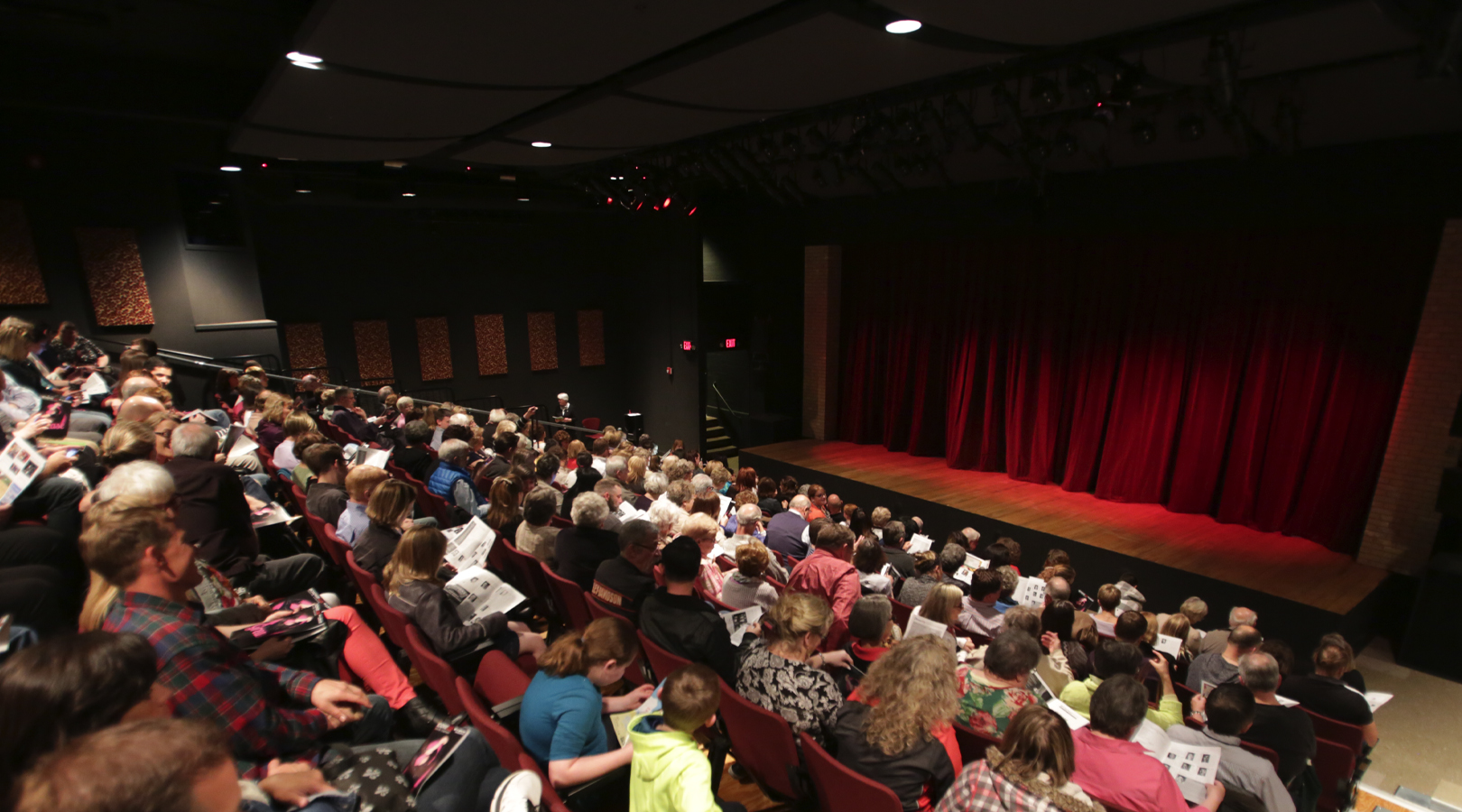 Meet the Artist
BRYAN BOYD, SCENIC DESIGNER
Regards from Broadway Rose
Fall 2023
Bryan Boyd is our scenic designer for Home for the Holidays. With 23 years of scenic design experience, Bryan is a theatre professor at George Fox University where he has designed for over 50 productions. We sat down with Bryan recently to hear how he approaches scenic design, learn more about some of his favorite projects, and gather some tips for dealing with artist's block.
How did you start out in theatre?
My sister told me that she thought I'd like theatre in high school. So I took her up on it. I started out as an actor at first and loved it, but I've always been someone who loved building things and taking them apart to figure out how they work – alarm clocks and doorknobs, etc. I played with a lot of LEGOs as a kid. I was always curious, and that curiosity found its way into my hands as I try to figure out how things work together. I went to college and studied theatre as a performer, but I also worked in the scene shop and loved it. After college, I built houses for a while and worked as an auto mechanic, but I ended up deciding that what I really wanted to do was to combine theatre with building and storytelling. So I went to grad school for set design.
Where do you begin when designing a set?
I always begin with the script. The first time I read through the script, I do my best to carve out space where I won't be interrupted. I try not to read the script as a scenic designer, but to experience the show for the story itself and get lost in it. I'm not trying to solve any problems at that point, but to connect with the characters and imagine myself in their world.
After the first read, I dive into research of the period – historical, architectural, and conceptual research ­– to see if the show feels like it's part of a certain style. I collaborate with the director, ask what stands out to them, and find out what they feel is at the heart of the show.
What has been one of your favorite productions to work on?
I think Parade was probably one of my favorite musicals in terms of story. At George Fox University there is no fly system or wing space, so everything tends to be a unit set where the world has to transform or be stylized in a way where it can embody and facilitate multiple locations. I'm always having to dig and ask what's at the heart of the story; what's at the core of the story. Parade was a fun show to design because I was constantly asking myself those questions. The story had to be both indoors and outdoors; it was a combination of political campaign scaffolding and gallows, judges and scales.
What do you do when you get stuck on a design concept?
The heart of set design is problem solving. Whenever we're trying to figure out how to do something, we always go back to the heart of the story and ask ourselves, "What's the meaning of it all? What's in the script?" And that's where the solutions always come from – the text.
What's at the heart of Home for the Holidays for you?
The space is the station master's. It's a space that he loves and has cared for, for a long time, and where he loves to host and care for people as well; it's home for him in a lot of ways. The period research on this production was a lot of fun. One of the first things I did was to look up the Union Bus Depot and the Union Station in Davenport, Iowa, where the story takes place. The windows in the set are based on these stations.
What's one of the most challenging sets you've worked on?
Sarah Ruhl's Eurydice was probably one of my favorite set designs. The story goes back and forth between the underworld and the overworld, and I was originally imagining a movable stage with a large deck that would raise and lower with a hinge at the back. It would've been really risky to build, and I had a dream that it crashed and fell. I woke up and I was like, "Okay we're not going to do that." That roadblock actually led to a really beautiful idea of a world that was abstract and stylized and kind of weird but really fun and playful at the same time. So I try to listen to those little notes of caution.
Do you have any advice for other artists starting out?
One of the things I love about theatre is that there is room for everybody – no matter what your interests are, you can find a way to use them in theatre and belong. Find the things that you are curious about and explore them. Theatre folks are usually pretty open and welcoming people. Jump in and find a group of folks that are making theatre and be a part of it.
Are there any future projects you'd like to mention?
We just had the first design meeting for Beautiful: The Carole King Musical which will be produced at Broadway Rose next summer. I'll be working with the same artistic team that put together Mamma Mia! in 2018, and I'm really excited about that. Beautiful is a wonderful show and it's going to be a lot of fun.
You can view more of Bryan's designs at bryanboyddesign.com.