Audition From Hell (2023). Photo by Craig Mitchelldyer.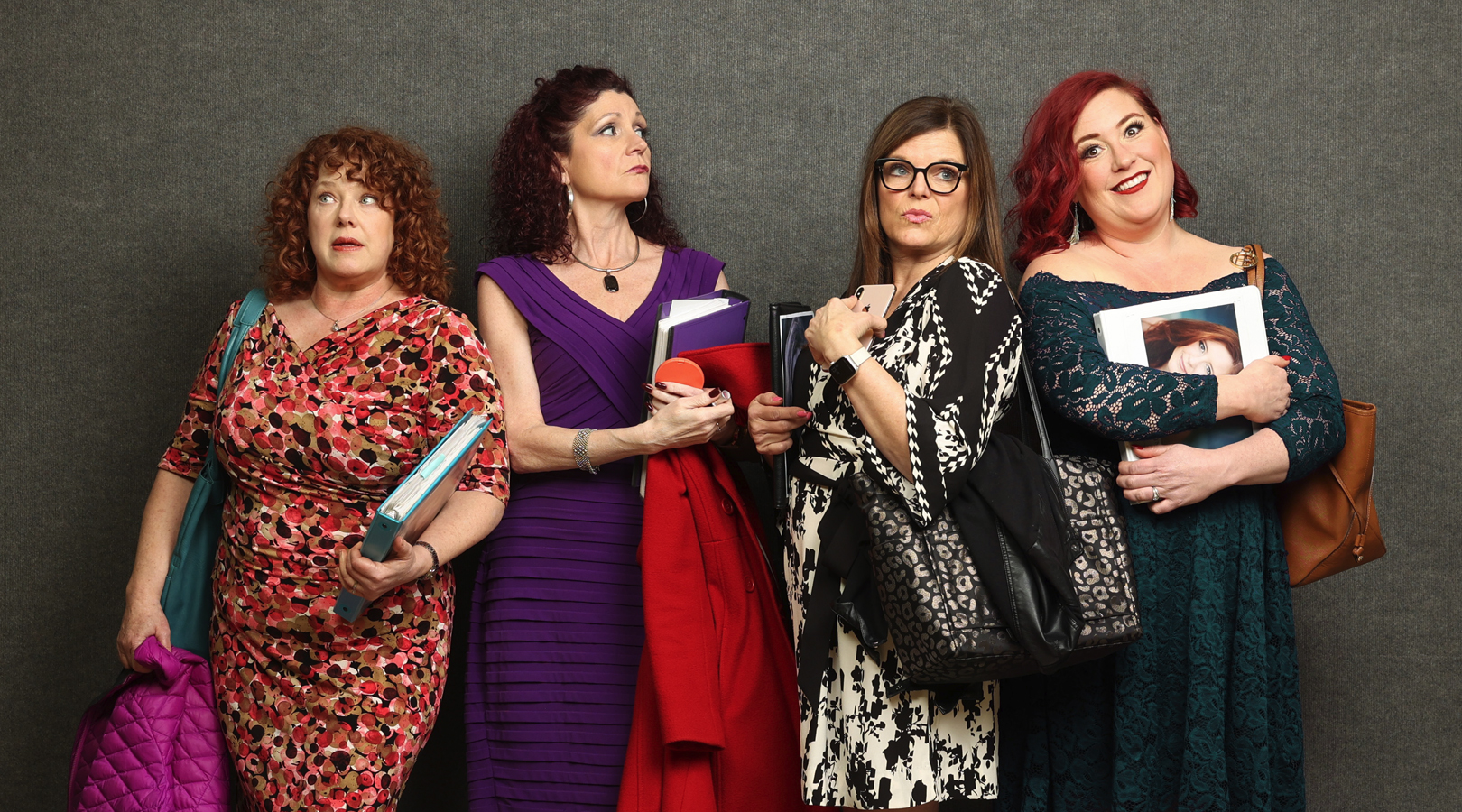 Audition From Hell (2023). Photo by Craig Mitchelldyer.
Creating a New Work
AUDITION FROM HELL WITH WRITER SHARON MARONEY
Regards from Broadway Rose
Spring 2023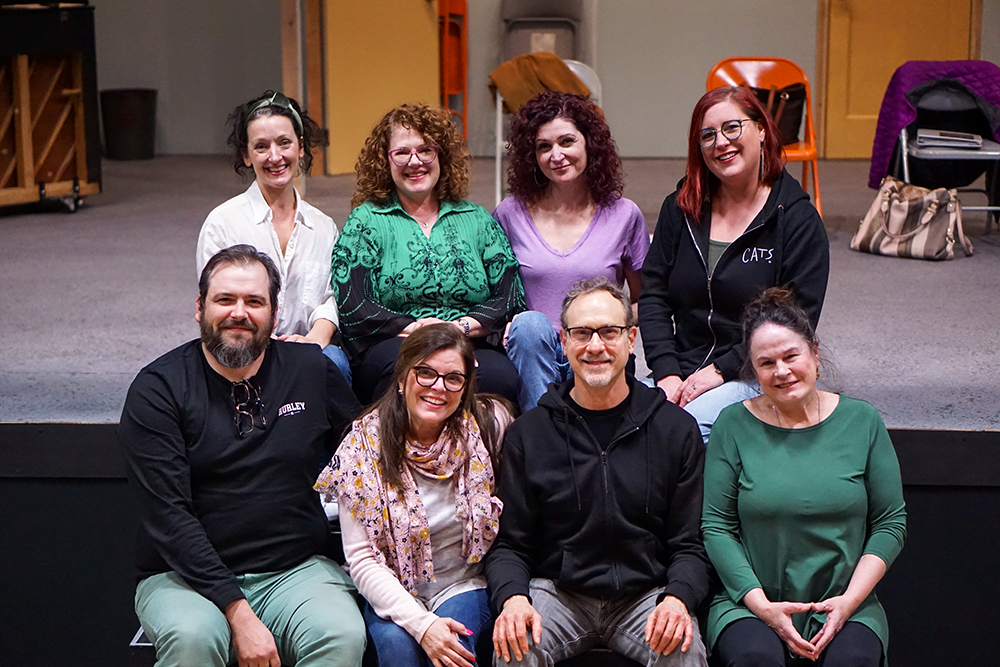 Sharon Maroney (bottom right) with cast and musical director
Audition From Hell was born in 2018 from the wisp of an idea and a wager Sharon Maroney made with herself.
After sitting through yet another sappy Hallmark movie, courtesy of her husband Dan, Sharon thought, "I could do better." She decided to write a new musical centering the story around well-seasoned leading ladies. "There's a niche and there is a need for that type of material for women my age," Sharon said.
While Sharon had previously written musicals for children's shows, and has other works in process, Audition From Hell is something different. The show is partially a reflection of Sharon's career, her experiences as an actress in New York, the stories of friends in theatre over the years, and her time spent running a theatre in Tigard.
Although Sharon started writing the show in 2018, the plot itself didn't come into focus until several years later. She had initially decided that the storyline would showcase the hilarious and sometimes crazy musical theatre situations through the stories of the women at an audition, but she hadn't yet found her ending. She needed to decide what the play within the play would be, and the parts for which these women were so desperately vying. She considered and discarded several ideas, and it was only after a friend recommended the book The Huntress by Kate Quinn, that Sharon found the ending to her story. She decided to base the scenes at the end of Audition From Hell on a little-known facet of World War II history, the Night Witches of the Soviet Union. It was a perfect way to end her story, for as Sharon noted, "This show is an integration of my passions: I'm a leading lady and I'm a history buff." Once she found her ending, Sharon was able to fully realize the rest of the story that she had wanted to tell.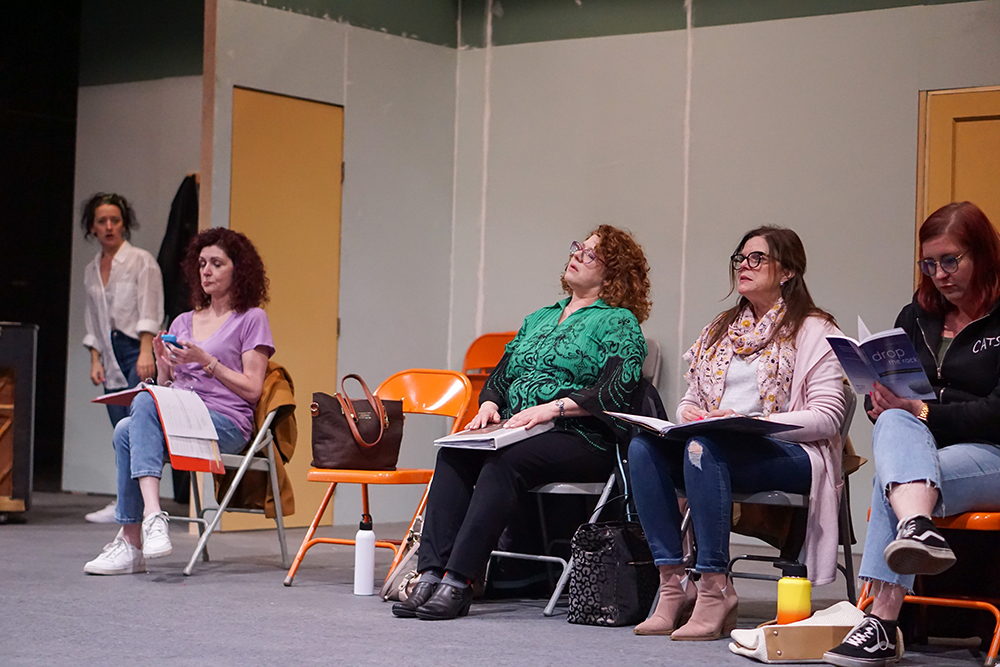 The cast at rehearsals for Audition From Hell
Sharon's favorite part of the writing process was, of course, the music. There was no set process for creating the songs in Audition From Hell – the music is inspired by fragments of melodies, ideas, and experiences. "White Flapper Dress" is based entirely on one of Sharon's experiences in high school, while "You Have To Fail" was sparked by the words of an inspirational speaker, "You have to fail if you want to succeed." This is a statement Sharon has proved throughout her many years in show business. "You have to be willing to fail if you want to succeed," Sharon emphasized, adding that she would have missed out on some of the most amazing opportunities throughout her career if she hadn't been brave enough to accept the possibility of failure, and move forward anyway.
Once Sharon completed a first draft of the show, she asked a group of women to sit down for a table reading to test out the material. After receiving positive feedback, Sharon decided to continue the process of writing and rewriting. After additional table readings, workshops, and countless rewrites, the production has finally made it to the stage.
When asked what advice she would give to her younger self just starting out in theatre, Sharon thought for a second, and then admitted, "We set ourselves up for a lot of pain in our lives when we set rigid expectations. Suit up, show up, do the best you can, and stay out of expectations."
As for the show itself, Sharon just hopes that her audience will have a good time, "I hope they have fun; I hope they laugh; I hope they learn something, and they enjoy the ride."
Sharon would like to thank all of the people who were invaluable in the process of bringing Audition From Hell to life.
Audition From Hell plays April 20 – May 14. Find out more about this new musical here.