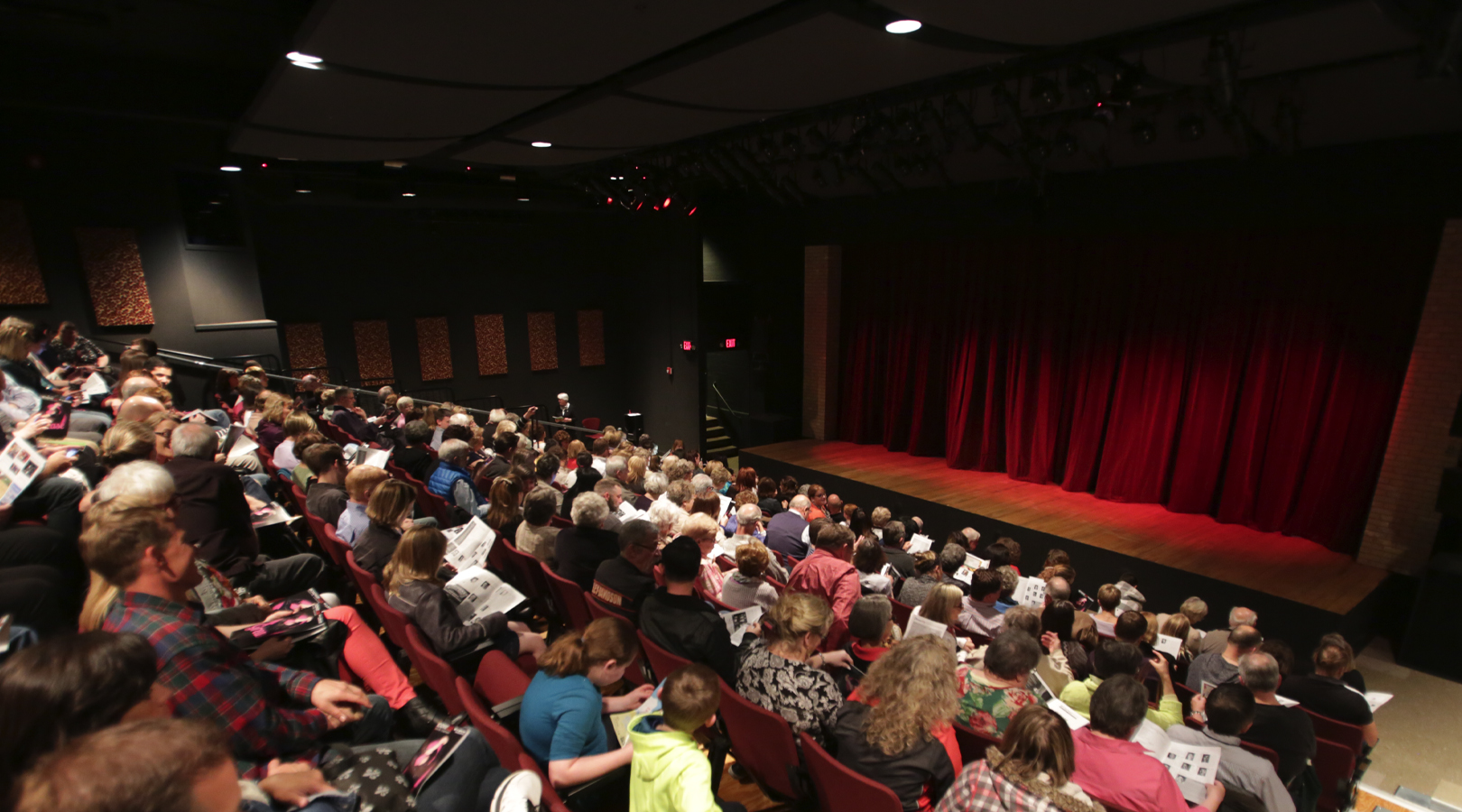 Education Update
SUMMER CAMP PRODUCTIONS
Regards from Broadway Rose
Summer 2023
Annie Kaiser and the 2023 summer campers
"When my hope for this industry or my faith in the world falters, these amazing students bring me back to the extraordinary privilege and possibility inherent in being a storyteller: that on any given day you might move someone's heart and soul." ~ Director Isaac Lamb
Summer is a time when our professional actors fill the mainstage, performing to audiences at the Deb Fennell Auditorium. It's also a time when participants in our children and teen summer drama camps get a chance to perform on stage as well.
Our two week summer drama program for kids offers 20 campers ages 8 to 12 years old a chance to experience all aspects of theatre, from improvisation and theatre games to technical and performance skills. "The kids program is a really great introduction to theatre," said Education and Community Engagement Manager Amaya Santamaría. "The children learn confidence, improvisational skills, and stage presence. The kids also learn to work together, which is a really important life skill." Director Annie Kaiser added, "Children's theatre offers unique opportunities to not only entertain, but to educate – to weave in life lessons and to represent a wide variety of characteristics, personalities, and relationships. All kids should have the opportunity to see themselves represented on stage in some way ­– to see art that validates their experiences and existence."
This year the children's drama camp is performing as the ensemble in our children's theatre production of Pinocchio and the Most Valuable Lesson. The children will be supporting a cast of professional actors, which allows them the benefit of being able to watch these experienced actors at work. Performances will take place on the big stage at the Deb Fennell Auditorium in front of hundreds of audience members.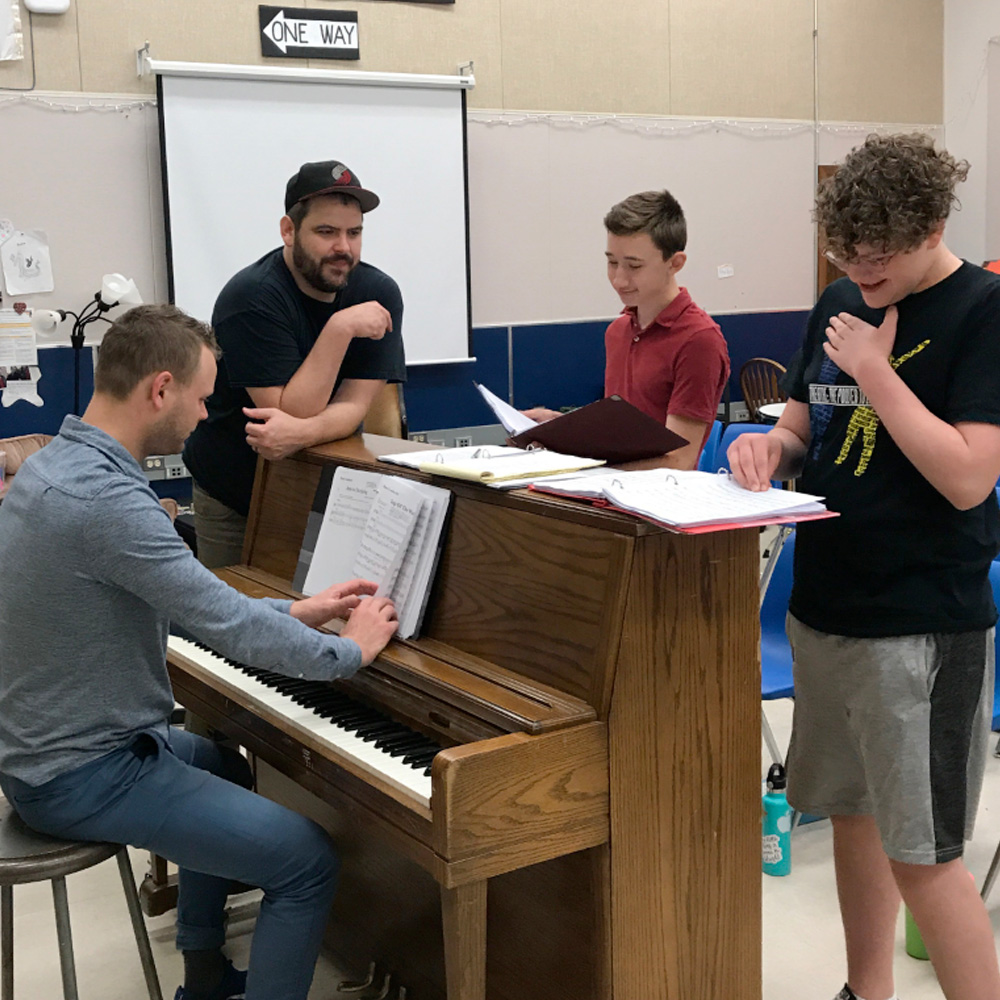 Rehearsing for Tuck Everlasting (2019)
Pinocchio and the Most Valuable Lesson is written and directed by Annie Kaiser, who has previously directed numerous Broadway Rose productions, including Gypsy, Company and The 25th Annual Putnam County Spelling Bee, and began directing Broadway Rose summer children's productions in 2009. "I love working on our children's shows because for many of our campers, it's the first time they have performed onstage, and for many of our audience members, it's the first live theatre performance they've ever seen: it's a formative experience for many young people," said Annie. "They are the future of performing arts however they choose to be involved, and it's incredibly rewarding to know we are contributing to igniting that spark – a love of theatre."
For those teens who are looking to develop their stagecraft further, the Broadway Rose teen summer production offers them a chance to do so. Our popular teen summer program involves an intensive camp which is designed for students who are serious about pursuing musical theatre. In just three weeks, 40 teen camp participants will gain real-world experience by rehearsing and mounting a full musical production. This year's teen camp production of Big Fish will be directed by professional actor and director Isaac Lamb, a company member of Third Rail Repertory Theatre, and a veteran member of the Broadway Rose teen camp productions. "I've been doing this camp for the past 14 years and one thing has never changed: it is a yearly reminder of how and why I fell in love with theatre in the first place," said Isaac. "The miracles that are possible when you gather a motivated group of young people and expect great things out of them never cease to amaze."
"Isaac treats the kids as he would adult actors," said Amaya. "He's still guiding them, but he's giving them artistic freedom and building their confidence in themselves. He puts a lot of trust in them and has faith in their abilities. That's something that's really invaluable to a young artist."
One of our past camp participants is now performing on the mainstage as Benjamin in the cast of Joseph and the Amazing Technicolor Dreamcoat this summer. Ryder Thompson has been a part of the Broadway Rose children and teen programs for a number of years, having started out as one of the monkeys in the 2016 kids drama camp production of The Jungle Book. He then performed in several of our teen camp productions, including Annie (2018), Tuck Everlasting (2019), and Newsies (2022.) "My favorite memories from Broadway Rose have to be with the teen camp," said Ryder. "Not only is the community in camp strong, but Isaac is such a fabulous and insightful director. We seem to always end up with an absurdly elaborate and completely exhausting (but rewarding) physical warm-up, so I have lots of fond memories (or at least vividly detailed memories) of struggling to get through my thirtieth burpee to a Kelly Clarkson song."
When asked what it's been like to work on a mainstage production at last, Ryder responded, "Working on Joseph has been a blast! Everyone is incredibly dedicated to their craft and thoughtful in the way they approach the material. We were allowed to develop our own bits and moments throughout the rehearsal process, so the production feels very true to our cast. I was initially hesitant about performing with adults, but soon realized I had nothing to fear," Ryder added. "Everyone's so supportive and funny and absurd (in the best way possible.) I get the sense that they're all teenagers at heart. That's been the funniest insight about the whole process, I suppose. Some things never change: once a theatre kid, always a theatre kid."
If your child or teen is considering theatre, the Broadway Rose summer drama camps offer them a fun and approachable way to explore this avenue. We start accepting registrations for our summer camps each fall, and these programs fill up quickly. Be sure to sign up for our education emails and keep an eye out for an announcement mid November.