All remaining performances are SOLD OUT!
November 27 – December 22, 2019
Take a fanciful trip to "Santa's Chalet" in the heart of Grimble's department store one snowy Christmas Eve. As Walter, the security guard, and Frances, the cleaner, make their evening rounds, their holiday fantasies spring to life in this merry, musical spectacle. The two enjoy a tuneful Christmas dinner together, remembering the magic of the season and discovering that with a wish and a song you are never truly alone.
Enjoy your favorite festive tunes and warm your holiday season with this joyful new musical from the creators of Your Holiday Hit Parade!
Directed by DAN MURPHY
Written by DAN MURPHY and RICK LEWIS • Music arrangements by RICK LEWIS

Performances held at the Broadway Rose New Stage, 12850 SW Grant Avenue, Tigard, OR

Show Sponsor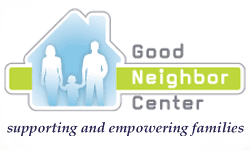 Broadway Rose Theatre Company is honored to partner with Good Neighbor Center to help local families struggling with homelessness, so that they might experience the warmth of the season while receiving safe emergency housing and supportive, empowering services.
To help our neighbors in need, simply bring your unwrapped gift of any of the needed items list here to any performance of It Happened One Christmas or to the box office during business hours. There will be collection bins in the lobby. Thank you!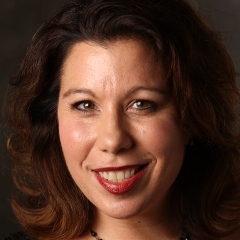 Jennifer Goldsmith as Frances
Jennifer is tickled to celebrate the season with this talented group of new and longtime friends. Some of her other favorite roles include Fanny Brice in Funny Girl, Sally Bowles in Cabaret, Lottie in Enchanted April, Auntie Mame in Mame, Judas Iscariot in Jesus Christ Superstar, Mrs. Walker in Tommy, Baker's Wife in Into The Woods, and her Drammy Award-winning roles in Falsettos, The Light in the Piazza, and Forbidden Broadway. She has toured nationally with the Young People's Theatre Project as well as singing up and down the Mississippi River with the Delta Queen Steamboat Company. Currently she is also starring as VP of business development at Performance Promotions (www.Perfpro.com) with her husband Tim and their golden retriever and office manager, Nugget.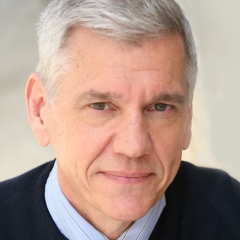 Fred Bishop as Walter


Fred is delighted to be returning to Broadway Rose for another season. Audiences here have seen him in productions of Cole, Evita, and I Left My Heart: A Salute to the Music of Tony Bennett. Fred also performed his one-man show, The Music in Me, for the inaugural Broadway Rose cabaret series. In addition to his numerous stage roles, Fred has appeared on Days of Our Lives and General Hospital, and in film roles in The Artist and My Dinner With Hervé. This versatile performer has also done voiceover work for several films.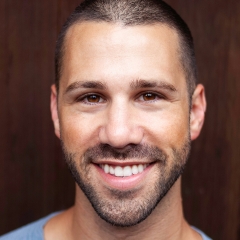 Chad Craner as Man 1
Chad couldn't be more thrilled to be making his Broadway Rose debut. Favorite credits include Thoroughly Modern Millie (Jimmy Smith), Ragtime (Mother's Younger Brother), and The Pirates of Penzance (Frederic).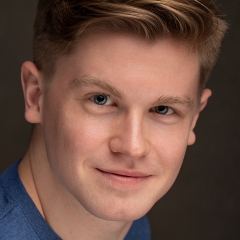 Colin Stephen Kane as Man 2
It Happened One Christmas marks Colin's third production at Broadway Rose, and he is very excited to be returning! He was previously seen here in Mamma Mia! as Eddie and in The Addams Family as Lucas. Other credits: The Rocky Horror Show at Lakewood Theatre Company, The Legend of Georgia McBride and Straight at triangle productions!, Grease at Temple Theatre, and A Year With Frog and Toad at Oregon Children's Theatre (Drammy Award). He has also performed with Profile Theatre, Enlightened Theatrics, Stumptown Stages, Live On Stage, Original Practice Shakespeare Festival, and Theatre Diaspora.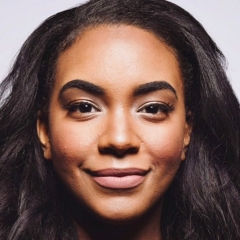 Jalena Scott as Woman 1
Jalena is excited to be back at Broadway Rose to spread some holiday cheer! Jalena is a Portland native and classically trained singer. She has been singing, acting, and performing since she was a child. She currently works as an actress, music theatre teacher at Spotlight Musical Theater Academy, and full-time mom! Some of her favorite theatre credits include Mrs. Muller in Doubt, Michelle Morris in Dreamgirls, Ti Moune in Once On This Island (PAMTA nominated Best Supporting Actress), Lisa in Mamma Mia!, Carla in In the Heights, and ensemble in Aida and Ragtime. When she's not performing, Jalena loves spending time exploring, shopping, traveling, cooking, and simply enjoying life with her spirited six-year-old daughter, Nia, and husband, Gavin. Jalena would like to thank the incredible cast and crew of this wonderful production as well as all of her family for their continuous unconditional love and support.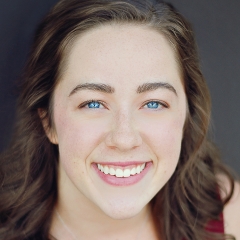 Megan Tudor as Woman 2
Megan graduated with a degree in musical theatre from Central Washington University. She is thrilled to return to Broadway Rose after previously appearing in Footloose and Cinderella. Some of her favorite roles include Velma Kelly in Chicago, Reno Sweeney in Anything Goes, and Rizzo in Grease. Megan also enjoys the time she gets to spend choreographing for all ages, teaching in youth arts programs, and acting in a variety of films. In her free time, Megan loves going on adventures and exploring other creative media. Instagram: @tudormk
Show Dates
Wednesday, November 27, 7:30 PM PREVIEW—Limited Availability
Friday, November 29, 7:30 PM OPENING NIGHT—Limited Availability
Saturday, November 30, 2:00 PM—Limited Availability
Saturday, November 30, 7:30 PM—Limited Availability
Sunday, December 1, 2:00 PM  SOLD OUT

Wednesday, December 4, 7:30 PM—Limited Availability
Thursday, December 5, 7:30 PM—SOLD OUT
Friday, December 6, 7:30 PM—SOLD OUT
Saturday, December 7, 2:00 PM  SOLD OUT—Post-show talk back*
Saturday, December 7, 7:30 PM—SOLD OUT
Sunday, December 8, 2:00 PM  SOLD OUT
Wednesday, December 11, 7:30 PM—SOLD OUT
Thursday, December 12, 2:00 PM—SOLD OUT
Thursday, December 12, 7:30 PM—SOLD OUT
Friday, December 13, 7:30 PM—SOLD OUT
Saturday, December 14, 2:00 PM  SOLD OUT
Saturday, December 14, 7:30 PM—SOLD OUT
Sunday, December 15, 2:00 PM  SOLD OUT
Wednesday, December 18, 7:30 PM—SOLD OUT
Thursday, December 19, 2:00 PM—SOLD OUT
Thursday, December 19, 7:30 PM—SOLD OUT
Friday, December 20, 7:30 PM—SOLD OUT
Saturday, December 21, 2:00 PM—SOLD OUT—Audio description available
Saturday, December 21, 7:30 PM—SOLD OUT
Sunday, December 22, 2:00 PM  SOLD OUT
Creative
Directed by Dan Murphy
Music Direction by Jeffrey Childs
Set Design by Kristeen Willis
Costume Design by Annie Kaiser
Lighting Design by Phil McBeth
Properties Design by Liz Carlson and Jeff Duncan
Sound Design by Brian Karl Moen
Stage Manager Jessica Junor
Musicians
Jefferey Childs Piano/Conductor
Amy Roesler Bass
Mitch Wilson Drums
News, Reviews, and Buzz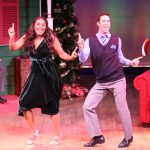 DramaWatch: Holidays for days!
by Marty Hughley
Oregon ArtsWatch, Dec. 7, 2019
...an evening of sprightly and assured performances of sprightly and assured arrangements of dozens of Christmas songs, familiar and less so…Read more.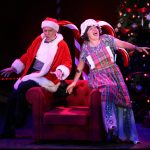 It Happened One Christmas – Broadway Rose Delivers
by Tina Arth
Westside Theatre Reviews, Dec. 4, 2019
It Happened One Christmas, offers a carefully curated and unexpectedly diverse selection of standards and newer material delivered by truly amazing performers…and nothing that sounds even remotely like Christmas muzak – exactly what I wanted!…Read more.

Night time in the department store
by Judy Nedry
JudyNedry.com, Dec. 3, 2019
This is a show filled with great singing, lighthearted fun, and sweet sentiment that is suitable for ages 9 to 90…Read more.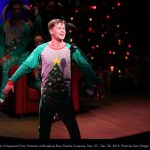 "It Happened One Christmas" @ Broadway Rose
by Kristopher Haines
The Crippled Critic, Dec. 2, 2019
With "It Happened One Christmas," Broadway Rose reclaims its rightful place on the Nice List…If you want to get into the spirit of the Season, this is where to go… Read more.
Behind-the-Scenes