September 20 – October 14
A romance on the rocks, an artist's vision stalled, and a graduate thesis in peril lead four young New Yorkers through a series of intersecting vignettes in this captivating new musical. While Claire and Jason struggle to confront the fracture in their relationship, Warren and Deb form a quirky friendship over an unshared love of the Met. Unfolding through an intricate, original score, their individual journeys ultimately overlap in one extraordinary moment that alters the course of their lives and reveals the simple beauty of letting go to truly live. Audience discretion is suggested.
Music and Lyrics by ADAM GWON
ORDINARY DAYS is presented through special arrangement with R & H Theatricals: www.rnh.com
Run time is approximately 1 hour and 25 minutes with no intermission.
Performances held at Broadway Rose New Stage, 12850 SW Grant Ave. Tigard, OR

Show Dates
Thursday, September 20, 7:30 PM 
PREVIEW

Friday, September 21, 7:30 PM 
OPENING NIGHT—Night With The Starsº
Saturday, September 22, 7:30 PM
Sunday, September 23, 2:00 PM—
Limited Availability
Thursday, September 27, 7:30 PM
Friday, September 28, 7:30 PM—
Night With The Stars
º—
Limited Availability
Saturday, September 29, 2:00 PM
—Post-show talk back*
Saturday, September 29, 7:30 PM
Sunday, September 30, 2:00 P
M
—
SOLD OUT
Thursday, October 4, 7:30 PM—Limited Availability
Friday, October 5, 7:30 PM—Night With The Starsº
Saturday, October 6, 2:00 PM
Saturday, October 6, 7:30 PM
Sunday, October 7, 2:00 PM—SOLD OUT
Thursday, October 11, 7:30 PM—SOLD OUT
Friday, October 12, 7:30 PM—Night With The Starsº—SOLD OUT
Saturday, October 13, 2:00 PM– Audio description available
Saturday, October 13, 7:30 PM—SOLD OUT
Sunday, October 14, 2:00 PM—SOLD OUT


º Nights with the stars are free and begin immediately following Friday night performances. Audiences are invited to remain after the show for a meet and greet with the artists.
*Talk-backs are free and open to the public. They begin immediately following the first Saturday matinee performance of the mainstage production, and are held in the theater. You do not have to attend the Broadway Rose production in order to attend the talk-back.
Creative
Directed by Isaac Lamb
Music Direction by Eric Nordin
Set Design by Emily Wilken
Costume Design by Sarah Marguier
Light Design by Carl Faber
Sound Design by Brian K. Moen
Properties Design by Liz Carlson
Sound Mixer Michelle Strahm
Stage Manager Jessica Junor
News, Reviews, and Buzz
Reviews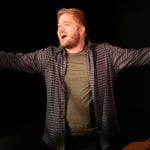 Ordinary Days: "The Big Picture"
by Dennis Sparks
All Things Performing Arts, September 25, 2018
I highly recommend this show. If you do choose to see it, please tell them Dennis sent you…Read more.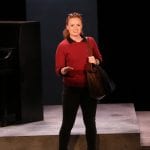 BWW Review: Isaac Lamb Directs Extraordinary ORDINARY DAYS, at Broadway Rose
by Krista Garver
Broadwayworld.com. September 27, 2018
ORDINARY DAYS is a small musical — four people, not much dialogue, a single piano, a sparse set — but it's precisely this simplicity that allows the big picture to emerge. And that picture is extraordinary… Read more.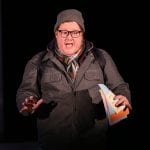 More than a feeling of "Ordinary Days"
by Marty Hughley
Oregon ArtsWatch, September 25, 2018
Their singing is a step up from what you can hear on the Ordinary Days Off-Broadway cast recording…And were all four not so stellar, I'd have happily spent the entire show watching musical director/pianist Eric Nordin… Read more.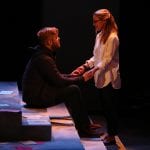 Ordinary Days—beauty and connection
by Judy Nedry
Judynedry.com, September 25, 2018
Everything about this play screams New York City in the best possible way. There is no playbook just Gwon's music and lyrics–frenetic at times, jazz-inspired, colloquial but sophisticated, and full of savagely smart one-liners… Read more.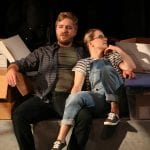 Broadway Rose's ExtraOrdinary Days
by Tina Arth
Westside Theatre Reviews, September 25, 2018
Director Isaac Lamb has given what could be seen as a "little" show all of the sensitivity and perception needed to present a pointillist tale of how meaning can be found in the seemingly trivial, ordinary events of Ordinary Days… Read more.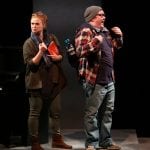 In Ordinary Days, young strivers find extraordinary connections
by Ben Waterhouse
The Oregonian, September 24, 2018
There's a lot to like in this intimate and entertaining take on young adulthood in the big city. Between the cleverly written lyrics and a tear-jerking third-act twist, I can say with some confidence that you will both laugh and cry. What more could you desire?… Read more.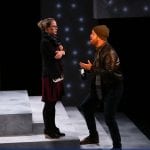 Ordinary Days @ Broadway Rose
by Kristopher Haines
The Crippled Critic, September 24, 2018
 It is admirable when it somehow succeeds in shrinking life in New York… Read more.
Other News  & Buzz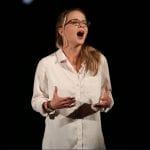 No 'Ordinary' musical at Tigard's Broadway Rose
by Blair Stenvick
Regal Courier, September 27, 2018
To call "Ordinary Days" a musical would be coming up just a little bit short, according to actress Kailey Rhodes. "This is more of an art installation, I think, in a lot of ways," said Rhodes, who plays the role of Claire in Broadway Rose's production of the show... Read more.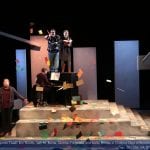 DramaWatch: "Ordinary Days," "Color" ways and other plays
by Marty Hughley
Oregon ArtsWatch, September 20, 2018
Isaac Lamb is among the most versatile, widely accomplished of Portland-area theater artists, but he believes he's found a particular niche with his work for Broadway Rose…Read more.
Director's Note

A Note From The Director Isaac Lamb
Theatre is such a temporal art-form, existing only in the moment of its creation, and so it cannot help but be reflective of the lives of its creators. I lost a dear friend of mine recently.  She was vivacious, warm, and caring but she struggled with depression and tragically took her own life.  I've been heartbroken over it, asking myself whether or not I could have reached her in some way. How then, do I dive into a musical called Ordinary Days when these do not feel to me like ordinary days?
If this show is about anything, it is about connection.  The inescapable truth that we are bound by a common fate.  The Reverend Martin Luther King Jr. said, "All mankind is tied together; all life is interrelated, and we are all caught in an inescapable network of mutuality, tied in a single garment of destiny. Whatever affects one directly, affects all indirectly. For some strange reason I can never be what I ought to be until you are what you ought to be. And you can never be what you ought to be until I am what I ought to be."
I love that thought. It's comforting but it's also a call to action. The world and its problems often feel so large in comparison to ourselves that we don't realize the enormous impact even our smallest actions might have. Your sorrows and joys are as individual as your identity, but until they are as important to me as my own, neither of us has much of a chance of achieving a better world.
This show isn't about political movements or protests. But it is about the thousand tiny moments that make up a life and the thousand tiny humans that make up a community.  It asks us to see the beauty in that connection and to trust in the tenderness of each other's care.  I may not understand or know the depth of your heartache but I believe we are interconnected, vital participants in a grander story. Random dots on a canvas, coming together to paint something much larger than ourselves. If we stand back far enough and see all the love and kindness and tragedy and sorrow the painting contains, then we can appreciate its beauty.
I don't know that I could have done anything to save my dear friend, but I do know that her life has irreversibly changed mine.  I am better for having known her, better for having loved her, and the world will be better for her contributions.  Our existence matters in the grand composition of it all.  That gives me great comfort.
This is for Sarah.
A Note From the Founders
Why Ordinary Days?
Not everyone can go to New York to see the range of theatre there, and it's usually only the splashier, commercial shows with name recognition that eventually come through town on tours. There are a lot of really wonderful, smaller shows that don't ever make it to Broadway – maybe they don't have famous actors or the glitz and spectacle that patrons paying Broadway-ticket prices have come to expect – and as a result don't make it to a level of national awareness. These are remarkable, critically-acclaimed shows that, without the investment from local theatres willing to produce a show that few people have heard of, most people would never have the chance to see.
Although we love doing big Broadway blockbusters and time-honored classics, we also consider it a privilege and a joy to bring you the hidden gems of the theatre world. As part of our commitment to supporting emerging works and artists, each year we attend the National Alliance for Musical Theatre's Festival of New Musicals. That's where we first saw Ordinary Days, in 2008. It was one of eight finalists. The show really took a lot of people by surprise with how much emotion they packed into the 40-minute preview performance, and it resonated with us deeply. Adam Gwon, the creator, is a pretty talented guy. Later, we had the opportunity to see a full production Off-Broadway at the Roundabout Theatre Underground. It's been on our short list ever since.
When we get excited seeing a show, we're immediately excited to share it, but we had to wait for the right timing. Knowing that our last two shows, Mamma Mia! and Guys and Dolls, would be some of the biggest productions in our 27-year history (Mamma Mia! smashed our attendance records by a landslide), this was the perfect opportunity to offer audiences something entirely different with an intimate chamber musical. Ordinary Days is moving, surprising, and ultimately hopeful. Thank you for giving it the chance to become one of your new favorites.
As you enjoy this performance of Ordinary Days, we hope you feel the same sense of discovery that we felt years ago. And, like us, we hope you can't wait to share it.
Sharon Maroney, Producing Artistic Director         Dan Murphy,  Managing Director
Production Photos
Ordinary Days: The Exhibition
What is an ordinary day?
Broadway Rose proudly presents our inaugural art exhibition featuring the works of over 20 of the region's emerging artists and is inspired by and shown in tandem with our production of Ordinary Days. Artists from all corners of the greater Portland-metro area were invited to submit works which explore the themes of love, loss, joy, and all the multitude of experiences that comprise a so-called "ordinary" life. The works on display pay homage to the numerous and diverse experiences of the people of our community, and we are honored to share their voices with our audiences.
Our opening reception will be held from 6:00 p.m. – 7:00 p.m. on Friday, September 21, and the exhibition will be open to the public and patrons an hour before each performance.